Tuesday, 15 April 2014 - 20:00
Charts
Seed Weekly - Considering all Investment Risks
While virtually all investors acknowledge that investing involves taking on risk, most investors do not know or take the time to clarify these risks and also to understand the interplay. For example, an investor may be overly concerned about taking on too much market risk and when reducing this risk too much, inadvertently takes on too much longer term inflation risk with a more conservatively constructed portfolio.
It ultimately all comes down to how you define risk and on which aspect an investor places the highest value. A good definition of risk is: "The chance that an investment's actual return will be different than expected because risk includes the possibility of losing some or all of the original investment."

A typical investment risk pyramid may look something like this, but this is too simplistic a view of the actual risks that an investor faces.
Firstly, for most investors is the mortality or actuarial risk. This is the risk that having saved up a quantum of savings over your productive life, into your retirement years you run out of savings as you live longer than expected, drawing down too quickly on your accumulated savings.
Then there is inflationary risk. Where an investor aims to achieve a rate of return of at least the inflation rate over time from his investment portfolio, there is a risk that his investments will not achieve this return because of inferior performance or where inflation becomes rampant and at worst hyperinflation.
Ironically in times of very high inflation and hyperinflation it is the relatively "safe" investments such as fixed income investments that are the highest risk investments, while the typically understood "risker" investments such as shares, are the lowest risk, in that they have a higher probability of preserving purchasing power.
Once an investor has considered these two main risks, he needs to consider the following, which individually and collectively impact on the mortality and inflationary risk:
• Market risk is the risk that the value of your investments fluctuates and at worst, in a major market decline, results in permanent loss of the original capital invested. This is the one risk that many investors fear more than any others, often without having properly considered mortality and inflationary risk.
• The risk of default is one where an investor expects a certain guaranteed return typically from a fixed interest investment such as a bond issued by a government or a corporate and before maturity of the fixed investment, the issuer defaults, with the investor not being fully paid out and in the worst case scenario receiving nothing back.
• Liquidity risk is the risk that when the investor wants to convert the investment into readily available cash he is unable to do so for various reasons. Typically speaking less liquid investments, for example private equity, should generate higher returns that a money market investment. Part of the reason for generating this higher return is the higher liquidity risk.
• Interest rate risk is risk generally associated with an investment into fixed interest investments. While these investments are typically understood to be in the lower risk category, where an investor has, for example, invested into a 10 year bond yielding 8.5% pa, the risk to the investor is where interest rates move up and now similar bonds yield 10.5%. In such a case the investor will suffer capital loss.
• Another risk each investor faces is political risk. This is because governments have far reaching ability to implement legislation that can severely impact companies, taxes, and property ownership rights for example. While certain governments around the world are seen to be "investor friendly" there are many that have a far more inconsistent approach to legislation, increasing this risk.
• Currency risk arises due to a global economy where one currency floats against another. Being exposed to just one currency is itself a risk, but where an investor converts a portion of his investment into another currency, he runs a currency risk should that currency in which he invested decline on a relative basis. South Africans have typically benefitted from currency risk, but there have been long periods of time where the Rand has appreciated and then this risk is more fully appreciated.
When looking at risk in this context, it is less important and indeed less meaningful to try and ascribe a single number to risk, such as standard deviation or price volatility. It is far more meaningful to consider each risk and its potential impact on the investors financial planning and the total portfolio.
Kind regards
Ian de Lange
www.seedinvestments.co.za
info@seedinvestments.co.za
021 914 4966
Tue, 15 Apr 2014
Top News
South Africa's Association of Mineworkers Construction Union (AMCU) on Tuesday asked the government and the public for funds to help striking members in the platinum sector, who have gone nearly three months without pay.

---

Ukrainian armed forces on Tuesday launched a "special operation" against militiamen in the country's Russian speaking east, authorities said, recapturing a military airfield from pro-Moscow separatists.

Ukrainian armed forces on Tuesday launched a "special operation" against militiamen in the country's Russian speaking east, authorities said, recapturing a military airfield from pro-Moscow separatists.
World Markets (Spot Prices)
| | | | | |
| --- | --- | --- | --- | --- |
| Name | Time | RP | Move | % Move |
| JSE Overall | 17:00 | 47789.76 | -423.50 | -0.88% |
| JSE Top 40 | 17:00 | 42905.65 | -359.39 | -0.83% |
| JSE Gold | 17:00 | 1501.16 | -49.98 | -3.22% |
| JSE Financial | 17:00 | 35275.51 | -216.93 | -0.61% |
| JSE Industrial | 17:00 | 61589.02 | -578.94 | -0.93% |
| JSE Indust 25 | 17:00 | 54300.02 | -491.09 | -0.90% |
| JSE Resource | 17:00 | 55963.01 | -524.58 | -0.93% |
| DJ Futures | 19:52 | 16070.00 | -26.00 | -0.16% |
| DJ Ind | 19:58 | 16139.68 | -33.56 | -0.21% |
| SP 500 | 19:58 | 1826.86 | -3.75 | -0.20% |
| Nasdaq | 19:58 | 3982.33 | -40.36 | -1.00% |
| FTSE 100 | 17:29 | 6537.91 | -45.85 | -0.70% |
| DAX | 18:08 | 9173.71 | -165.46 | -1.77% |
| CAC40 | 18:08 | 4345.35 | -39.21 | -0.89% |
| Nikkei | 08:28 | 13996.81 | 86.65 | 0.62% |
| Shanghai | 09:28 | 2101.60 | -29.94 | -1.40% |
| Hang-Seng | 10:28 | 22671.26 | -367.54 | -1.60% |
| All Ords | 08:46 | 5380.30 | 26.70 | 0.50% |
| NZSE 50 | 07:48 | 5076.28 | 12.74 | 0.25% |

| | | | | |
| --- | --- | --- | --- | --- |
| Name | Time | RP | Move | % Move |
| Gold $ | 19:59 | 1302.29 | -24.03 | -1.81% |
| Gold R | 19:59 | 13764.89 | 13764.89 | 0.00% |
| Gold R/kg | 19:58 | 442481 | -5012 | -1.12% |
| Silver $ | 19:59 | 19.4900 | -.4630 | -2.32% |
| Platinum $ | 19:59 | 1438.90 | -21.60 | -1.48% |
| Palladium $ | 19:59 | 793.00 | -13.83 | -1.71% |
| R157 | 16:06 | 6.80 | .04 | 0.67% |
| R186 | 16:06 | 8.42 | .04 | 0.54% |
| R204 | 16:06 | 7.79 | .03 | 0.39% |
| R207 | 16:06 | 8.01 | .02 | 0.31% |
| Brent Crude | 19:38 | 108.81 | 1.48 | 1.38% |
| Rand / Dollar | 19:59 | 10.5700 | 0.0673 | 0.64% |
| Rand / Pound | 19:55 | 17.6440 | 0.1021 | 0.58% |
| Rand / Euro | 19:55 | 14.5983 | 0.0782 | 0.54% |
| Rand / NZD | 19:59 | 9.1325 | 0.0124 | 0.14% |
| Rand / AUD | 19:55 | 9.8826 | -0.0150 | -0.15% |
| Yen / Dollar | 19:59 | 101.7520 | -0.0880 | -0.09% |
| Euro / Dollar | 19:59 | 0.7240 | 0.7240 | 0.00% |
| Dollar / Euro | 19:59 | 1.3813 | -0.0005 | -0.03% |
| Pound / Dollar | 19:50 | 0.5976 | -0.0001 | -0.02% |
Click here for the Sharenet Spot Price page
The JSE Today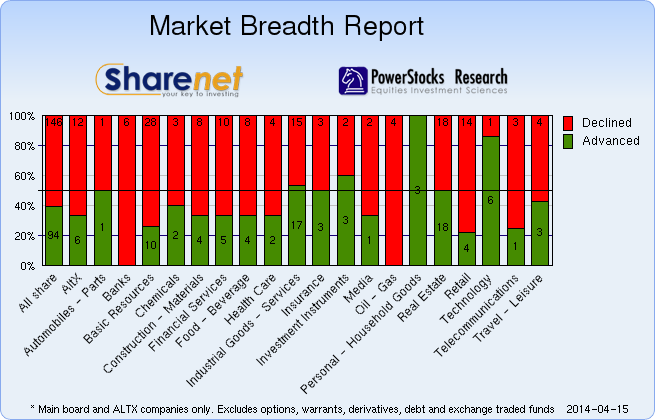 Trading Statistics
| Date | Adv. | Decl. | Unch. | Actives | Volume | Value | Trades | Orders |
| --- | --- | --- | --- | --- | --- | --- | --- | --- |
| 15/04/2014 | 140 | 227 | 66 | 433 | 216,682,648 | R15,643,874,356 | 175353 | 1168973 |
| 14/04/2014 | 174 | 163 | 73 | 410 | 209,028,035 | R15,452,866,143 | 180802 | 1503632 |
| 11/04/2014 | 108 | 192 | 81 | 381 | 183,116,325 | R11,148,844,451 | 131079 | 167337 |
| 10/04/2014 | 205 | 161 | 67 | 433 | 271,380,744 | R17,428,256,996 | 182376 | 137116 |
| 09/04/2014 | 221 | 136 | 60 | 417 | 288,124,367 | R18,544,587,487 | 203849 | 1290143 |
* Includes all listed instruments on the JSE
---
---
---
Index Summary
| | | | |
| --- | --- | --- | --- |
| Index Name | RP | Move | % Move |
| Top 40 | 42,905.65 | -359.39 | -0.83% |
| Industrial | 61,589.02 | -578.94 | -0.93% |
| Mid Cap | 61,565.21 | -837.49 | -1.34% |
| Small Cap | 51,921.78 | -51.72 | -0.10% |
| Resource 20 | 55,963.01 | -524.58 | -0.93% |
| Industrial 25 | 54,300.02 | -491.09 | -0.90% |
| Financial 15 | 13,461.07 | -77.58 | -0.57% |
| Financial & Ind. 30 | 58,009.03 | -461.15 | -0.79% |
| All Share | 47,789.76 | -423.50 | -0.88% |
| Oil & Gas | 43,200.34 | -152.10 | -0.35% |
| Mining | 33,535.93 | -373.65 | -1.10% |
| Gold Mining | 1,501.16 | -49.98 | -3.22% |
| Platinum Mining | 49.88 | -.38 | -0.76% |
| GENERAL MINING | 9,678.85 | -85.57 | -0.88% |
| Oil & Gas Producers | 23,228.02 | -81.79 | -0.35% |
| Basic Materials | 29,494.31 | -341.24 | -1.14% |
| Chemicals | 23,672.91 | -294.65 | -1.23% |
| Forestry & Paper | 28,916.39 | -576.56 | -1.95% |
| Industrial Metals | 21,226.85 | -38.39 | -0.18% |
| Industrials | 43,989.52 | -451.31 | -1.02% |
| General Industrials | 139.01 | -1.53 | -1.09% |
| Consumer Goods | 57,859.35 | -378.72 | -0.65% |
| Automobiles & Parts | 9,361.27 | -330.61 | -3.41% |
| Household Goods | 353.11 | 2 | 0.68% |
| Health Care | 75,894.24 | -237.97 | -0.31% |
| Beverages | 183.54 | -4.09 | -2.18% |

| | | | |
| --- | --- | --- | --- |
| Index Name | RP | Move | % Move |
| Food Producers | 68,418.41 | -568.25 | -0.82% |
| Personal Goods | 1,036.62 | 4.60 | 0.45% |
| Consumer Services | 10,665.04 | -116.43 | -1.08% |
| General Retailers | 58,895.22 | -818.77 | -1.37% |
| Travel & Leisure | 5,556.06 | -26.41 | -0.47% |
| Media | 230.66 | -1.91 | -0.82% |
| Support Services | 2,630.09 | -59.19 | -2.20% |
| Telecommunications | 10,342.88 | -172.83 | -1.64% |
| Financials | 35,275.51 | -216.93 | -0.61% |
| Banks | 60,660.05 | -802.43 | -1.31% |
| Non-life Insurance | 49,336.98 | -2217.88 | -4.30% |
| Life Insurance | 33,561.24 | -102.26 | -0.30% |
| General Financial | 3,573.08 | -26.92 | -0.75% |
| Technology | 41,309.48 | 117.01 | 0.28% |
| SHARIAH TOP40 | 4,133.71 | -40 | -0.97% |
| FTSE/JSE SHARIAH ALL | 4,237.18 | -43 | -1.00% |
| COAL MINING | 17,826.14 | -30 | -0.17% |
| FTSE JSE Fledgling | 6,577.14 | -50 | -0.76% |
| FTSE/JSE Alt X | 1,205.82 | -0 | -0.00% |
| SA LISTED PROPERTY | 509.60 | | -0.05% |
| CAPPED PROPERTY | 437.66 | | 0.04% |
| RESOURCE | 30,618.83 | -298 | -0.97% |
| DIVIDEND PLUS | 218.37 | -2 | -1.10% |
| FTSE/JSE RAFI 40 | 9,610.15 | -97 | -1.00% |
| Capped Top 40 | 22,703.00 | -187 | -0.82% |
| Capped All Share | 24,193.66 | -213 | -0.87% |
| JSE TABACO | 7,760.74 | 18 | 0.23% |
Click here for the Sharenet Index Summary page
---
Latest Consensus Changes**

| | | | |
| --- | --- | --- | --- |
| Code | Company Name | Status | Updated |
| AVI | AVI LTD | BUY | 14/04/2014 |
| RCL | RCL FOODS LIMITED | HOLD | 14/04/2014 |
| PFG | PIONEER FOODS GROUP LTD | HOLD | 14/04/2014 |
| SAB | SABMILLER PLC | HOLD | 14/04/2014 |
| SHF | STEINHOFF INTERNATIONAL H... | HOLD | 14/04/2014 |

Results Expected**

| | | |
| --- | --- | --- |
| Expected | Company Name | Fin. Date |
| 17/04/2014 | NUWORLD | February 2014 (Interim) |
| 17/04/2014 | NUWORLD-N | February 2014 (Interim) |
| 17/04/2014 | OANDO | December 2013 (Final) |
| 18/04/2014 | REBOSIS | February 2014 (Interim) |
| 22/04/2014 | CMH | February 2014 (Final) |
---
Recent Dividends**

| | | | | |
| --- | --- | --- | --- | --- |
| Share Name | Dec-Date | LDT | Pay-Date | Amount |
| BARWORLD6%P | 14/04/14 | 09/05/14 | 19/05/14 | ZAR 0.0600 |
| PHUMELELA | 11/04/14 | 16/05/14 | 26/05/14 | ZAR 0.2800 |
| FPT | 10/04/14 | 30/04/14 | 12/05/14 | ZAR 0.2900 |
| ZEDER | 07/04/14 | 23/04/14 | 05/05/14 | ZAR 0.0450 |
| ASTRAPAKP | 04/04/14 | 23/04/14 | 05/05/14 | ZAR 4.0049 |

Ex Div**

| | | | | |
| --- | --- | --- | --- | --- |
| Share Name | Dec-Date | LDT | Pay-Date | Amount |
| CAPITEC | 26/03/14 | 10/04/14 | 22/04/14 | ZAR 4.6000 |
| SHFINV-PREF | 04/03/14 | 10/04/14 | 22/04/14 | ZAR 3.5400 |
| VUNANI | 24/03/14 | 10/04/14 | 22/04/14 | ZAR 0.2500 |
| AFROX | 27/02/14 | 10/04/14 | 22/04/14 | ZAR 0.2000 |
| INTUPLC | 20/03/14 | 10/04/14 | 20/05/14 | GBP 0.1000 |
---
Upcoming AGMs**

| | | | |
| --- | --- | --- | --- |
| Code | Company Name | Date | Status |
| RBP | Royal Bafokeng Platinum Ltd. | 16/04/2014 | Confirmed |
---
Stock Exchange News Service
Click here for more SENS news
---