Friday, 07 March 2014 - 20:00
Charts
Seed Weekly - Retirement Annuities
Every February I write an article about why people should use Retirement Annuities as part of their investment portfolio, but if I could get R 1 000 for every time a client, family member, friend, or acquaintance has told me that "Retirement Annuities are a waste of money", I would be retired now and not writing this article. I have heard many stories about Mr X or Mrs Y, whose retirement annuities were inadequate to fund their retirement despite the fact that they had been contributing to them for many years.
Unfortunately many people use these stories as an excuse not to make any retirement provisions at all.
What are the main reasons for Retirement Annuities not giving sufficient Retirement Capital:
• The first and most obvious reason is that people do not put away enough money each month. If you worked for a big corporate, the total of your contributions and the employer's contribution to retirement is often in excess of 15%. This means that somebody earning R 10 000 pm has a monthly retirement contribution in excess of R 1 500. As his salary increases, his retirement contributions also increase. People working for themselves, or for smaller companies, rarely spend this much on their retirement annuities. The problem is exacerbated when people have "traditional retirement annuities" which have life cover and other risk benefits attached to them. These risk costs radically reduce amounts available to the retirement fund.
• The second problem is the length of time people invest for. It is not uncommon for people to only start saving when they are 40 and then want to retire when they are 55. This does not leave much time for the wonder of compound interest to weave its magic.
The above problems are best illustrated by the following example. We have a client who started saving for his retirement 30 years ago into two policies – one of R 116 pm and the other R 35 pm. At that time, the contributions were probably close to 15% of his taxable income. The premiums remained unchanged until December 2007 when the client increased the R 35 pm policy to R 2 500 pm and has increased it by 10% pa since then. The total premiums paid on the R 116 policy to date are R 42 224, while the fund value is a staggering R 702 114. This equates to a return of 14.2% pa. The other policy has total premiums paid to date of R 295 516 but, because the real effects of compound interest are yet to kick in on the increased contributions, the fund value is R 574 706. This still equates to a return of 12.98% pa. It must be borne in mind that the huge tax advantages (up to 45% at one stage) have not been taken into account.
One of the major drawbacks of the "traditional" retirement annuity is the fact that it is costed upfront, i.e. your first number of premiums go towards the payment of costs and you only start increasing your retirement value after a while. Now days we have many products available where no upfront fees are accrued and very low ongoing fees are paid.
One of the major advantages of Retirement Annuities that people tend to forget is that your tax rate is usually higher pre-retirement than post retirement. Remember that post retirement you usually have lower income, higher rebates (after 65) and all medical expenses are allowed as a deduction (after 65). So the tax savings generated by the contributions are higher than the future liability created.
Do I think retirement annuities are the alpha and omega of retirement planning? Definitely not. You also need property, equities and offshore exposure in discretionary savings products, but retirement annuities definitely have their place and are ignored at your peril.
Kind regards,
Barry Hugo
www.seedinvestments.co.za
info@seedinvestments.co.za
021 914 4966
Fri, 07 Mar 2014
Top News
Gold tumbled more than 1 percent on Friday after stronger-than-expected U.S. jobs data helped soothe fears of an abrupt slowdown in the world's biggest economy.

---

President Vladimir Putin rebuffed a warning from U.S. President Barack Obama over Moscow's military intervention in Crimea, saying on Friday that Russia could not ignore calls for help from Russian speakers in Ukraine.

President Barack Obama on Thursday ordered sanctions on people responsible for Moscow's military intervention in Ukraine's Crimea Peninsula, including travel bans and freezing of their U.S. assets, and said a referendum by the region to join Russia would violate international law.
World Markets (Spot Prices)
| | | | | |
| --- | --- | --- | --- | --- |
| Name | Time | RP | Move | % Move |
| JSE Overall | 17:00 | 47786.77 | -32.76 | -0.07% |
| JSE Top 40 | 17:00 | 43206.26 | -29.87 | -0.07% |
| JSE Gold | 17:00 | 1524.95 | 17.69 | 1.17% |
| JSE Financial | 17:00 | 33968.08 | 153.77 | 0.45% |
| JSE Industrial | 17:00 | 62368.27 | 238.70 | 0.38% |
| JSE Indust 25 | 17:00 | 55261.10 | 266.56 | 0.48% |
| JSE Resource | 17:00 | 56036.35 | -785.16 | -1.38% |
| DJ Futures | 06/03 | 14432.00 | 16.00 | 0.11% |
| DJ Ind | 19:58 | 16449.19 | 27.30 | 0.17% |
| SP 500 | 19:54 | 1877.17 | 0.14 | 0.01% |
| Nasdaq | 19:58 | 4332.69 | -19.44 | -0.45% |
| FTSE 100 | 18:29 | 6717.47 | -71.02 | -1.05% |
| DAX | 19:08 | 9350.75 | -192.12 | -2.01% |
| CAC40 | 19:08 | 4366.42 | -50.62 | -1.15% |
| Nikkei | 08:36 | 15274.07 | 139.32 | 0.92% |
| Shanghai | 09:28 | 2057.91 | -1.67 | -0.08% |
| Hang-Seng | 10:28 | 22660.49 | -42.48 | -0.19% |
| All Ords | 07:39 | 5477.00 | 17.30 | 0.32% |
| NZSE 50 | 06:28 | 5125.65 | 10.86 | 0.21% |

| | | | | |
| --- | --- | --- | --- | --- |
| Name | Time | RP | Move | % Move |
| Gold $ | 19:59 | 1338.28 | -11.86 | -0.88% |
| Gold R | 19:59 | 14343.58 | 21.22 | 0.15% |
| Gold R/kg | 19:58 | 461084 | 2472 | 0.54% |
| Silver $ | 19:59 | 20.8900 | -.5320 | -2.48% |
| Platinum $ | 19:59 | 1481.70 | 3.20 | 0.22% |
| Palladium $ | 19:58 | 777.75 | .95 | 0.12% |
| R157 | 15:34 | 7.05 | -.02 | -0.28% |
| R186 | 15:34 | 8.50 | -.01 | -0.12% |
| R204 | 15:34 | 7.84 | -.14 | -1.76% |
| R207 | 15:34 | 8.08 | -.04 | -0.55% |
| Brent Crude | 19:58 | 108.76 | 1.00 | 0.93% |
| Rand / Dollar | 19:59 | 10.7188 | 0.1113 | 1.05% |
| Rand / Pound | 19:55 | 17.8991 | 0.1720 | 0.97% |
| Rand / Euro | 19:55 | 14.8772 | 0.1737 | 1.18% |
| Rand / NZD | 19:59 | 9.0707 | 0.0805 | 0.90% |
| Rand / AUD | 19:55 | 9.7298 | 0.0939 | 0.97% |
| Yen / Dollar | 19:59 | 103.3110 | 0.2390 | 0.23% |
| Euro / Dollar | 19:59 | 0.7208 | -0.0072 | -0.99% |
| Dollar / Euro | 19:59 | 1.3875 | 0.0015 | 0.11% |
| Pound / Dollar | 19:55 | 0.5977 | 0.0005 | 0.08% |
Click here for the Sharenet Spot Price page
The JSE Today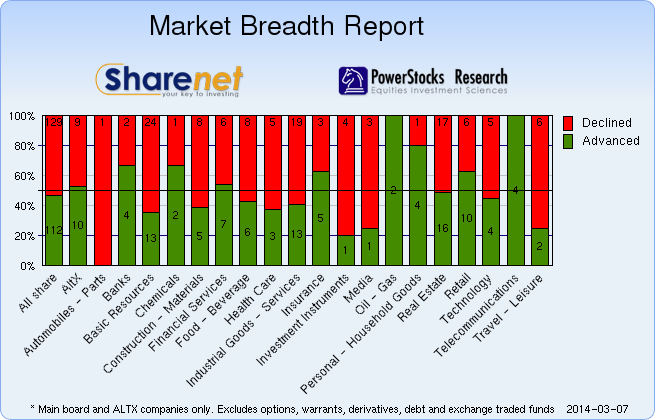 Trading Statistics
| Date | Adv. | Decl. | Unch. | Actives | Volume | Value | Trades | Orders |
| --- | --- | --- | --- | --- | --- | --- | --- | --- |
| 07/03/2014 | 188 | 188 | 70 | 446 | 187,641,820 | R14,225,576,507 | 158383 | 348124 |
| 06/03/2014 | 220 | 138 | 58 | 416 | 201,584,426 | R15,537,671,662 | 157346 | 262660 |
| 05/03/2014 | 177 | 152 | 78 | 407 | 204,111,799 | R14,478,231,354 | 149026 | 1075920 |
| 04/03/2014 | 229 | 141 | 59 | 429 | 227,257,004 | R17,308,156,388 | 175117 | 1055491 |
| 03/03/2014 | 173 | 196 | 66 | 435 | 164,138,776 | R13,273,854,889 | 146336 | 672763 |
* Includes all listed instruments on the JSE
---
---
---
Index Summary
| | | | |
| --- | --- | --- | --- |
| Index Name | RP | Move | % Move |
| Top 40 | 43,206.26 | -29.87 | -0.07% |
| Industrial | 62,368.27 | 238.70 | 0.38% |
| Mid Cap | 58,980.57 | -97.43 | -0.16% |
| Small Cap | 51,218.52 | 179.22 | 0.35% |
| Resource 20 | 56,036.35 | -785.16 | -1.38% |
| Industrial 25 | 55,261.10 | 266.56 | 0.48% |
| Financial 15 | 13,029.36 | 75.80 | 0.59% |
| Financial & Ind. 30 | 58,556.30 | 304.81 | 0.52% |
| All Share | 47,786.77 | -32.76 | -0.07% |
| Oil & Gas | 44,042.59 | 603.88 | 1.39% |
| Mining | 33,440.24 | -652.54 | -1.91% |
| Gold Mining | 1,524.95 | 17.69 | 1.17% |
| Platinum Mining | 49.23 | -.47 | -0.95% |
| GENERAL MINING | 9,630.17 | -241.59 | -2.45% |
| Oil & Gas Producers | 23,680.89 | 324.70 | 1.39% |
| Basic Materials | 29,768.81 | -533.75 | -1.76% |
| Chemicals | 24,497.38 | -103.73 | -0.42% |
| Forestry & Paper | 32,919.84 | -85.09 | -0.26% |
| Industrial Metals | 23,758.39 | -423.51 | -1.75% |
| Industrials | 41,602.24 | -148.60 | -0.36% |
| General Industrials | 129.77 | -.34 | -0.26% |
| Consumer Goods | 57,286.69 | 272.76 | 0.48% |
| Automobiles & Parts | 9,940.97 | -113.23 | -1.13% |
| Household Goods | 367.04 | 5 | 1.50% |
| Health Care | 74,403.31 | 427.99 | 0.58% |
| Beverages | 178.42 | .40 | 0.22% |

| | | | |
| --- | --- | --- | --- |
| Index Name | RP | Move | % Move |
| Food Producers | 63,804.11 | -269.41 | -0.42% |
| Personal Goods | 1,051.40 | 7.69 | 0.74% |
| Consumer Services | 11,900.80 | 27.55 | 0.23% |
| General Retailers | 56,375.56 | 26.87 | 0.05% |
| Travel & Leisure | 5,329.10 | -52.99 | -0.98% |
| Media | 289.52 | 1.72 | 0.60% |
| Support Services | 2,592.33 | -27.89 | -1.06% |
| Telecommunications | 9,807.63 | 126.98 | 1.31% |
| Financials | 33,968.08 | 153.77 | 0.45% |
| Banks | 57,472.99 | 233.44 | 0.41% |
| Non-life Insurance | 47,726.53 | 1020.89 | 2.19% |
| Life Insurance | 33,333.47 | 325.89 | 0.99% |
| General Financial | 3,342.58 | 20.22 | 0.61% |
| Technology | 44,334.41 | 70.92 | 0.16% |
| SHARIAH TOP40 | 4,131.94 | -25 | -0.61% |
| FTSE/JSE SHARIAH ALL | 4,219.26 | -23 | -0.53% |
| COAL MINING | 18,836.22 | -63 | -0.33% |
| FTSE JSE Fledgling | 6,548.54 | -8 | -0.11% |
| FTSE/JSE Alt X | 1,184.84 | 2 | 0.21% |
| SA LISTED PROPERTY | 481.54 | | -0.05% |
| CAPPED PROPERTY | 423.14 | | -0.08% |
| RESOURCE | 30,656.51 | -408 | -1.31% |
| DIVIDEND PLUS | 209.15 | 1 | 0.36% |
| FTSE/JSE RAFI 40 | 9,519.67 | -27 | -0.29% |
| Capped Top 40 | 22,873.28 | -3 | -0.01% |
| Capped All Share | 24,195.07 | -12 | -0.05% |
| JSE TABACO | 7,588.10 | 32 | 0.42% |
Click here for the Sharenet Index Summary page
---
Latest Consensus Changes**

| | | | |
| --- | --- | --- | --- |
| Code | Company Name | Status | Updated |
| FSR | FIRSTRAND LIMITED | HOLD | 06/03/2014 |
| IPL | IMPERIAL HOLDINGS LTD | SELL | 06/03/2014 |
| BTI | BRITISH AM. TOBACCO PLC | BUY | 05/03/2014 |
| RBP | ROYAL BAFOKENG PLATINUM L... | BUY | 04/03/2014 |
| APN | ASPEN PHARMACARE HLDGS | BUY | 04/03/2014 |

Results Expected**

| | | |
| --- | --- | --- |
| Expected | Company Name | Fin. Date |
| 10/03/2014 | A-V-I | December 2013 (Interim) |
| 10/03/2014 | A-V-I-P | December 2013 (Interim) |
| 10/03/2014 | BEE-SASOL | December 2013 (Interim) |
| 10/03/2014 | S.OCEAN | December 2013 (Final) |
| 10/03/2014 | SASFIN | December 2013 (Interim) |
---
Recent Dividends**

| | | | | |
| --- | --- | --- | --- | --- |
| Share Name | Dec-Date | LDT | Pay-Date | Amount |
| STANBANK | 06/03/14 | 04/04/14 | 14/04/14 | ZAR 3.0000 |
| RMIH | 06/03/14 | 20/03/14 | 31/03/14 | ZAR 0.4600 |
| EXXARO | 06/03/14 | 04/04/14 | 14/04/14 | ZAR 3.1500 |
| SANLAM | 06/03/14 | 04/04/14 | 14/04/14 | ZAR 2.0000 |
| FAIRVEST | 06/03/14 | 20/03/14 | 31/03/14 | ZAR 0.0675 |

Ex Div**

| | | | | |
| --- | --- | --- | --- | --- |
| Share Name | Dec-Date | LDT | Pay-Date | Amount |
| KUMBA | 11/02/14 | 07/03/14 | 17/03/14 | ZAR 19.9400 |
| ASSORE | 12/02/14 | 28/02/14 | 10/03/14 | ZAR 4.5000 |
| DSY B PREF | 20/02/14 | 07/03/14 | 17/03/14 | ZAR 4.2849 |
| HUDACO | 31/01/14 | 28/02/14 | 10/03/14 | ZAR 3.1000 |
| TRUWTHS | 20/02/14 | 07/03/14 | 17/03/14 | ZAR 2.1600 |
---
Upcoming AGMs**

| | | | |
| --- | --- | --- | --- |
| Code | Company Name | Date | Status |
---
Stock Exchange News Service
Click here for more SENS news
---