Wednesday, 21 August 2013 - 20:00
Charts
The Prospects for Local Equity
As with any asset manager, we at Seed Investments spend the majority of our time performing research on a wide variety of investment ideas and proposals. One area that we focus on, is trying to determine where the value lies when assessing the various asset classes. While the valuation of an asset class relative to its own history is important, it is often equally as important to determine its valuation relative to other asset classes, as investment decisions are never made in isolation.

The future returns from an investment into the stock market are dependent on a number of variables including earnings growth, the interest or discount rate, and the valuation of the market now when compared with its likely valuation in 3 to 5 years time. Ultimately, we have found that when the Price to Earnings (PE) ratio is below 11, investors tend to receive a superior return over the next 5 years. Conversely, as is the case now, where the PE ratio is above 16.5, investors tend to receive a below average return over the next 5 years. The average PE multiple of JSE listed companies over the last 27 years is 13.8. The market's PE is currently 18, which indicates that extreme caution is required for investors with a 5 year investment horizon.
When plotting the ALSI's current PE ratio versus its subsequent 5 year return, we can see (in the chart below) that the starting PE has a large impact on the expected return profile. From the chart we can also see that from current levels, investors should expect low returns when compared to history.
We also look at the level of earnings versus its longer term trend. Should earnings be materially above trend AND the PE multiple on these earnings high, there will be additional cause for concern. From our analysis it appears that the market's current earnings are, on average, close to trend. It may be that certain sectors have inflated earnings while others, such as the resource sector, have depressed earnings.
When comparing equity to property and bonds on a relative yield basis it is evident that the local equity market is also in expensive territory. While the charts below are useful, they don't capture the full picture, and must therefore be used in conjunction with other valuation tools.
This research, inter alia, has led us to use this month's market strength to further reduce the allocation to local equity across our Fund range. The Seed Flexible Fund now has its lowest allocation to local equity since it was launched over 3 years ago. Property has underperformed equity by nearly 25% over the past three and a half months, and we have used this weakness to increase the exposure to property. We are mindful of the risks in interest rate sensitive assets (read property and bonds) with interest rates near all time lows, and have therefore rather chosen to take interest rate exposure through property shares that should still deliver inflation beating earnings growth for the foreseeable future.
Take care,
Mike Browne
info@seedinvestments.co.za
www.seedinvestments.co.za
021 914 4966
Wed, 21 Aug 2013
Top News
Gold prices fell on Wednesday, under pressure from gains in the dollar and uncertainty over whether the U.S. Federal Reserve will begin curbing its bullion-friendly economic stimulus next month.

---

Syria's opposition accused President Bashar al-Assad's forces of gassing many hundreds of people - by one report as many as 1,300 - on Wednesday in what would, if confirmed, be the world's worst chemical weapons attack in decades.

Deposed Egyptian leader Hosni Mubarak will leave jail as early as Thursday after a court ruling that jolted a divided nation already in turmoil seven weeks after the army toppled Islamist President Mohamed Mursi.
World Markets (Spot Prices)
| | | | | |
| --- | --- | --- | --- | --- |
| Name | Time | RP | Move | % Move |
| JSE Overall | 17:00 | 42762.37 | -2.85 | -0.01% |
| JSE Top 40 | 17:00 | 38386.76 | 2.75 | 0.01% |
| JSE Gold | 17:00 | 1447.17 | 33.71 | 2.38% |
| JSE Financial | 17:00 | 30362.01 | -211.84 | -0.69% |
| JSE Industrial | 17:00 | 55759.64 | 119.38 | 0.21% |
| JSE Indust 25 | 17:00 | 48934.99 | 127.92 | 0.26% |
| JSE Resource | 17:00 | 50181.61 | 12.58 | 0.03% |
| DJ Futures | 18:48 | 14918.00 | -67.00 | -0.45% |
| DJ Ind | 19:52 | 14956.52 | -46.47 | -0.31% |
| SP 500 | 19:52 | 1648.79 | -3.56 | -0.22% |
| Nasdaq | 19:52 | 3610.56 | -3.03 | -0.08% |
| FTSE 100 | 17:35 | 6390.84 | -62.62 | -0.97% |
| DAX | 18:08 | 8285.41 | -14.62 | -0.18% |
| CAC40 | 18:08 | 4015.09 | -13.84 | -0.34% |
| Nikkei | 08:32 | 13424.33 | 27.95 | 0.21% |
| Shanghai | 09:28 | 2072.96 | .37 | 0.02% |
| Hang-Seng | 10:28 | 21817.73 | -152.56 | -0.69% |
| All Ords | 08:44 | 5090.30 | 21.50 | 0.42% |
| NZSE 50 | 07:48 | 4551.51 | 43.15 | 0.96% |

| | | | | |
| --- | --- | --- | --- | --- |
| Name | Time | RP | Move | % Move |
| Gold $ | 19:59 | 1373.04 | 1.86 | 0.14% |
| Gold R | 20/08 | 13922.41 | 11.37 | 0.08% |
| Gold R/kg | 19:52 | 451098 | 2991 | 0.67% |
| Silver $ | 19:59 | 22.9900 | -.0170 | -0.07% |
| Platinum $ | 19:59 | 1518.50 | .50 | 0.03% |
| Palladium $ | 19:59 | 745.10 | -1.20 | -0.16% |
| R157 | 17:38 | 6.40 | .07 | 1.19% |
| R186 | 17:39 | 8.60 | .07 | 0.82% |
| R204 | 17:38 | 7.47 | .12 | 1.56% |
| R207 | 17:38 | 7.81 | .10 | 1.30% |
| Brent Crude | 19:38 | 109.78 | -.12 | -0.11% |
| Rand / Dollar | 19:59 | 10.2236 | 0.0718 | 0.71% |
| Rand / Pound | 19:55 | 16.0255 | 0.1501 | 0.95% |
| Rand / Euro | 19:55 | 13.6877 | 0.0601 | 0.44% |
| Rand / NZD | 20/08 | 8.0906 | -0.1316 | -1.60% |
| Rand / AUD | 19:55 | 9.2495 | 0.0351 | 0.38% |
| Yen / Dollar | 19:59 | 97.5700 | 0.2550 | 0.26% |
| Euro / Dollar | 20/08 | 0.7453 | -0.0046 | -0.61% |
| Dollar / Euro | 19:59 | 1.3374 | -0.0044 | -0.32% |
| Pound / Dollar | 19:55 | 0.6370 | -0.0012 | -0.19% |
Click here for the Sharenet Spot Price page
The JSE Today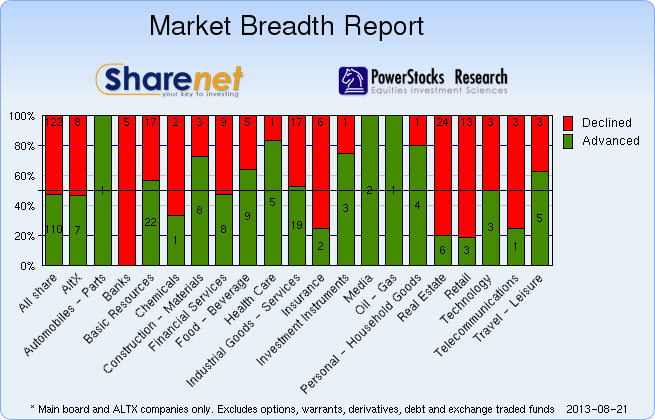 Trading Statistics
| Date | Adv. | Decl. | Unch. | Actives | Volume | Value | Trades | Orders |
| --- | --- | --- | --- | --- | --- | --- | --- | --- |
| 21/08/2013 | 162 | 180 | 66 | 408 | 161,890,814 | R10,995,796,806 | 112542 | 1301493 |
| 20/08/2013 | 148 | 195 | 73 | 416 | 178,103,189 | R12,221,443,829 | 142530 | 1545560 |
| 19/08/2013 | 176 | 184 | 66 | 426 | 206,527,219 | R11,600,109,923 | 127388 | 1180107 |
| 16/08/2013 | 235 | 108 | 63 | 406 | 168,931,139 | R11,842,865,214 | 131798 | 1262779 |
| 15/08/2013 | 130 | 208 | 79 | 417 | 168,527,877 | R12,157,213,131 | 122194 | 1151463 |
* Includes all listed instruments on the JSE
---
---
---
Index Summary
| | | | |
| --- | --- | --- | --- |
| Index Name | RP | Move | % Move |
| Top 40 | 38,386.76 | 2.75 | 0.01% |
| Industrial | 55,759.64 | 119.38 | 0.21% |
| Mid Cap | 55,225.48 | -71.93 | -0.13% |
| Small Cap | 46,241.38 | 84.21 | 0.18% |
| Resource 20 | 50,181.61 | 12.58 | 0.03% |
| Industrial 25 | 48,934.99 | 127.92 | 0.26% |
| Financial 15 | 11,517.26 | -69.30 | -0.60% |
| Financial & Ind. 30 | 51,650.90 | -.63 | -0.00% |
| All Share | 42,762.37 | -2.85 | -0.01% |
| Oil & Gas | 35,907.58 | 643.24 | 1.82% |
| Mining | 30,575.16 | -95.71 | -0.31% |
| Gold Mining | 1,447.17 | 33.71 | 2.38% |
| Platinum Mining | 47.64 | .05 | 0.11% |
| GENERAL MINING | 8,679.25 | -64.45 | -0.74% |
| Oil & Gas Producers | 19,306.84 | 345.85 | 1.82% |
| Basic Materials | 27,010.16 | -61.78 | -0.23% |
| Chemicals | 22,483.09 | -38.39 | -0.17% |
| Forestry & Paper | 26,335.10 | 229.55 | 0.88% |
| Industrial Metals | 23,421.17 | -31.09 | -0.13% |
| Industrials | 40,761.09 | -127.73 | -0.31% |
| General Industrials | 121.14 | -.69 | -0.57% |
| Consumer Goods | 52,943.20 | 214.05 | 0.41% |
| Automobiles & Parts | 8,487.19 | 63.40 | 0.75% |
| Household Goods | 182.30 | 0 | 0.12% |
| Health Care | 70,465.23 | 1243.34 | 1.80% |
| Beverages | 167.22 | .87 | 0.52% |

| | | | |
| --- | --- | --- | --- |
| Index Name | RP | Move | % Move |
| Food Producers | 70,168.23 | -305.90 | -0.43% |
| Personal Goods | 1,029.33 | 6.80 | 0.67% |
| Consumer Services | 9,377.72 | 29.30 | 0.31% |
| General Retailers | 57,286.61 | -545.60 | -0.94% |
| Travel & Leisure | 5,530.65 | -8.02 | -0.14% |
| Media | 188.74 | 2.15 | 1.15% |
| Support Services | 2,854.14 | 45.06 | 1.60% |
| Telecommunications | 9,020.61 | -89.94 | -0.99% |
| Financials | 30,362.01 | -211.84 | -0.69% |
| Banks | 50,833.85 | -352.12 | -0.69% |
| Non-life Insurance | 47,119.10 | 30.63 | 0.07% |
| Life Insurance | 29,589.56 | -195.98 | -0.66% |
| General Financial | 2,877.50 | -7.36 | -0.26% |
| Technology | 42,431.25 | 600.78 | 1.44% |
| SHARIAH TOP40 | 3,655.77 | -5 | -0.14% |
| FTSE/JSE SHARIAH ALL | 3,761.50 | -2 | -0.06% |
| COAL MINING | 20,564.27 | 104 | 0.51% |
| FTSE JSE Fledgling | 5,641.52 | -13 | -0.23% |
| FTSE/JSE Alt X | 995.81 | -8 | -0.75% |
| SA LISTED PROPERTY | 466.54 | | -1.49% |
| CAPPED PROPERTY | 394.82 | | -1.13% |
| RESOURCE | 27,461.61 | 12 | 0.05% |
| DIVIDEND PLUS | 205.78 | -1 | -0.30% |
| FTSE/JSE RAFI 40 | 8,461.25 | -3 | -0.03% |
| Capped Top 40 | 20,279.76 | 14 | 0.07% |
| Capped All Share | 21,640.32 | 5 | 0.02% |
| JSE TABACO | 6,836.62 | 1 | 0.02% |
Click here for the Sharenet Index Summary page
---
Latest Consensus Changes**

| | | | |
| --- | --- | --- | --- |
| Code | Company Name | Status | Updated |
| OML | OLD MUTUAL PLC | BUY | 19/08/2013 |
| SLM | SANLAM LIMITED | HOLD | 19/08/2013 |
| SBK | STANDARD BANK GROUP LIMIT... | HOLD | 19/08/2013 |
| MMI | MMI HOLDINGS LTD | HOLD | 19/08/2013 |
| LBH | LIBERTY HOLDINGS LTD ORD | HOLD | 19/08/2013 |

Results Expected**

| | | |
| --- | --- | --- |
| Expected | Company Name | Fin. Date |
| 22/08/2013 | AFROX | June 2013 (Interim) |
| 22/08/2013 | EHSV | June 2013 (Interim) |
| 22/08/2013 | EXXARO | June 2013 (Interim) |
| 22/08/2013 | GFIELDS | June 2013 (Interim) |
| 22/08/2013 | GFIELDSP | June 2013 (Interim) |
---
Recent Dividends**

| | | | | |
| --- | --- | --- | --- | --- |
| Share Name | Dec-Date | LDT | Pay-Date | Amount |
| IMPERIAL | 20/08/2013 | 19/09/2013 | 30/09/2013 | R 4.4000 |
| IMPERIALP | 20/08/2013 | 19/09/2013 | 30/09/2013 | R 3.4966 |
| BLUETEL | 20/08/2013 | 06/09/2013 | 16/09/2013 | R 0.2500 |
| EMIRA | 20/08/2013 | 06/09/2013 | 16/09/2013 | R 0.5890 |
| SHOPRIT | 20/08/2013 | 06/09/2013 | 16/09/2013 | R 2.1500 |

Ex Div**

| | | | | |
| --- | --- | --- | --- | --- |
| Share Name | Dec-Date | LDT | Pay-Date | Amount |
| FIRSTRANDB-P | 01/08/2013 | 16/08/2013 | 26/08/2013 | R 3.2025 |
| BATS | 31/07/2013 | 16/08/2013 | 30/09/2013 | R 0.4500 |
| CAPITAL | 31/07/2013 | 16/08/2013 | 26/08/2013 | R 0.3558 |
| SABVEST | 30/07/2013 | 16/08/2013 | 26/08/2013 | R 0.1800 |
| SABVEST-N | 30/07/2013 | 16/08/2013 | 26/08/2013 | R 0.1800 |
---
Upcoming AGMs**

| | | | |
| --- | --- | --- | --- |
| Code | Company Name | Date | Status |
| MRPP | Mr Price Group Ltd. | 21/08/2013 | Confirmed |
| MPC | Mr Price Group Ltd. | 21/08/2013 | Confirmed |
| MPCB | Mr Price Group Ltd. | 21/08/2013 | Confirmed |
| TAS | Taste Holdings Ltd. | 22/08/2013 | Confirmed |
| ISB | Insimbi Refractory and Alloy Supplies Lt... | 23/08/2013 | Confirmed |
---
Stock Exchange News Service
Click here for more SENS news
---