Tuesday, 13 August 2013 - 20:00
Charts
Top Down or Bottom Up?
"Top down" and "Bottom up" are types of investment processes that determine how managers select their investments. While the processes take different routes to selecting their investments, both have the same goal of selecting the best investments.
Top Down
As the name suggestion you start at the top. The manager starts by formulating a macro view of the economy and tries to forecast which sector will generate the best returns. After selecting a couple industries, the fund manager will find companies in these industries to populate the fund.
An example of top down is:
• The manager believes that interest rates will decrease.
• A decrease in interest rates will increase the populations' disposable income and the consumer goods and services industry will benefit the most.
• Those companies that are most exposed to increases in disposable income will be included in the fund.
Bottom Up
Bottom up funds are populated by looking at the companies first. No macro view is taken. The fund manager focuses merely on selecting stocks based on their individual qualities.
An example of bottom up is:
• Screen investment universe for shares with high Dividend Yields and low Price to Earnings and Price to Book ratios.
• Follow up with research to ensure that these companies are managed properly.
• Select those shares that have the best metrics.
Bottom Up with Macro Overlay
As with everything in life, there is always a middle ground. This manager starts by searching for companies on a bottom up basis. Before deciding if the company should be included in the fund, the manager takes into account his macro view. Will the company grow in the forecasted economic climate?
An example of where this blended approach would work is with the ever cyclical resource companies. On a fundamental basis the companies are the cheapest they have ever been for a long time, but depending on your macro view this can be buying opportunity or a company to avoid at all cost.
All of the above mention processes have their own pros and cons. If a wrong macro view is forecast, the manager might invest into an industry that returns less than the market, he will then underperform his peers. The same can happen if a manager invests into a company with good quantitative metrics, but faces severe economic head winds.
Understanding what process fund managers follow and how they invest, will help you understand how their funds will perform in various scenarios.
Kind regards,
Gerbrandt Kruger
www.seedinvestments.co.za
info@seedinvestments.co.za
021 914 4966
Tue, 13 Aug 2013
Top News
Massmart Holdings, the South African unit of Wal-Mart Stores Inc, said on Tuesday its first-half earnings rose by as much as 57 percent, lifted by favourable exchange rates.

---

Supporters and opponents of ousted President Mohamed Mursi battled in the streets of downtown Cairo on Tuesday, showing Egypt remained dangerously split six weeks after the army overthrew him in response to mass unrest against his rule.

OPEC oil producer Libya told its customers on Tuesday it could make no promises on crude deliveries next month as on-off strikes paralysed its major sea terminals.
World Markets (Spot Prices)
| | | | | |
| --- | --- | --- | --- | --- |
| Name | Time | RP | Move | % Move |
| JSE Overall | 17:00 | 42685.35 | 188.05 | 0.44% |
| JSE Top 40 | 17:00 | 38235.45 | 162.97 | 0.43% |
| JSE Gold | 17:00 | 1292.36 | -5.09 | -0.39% |
| JSE Financial | 17:00 | 30852.79 | 70.14 | 0.23% |
| JSE Industrial | 17:00 | 55552.48 | 238.89 | 0.43% |
| JSE Indust 25 | 17:00 | 48661.25 | 194.28 | 0.40% |
| JSE Resource | 17:00 | 49734.32 | 288.59 | 0.58% |
| DJ Futures | 19:50 | 15470.00 | 72.00 | 0.47% |
| DJ Ind | 19:58 | 15479.67 | 59.99 | 0.39% |
| SP 500 | 19:58 | 1694.90 | 5.43 | 0.32% |
| Nasdaq | 19:58 | 3680.35 | 10.40 | 0.28% |
| FTSE 100 | 17:35 | 6611.94 | 37.60 | 0.57% |
| DAX | 18:12 | 8415.76 | 56.51 | 0.68% |
| CAC40 | 18:12 | 4092.50 | 20.82 | 0.51% |
| Nikkei | 08:28 | 13867.00 | 347.57 | 2.57% |
| Shanghai | 09:30 | 2106.16 | 4.87 | 0.23% |
| Hang-Seng | 10:28 | 22541.13 | 269.85 | 1.21% |
| All Ords | 09:11 | 5141.60 | 47.80 | 0.94% |
| NZSE 50 | 07:48 | 4525.82 | 3.52 | 0.08% |

| | | | | |
| --- | --- | --- | --- | --- |
| Name | Time | RP | Move | % Move |
| Gold $ | 19:59 | 1321.80 | -14.84 | -1.11% |
| Gold R | 00:00 | 13199.65 | 308.36 | 2.39% |
| Gold R/kg | 19:58 | 423741 | -1769 | -0.42% |
| Silver $ | 19:59 | 21.4720 | .1050 | 0.49% |
| Platinum $ | 19:59 | 1495.50 | 3.00 | 0.20% |
| Palladium $ | 19:59 | 738.20 | 2.80 | 0.38% |
| R157 | 17:40 | 6.09 | .03 | 0.50% |
| R186 | 17:34 | 8.31 | .14 | 1.71% |
| R204 | 16:50 | 7.06 | .02 | 0.36% |
| R207 | 16:49 | 7.40 | .01 | 0.20% |
| Brent Crude | 19:58 | 109.51 | 1.29 | 1.19% |
| Rand / Dollar | 19:59 | 9.9677 | 0.0906 | 0.92% |
| Rand / Pound | 19:55 | 15.3592 | 0.1164 | 0.76% |
| Rand / Euro | 19:55 | 13.2104 | 0.0734 | 0.56% |
| Rand / NZD | 00:00 | 7.9014 | 0.0280 | 0.36% |
| Rand / AUD | 19:55 | 9.0625 | 0.0265 | 0.29% |
| Yen / Dollar | 19:58 | 98.2200 | 1.1850 | 1.22% |
| Euro / Dollar | 00:00 | 0.7519 | 0.0020 | 0.27% |
| Dollar / Euro | 19:59 | 1.3256 | -0.0043 | -0.33% |
| Pound / Dollar | 19:55 | 0.6471 | 0.0006 | 0.09% |
Click here for the Sharenet Spot Price page
The JSE Today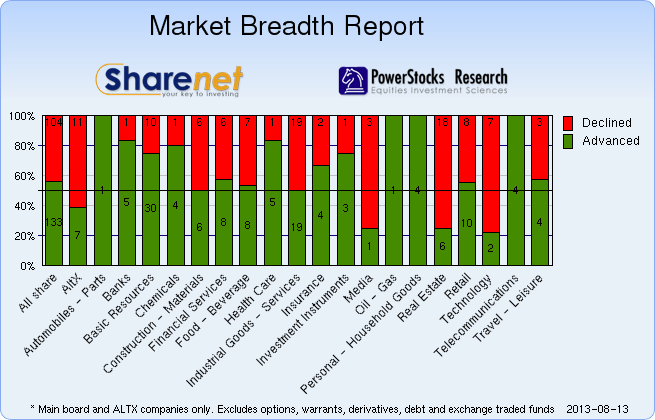 Trading Statistics
| Date | Adv. | Decl. | Unch. | Actives | Volume | Value | Trades | Orders |
| --- | --- | --- | --- | --- | --- | --- | --- | --- |
| 13/08/2013 | 211 | 139 | 83 | 433 | 253,986,863 | R14,368,764,025 | 148542 | 1000435 |
| 12/08/2013 | 231 | 144 | 78 | 453 | 206,880,220 | R15,905,422,953 | 181544 | 945496 |
| 08/08/2013 | 215 | 130 | 69 | 414 | 160,020,044 | R11,359,896,356 | 107692 | 1173952 |
| 07/08/2013 | 137 | 205 | 73 | 415 | 209,028,670 | R13,116,341,771 | 140217 | 1261220 |
| 06/08/2013 | 124 | 205 | 81 | 410 | 213,692,368 | R11,374,743,122 | 118569 | 1136092 |
* Includes all listed instruments on the JSE
---
---
---
Index Summary
| | | | |
| --- | --- | --- | --- |
| Index Name | RP | Move | % Move |
| Top 40 | 38,235.45 | 162.97 | 0.43% |
| Industrial | 55,552.48 | 238.89 | 0.43% |
| Mid Cap | 55,878.51 | 264.98 | 0.48% |
| Small Cap | 46,070.62 | 327.31 | 0.72% |
| Resource 20 | 49,734.32 | 288.59 | 0.58% |
| Industrial 25 | 48,661.25 | 194.28 | 0.40% |
| Financial 15 | 11,629.06 | 26.42 | 0.23% |
| Financial & Ind. 30 | 51,567.68 | 182.84 | 0.36% |
| All Share | 42,685.35 | 188.05 | 0.44% |
| Oil & Gas | 35,698.72 | 476.00 | 1.35% |
| Mining | 30,228.37 | 139.14 | 0.46% |
| Gold Mining | 1,292.36 | -5.09 | -0.39% |
| Platinum Mining | 46.37 | .64 | 1.40% |
| GENERAL MINING | 8,711.39 | 40.33 | 0.47% |
| Oil & Gas Producers | 19,194.54 | 255.93 | 1.35% |
| Basic Materials | 26,714.48 | 145.12 | 0.55% |
| Chemicals | 22,163.19 | 217.69 | 0.99% |
| Forestry & Paper | 25,869.42 | 304.52 | 1.19% |
| Industrial Metals | 24,037.72 | 376.03 | 1.59% |
| Industrials | 40,860.64 | -273.57 | -0.67% |
| General Industrials | 122.28 | -1.59 | -1.28% |
| Consumer Goods | 52,337.69 | 470.31 | 0.91% |
| Automobiles & Parts | 8,514.36 | 22.64 | 0.27% |
| Household Goods | 186.17 | 3 | 1.48% |
| Health Care | 69,216.38 | 734.12 | 1.07% |
| Beverages | 164.66 | 1.93 | 1.19% |

| | | | |
| --- | --- | --- | --- |
| Index Name | RP | Move | % Move |
| Food Producers | 70,494.09 | -482.87 | -0.68% |
| Personal Goods | 1,010.75 | 8.99 | 0.90% |
| Consumer Services | 9,295.67 | -35.34 | -0.38% |
| General Retailers | 58,210.35 | -98.49 | -0.17% |
| Travel & Leisure | 5,594.86 | -19.50 | -0.35% |
| Media | 184.11 | -.99 | -0.53% |
| Support Services | 2,800.07 | 5.57 | 0.20% |
| Telecommunications | 9,321.17 | 68.65 | 0.74% |
| Financials | 30,852.79 | 70.14 | 0.23% |
| Banks | 51,418.14 | 454.97 | 0.89% |
| Non-life Insurance | 48,479.43 | 816.71 | 1.71% |
| Life Insurance | 29,835.84 | -214.39 | -0.71% |
| General Financial | 2,893.98 | 31.44 | 1.10% |
| Technology | 41,901.97 | -.79 | -0.00% |
| SHARIAH TOP40 | 3,654.07 | 22 | 0.60% |
| FTSE/JSE SHARIAH ALL | 3,761.85 | 22 | 0.59% |
| COAL MINING | 20,140.75 | 24 | 0.12% |
| FTSE JSE Fledgling | 5,576.09 | 13 | 0.24% |
| FTSE/JSE Alt X | 1,011.50 | -14 | -1.39% |
| SA LISTED PROPERTY | 495.33 | | -0.40% |
| CAPPED PROPERTY | 413.15 | | 0.05% |
| RESOURCE | 27,175.98 | 166 | 0.61% |
| DIVIDEND PLUS | 207.15 | 2 | 1.10% |
| FTSE/JSE RAFI 40 | 8,438.85 | 36 | 0.42% |
| Capped Top 40 | 20,193.58 | 84 | 0.42% |
| Capped All Share | 21,597.70 | 96 | 0.45% |
| JSE TABACO | 6,812.47 | 66 | 0.99% |
Click here for the Sharenet Index Summary page
---
Latest Consensus Changes**

| | | | |
| --- | --- | --- | --- |
| Code | Company Name | Status | Updated |
| APN | ASPEN PHARMACARE HLDGS | HOLD | 12/08/2013 |
| NED | NEDBANK GROUP LTD | BUY | 09/08/2013 |
| MTN | MTN GROUP LIMITED | BUY | 09/08/2013 |
| MPC | MR PRICE GROUP LIMITED | SELL | 08/08/2013 |
| NHM | NORTHAM PLATINUM LIMITED | SELL | 08/08/2013 |

Results Expected**

| | | |
| --- | --- | --- |
| Expected | Company Name | Fin. Date |
| 14/08/2013 | CITYLDG | June 2013 (Final) |
| 14/08/2013 | EASTPLATS | June 2013 (Interim) |
| 14/08/2013 | FORTRESSA | June 2013 (Final) |
| 14/08/2013 | FORTRESSB | June 2013 (Final) |
| 14/08/2013 | HARMONY | June 2013 (Final) |
---
Recent Dividends**

| | | | | |
| --- | --- | --- | --- | --- |
| Share Name | Dec-Date | LDT | Pay-Date | Amount |
| GROUP 5 | 12/08/2013 | 19/09/2013 | 30/09/2013 | R 0.3500 |
| MONDILTD | 08/08/2013 | 16/08/2013 | 17/09/2013 | R 0.0955 |
| MONDIPLC | 08/08/2013 | 16/08/2013 | 17/09/2013 | R 0.0955 |
| OLDMUTUAL | 07/08/2013 | 19/09/2013 | 31/10/2013 | R 0.0210 |
| SHPRT 2ND5 | 07/08/2013 | 23/08/2013 | 02/09/2013 | R 0.0500 |

Ex Div**

| | | | | |
| --- | --- | --- | --- | --- |
| Share Name | Dec-Date | LDT | Pay-Date | Amount |
| KUMBA | 19/07/2013 | 08/08/2013 | 19/08/2013 | R 20.1000 |
| HUDACO | 28/06/2013 | 08/08/2013 | 19/08/2013 | R 1.5500 |
| SABMILLER | 23/05/2013 | 09/08/2013 | 23/08/2013 | R 0.7700 |
| ANGLO | 26/07/2013 | 08/08/2013 | 12/09/2013 | R 0.3200 |
---
Upcoming AGMs**

| | | | |
| --- | --- | --- | --- |
| Code | Company Name | Date | Status |
| SAH | South African Coal Mining Holdings Ltd. | 14/08/2013 | Confirmed |
| GDN | Gooderson Leisure Corporation Ltd. | 15/08/2013 | Confirmed |
| IVTP | Invicta Holdings Ltd. | 16/08/2013 | Confirmed |
| IVT | Invicta Holdings Ltd. | 16/08/2013 | Confirmed |
| MMG | MICROmega Holdings Ltd. | 16/08/2013 | Confirmed |
---
Stock Exchange News Service
Click here for more SENS news
---