Tuesday, 23 July 2013 - 20:00
Charts
Different Investment Companies
As multi managers at Seed, we spend a considerable portion of our time meeting with investment managers and performing due diligences in order to separate the good the bad and the ugly. Over the past year we have spent in excess of 200 hours meeting with investment managers specialising across a wide range of asset classes (equity, property, commodities, fixed income, derivatives, etc, across local and global jurisdictions) and investment types (unit trusts, hedge funds, structured products, segregated mandates, etc). On top of this we have spent significantly more time researching managers on a quantitative basis and assessing them, in the office, on a qualitative basis.
Before we decide on which funds / managers to invest with there are certain attributes at an investment company level that we need to determine. There aren't many 'deal breakers', but some company structures are naturally better than others. Firstly we need to categorise how the company's various funds are managed between these three broad types:
• Boutique
• Houseview portfolios
• Central research
We have discussed the pro's and con's of boutiques in previous Weekly's, but there are also some large asset management companies that operate a 'multiple boutique model' across their fund range. Here, managers are given complete autonomy in how they manage their funds – which is great – but there is the risk that when a manager underperforms, the company puts undue pressure on him/her to change their process to improve performance or risk losing their job. Where each manager essentially runs a boutique within a large firm we need to ensure that there is a proper alignment of interests to gain the full benefits of a boutique operation. In a 'multiple boutique model' environment, we research each and every manager's investment style and not just the investment company's philosophy and process.
At the other end of the scale there are companies where all clients essentially get the same portfolio, up or down risked based on their needs, as the investment process and fund managers are common across all/most portfolios. Here the individual skill of each of the managers is less important than the 'whole' of the investment company's approach.
In between, we have companies where there is one central research process and investment philosophy, but each manager is given a level of autonomy in order to express the company's view how he/she sees fit. In this environment the manager is able to express some flair, but their portfolios will be more or less in line with their peers. Here, the risk is that there will be slightly different outcomes between clients with different managers.
There is no 'right' or 'wrong' way, but we need to ensure that we know how the investments are (and have been) managed in order to provide accurate analysis. Our research process gets more complicated when an investment company's structure has migrated between a houseview and a central research and a boutique (and sometimes back again to houseview). In this case we need to distinctly identify performance under each of the various regimes (just as performance needs to be separated for each manager in a boutique environment).
For the average retail investor this depth of research just isn't possible, and this is where multi managers should play an important role in your portfolio.
Take care,
Mike Browne
www.seedinvestments.co.za
info@seedinvestments.co.za
021 914 4966
Tue, 23 Jul 2013
Top News
South Africa's rand advanced against the dollar to reach a seven-week high on Tuesday, breaking through the key support level of 9.80.

---

Nine people were killed in Cairo on Tuesday in clashes between opponents and Islamist supporters of Egypt's deposed President Mohamed Mursi, state-run media reported, keeping the most populous Arab nation in turmoil.

Besotted royal-watchers across the world waited for their first glimpse of Britain's new prince on Tuesday, with Prince William and his wife Kate expected to leave a London hospital soon with their baby son.
World Markets (Spot Prices)
| | | | | |
| --- | --- | --- | --- | --- |
| Name | Time | RP | Move | % Move |
| JSE Overall | 17:00 | 41176.57 | 282.52 | 0.69% |
| JSE Top 40 | 17:00 | 36652.71 | 258.43 | 0.71% |
| JSE Gold | 17:00 | 1305.87 | 13.38 | 1.04% |
| JSE Financial | 17:00 | 30805.02 | 387.66 | 1.27% |
| JSE Industrial | 17:00 | 53584.53 | -47.97 | -0.09% |
| JSE Indust 25 | 17:00 | 46750.59 | -103.94 | -0.22% |
| JSE Resource | 17:00 | 46833.62 | 851.30 | 1.85% |
| DJ Futures | 19:54 | 15530.00 | 39.00 | 0.25% |
| DJ Ind | 19:58 | 15589.98 | 44.43 | 0.29% |
| SP 500 | 19:58 | 1695.23 | -0.30 | -0.02% |
| Nasdaq | 19:58 | 3591.97 | -8.42 | -0.23% |
| FTSE 100 | 17:35 | 6597.44 | -25.73 | -0.39% |
| DAX | 18:08 | 8314.23 | -16.83 | -0.20% |
| CAC40 | 18:08 | 3923.09 | -16.83 | -0.43% |
| Nikkei | 08:58 | 14778.51 | 120.47 | 0.82% |
| Shanghai | 09:30 | 2043.88 | 39.11 | 1.95% |
| Hang-Seng | 10:28 | 21915.42 | 498.92 | 2.33% |
| All Ords | 08:41 | 5004.60 | 15.70 | 0.31% |
| NZSE 50 | 07:48 | 4580.59 | 26.55 | 0.58% |

| | | | | |
| --- | --- | --- | --- | --- |
| Name | Time | RP | Move | % Move |
| Gold $ | 19:59 | 1335.30 | .02 | 0.00% |
| Gold R | 19:59 | 12953.27 | -142.75 | -1.09% |
| Gold R/kg | 19:58 | 416529 | -2042 | -0.49% |
| Silver $ | 19:59 | 20.2900 | -.2330 | -1.14% |
| Platinum $ | 19:58 | 1440.00 | -2.50 | -0.17% |
| Palladium $ | 19:59 | 735.90 | -8.10 | -1.09% |
| R157 | 17:44 | 6.05 | .08 | 1.34% |
| R186 | 16:47 | 8.03 | .15 | 1.97% |
| R204 | 17:44 | 6.96 | .05 | 0.72% |
| R207 | 17:44 | 7.24 | .08 | 1.05% |
| Brent Crude | 19:58 | 108.46 | .39 | 0.36% |
| Rand / Dollar | 19:59 | 9.7029 | -0.1048 | -1.07% |
| Rand / Pound | 19:55 | 14.8833 | -0.1459 | -0.97% |
| Rand / Euro | 19:55 | 12.8214 | -0.1103 | -0.85% |
| Rand / NZD | 19:59 | 7.7586 | -0.0607 | -0.78% |
| Rand / AUD | 19:55 | 9.0103 | -0.0597 | -0.66% |
| Yen / Dollar | 19:59 | 99.5400 | -0.0640 | -0.06% |
| Euro / Dollar | 19:59 | 0.7565 | -0.0020 | -0.26% |
| Dollar / Euro | 19:59 | 1.3220 | 0.0035 | 0.27% |
| Pound / Dollar | 19:55 | 0.6501 | -0.0009 | -0.14% |
Click here for the Sharenet Spot Price page
The JSE Today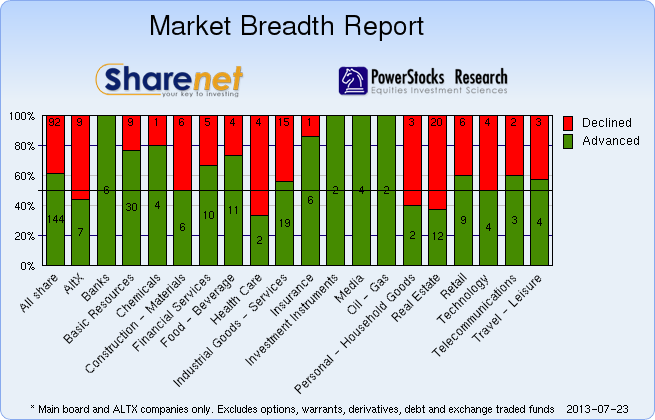 Trading Statistics
| Date | Adv. | Decl. | Unch. | Actives | Volume | Value | Trades | Orders |
| --- | --- | --- | --- | --- | --- | --- | --- | --- |
| 23/07/2013 | 228 | 130 | 73 | 431 | 177,361,780 | R12,068,141,982 | 155677 | 1451940 |
| 22/07/2013 | 182 | 149 | 67 | 398 | 168,006,388 | R10,818,389,476 | 138759 | 1664526 |
| 19/07/2013 | 122 | 204 | 70 | 396 | 162,692,896 | R10,172,874,264 | 128403 | 537953 |
| 18/07/2013 | 197 | 145 | 68 | 410 | 190,770,343 | R12,794,079,282 | 170536 | 845908 |
| 17/07/2013 | 215 | 139 | 60 | 414 | 248,669,272 | R16,612,335,564 | 182621 | 1848603 |
* Includes all listed instruments on the JSE
---
---
---
Index Summary
| | | | |
| --- | --- | --- | --- |
| Index Name | RP | Move | % Move |
| Top 40 | 36,652.00 | 258.00 | 0.71% |
| Industrial | 53,584.00 | -47.00 | -0.09% |
| Mid Cap | 55,784.00 | 313.00 | 0.57% |
| Small Cap | 45,178.00 | 341.00 | 0.76% |
| Resource 20 | 46,833.00 | 851.00 | 1.85% |
| Industrial 25 | 46,750.00 | -103.00 | -0.22% |
| Financial 15 | 11,542.00 | 178.00 | 1.57% |
| Financial & Ind. 30 | 49,839.00 | 100.00 | 0.20% |
| All Share | 41,176.00 | 282.00 | 0.69% |
| Oil & Gas | 34,249.00 | 461.00 | 1.37% |
| Mining | 28,336.00 | 530.00 | 1.91% |
| Gold Mining | 1,305.00 | 13.00 | 1.07% |
| Platinum Mining | 39.00 | 1.00 | 3.95% |
| GENERAL MINING | 8,164.00 | 156.00 | 1.95% |
| Oil & Gas Producers | 18,415.00 | 248.00 | 1.37% |
| Basic Materials | 25,044.00 | 441.00 | 1.79% |
| Chemicals | 21,755.00 | -62.00 | -0.29% |
| Forestry & Paper | 23,168.00 | 218.00 | 0.95% |
| Industrial Metals | 24,470.00 | 374.00 | 1.55% |
| Industrials | 41,394.00 | 470.00 | 1.15% |
| General Industrials | 123.00 | 1.00 | 1.14% |
| Consumer Goods | 51,027.00 | -138.00 | -0.27% |
| Automobiles & Parts | 8,061.00 | .00 | 0.01% |
| Household Goods | 181.00 | 0 | -0.47% |
| Health Care | 67,072.00 | -164.00 | -0.25% |
| Beverages | 167.00 | .00 | 0.20% |

| | | | |
| --- | --- | --- | --- |
| Index Name | RP | Move | % Move |
| Food Producers | 72,432.00 | 1177.00 | 1.65% |
| Personal Goods | 920.00 | -3.00 | -0.42% |
| Consumer Services | 89,647.00 | 567.00 | 0.64% |
| General Retailers | 57,762.00 | 298.00 | 0.52% |
| Travel & Leisure | 5,383.00 | 66.00 | 1.25% |
| Media | 171.00 | 1.00 | 1.00% |
| Support Services | 2,407.00 | -1.00 | -0.04% |
| Telecommunications | 83,585.00 | -1978.00 | -2.31% |
| Financials | 30,805.00 | 388.00 | 1.28% |
| Banks | 50,105.00 | 1253.00 | 2.57% |
| Non-life Insurance | 50,707.00 | 1230.00 | 2.49% |
| Life Insurance | 29,758.00 | 363.00 | 1.24% |
| General Financial | 2,859.00 | 29.00 | 1.06% |
| Technology | 40,910.00 | 260.00 | 0.64% |
| SHARIAH TOP40 | 3,417.00 | 32 | 0.96% |
| FTSE/JSE SHARIAH ALL | 3,551.00 | 29 | 0.83% |
| COAL MINING | 20,223.00 | 604 | 3.08% |
| FTSE JSE Fledgling | 5,534.00 | 3 | 0.06% |
| FTSE/JSE Alt X | 999.00 | 7 | 0.72% |
| SA LISTED PROPERTY | 521.00 | | -0.43% |
| CAPPED PROPERTY | 432.00 | | -0.19% |
| RESOURCE | 25,577.00 | 455 | 1.81% |
| DIVIDEND PLUS | 205.00 | 2 | 1.42% |
| FTSE/JSE RAFI 40 | 8,111.00 | 73 | 0.91% |
| Capped Top 40 | 19,341.00 | 129 | 0.67% |
| Capped All Share | 20,840.00 | 138 | 0.67% |
| JSE TABACO | 6,670.00 | -65 | -0.98% |
Click here for the Sharenet Index Summary page
---
Latest Consensus Changes**

| | | | |
| --- | --- | --- | --- |
| Code | Company Name | Status | Updated |
| AGL | ANGLO AMERICAN PLC | BUY | 19/07/2013 |
| VOD | VODACOM GROUP LIMITED | HOLD | 19/07/2013 |
| AIP | ADCOCK INGRAM HLGS LD | HOLD | 19/07/2013 |
| ASA | ABSA GROUP LIMITED | HOLD | 19/07/2013 |
| NED | NEDBANK GROUP LTD | BUY | 18/07/2013 |

Results Expected**

| | | |
| --- | --- | --- |
| Expected | Company Name | Fin. Date |
| 24/07/2013 | AECI | June 2013 (Interim) |
| 24/07/2013 | AECI 5.5%P | June 2013 (Interim) |
| 24/07/2013 | AQUARIUS | June 2013 (Q) |
| 24/07/2013 | AQUARIUSCVT | June 2013 (Q) |
| 25/07/2013 | ARCMITTAL | June 2013 (Interim) |
---
Recent Dividends**

| | | | | |
| --- | --- | --- | --- | --- |
| Share Name | Dec-Date | LDT | Pay-Date | Amount |
| FOORDCMPS | 09/07/2013 | 26/07/2013 | 05/08/2013 | R 0.3000 |
| HUDACO | 28/06/2013 | 08/08/2013 | 19/08/2013 | R 1.5500 |
| ARGENT | 26/06/2013 | 27/09/2013 | 07/10/2013 | R 0.0700 |
| PRESCIENT | 25/06/2013 | 26/07/2013 | 05/08/2013 | R 0.0250 |
| NASPERS-N | 25/06/2013 | 13/09/2013 | 23/09/2013 | R 3.8500 |

Ex Div**

| | | | | |
| --- | --- | --- | --- | --- |
| Share Name | Dec-Date | LDT | Pay-Date | Amount |
| AME | 14/06/2013 | 19/07/2013 | 29/07/2013 | R 2.0000 |
| PERGRIN | 06/06/2013 | 19/07/2013 | 29/07/2013 | R 0.7200 |
| PERGRIN | 06/06/2013 | 19/07/2013 | 29/07/2013 | R 0.2800 |
| NETCARE | 20/05/2013 | 19/07/2013 | 29/07/2013 | R 0.2700 |
| INVPLC | 23/05/2013 | 19/07/2013 | 12/08/2013 | R 0.1000 |
---
Upcoming AGMs**

| | | | |
| --- | --- | --- | --- |
| Code | Company Name | Date | Status |
| WKF | Workforce Holdings Ltd. | 24/07/2013 | Confirmed |
| MDC | Mediclinic International Ltd. | 25/07/2013 | Confirmed |
| FBR | Famous Brands Ltd. | 25/07/2013 | Confirmed |
| ADAP | Adrenna Property Group Ltd. | 25/07/2013 | Confirmed |
| ANA | Adrenna Property Group Ltd. | 25/07/2013 | Confirmed |
---
Stock Exchange News Service
Click here for more SENS news
---