Tuesday, 07 May 2013 - 20:00
Charts
Diversification ? Benefits of Low Correlation
Everyone has heard that you should have a diversified portfolio, but is your "diversified" portfolio actually providing you with the maximum benefit?
The aim of diversifying your portfolio is to reduce the risk (i.e. volatility) of the portfolio for a certain expected return. The key in diversification is to take into account the correlation between the different components of the portfolio.
The correlation is the statistical measure of how two assets move in relation to one another. If two assets are perfectly positively correlated (ρ=1) they move in lock step, if the one goes up the other will also go up and vice versa. At the other end of spectrum is perfectly negatively correlated assets (ρ=-1), if the one goes up the other goes down. Uncorrelated assets (ρ=0) sit in the middle as there is no relationship between the movements of the two assets.
The graph below shows the risk/return plot of 4 portfolios made up out of two assets with different correlations. Each curve represents the different risk/return combinations dependant on the weight of the securities in the portfolio.
The maximum benefits of correlation are observed when assets are either uncorrelated or negatively correlated with each other. It is possible to create a portfolio where the risk (standard deviation) is less than either of the two assets, with the expected between the two assets.
Another way to look at how diversified your portfolio is, is to look at how the assets react in periods of negative market returns in relation to each other and the market. The assets might have a higher correlation with each other in down periods which reduces the benefit of diversification. At Seed we pay careful attention to how assets react in relation to one another in down markets, as this is when the benefits of diversification are best experienced.
A portfolio will ideally be constructed with assets that have negative or low bear (down market) correlation and high bull (up market) correlation. This will ensure that the portfolio is better at preserving capital in negative periods and delivering good returns in positive periods.
While correlation is an important metric, investors must also make sure that the expected return is acceptable. It is pointless adding a negatively correlated asset to a portfolio when the asset's expected return is negative in most market environments.
As always, we are available for any questions regarding investment or retirement matters.
Kind regards,
Gerbrandt Kruger
www.seedinvestments.co.za
info@seedinvestments.co.za
021 914 4966
Tue, 07 May 2013
Top News
South African stocks broke a three-day rise on Tuesday, weighed down by share price drops at gold companies such as Gold Fields as investors nervously await economic data from top metals consumer China.

---

The three Cleveland women found alive after vanishing in their own neighbourhood for about a decade were rescued from a house that authorities tried to visit several years ago, police said on Tuesday.

Britain should leave the European Union because Prime Minister David Cameron's plan to claw back powers from Brussels is doomed, a former senior minister said on Tuesday, stirring divisions that threaten his party's re-election hopes.
World Markets (Spot Prices)
| | | | | |
| --- | --- | --- | --- | --- |
| Name | Time | RP | Move | % Move |
| JSE Overall | 17:00 | 39821.48 | -6.00 | -0.02% |
| JSE Top 40 | 17:00 | 35214.02 | 15.00 | 0.04% |
| JSE Gold | 17:00 | 1464.97 | -36.00 | -2.40% |
| JSE Financial | 17:00 | 31222.14 | 83.00 | 0.27% |
| JSE Industrial | 17:00 | 50908.61 | -61.00 | -0.12% |
| JSE Indust 25 | 17:00 | 44232.92 | -56.00 | -0.13% |
| JSE Resource | 17:00 | 45234.52 | -27.00 | -0.06% |
| DJ Futures | 19:28 | 14978.00 | 72.00 | 0.48% |
| DJ Ind | 19:58 | 15046.91 | 78.02 | 0.52% |
| SP 500 | 19:58 | 1625.52 | 8.02 | 0.50% |
| Nasdaq | 19:58 | 3396.95 | 3.98 | 0.12% |
| FTSE 100 | 17:35 | 6557.30 | 35.84 | 0.55% |
| DAX | 18:02 | 8181.78 | 69.70 | 0.86% |
| CAC40 | 18:02 | 3921.32 | 14.28 | 0.37% |
| Nikkei | 08:36 | 14180.24 | 486.20 | 3.55% |
| Shanghai | 09:28 | 2235.57 | 4.41 | 0.20% |
| Hang-Seng | 10:28 | 23047.09 | 132.00 | 0.58% |
| All Ords | 08:43 | 5122.70 | -11.10 | -0.22% |
| NZSE 50 | 07:48 | 4621.73 | 25.50 | 0.55% |

| | | | | |
| --- | --- | --- | --- | --- |
| Name | Time | RP | Move | % Move |
| Gold $ | 19:59 | 1450.40 | -19.17 | -1.30% |
| Gold R | 19:58 | 13089.46 | 13089.46 | 0.00% |
| Gold R/kg | 19:58 | 420902 | -3347 | -0.79% |
| Silver $ | 19:59 | 23.8760 | -.1240 | -0.52% |
| Platinum $ | 19:59 | 1478.50 | -23.50 | -1.56% |
| Palladium $ | 19:59 | 679.50 | -13.30 | -1.92% |
| R157 | 17:24 | 5.08 | -.00 | -0.10% |
| R186 | 17:27 | 6.72 | .01 | 0.15% |
| R204 | 17:24 | 5.67 | .00 | 0.00% |
| R207 | 17:24 | 5.84 | -.00 | -0.09% |
| Brent Crude | 19:58 | 105.04 | 1.03 | 0.99% |
| Rand / Dollar | 19:59 | 9.0206 | 0.0393 | 0.44% |
| Rand / Pound | 19:55 | 13.9403 | 0.0034 | 0.02% |
| Rand / Euro | 19:55 | 11.8080 | 0.0570 | 0.49% |
| Rand / NZD | 19:58 | 7.6301 | -0.0175 | -0.23% |
| Rand / AUD | 19:55 | 9.1875 | -0.0325 | -0.35% |
| Yen / Dollar | 19:59 | 99.0400 | -0.2650 | -0.27% |
| Euro / Dollar | 19:55 | 0.7639 | -0.0008 | -0.10% |
| Dollar / Euro | 19:59 | 1.3085 | 0.0012 | 0.09% |
| Pound / Dollar | 19:55 | 0.6456 | 0.0024 | 0.37% |
Click here for the Sharenet Spot Price page
The JSE Today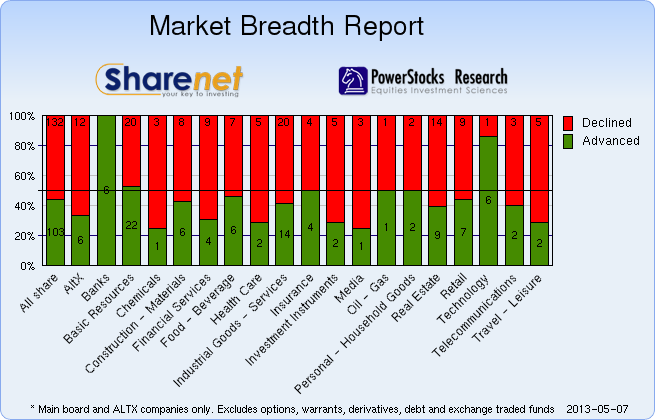 Trading Statistics
| Date | Adv. | Decl. | Unch. | Actives | Volume | Value | Trades | Orders |
| --- | --- | --- | --- | --- | --- | --- | --- | --- |
| 07/05/2013 | 163 | 181 | 78 | 422 | 247,569,548 | R15,954,074,524 | 181255 | 1473403 |
| 06/05/2013 | 195 | 154 | 77 | 426 | 165,540,728 | R9,566,824,233 | 130921 | 825343 |
| 03/05/2013 | 208 | 187 | 77 | 472 | 292,593,016 | R17,083,418,756 | 206555 | 1490473 |
| 02/05/2013 | 218 | 149 | 72 | 439 | 222,611,531 | R15,842,517,519 | 221480 | 1560575 |
| 30/04/2013 | 151 | 199 | 73 | 423 | 255,898,674 | R15,024,617,262 | 173152 | 1002379 |
* Includes all listed instruments on the JSE
---
---
---
Index Summary
| | | | |
| --- | --- | --- | --- |
| Index Name | RP | Move | % Move |
| Top 40 | 35,214.00 | 15.00 | 0.04% |
| Industrial | 50,908.00 | -61.00 | -0.12% |
| Mid Cap | 55,787.00 | -209.00 | -0.37% |
| Small Cap | 44,594.00 | 34.00 | 0.08% |
| Resource 20 | 45,234.00 | -27.00 | -0.06% |
| Industrial 25 | 44,232.00 | -56.00 | -0.13% |
| Financial 15 | 11,605.00 | 59.00 | 0.51% |
| Financial & Ind. 30 | 47,749.00 | 55.00 | 0.12% |
| All Share | 39,821.00 | -6.00 | -0.02% |
| Oil & Gas | 30,387.00 | 80.00 | 0.26% |
| Mining | 27,856.00 | -27.00 | -0.10% |
| Gold Mining | 1,464.00 | -36.00 | -2.40% |
| Platinum Mining | 42.00 | .00 | -0.12% |
| GENERAL MINING | 7,801.00 | 30.00 | 0.40% |
| Oil & Gas Producers | 16,338.00 | 43.00 | 0.27% |
| Basic Materials | 24,448.00 | -12.00 | -0.05% |
| Chemicals | 19,203.00 | -220.00 | -1.14% |
| Forestry & Paper | 20,779.00 | -7.00 | -0.04% |
| Industrial Metals | 24,459.00 | 469.00 | 1.96% |
| Industrials | 41,877.00 | 82.00 | 0.20% |
| General Industrials | 126.00 | 1.00 | 0.94% |
| Consumer Goods | 48,157.00 | 314.00 | 0.66% |
| Automobiles & Parts | 7,574.00 | .00 | 0.01% |
| Household Goods | 161.00 | 1 | 0.89% |
| Health Care | 65,049.00 | -594.00 | -0.91% |
| Beverages | 171.00 | .00 | 0.24% |

| | | | |
| --- | --- | --- | --- |
| Index Name | RP | Move | % Move |
| Food Producers | 70,443.00 | 308.00 | 0.44% |
| Personal Goods | 756.00 | 15.00 | 2.09% |
| Consumer Services | 83,138.00 | -512.00 | -0.61% |
| General Retailers | 63,612.00 | -92.00 | -0.15% |
| Travel & Leisure | 5,576.00 | -32.00 | -0.58% |
| Media | 135.00 | -1.00 | -1.33% |
| Support Services | 2,341.00 | -10.00 | -0.46% |
| Telecommunications | 79,276.00 | -1531.00 | -1.90% |
| Financials | 31,222.00 | 83.00 | 0.27% |
| Banks | 51,716.00 | 585.00 | 1.14% |
| Non-life Insurance | 47,981.00 | 638.00 | 1.35% |
| Life Insurance | 29,162.00 | -12.00 | -0.04% |
| General Financial | 2,779.00 | -34.00 | -1.24% |
| Technology | 37,061.00 | 413.00 | 1.13% |
| SHARIAH TOP40 | 3,220.00 | -1 | -0.04% |
| FTSE/JSE SHARIAH ALL | 3,365.00 | -2 | -0.08% |
| COAL MINING | 18,199.00 | -249 | -1.35% |
| FTSE JSE Fledgling | 5,813.00 | -12 | -0.22% |
| FTSE/JSE Alt X | 928.00 | 0 | 0.08% |
| SA LISTED PROPERTY | 577.00 | | 0.01% |
| CAPPED PROPERTY | 461.00 | | 0.27% |
| RESOURCE | 24,717.00 | -9 | -0.04% |
| DIVIDEND PLUS | 207.00 | 0 | 0.00% |
| FTSE/JSE RAFI 40 | 7,961.00 | -6 | -0.09% |
| Capped Top 40 | 18,607.00 | -3 | -0.02% |
| Capped All Share | 20,178.00 | -7 | -0.04% |
| JSE TABACO | 6,492.00 | -23 | -0.37% |
Click here for the Sharenet Index Summary page
---
Latest Consensus Changes**

| | | | |
| --- | --- | --- | --- |
| Code | Company Name | Status | Updated |
| MTN | MTN GROUP LIMITED | BUY | 06/05/2013 |
| FSR | FIRSTRAND LIMITED | HOLD | 03/05/2013 |
| APN | ASPEN PHARMACARE HLDGS | SELL | 03/05/2013 |
| NED | NEDBANK GROUP LTD | BUY | 03/05/2013 |
| SBK | STANDARD BANK GROUP LIMIT... | HOLD | 03/05/2013 |

Results Expected**

| | | |
| --- | --- | --- |
| Expected | Company Name | Fin. Date |
| 08/05/2013 | ALTRON | February 2013 (Final) |
| 08/05/2013 | ALTRON PP | February 2013 (Final) |
| 08/05/2013 | ASTRAPAK | February 2013 (Final) |
| 08/05/2013 | ASTRAPAKP | February 2013 (Final) |
| 08/05/2013 | LITHA | March 2013 (Q) |
---
Recent Dividends**

| | | | | |
| --- | --- | --- | --- | --- |
| Share Name | Dec-Date | LDT | Pay-Date | Amount |
| SBR003 | 06/05/2013 | 26/07/2013 | 05/08/2013 | R 1.3600 |
| DELPROP | 06/05/2013 | 17/05/2013 | 27/05/2013 | R 0.2369 |
| REDEFINE | 02/05/2013 | 17/05/2013 | 27/05/2013 | R 0.3370 |
| REDEFINTL | 29/04/2013 | 17/05/2013 | 27/05/2013 | R 0.0147 |
| OCTODEC | 25/04/2013 | 10/05/2013 | 20/05/2013 | R 0.7870 |

Ex Div**

| | | | | |
| --- | --- | --- | --- | --- |
| Share Name | Dec-Date | LDT | Pay-Date | Amount |
| PSG | 15/04/2013 | 03/05/2013 | 13/05/2013 | R 0.7800 |
| AMAPS | 12/04/2013 | 03/05/2013 | 13/05/2013 | R 0.3000 |
---
Upcoming AGMs**

| | | | |
| --- | --- | --- | --- |
| Code | Company Name | Date | Status |
| RNG | Randgold - Exploration Co Ltd. | 07/05/2013 | Unconfirmed |
| IFH | IFA Hotels - Resorts Ltd. | 08/05/2013 | Unconfirmed |
| ZSA | Zurich Insurance Company South Africa Lt... | 08/05/2013 | Confirmed |
| MMH | Miranda Mineral Holdings Ltd. | 08/05/2013 | Confirmed |
| GFI | Gold Fields Ltd. | 09/05/2013 | Confirmed |
---
Stock Exchange News Service
Click here for more SENS news
---