Tuesday, 13 November 2012 - 20:00
Charts
Market Cycles
The late Sir John Templeton was quoted as saying, "Bull-markets are born on pessimism, grow on scepticism, mature on optimism and die on euphoria."
The chart below reflects a typical market cycle moving from pessimism through to euphoria, before falling back again to pessimism.
Market Sentiment Life Cycle
Source: Fisher Investments
Pessimism, scepticism, optimism, and euphoria are all human emotions which, when applied to given facts, can produce vastly different results. For example a company may produce earnings of say R500 million - in a pessimistic environment investors may be willing to only value the business at 7 times earnings (i.e. R3.5 billion), but in an optimistic and euphoric environment the same investors may be willing to value up to 20 times earnings (i.e. R10 billion).
Over extended periods of time valuations normalise, but through an investment cycle it can, and does, have a huge impact on investor returns.
When markets are pessimistic very few investors perceive of a time when euphoria will once again reign and vice versa. Ideally investors want to be buying in times of pessimism and scepticism and selling when the prevailing mood is euphoric, but this is not an exact science.
Globally while there is still a general prevailing mood of scepticism and very little optimism, there may well be a lot of runway left for the bull market in global equities, which began in pessimism around March 2009. Global market prices firmed 75% to April 2010, but have since traded in a large sideways pattern. For sure there will be a lot more volatility before we reach another euphoric stage.
Some of the indications of the current lack of enthusiasm for global equities are the very high equity risk premium (i.e. yields on shares are trading at a very wide gap compared to the yields on bonds), and net flows which continues to favour bonds over equities.
Given the general lack of optimism for risk assets, there is quite possibly still a long way to go for global markets before we see the top of the next bull market. Fisher Investments make the point that mega cap shares typically take over leadership about mid-way through a bull market and lead by a wide margin for the remaining duration and early into a subsequent bear market.
Kind regards,
Ian de Lange
www.seedinvestments.co.za
info@seedinvestments.co.za
021 914 4966
Tue, 13 Nov 2012
Top News
Platinum group metals (PGM) rallied on Tuesday after on a bullish forecast that supply outages earlier this year could turn the markets into a deficit, while gold traded flat as investors awaited more clarifications on Greek aid by the euro zone. Palladium rose over 4 percent, on track for its b

---

The leader of Syria's new opposition coalition urged European states on Tuesday to recognise it as the legitimate government, enabling it to buy the weapons it needs to overthrow President Bashar al-Assad.

The top U.S. commander in Afghanistan, General John Allen, is under investigation for alleged inappropriate communication with a woman at the center of the scandal involving former CIA Director David Petraeus, a senior U.S. defense official said on Tuesday.
World Markets (Spot Prices)
| | | | | |
| --- | --- | --- | --- | --- |
| Name | Time | RP | Move | % Move |
| JSE Overall | 17:00 | 37394.80 | -68.00 | -0.18% |
| JSE Top 40 | 17:00 | 33178.50 | -65.00 | -0.20% |
| JSE Gold | 17:00 | 2417.18 | -36.00 | -1.50% |
| JSE Financial | 17:00 | 27662.07 | 19.00 | 0.07% |
| JSE Industrial | 17:00 | 44908.20 | 141.00 | 0.32% |
| JSE Indust 25 | 17:00 | 38708.23 | 174.00 | 0.45% |
| JSE Resource | 17:00 | 49014.43 | -591.00 | -1.19% |
| DJ Futures | 19:32 | 12820.00 | 41.00 | 0.32% |
| DJ Ind | 19:58 | 12844.43 | 29.35 | 0.23% |
| SP 500 | 19:58 | 1383.44 | 3.41 | 0.25% |
| Nasdaq | 19:58 | 2899.09 | -5.17 | -0.18% |
| FTSE 100 | 18:35 | 5786.25 | 18.98 | 0.33% |
| DAX | 19:10 | 7169.12 | .36 | 0.01% |
| CAC40 | 19:10 | 3430.60 | 18.95 | 0.56% |
| Nikkei | 08:08 | 8661.05 | -15.39 | -0.18% |
| Shanghai | 09:30 | 2047.89 | -31.39 | -1.51% |
| Hang-Seng | 10:28 | 21188.65 | -241.65 | -1.13% |
| All Ords | 07:44 | 4404.20 | -65.70 | -1.47% |
| NZSE 50 | 06:48 | 3970.55 | -13.44 | -0.34% |

| | | | | |
| --- | --- | --- | --- | --- |
| Name | Time | RP | Move | % Move |
| Gold $ | 19:59 | 1726.79 | -1.46 | -0.08% |
| Gold R | 19:58 | 15155.81 | 47.79 | 0.32% |
| Gold R/kg | 19:58 | 487207 | -561 | -0.12% |
| Silver $ | 19:59 | 32.5170 | .1370 | 0.42% |
| Platinum $ | 19:59 | 1582.00 | 23.50 | 1.51% |
| Palladium $ | 19:59 | 631.90 | 25.70 | 4.24% |
| R157 | 18:02 | 5.49 | .02 | 0.37% |
| R204 | 16:38 | 6.19 | .05 | 0.73% |
| R207 | 17:42 | 6.49 | .01 | 0.15% |
| Brent Crude | 19:58 | 107.59 | -1.29 | -1.18% |
| Rand / Dollar | 19:59 | 8.7719 | 0.0301 | 0.34% |
| Rand / Pound | 19:55 | 13.9013 | 0.0539 | 0.39% |
| Rand / Euro | 19:55 | 11.1538 | 0.0458 | 0.41% |
| Rand / NZD | 19:58 | 7.1891 | 0.0395 | 0.55% |
| Rand / AUD | 19:55 | 9.1567 | 0.0387 | 0.42% |
| Yen / Dollar | 19:59 | 79.4100 | -0.1330 | -0.17% |
| Euro / Dollar | 19:55 | 0.7865 | -0.0002 | -0.03% |
| Dollar / Euro | 19:59 | 1.2709 | 0.0003 | 0.02% |
| Pound / Dollar | 19:45 | 0.6295 | -0.0001 | -0.02% |
Click here for the Sharenet Spot Price page
The JSE Today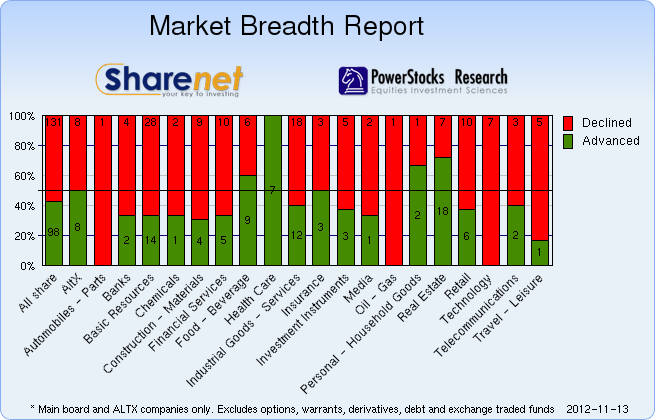 Trading Statistics
| Date | Adv. | Decl. | Unch. | Actives | Volume | Value | Trades | Orders |
| --- | --- | --- | --- | --- | --- | --- | --- | --- |
| 13/11/2012 | 141 | 201 | 66 | 408 | 197,642,738 | R12,313,946,637 | 125833 | 1459467 |
| 12/11/2012 | 190 | 168 | 62 | 420 | 176,513,452 | R9,640,520,803 | 116699 | 1055692 |
| 09/11/2012 | 169 | 183 | 63 | 415 | 193,454,546 | R11,801,309,238 | 118807 | 1561000 |
| 08/11/2012 | 184 | 159 | 76 | 419 | 195,779,601 | R12,222,940,645 | 122751 | 306755 |
| 07/11/2012 | 178 | 153 | 83 | 414 | 214,791,453 | R12,838,609,984 | 128228 | 1300488 |
* Includes all listed instruments on the JSE
---
---
---
Index Summary
| | | | |
| --- | --- | --- | --- |
| Index Name | RP | Move | % Move |
| Top 40 | 33,178.00 | -65.00 | -0.20% |
| Industrial | 44,908.00 | 141.00 | 0.32% |
| Mid Cap | 52,266.00 | -42.00 | -0.08% |
| Small Cap | 38,470.00 | -75.00 | -0.20% |
| Resource 20 | 49,014.00 | -591.00 | -1.19% |
| Industrial 25 | 38,708.00 | 174.00 | 0.45% |
| Financial 15 | 10,290.00 | .00 | 0.01% |
| Financial & Ind. 30 | 41,846.00 | 147.00 | 0.35% |
| All Share | 37,394.00 | -68.00 | -0.18% |
| Oil & Gas | 27,696.00 | -37.00 | -0.13% |
| Mining | 31,494.00 | -432.00 | -1.35% |
| Gold Mining | 2,417.00 | -36.00 | -1.50% |
| Platinum Mining | 49.00 | 1.00 | 2.75% |
| GENERAL MINING | 8,185.00 | -132.00 | -1.59% |
| Oil & Gas Producers | 14,892.00 | -19.00 | -0.13% |
| Basic Materials | 26,999.00 | -387.00 | -1.41% |
| Chemicals | 15,517.00 | -173.00 | -1.10% |
| Forestry & Paper | 16,293.00 | -318.00 | -1.92% |
| Industrial Metals | 26,425.00 | -646.00 | -2.39% |
| Industrials | 35,517.00 | -58.00 | -0.16% |
| General Industrials | 102.00 | 1.00 | 1.12% |
| Consumer Goods | 38,912.00 | 182.00 | 0.47% |
| Automobiles & Parts | 6,926.00 | -9.00 | -0.13% |
| Household Goods | 192.00 | -1 | -0.73% |
| Health Care | 52,995.00 | 410.00 | 0.78% |
| Beverages | 128.00 | 2.00 | 1.76% |

| | | | |
| --- | --- | --- | --- |
| Index Name | RP | Move | % Move |
| Food Producers | 65,672.00 | 318.00 | 0.49% |
| Personal Goods | 609.00 | .00 | 0.04% |
| Consumer Services | 81,971.00 | 204.00 | 0.25% |
| General Retailers | 68,325.00 | 433.00 | 0.64% |
| Travel & Leisure | 4,640.00 | -23.00 | -0.50% |
| Media | 120.00 | .00 | 0.70% |
| Support Services | 2,367.00 | -26.00 | -1.11% |
| Telecommunications | 81,827.00 | 901.00 | 1.11% |
| Financials | 27,662.00 | 19.00 | 0.07% |
| Banks | 49,499.00 | -254.00 | -0.51% |
| Non-life Insurance | 45,914.00 | -663.00 | -1.42% |
| Life Insurance | 23,686.00 | 214.00 | 0.92% |
| General Financial | 2,513.00 | -12.00 | -0.49% |
| Technology | 33,515.00 | -130.00 | -0.39% |
| SHARIAH TOP40 | 3,267.00 | -20 | -0.63% |
| FTSE/JSE SHARIAH ALL | 3,369.00 | -21 | -0.63% |
| COAL MINING | 21,309.00 | -1005 | -4.51% |
| FTSE JSE Fledgling | 5,662.00 | 6 | 0.11% |
| FTSE/JSE Alt X | 1,067.00 | 56 | 5.54% |
| SA LISTED PROPERTY | 475.00 | | 0.84% |
| CAPPED PROPERTY | 387.00 | | 0.62% |
| RESOURCE | 27,031.00 | -321 | -1.18% |
| DIVIDEND PLUS | 204.00 | 0 | 0.18% |
| FTSE/JSE RAFI 40 | 7,561.00 | -22 | -0.29% |
| Capped Top 40 | 17,510.00 | -34 | -0.20% |
| Capped All Share | 18,917.00 | -33 | -0.18% |
| JSE TABACO | 5,727.00 | 8 | 0.16% |
Click here for the Sharenet Index Summary page
---
Latest Consensus Changes**

| | | | |
| --- | --- | --- | --- |
| Code | Company Name | Status | Updated |
| CML | CORONATION FUND MANAGERS ... | BUY | 09/11/2012 |
| TRU | TRUWORTHS INTERNATIONAL L... | SELL | 08/11/2012 |
| MDC | MEDICLINIC INTERNATIONAL | HOLD | 08/11/2012 |
| SHP | SHOPRITE HOLDINGS LIMITED | SELL | 07/11/2012 |
| PIK | PICK N PAY STORES LIMITED | HOLD | 06/11/2012 |

Results Expected**

| | | |
| --- | --- | --- |
| Expected | Company Name | Fin. Date |
| 14/11/2012 | DIPULA A | August 2012 (Final) |
| 14/11/2012 | DIPULA B | August 2012 (Final) |
| 14/11/2012 | EASTPLATS | September 2012 (Q) |
| 14/11/2012 | MRPRICE | September 2012 (Interim) |
| 14/11/2012 | MRPROB | September 2012 (Interim) |
---
Recent Dividends**

| | | | | |
| --- | --- | --- | --- | --- |
| Share Name | Dec-Date | LDT | Pay-Date | Amount |
| INVICTA | 12/11/2012 | 30/11/2012 | 10/12/2012 | R 0.8900 |
| LEWIS | 12/11/2012 | 11/01/2013 | 21/01/2013 | R 2.1200 |
| ASTRAL | 12/11/2012 | 11/01/2013 | 21/01/2013 | R 3.3600 |
| MIXTEL | 12/11/2012 | 30/11/2012 | 10/12/2012 | R 0.0400 |
| VODACOM | 12/11/2012 | 23/11/2012 | 03/12/2012 | R 3.5500 |

Ex Div**

| | | | | |
| --- | --- | --- | --- | --- |
| Share Name | Dec-Date | LDT | Pay-Date | Amount |
| REMGRO | 20/09/2012 | 09/11/2012 | 19/11/2012 | R 1.8800 |
| OCTODEC | 22/10/2012 | 09/11/2012 | 19/11/2012 | R 0.6610 |
| PREMIUM | 22/10/2012 | 09/11/2012 | 19/11/2012 | R 0.6000 |
| REBOSIS | 25/10/2012 | 09/11/2012 | 19/11/2012 | R 0.4250 |
| PINNACLE | 06/09/2012 | 09/11/2012 | 19/11/2012 | R 0.3500 |
---
Upcoming AGMs**

| | | | |
| --- | --- | --- | --- |
| Code | Company Name | Date | Status |
| EMI | Emira Property Fund | 13/11/2012 | Confirmed |
| EQSB | Eqstra Holdings Ltd. | 13/11/2012 | Confirmed |
| EQSA | Eqstra Holdings Ltd. | 13/11/2012 | Confirmed |
| EQS | Eqstra Holdings Ltd. | 13/11/2012 | Confirmed |
| GRT | Growthpoint Properties Ltd. | 13/11/2012 | Confirmed |
---
Stock Exchange News Service
Click here for more SENS news
---