Tuesday, 22 May 2012 - 20:00
Charts
The Rational Investor
I first encountered the rational investor at university introduced as the efficient-market hypothesis (EMH). Most hypothesises, theories, and models are based on the notion that everyone is a rational investor, but are we?
In short, most of us aren't rational investors. With the amount of information that we are bombarded with these days, through news and social media, it is difficult for investors to make unbiased and educated choices.
The traits of a rational investor can be broken up into three factors:
Investment Choice – Preferring securities in your portfolio over alternative investments, e.g. if you prefer Standard Bank you will buy Standard Bank, not ABSA because it is also a bank.
Risk Aversion – If you have the choice between portfolios with the same expected return, a rational investor will take the one with the lowest risk.
Rational Expectations – Incorporating all available information in an unbiased and coherent fashion. An example of this is that some investors expect 20% pa from equity markets going forward, but all evidence suggests this is way too high.
Unfortunately the rational investor has been missing for a while. Some of the irrational behaviours to which investors can fall victim are overconfidence, loss aversion, anchoring, and herd behaviour.
Overconfidence
Overconfident investors/traders tend to believe they are better than others at choosing the best stocks and best times to buy or sell. Studies have shown that overconfidence leads to overtrading.
Overtrading normally leads to the investor selling losers at low prices and buying winners at high prices. Investors tend to buy recent winners, even if they are by then significant overpriced. The increase in trading also leads to an increase in trading cost and taxes liabilities; this reduces the yield of the investor.
Loss Aversion
Loss aversion is part of being a rational investor, but taking this to the extreme can negatively affect an investor's prospects. An example of this was in the credit crisis, where investors sold all of their shares after the markets crashed. They therefore locked in the losses they suffered because they didn't give the markets time to bounce back.
Anchoring
Investors tend to anchor the price of a share on past experiences. An example is when a share drops significantly investors will buy the share believing that the price will rebound to historic levels without doing research to see if the drop in price is due to fundamental changes in the company.
Herd Behaviour
One of the most infamous financial events in recent memory would be the bursting of the internet bubble. Herd behaviour happens due to two main reasons:
Investors (who are also human after all) don't want to be outcasts so they follow others.

The rationale that, "everybody is doing this and not all of them can be wrong so this should be correct."
Being a rational investor is extremely difficult. Investors should only invest with available information and without being biased by emotions. It is therefore imperative to have a solid process and to do research on the company or fund that you invest into.
Kind regards,
Gerbrandt Kruger
info@seedinvestments.co.za
www.seedinvestments.co.za
(021) 914 4966
Tue, 22 May 2012
Top News
South African government bonds firmed on Tuesday as yields fell on demand from foreign accounts buying into higher yields and as a well-supported auction brought buyers back to the long end of the yield curve.

---

The U.N. nuclear watchdog director said on Tuesday he expected to sign a deal with Iran soon to unblock an investigation into suspected work on atom bombs, potentially brightening prospects for big-power talks with Tehran to stop a drift toward conflict.

Russian President Vladimir Putin named several trusted former cabinet ministers to Kremlin posts on Tuesday, asserting his authority in a move likely to weaken Prime Minister Dmitry Medvedev's new government and undermine its mandate for change.
World Markets (Spot Prices)
| | | | | |
| --- | --- | --- | --- | --- |
| Name | Time | RP | Move | % Move |
| JSE Overall | 17:00 | 33488.14 | 402.14 | 1.22% |
| JSE Top 40 | 17:00 | 29538.24 | 393.32 | 1.35% |
| JSE Gold | 17:00 | 2431.01 | 60.03 | 2.53% |
| JSE Financial | 17:00 | 24883.87 | 324.39 | 1.32% |
| JSE Industrial | 17:00 | 38144.62 | 298.81 | 0.79% |
| JSE Indust 25 | 17:00 | 32172.67 | 269.46 | 0.84% |
| JSE Resource | 17:00 | 47555.32 | 839.59 | 1.80% |
| DJ Futures | 20:00 | 12510.00 | 32.00 | 0.26% |
| DJ Ind | 19:45 | 12542.43 | 37.95 | 0.30% |
| SP 500 | 20:00 | 1321.38 | 5.39 | 0.41% |
| Nasdaq | 20:00 | 2849.90 | 2.69 | 0.09% |
| FTSE 100 | 17:35 | 5403.28 | 98.80 | 1.86% |
| DAX | 18:06 | 6435.60 | 104.56 | 1.65% |
| CAC40 | 18:06 | 3084.09 | 56.94 | 1.88% |
| Nikkei | 08:26 | 8729.29 | 95.40 | 1.10% |
| Shanghai | 09:26 | 2373.31 | 25.01 | 1.06% |
| Hang-Seng | 10:26 | 19039.15 | 116.83 | 0.62% |
| All Ords | 08:57 | 4173.50 | 49.10 | 1.19% |
| NZSE 50 | 07:46 | 3529.86 | 36.47 | 1.04% |

| | | | | |
| --- | --- | --- | --- | --- |
| Name | Time | RP | Move | % Move |
| Gold $ | 19:58 | 1577.07 | -15.60 | -0.98% |
| Gold R | 20:00 | 13064.13 | -22.74 | -0.17% |
| Gold R/kg | 20:00 | 420012 | -510 | -0.12% |
| Silver $ | 19:58 | 28.2720 | -.1860 | -0.65% |
| Platinum $ | 19:58 | 1447.50 | -15.00 | -1.03% |
| Palladium $ | 19:58 | 612.20 | 1.70 | 0.28% |
| R157 | 17:00 | 6.32 | -.03 | -0.39% |
| R204 | 17:00 | 7.21 | -.03 | -0.35% |
| Brent Crude | 19:56 | 109.59 | -.09 | -0.08% |
| Rand / Dollar | 19:58 | 8.2838 | 0.0665 | 0.81% |
| Rand / Pound | 19:55 | 13.0258 | 0.0489 | 0.38% |
| Rand / Euro | 19:55 | 10.5296 | -0.0013 | -0.01% |
| Rand / NZD | 19:57 | 6.2846 | -0.0011 | -0.02% |
| Rand / AUD | 19:55 | 8.1575 | 0.0117 | 0.14% |
| Yen / Dollar | 19:58 | 79.9750 | 0.6700 | 0.84% |
| Euro / Dollar | 19:55 | 0.7861 | 0.0056 | 0.72% |
| Dollar / Euro | 19:58 | 1.2718 | -0.0089 | -0.69% |
| Pound / Dollar | 19:55 | 0.6339 | 0.0021 | 0.33% |
Click here for the Sharenet Spot Price page
The JSE Today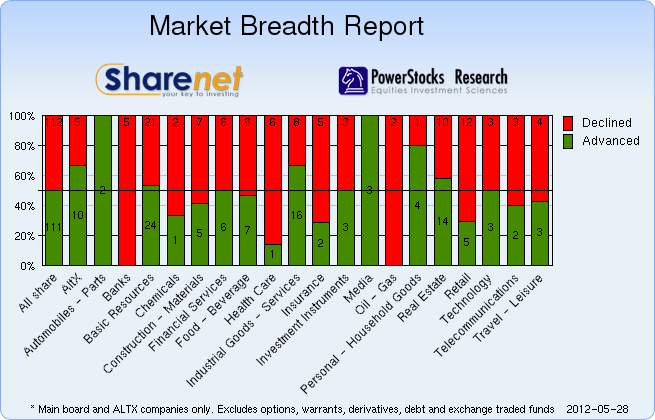 Trading Statistics
| Date | Adv. | Decl. | Unch. | Actives | Volume | Value | Trades | Orders |
| --- | --- | --- | --- | --- | --- | --- | --- | --- |
| 22/05/2012 | 236 | 104 | 70 | 410 | 217,172,667 | R10,898,723,240 | 93462 | 3133067 |
| 21/05/2012 | 133 | 182 | 87 | 402 | 219,827,413 | R11,278,424,930 | 101680 | 3627988 |
| 18/05/2012 | 123 | 218 | 69 | 410 | 279,057,540 | R15,063,363,846 | 127038 | 3209392 |
| 17/05/2012 | 163 | 220 | 76 | 459 | 278,715,954 | R15,485,435,660 | 128363 | 2574021 |
| 16/05/2012 | 173 | 165 | 83 | 421 | 352,334,176 | R16,210,565,377 | 150333 | 3610141 |
* Includes all listed instruments on the JSE
---
---
---
Index Summary
| | | | |
| --- | --- | --- | --- |
| Index Name | RP | Move | % Move |
| Top 40 | 29,538.24 | 393.32 | 1.35% |
| Industrial | 38,144.62 | 298.81 | 0.79% |
| Mid Cap | 48,157.71 | 325.15 | 0.68% |
| Small Cap | 35,557.82 | 29.19 | 0.08% |
| Resource 20 | 47,555.32 | 839.59 | 1.80% |
| Industrial 25 | 32,172.67 | 269.46 | 0.84% |
| Financial 15 | 9,376.10 | 138.79 | 1.50% |
| Financial & Ind. 30 | 35,558.22 | 377.99 | 1.07% |
| All Share | 33,488.14 | 402.14 | 1.22% |
| Oil & Gas | 27,029.44 | 634.15 | 2.40% |
| Mining | 30,555.38 | 504.27 | 1.68% |
| Gold Mining | 2,431.01 | 60.03 | 2.53% |
| Platinum Mining | 52.94 | .09 | 0.17% |
| GENERAL MINING | 7,707.29 | 131.43 | 1.73% |
| Oil & Gas Producers | 14,533.23 | 340.97 | 2.40% |
| Basic Materials | 26,180.22 | 435.34 | 1.69% |
| Chemicals | 14,684.93 | -11.08 | -0.08% |
| Forestry & Paper | 13,647.41 | 409.57 | 3.09% |
| Industrial Metals | 28,894.73 | 428.66 | 1.51% |
| Industrials | 32,531.67 | 403.85 | 1.26% |
| General Industrials | 89.28 | 1.45 | 1.65% |
| Consumer Goods | 33,542.77 | 98.27 | 0.29% |
| Automobiles & Parts | 5,595.48 | 15.85 | 0.28% |
| Household Goods | 172.99 | 1 | 0.46% |
| Health Care | 43,080.60 | 213.15 | 0.50% |
| Beverages | 109.66 | .07 | 0.06% |

| | | | |
| --- | --- | --- | --- |
| Index Name | RP | Move | % Move |
| Food Producers | 60,313.79 | -103.96 | -0.17% |
| Personal Goods | 511.87 | 4.80 | 0.95% |
| Consumer Services | 65,521.47 | 890.08 | 1.38% |
| General Retailers | 54,435.84 | 268.44 | 0.50% |
| Travel & Leisure | 3,820.75 | 24.24 | 0.64% |
| Media | 98.04 | 2.31 | 2.41% |
| Support Services | 2,385.61 | -27.42 | -1.14% |
| Telecommunications | 66,385.66 | 341.43 | 0.52% |
| Financials | 24,883.87 | 324.39 | 1.32% |
| Banks | 48,141.52 | 686.95 | 1.45% |
| Non-life Insurance | 42,622.09 | 127.61 | 0.30% |
| Life Insurance | 19,302.71 | 356.88 | 1.88% |
| General Financial | 2,240.37 | 36.42 | 1.65% |
| Technology | 28,657.42 | 155.44 | 0.55% |
| SHARIAH TOP40 | 2,975.62 | 44 | 1.50% |
| FTSE/JSE SHARIAH ALL | 3,095.35 | 42 | 1.38% |
| COAL MINING | 24,890.65 | 327 | 1.33% |
| FTSE JSE Fledgling | 5,327.68 | 6 | 0.11% |
| FTSE/JSE Alt X | 1,195.36 | -43 | -3.48% |
| SA LISTED PROPERTY | 420.47 | | 0.55% |
| CAPPED PROPERTY | 340.77 | | 0.61% |
| RESOURCE | 26,248.53 | 461 | 1.79% |
| DIVIDEND PLUS | 191.34 | 3 | 1.51% |
| FTSE/JSE RAFI 40 | 6,935.91 | 98 | 1.43% |
| Capped Top 40 | 15,612.89 | 208 | 1.35% |
| Capped All Share | 16,943.74 | 203 | 1.22% |
| JSE TABACO | 5,055.71 | -14 | -0.27% |
Click here for the Sharenet Index Summary page
---
Latest Consensus Changes**

| | | | |
| --- | --- | --- | --- |
| Code | Company Name | Status | Updated |
| SLM | SANLAM LIMITED | HOLD | 18 May |
| INL | INVESTEC LIMITED | BUY | 18 May |
| HPA | HOSPITALITY PROP FUND A | BUY | 18 May |
| VPF | VUNANI PROP INV FUND LTD | BUY | 18 May |
| REB | REBOSIS PROPERTY FUND LTD | BUY | 18 May |

Results Expected**

| | | |
| --- | --- | --- |
| Expected | Company Name | Fin. Date |
| 23 May 2012 | LEWIS | March 2012 (Final) |
| 23 May 2012 | MRPRICE | March 2012 (Final) |
| 23 May 2012 | MRPROB | March 2012 (Final) |
| 23 May 2012 | PRICEP | March 2012 (Final) |
| 23 May 2012 | SKINWELL | February 2012 (Final) |
---
Recent Dividends**

| | | | | |
| --- | --- | --- | --- | --- |
| Share Name | Dec-Date | LDT | Pay-Date | Amount |
| TIGBRANDS | 12-05-22 | 12-06-22 | 12-07-02 | R 2.9500 |
| ADCORP | 12-05-22 | 12-08-10 | 12-08-20 | R 0.8000 |
| MEDCLIN | 12-05-22 | 12-06-15 | 12-06-25 | R 0.5500 |
| BARWORLD | 12-05-21 | 12-06-08 | 12-06-18 | R 0.8000 |
| ABIL | 12-05-21 | 12-06-08 | 12-06-18 | R 0.8500 |

Ex Div**

| | | | | |
| --- | --- | --- | --- | --- |
| Share Name | Dec-Date | LDT | Pay-Date | Amount |
| JSE | 12-03-13 | 12-05-18 | 12-05-28 | R 2.5000 |
| HOSP-A | 12-04-30 | 12-05-18 | 12-05-28 | R 0.6334 |
| REDEFINE | 12-05-03 | 12-05-18 | 12-05-28 | R 0.3150 |
| PHUMELELA | 12-04-19 | 12-05-18 | 12-05-28 | R 0.2500 |
| SPANJAARD | 12-02-29 | 12-05-18 | 12-05-28 | R 0.1800 |
---
Upcoming AGMs**

| | | | |
| --- | --- | --- | --- |
| Code | Company Name | Date | Status |
| ADH | ADvTECH Ltd. | 22/05/2012 | Confirmed |
| AFE | AECI Ltd. | 28/05/2012 | Confirmed |
| AFEP | AECI Ltd. | 28/05/2012 | Confirmed |
| MTN | MTN Group Ltd. | 29/05/2012 | Confirmed |
---
Stock Exchange News Service
Click here for more SENS news
---