Monday, 14 May 2012 - 20:00
Charts
Top News
South African stocks sank on Monday, snapping two days of gains, as Europe's debt imbroglio, a slumping gold price and bad results smacked investor confidence, with Gold Fields leading blue chips lower.

---

The United Nations nuclear watchdog signalled on Monday it would press Iran for access to a military installation where it suspects Iran has built a chamber for high-explosive tests that could serve to develop atomic bombs.

Greek political leaders stuck to entrenched positions before another round of coalition talks on Monday, dashing hopes of a last-minute compromise to avoid a new election that risks pushing the country closer to financial default.
---
Following the announcement on 24 April 2012 and 9 May 2012, shareholders were advised that the company has posted a circular to shareholders. Notice is hereby given that the special meeting of the company will be held at The Fairmont Royal York Hotel, Territories Room, 100 Front Street West, Toronto, Ontario, Canada on Wednesday, June 13, 2012 at 9:00 a.m. (Toronto time)(3 p.m. South Africa time).. . .
World Markets (Spot Prices)
| | | | | |
| --- | --- | --- | --- | --- |
| Name | Time | RP | Move | % Move |
| JSE Overall | 17:00 | 33533.56 | -504.90 | -1.48% |
| JSE Top 40 | 17:00 | 29577.06 | -499.39 | -1.66% |
| JSE Gold | 17:00 | 2280.19 | -78.17 | -3.31% |
| JSE Financial | 17:00 | 25106.42 | -363.31 | -1.43% |
| JSE Industrial | 17:00 | 37919.48 | -352.51 | -0.92% |
| JSE Indust 25 | 17:00 | 31933.16 | -314.32 | -0.97% |
| JSE Resource | 17:00 | 47929.04 | -1158.92 | -2.36% |
| DJ Futures | 19:06 | 12715.00 | -73.00 | -0.57% |
| DJ Ind | 19:45 | 12764.26 | -56.34 | -0.44% |
| SP 500 | 20:00 | 1347.13 | -6.26 | -0.46% |
| Nasdaq | 20:00 | 2923.17 | -10.65 | -0.36% |
| FTSE 100 | 17:35 | 5465.52 | -110.00 | -1.97% |
| DAX | 18:06 | 6451.97 | -127.96 | -1.94% |
| CAC40 | 18:06 | 3057.99 | -71.78 | -2.29% |
| Nikkei | 08:06 | 8973.84 | 20.53 | 0.23% |
| Shanghai | 09:26 | 2380.73 | -14.26 | -0.60% |
| Hang-Seng | 10:26 | 19735.04 | -229.59 | -1.15% |
| All Ords | 08:38 | 4351.90 | 9.20 | 0.21% |
| NZSE 50 | 07:46 | 3555.36 | 7.30 | 0.21% |

| | | | | |
| --- | --- | --- | --- | --- |
| Name | Time | RP | Move | % Move |
| Gold | 19:58 | 1563.10 | -18.61 | -1.18% |
| Gold/Rand | 20:00 | 12768.81 | -42.78 | -0.33% |
| Gold/R kg | 20:00 | 410517 | -1811 | -0.44% |
| Silver | 19:58 | 28.3900 | -.4450 | -1.54% |
| Platinum | 19:58 | 1439.50 | -21.50 | -1.47% |
| Palladium | 19:58 | 593.60 | -4.20 | -0.70% |
| R157 | 17:02 | 6.50 | .06 | 0.93% |
| R204 | 17:02 | 7.39 | .08 | 1.03% |
| Brent Crude | 19:56 | 111.25 | -1.18 | -1.05% |
| Rand / Dollar | 19:58 | 8.1689 | 0.0726 | 0.90% |
| Rand / Pound | 19:55 | 13.1222 | 0.1357 | 1.04% |
| Rand / Euro | 19:55 | 10.4924 | 0.0513 | 0.49% |
| Rand / NZD | 19:57 | 6.3665 | 0.0403 | 0.64% |
| Rand / AUD | 19:55 | 8.1633 | 0.0488 | 0.60% |
| Yen / Dollar | 19:58 | 79.8590 | -0.0670 | -0.08% |
| Euro / Dollar | 19:55 | 0.7782 | 0.0024 | 0.31% |
| Dollar / Euro | 19:58 | 1.2844 | -0.0047 | -0.36% |
| Pound / Dollar | 19:55 | 0.6208 | -0.0014 | -0.23% |
Click here for the Sharenet Spot Price page
The JSE Today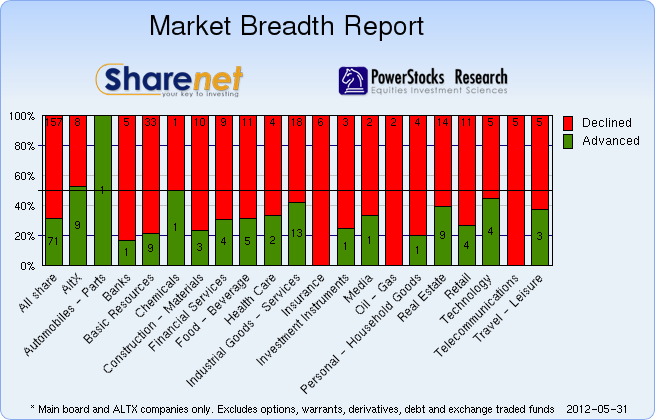 Trading Statistics
| Date | Adv. | Decl. | Unch. | Actives | Volume | Value | Trades | Orders |
| --- | --- | --- | --- | --- | --- | --- | --- | --- |
| 14/05/2012 | 91 | 261 | 53 | 405 | 196,689,890 | R11,540,231,698 | 91794 | 3462836 |
| 11/05/2012 | 187 | 150 | 77 | 414 | 221,124,619 | R11,934,872,759 | 93887 | 2824782 |
| 10/05/2012 | 220 | 118 | 65 | 403 | 246,225,049 | R13,449,576,348 | 120021 | 3010267 |
| 09/05/2012 | 139 | 201 | 89 | 429 | 262,503,829 | R13,794,513,512 | 113334 | 3012661 |
| 08/05/2012 | 103 | 245 | 59 | 407 | 203,038,641 | R11,934,344,994 | 93831 | 2491924 |
* Includes all listed instruments on the JSE
---
---
---
Index Summary
| | | | |
| --- | --- | --- | --- |
| Index Name | RP | Move | % Move |
| Top 40 | 29,577.06 | -499.39 | -1.66% |
| Industrial | 37,919.48 | -352.51 | -0.92% |
| Mid Cap | 48,170.71 | -295.67 | -0.61% |
| Small Cap | 35,859.78 | -282.55 | -0.78% |
| Resource 20 | 47,929.04 | -1158.92 | -2.36% |
| Industrial 25 | 31,933.16 | -314.32 | -0.97% |
| Financial 15 | 9,472.57 | -164.94 | -1.71% |
| Financial & Ind. 30 | 35,506.06 | -444.32 | -1.24% |
| All Share | 33,533.56 | -504.90 | -1.48% |
| Oil & Gas | 27,034.74 | -722.69 | -2.60% |
| Mining | 30,815.48 | -721.03 | -2.29% |
| Gold Mining | 2,280.19 | -78.17 | -3.31% |
| Platinum Mining | 53.88 | -1.14 | -2.07% |
| GENERAL MINING | 7,902.17 | -165.89 | -2.06% |
| Oil & Gas Producers | 14,536.08 | -388.58 | -2.60% |
| Basic Materials | 26,383.28 | -588.25 | -2.18% |
| Chemicals | 14,888.26 | -45.66 | -0.31% |
| Forestry & Paper | 13,411.09 | -276.26 | -2.02% |
| Industrial Metals | 29,160.91 | -229.64 | -0.78% |
| Industrials | 32,611.09 | -377.34 | -1.14% |
| General Industrials | 88.87 | -.90 | -1.00% |
| Consumer Goods | 33,108.57 | -148.62 | -0.45% |
| Automobiles & Parts | 5,638.50 | 67.93 | 1.22% |
| Household Goods | 181.14 | -2 | -1.22% |
| Health Care | 42,545.02 | -112.81 | -0.26% |
| Beverages | 111.76 | .19 | 0.17% |

| | | | |
| --- | --- | --- | --- |
| Index Name | RP | Move | % Move |
| Food Producers | 60,763.10 | -525.46 | -0.86% |
| Personal Goods | 465.42 | -6.80 | -1.44% |
| Consumer Services | 65,181.37 | -675.24 | -1.03% |
| General Retailers | 54,135.86 | -938.05 | -1.70% |
| Travel & Leisure | 3,743.94 | -40.82 | -1.08% |
| Media | 98.04 | .00 | 0.00% |
| Support Services | 2,407.87 | -16.72 | -0.69% |
| Telecommunications | 66,657.18 | -1371.38 | -2.02% |
| Financials | 25,106.42 | -363.31 | -1.43% |
| Banks | 48,493.52 | -1007.79 | -2.04% |
| Non-life Insurance | 42,716.52 | 104.64 | 0.25% |
| Life Insurance | 19,652.33 | -292.33 | -1.47% |
| General Financial | 2,297.08 | -32.15 | -1.38% |
| Technology | 28,738.34 | -74.06 | -0.26% |
| SHARIAH TOP40 | 2,962.15 | -64 | -2.11% |
| FTSE/JSE SHARIAH ALL | 3,085.14 | -61 | -1.93% |
| COAL MINING | 24,800.56 | -830 | -3.24% |
| FTSE JSE Fledgling | 5,403.82 | -26 | -0.49% |
| FTSE/JSE Alt X | 1,168.06 | -46 | -3.76% |
| SA LISTED PROPERTY | 418.14 | | -0.31% |
| CAPPED PROPERTY | 339.02 | | -0.40% |
| RESOURCE | 26,438.89 | -632 | -2.33% |
| DIVIDEND PLUS | 194.58 | -2 | -1.23% |
| FTSE/JSE RAFI 40 | 6,970.12 | -121 | -1.70% |
| Capped Top 40 | 15,616.79 | -261 | -1.64% |
| Capped All Share | 16,963.68 | -255 | -1.48% |
| JSE TABACO | 5,190.91 | 19 | 0.36% |
Click here for the Sharenet Index Summary page
---
Latest Consensus Changes**

| | | | |
| --- | --- | --- | --- |
| Code | Company Name | Status | Updated |
| SLM | SANLAM LIMITED | HOLD | 10 May |
| INL | INVESTEC LIMITED | BUY | 10 May |
| HPA | HOSPITALITY PROP FUND A | BUY | 10 May |
| VPF | VUNANI PROP INV FUND LTD | BUY | 10 May |
| REB | REBOSIS PROPERTY FUND LTD | BUY | 10 May |

Results Expected**

| | | |
| --- | --- | --- |
| Expected | Company Name | Fin. Date |
| 15 May 2012 | CAR | February 2012 (Final) |
| 15 May 2012 | EASTPLATS | March 2012 (Q) |
| 15 May 2012 | GB LD | March 2012 (Q) |
| 15 May 2012 | GB LD OPT | March 2012 (Q) |
| 15 May 2012 | KELLY | March 2012 (Interim) |
---
Recent Dividends**

| | | | | |
| --- | --- | --- | --- | --- |
| Share Name | Dec-Date | LDT | Pay-Date | Amount |
| OCEANA | 12-05-11 | 12-06-22 | 12-07-02 | R 0.4500 |
| BEIGEPREF2 | 12-05-11 | 12-05-25 | 12-06-04 | R 0.1294 |
| LIFEHC | 12-05-11 | 12-06-01 | 12-06-11 | R 0.4500 |
| ANGLD | 12-05-10 | 12-05-25 | 12-06-08 | R 1.0000 |
| FPT | 12-05-10 | 12-05-25 | 12-06-04 | R 0.2800 |

Ex Div**

| | | | | |
| --- | --- | --- | --- | --- |
| Share Name | Dec-Date | LDT | Pay-Date | Amount |
| OCTODEC | 12-04-19 | 12-05-11 | 12-05-21 | R 0.7120 |
| PREMIUM | 12-04-19 | 12-05-11 | 12-05-21 | R 0.6000 |
| REBOSIS | 12-04-25 | 12-05-11 | 12-05-21 | R 0.4300 |
| DCENTRIX | 12-04-17 | 12-05-11 | 12-05-21 | R 0.1953 |
| PBT | 12-04-25 | 12-05-11 | 12-05-21 | R 0.0345 |
---
Upcoming AGMs**

| | | | |
| --- | --- | --- | --- |
| Code | Company Name | Date | Status |
| AET | Alert Steel Holdings Ltd. | 14/05/2012 | Confirmed |
| GFPP | Gold Fields Ltd. | 14/05/2012 | Confirmed |
| GFI | Gold Fields Ltd. | 14/05/2012 | Confirmed |
| CNL | Control Instruments Group Ltd. | 15/05/2012 | Confirmed |
| RES | Resilient Property Income Fund Ltd. | 16/05/2012 | Confirmed |
---
Stock Exchange News Service
Click here for more SENS news
---