Friday, 17 February 2012 - 20:00
Charts
S.Africa's rand bounces from lows as stops triggered
JOHANNESBURG (Reuters) - The rand firmed against the dollar on Friday for the first day in four as it retreated from support levels, and bonds ended the week stronger in thin trade pending inflation data and the national budget announcement next week.
The rand gained nearly 1 percent against the dollar in Friday's session, reversing the week's weakening trend as stop losses were triggered overnight.
"There was big (dollar) resistance yesterday at the 7.87/88 level. We saw some exporters selling and I think week-long stops were triggered in New York time late last night below 7.80, and now we're back at support again," a Johannesburg dealer said.
The rand strengthened to 7.7160 in the session, after closing at 7.7755 in New York trade on Thursday.
Adding support to the local unit were investors' hopes that the Greece bailout package may be secured on Monday, bringing slight optimism to global markets, which lifted risky assets.
The local bond market was thin on trade on Friday but prices followed the rand firmer. Dealers said they were waiting for Monday's Greece decision then domestic inflation early on Tuesday, before the year's Budget policy statement is presented to parliament at 1200 GMT in Tuesday's session.
Economists surveyed by Reuters are expecting a wider budget shortfall than the government had previously forecast but not increased sovereign issuance, which should support bonds.
The yield on the 2015 bond last traded 6 basis points lower at 6.60 percent in the session, while the 2026 issue dropped 7.5 basis points to 8.23 percent.
Fri, 17 Feb 2012
Top News
South Africa's benchmark index rose 0.9 percent on Friday as recovery in the platinum price prompted a rebound in miners such as Lonmin, while Anglo American rose after posting a rise in full-year earnings.

---

Angela Merkel's hand-picked choice for the ceremonial post of president resigned on Friday in a scandal over political favours, dealing a blow to the German chancellor in the midst of the euro zone debt crisis.

Syrian President Bashar al-Assad's forces, disregarding U.N. condemnation of their violent suppression of a nationwide revolt, renewed a bombardment of the opposition stronghold of Homs and attacks on rebels in Deraa Friday.
World Markets (Spot Prices)
| | | | | |
| --- | --- | --- | --- | --- |
| Name | Time | RP | Move | % Move |
| JSE Overall | 17:00 | 34082.78 | 281.14 | 0.83% |
| JSE Top 40 | 17:00 | 30373.15 | 273.65 | 0.91% |
| JSE Gold | 17:00 | 2831.64 | 28.01 | 1.00% |
| JSE Financial | 17:00 | 24262.61 | 181.69 | 0.75% |
| JSE Industrial | 17:00 | 36433.30 | 177.51 | 0.49% |
| JSE Indust 25 | 17:00 | 30562.96 | 143.82 | 0.47% |
| JSE Resource | 17:00 | 54133.78 | 685.90 | 1.28% |
| DJ Futures | 19:10 | 12910.00 | 40.00 | 0.31% |
| DJ Ind | 19:45 | 12933.15 | 29.07 | 0.23% |
| SP 500 | 20:00 | 1359.04 | 1.00 | 0.07% |
| Nasdaq | 20:00 | 2947.39 | -12.46 | -0.42% |
| FTSE 100 | 18:35 | 5905.07 | 19.69 | 0.33% |
| DAX | 19:06 | 6848.03 | 96.07 | 1.42% |
| CAC40 | 19:06 | 3439.62 | 46.37 | 1.37% |
| Nikkei | 08:26 | 9384.17 | 146.07 | 1.58% |
| Shanghai | 09:26 | 2357.18 | .32 | 0.01% |
| Hang-Seng | 10:26 | 21491.62 | 214.34 | 1.01% |
| All Ords | 07:35 | 4273.30 | 16.10 | 0.38% |
| NZSE 50 | 06:46 | 3289.00 | 2.55 | 0.08% |

| | | | | |
| --- | --- | --- | --- | --- |
| Name | Time | RP | Move | % Move |
| Gold | 19:59 | 1721.40 | -6.53 | -0.38% |
| Gold/Rand | 20:00 | 13332.24 | -98.35 | -0.73% |
| Gold/R kg | 20:00 | 428632 | 786 | 0.18% |
| Silver | 19:59 | 33.1800 | -.2700 | -0.81% |
| Platinum | 19:59 | 1625.50 | 7.68 | 0.47% |
| Palladium | 19:59 | 684.75 | -6.95 | -1.00% |
| R157 | 17:00 | 6.59 | -.06 | -0.90% |
| R204 | 17:00 | 7.46 | -.06 | -0.80% |
| Brent Crude | 19:56 | 120.69 | -.85 | -0.70% |
| Rand / Dollar | 19:59 | 7.7450 | -0.0281 | -0.36% |
| Rand / Pound | 19:55 | 12.2228 | -0.0280 | -0.23% |
| Rand / Euro | 19:55 | 10.1843 | -0.0217 | -0.21% |
| Rand / NZD | 19:58 | 6.4586 | -0.0206 | -0.32% |
| Rand / AUD | 19:55 | 8.2955 | -0.0623 | -0.75% |
| Yen / Dollar | 19:59 | 79.4150 | 0.5450 | 0.69% |
| Euro / Dollar | 19:55 | 0.7601 | -0.0012 | -0.16% |
| Dollar / Euro | 19:59 | 1.3153 | 0.0020 | 0.15% |
| Pound / Dollar | 19:55 | 0.6317 | -0.0007 | -0.11% |
Click here for the Sharenet Spot Price page
The JSE Today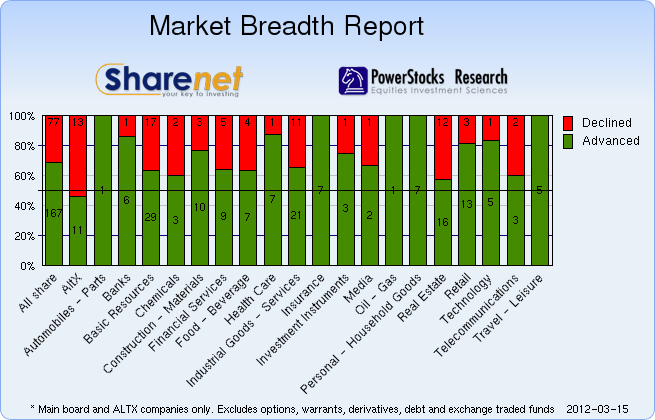 Trading Statistics
| Date | Adv. | Decl. | Unch. | Actives | Volume | Value | Trades | Orders |
| --- | --- | --- | --- | --- | --- | --- | --- | --- |
| 17/02/2012 | 244 | 99 | 82 | 425 | 247,100,254 | R11,957,838,675 | 92849 | 2155145 |
| 16/02/2012 | 124 | 238 | 75 | 437 | 249,958,244 | R15,415,618,974 | 109642 | 2521337 |
| 15/02/2012 | 178 | 151 | 82 | 411 | 294,220,561 | R14,981,535,895 | 103538 | 2387614 |
| 14/02/2012 | 151 | 174 | 88 | 413 | 268,866,229 | R21,337,123,535 | 106220 | 2322553 |
| 13/02/2012 | 231 | 122 | 62 | 415 | 218,668,342 | R10,274,460,185 | 88735 | 1961458 |
* Includes all listed instruments on the JSE
---
---
---
Index Summary
| | | | |
| --- | --- | --- | --- |
| Index Name | RP | Move | % Move |
| Top 40 | 30,373.15 | 273.65 | 0.91% |
| Industrial | 36,433.30 | 177.51 | 0.49% |
| Mid Cap | 46,550.15 | 241.60 | 0.52% |
| Small Cap | 34,692.13 | 3.39 | 0.01% |
| Resource 20 | 54,133.78 | 685.90 | 1.28% |
| Industrial 25 | 30,562.96 | 143.82 | 0.47% |
| Financial 15 | 9,182.46 | 78.03 | 0.86% |
| Financial & Ind. 30 | 34,178.65 | 206.59 | 0.61% |
| All Share | 34,082.78 | 281.14 | 0.83% |
| Oil & Gas | 30,307.66 | 152.10 | 0.50% |
| Mining | 34,905.29 | 498.95 | 1.45% |
| Gold Mining | 2,831.64 | 28.01 | 1.00% |
| Platinum Mining | 61.34 | 1.38 | 2.30% |
| GENERAL MINING | 8,750.52 | 121.88 | 1.41% |
| Oil & Gas Producers | 16,295.87 | 81.78 | 0.50% |
| Basic Materials | 29,638.40 | 415.72 | 1.42% |
| Chemicals | 15,019.28 | 76.79 | 0.51% |
| Forestry & Paper | 13,368.47 | 216.95 | 1.65% |
| Industrial Metals | 31,067.47 | 296.32 | 0.96% |
| Industrials | 31,303.24 | 183.49 | 0.59% |
| General Industrials | 87,831.34 | 469.65 | 0.54% |
| Consumer Goods | 31,584.91 | 92.15 | 0.29% |
| Automobiles & Parts | 4,664.78 | 56.61 | 1.23% |
| Household Goods | 166.02 | 2 | 1.40% |
| Health Care | 37,656.01 | 63.49 | 0.17% |
| Beverages | 105.93 | .10 | 0.09% |

| | | | |
| --- | --- | --- | --- |
| Index Name | RP | Move | % Move |
| Food Producers | 56,754.46 | 70.62 | 0.12% |
| Personal Goods | 458.53 | 4.39 | 0.97% |
| Consumer Services | 61,614.44 | 432.43 | 0.71% |
| General Retailers | 51,574.96 | 491.43 | 0.96% |
| Travel & Leisure | 3,710.04 | 5.29 | 0.14% |
| Media | 88.54 | .62 | 0.71% |
| Support Services | 2,343.62 | -21.26 | -0.90% |
| Telecommunications | 66,841.98 | 318.83 | 0.48% |
| Financials | 24,262.61 | 181.69 | 0.75% |
| Banks | 45,419.61 | 467.02 | 1.04% |
| Non-life Insurance | 36,131.15 | 962.69 | 2.74% |
| Life Insurance | 19,508.95 | 148.59 | 0.77% |
| General Financial | 2,316.84 | 15.19 | 0.66% |
| Technology | 26,714.96 | -174.43 | -0.65% |
| SHARIAH TOP40 | 3,200.47 | 36 | 1.14% |
| FTSE/JSE SHARIAH ALL | 3,283.81 | 34 | 1.05% |
| COAL MINING | 26,748.21 | 546 | 2.08% |
| FTSE JSE Fledgling | 5,192.84 | 50 | 0.98% |
| FTSE/JSE Alt X | 1,241.93 | 16 | 1.34% |
| SA LISTED PROPERTY | 411.15 | | 0.14% |
| CAPPED PROPERTY | 334.85 | | 0.34% |
| RESOURCE | 29,901.66 | 386 | 1.31% |
| DIVIDEND PLUS | 193.28 | 2 | 0.89% |
| FTSE/JSE RAFI 40 | 7,128.28 | 66 | 0.93% |
| Capped Top 40 | 15,996.64 | 141 | 0.89% |
| Capped All Share | 17,231.90 | 141 | 0.83% |
| JSE TABACO | 4,878.61 | -54 | -1.09% |
Click here for the Sharenet Index Summary page
---
Latest Consensus Changes**

| | | | |
| --- | --- | --- | --- |
| Code | Company Name | Status | Updated |
| SNT | SANTAM LTD | BUY | 14 Feb |
| ASA | ABSA GROUP LIMITED | BUY | 14 Feb |
| RSG | RESOURCE GENERATION LTD | BUY | 13 Feb |
| ACL | ARCELORMITTAL SA LTD | HOLD | 13 Feb |
| REM | REMGRO LIMITED | BUY | 13 Feb |

Results Expected**

| | | |
| --- | --- | --- |
| Expected | Company Name | Fin. Date |
| 20 Feb 2012 | DIGICORE | December 2011 (Interim) |
| 20 Feb 2012 | JDGROUP | December 2011 (Interim) |
| 20 Feb 2012 | ONELOGIX | November 2011 (Interim) |
| 20 Feb 2012 | WBHO | December 2011 (Interim) |
| 20 Feb 2012 | WBHOP | December 2011 (Interim) |
---
Recent Dividends**

| | | | | |
| --- | --- | --- | --- | --- |
| Share Name | Dec-Date | LDT | Pay-Date | Amount |
| METROFILE | 12-02-16 | 12-03-15 | 12-03-26 | R 0.0300 |
| TRENCOR | 12-02-16 | 12-03-15 | 12-03-26 | R 1.2500 |
| IMPLATS | 12-02-16 | 12-03-02 | 12-03-12 | R 1.3500 |
| CITYLDG | 12-02-15 | 12-03-09 | 12-03-19 | R 1.3500 |
| DISTELL | 12-02-15 | 12-03-02 | 12-03-12 | R 1.4300 |

Ex Div**

| | | | | |
| --- | --- | --- | --- | --- |
| Share Name | Dec-Date | LDT | Pay-Date | Amount |
| FIRSTRANDB-P | 12-02-03 | 12-02-17 | 12-02-27 | R 3.0516 |
| CAPITAL | 12-02-01 | 12-02-17 | 12-02-27 | R 0.3427 |
| WINHOLD | 11-11-28 | 12-02-10 | 12-02-20 | R 0.0700 |
| CULINAN5.5 | 12-02-03 | 12-02-17 | 12-02-27 | R 0.0550 |
---
Upcoming AGMs**

| | | | |
| --- | --- | --- | --- |
| Code | Company Name | Date | Status |
| PFGA | Pioneer Food Group Ltd | 17/02/2012 | Confirmed |
| PFG | Pioneer Food Group Ltd | 17/02/2012 | Confirmed |
| OCE | Oceana Group Ltd | 17/02/2012 | Confirmed |
| RDF | Redefine Properties Ltd | 22/02/2012 | Confirmed |
| CUP3 | Cullinan Holdings Ltd | 23/02/2012 | Confirmed |
---
Stock Exchange News Service
Click here for more SENS news
---