Tuesday, 25 October 2016 - 20:00
Charts
Todays Sharenet VIEWS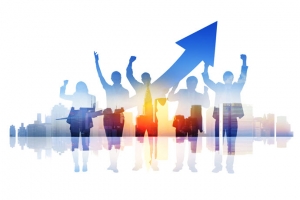 Dwaine van Vuuren
In this article, we examine one technique for limiting your operations to the most likely sectors of the JSE to outperform the overall index.
Top News
---

Militant group Islamic State said on Tuesday that fighters loyal to its movement attacked a police training college in Quetta in southwest Pakistan in a raid that officials said killed 59 people and wounded more than 100.

---

Russian warships heading for Syria could be used to target civilians in the besieged city of Aleppo, NATO Secretary-General Jens Stoltenberg warned on Tuesday, calling on Moscow to implement a lasting ceasefire.

---
Company Results
Revenue for the interim period grew 23% to R2.5 billion (R2.0 billion). Gross profit jumped 30% to R1.1 billion (R0.8 billion). Operating profit after exceptional items shot up to 51% to R525.1 million (R346.7 million). Profit after tax attributable to owners rose sharply to R390.7 million (R241.3million). Furthermore, headline earnings per share increased by 71% to 411cps (241cps). Dividend In order to achieve its robust growth targets, the Group recently has made a number of acqui. . .
World Markets (Spot Prices)
| | | | | |
| --- | --- | --- | --- | --- |
| Name | Time | RP | Move | % Move |
| JSE Overall | 17:00 | 51749.86 | 66.47 | 0.13% |
| JSE Top 40 | 17:00 | 45201.60 | 67.32 | 0.15% |
| JSE Gold | 17:00 | 1826.13 | 5.07 | 0.28% |
| JSE Financial | 17:00 | 39970.12 | -198.66 | -0.49% |
| JSE Industrial | 17:00 | 76203.00 | 15.10 | 0.02% |
| JSE Indust 25 | 17:00 | 68102.04 | 45.28 | 0.07% |
| JSE Resource | 17:00 | 32385.37 | 330.42 | 1.03% |
| DJ Futures | 20:00 | 18102.00 | -32.00 | -0.18% |
| DJ Ind | 20:00 | 18191.87 | -31.16 | -0.17% |
| SP 500 | 20:00 | 2146.66 | -4.67 | -0.22% |
| Nasdaq | 20:00 | 5291.04 | -18.79 | -0.35% |
| FTSE 100 | 17:01 | 7021.42 | 35.02 | 0.50% |
| DAX | 18:08 | 10757.31 | -3.86 | -0.04% |
| CAC40 | 18:08 | 4540.84 | -11.74 | -0.26% |
| Nikkei | 08:28 | 17365.25 | 130.83 | 0.76% |
| Shanghai | 09:28 | 3131.94 | 3.69 | 0.12% |
| Hang-Seng | 10:28 | 23565.11 | -38.97 | -0.17% |
| All Ords | 07:36 | 5523.30 | 34.20 | 0.62% |
| NZSE 50 | 07:28 | 7002.87 | 44.47 | 0.64% |

| | | | | |
| --- | --- | --- | --- | --- |
| Name | Time | RP | Move | % Move |
| Gold $ | 19:59 | 1273.67 | 9.88 | 0.78% |
| Gold R | 20:00 | 17533.47 | -25.64 | -0.15% |
| Gold R/kg | 20:00 | 563701 | -824 | -0.15% |
| Silver $ | 19:59 | 17.7840 | 0.2150 | 1.22% |
| Platinum $ | 19:59 | 965.40 | 30.45 | 3.26% |
| Palladium $ | 19:59 | 635.25 | 3.75 | 0.59% |
| R186 | 16:59 | 8.79 | -0.01 | -0.11% |
| R204 | 16:59 | 7.84 | 0.00 | 0.06% |
| R207 | 16:59 | 8.05 | -0.02 | -0.25% |
| Brent Crude | 20:00 | 50.85 | -0.93 | -1.80% |
| USD / ZAR | 19:59 | 13.7661 | -0.1266 | -0.91% |
| GBP / ZAR | 19:55 | 16.7479 | -0.2194 | -1.29% |
| EUR/ ZAR | 19:55 | 15.0095 | -0.1112 | -0.74% |
| NZD/ ZAR | 19:59 | 9.8721 | -0.0316 | -0.32% |
| AUD / ZAR | 19:55 | 10.5398 | -0.0297 | -0.28% |
| USD / JPY | 19:59 | 104.2820 | 0.0660 | 0.06% |
| EUR / USD | 19:59 | 1.0892 | 0.0021 | 0.20% |
| GBP / USD | 19:59 | 1.2175 | -0.0046 | -0.37% |
Click here for the Sharenet Spot Price page
The JSE Today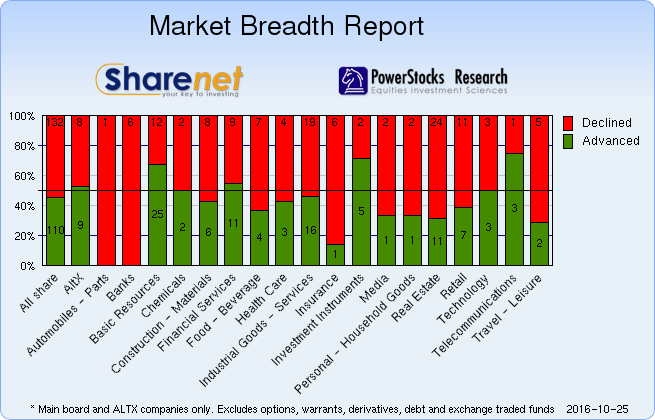 Trading Statistics
| Date | Adv. | Decl. | Unch. | Actives | Volume | Value | Trades | Orders |
| --- | --- | --- | --- | --- | --- | --- | --- | --- |
| 25/10/2016 | 169 | 183 | 69 | 421 | 230,096,648 | R18,740,396,845 | 248765 | 1272308 |
| 24/10/2016 | 170 | 167 | 49 | 386 | 213,270,926 | R18,954,061,292 | 263572 | 129647 |
| 21/10/2016 | 193 | 146 | 58 | 397 | 254,361,301 | R18,553,215,423 | 247340 | 591599 |
| 20/10/2016 | 153 | 180 | 50 | 383 | 209,969,808 | R16,755,336,653 | 225056 | 778581 |
| 19/10/2016 | 193 | 163 | 60 | 416 | 245,963,697 | R20,018,433,090 | 256400 | 564251 |
* Includes all listed instruments on the JSE
---
---
---
Index Summary
| | | | |
| --- | --- | --- | --- |
| Index Name | RP | Move | % Move |
| Top 40 | 45,201.60 | 67.32 | 0.15% |
| Industrial | 76,203.00 | 15.10 | 0.02% |
| Mid Cap | 76,667.67 | 22.67 | 0.03% |
| Small Cap | 61,741.37 | 153.27 | 0.25% |
| Resource 20 | 32,385.37 | 330.42 | 1.03% |
| Industrial 25 | 68,102.04 | 45.28 | 0.07% |
| Financial 15 | 14,439.91 | -79.11 | -0.54% |
| Financial & Ind. 30 | 70,827.76 | -73.81 | -0.10% |
| All Share | 51,749.86 | 66.47 | 0.13% |
| Oil & Gas | 7,195.69 | .00 | 0.00% |
| Mining | 24,259.85 | 400.13 | 1.68% |
| Gold Mining | 1,826.13 | 5.07 | 0.28% |
| Platinum Mining | 25.39 | .85 | 3.46% |
| GENERAL MINING | 6,586.43 | 115.08 | 1.78% |
| Oil & Gas Producers | 38,689.88 | .00 | 0.00% |
| Basic Materials | 23,009.01 | 247.41 | 1.09% |
| Chemicals | 20,506.16 | -23.34 | -0.11% |
| Forestry & Paper | 49,728.86 | -300.37 | -0.60% |
| Industrial Metals | 10,131.77 | 157.28 | 1.58% |
| Industrials | 46,288.96 | 20.19 | 0.04% |
| General Industrials | 177.37 | .07 | 0.04% |
| Consumer Goods | 70,492.58 | -305.03 | -0.43% |
| Automobiles & Parts | 4,438.34 | -67.93 | -1.51% |
| Household Goods | 514.23 | -3 | -0.49% |
| Health Care | 8,934.92 | -23.55 | -0.26% |
| Beverages | 268.53 | -1.83 | -0.68% |

| | | | |
| --- | --- | --- | --- |
| Index Name | RP | Move | % Move |
| Food Producers | 9,515.12 | 8.07 | 0.08% |
| Personal Goods | 906.18 | -5.49 | -0.60% |
| Consumer Services | 19,022.82 | -60.35 | -0.32% |
| General Retailers | 6,875.00 | -30.43 | -0.44% |
| Travel & Leisure | 6,496.37 | -102.14 | -1.55% |
| Media | 521.03 | -2.12 | -0.41% |
| Support Services | 1,961.17 | -4.39 | -0.22% |
| Telecommunications | 6,548.10 | 240.49 | 3.81% |
| Financials | 39,970.12 | -198.66 | -0.49% |
| Banks | 7,050.33 | -19.33 | -0.27% |
| Non-life Insurance | 64,173.49 | -814.09 | -1.25% |
| Life Insurance | 35,628.94 | -231.16 | -0.64% |
| General Financial | 3,832.52 | -18.72 | -0.49% |
| Technology | 57,890.01 | -1097.86 | -1.86% |
| SHARIAH TOP40 | 3,040.97 | 17 | 0.57% |
| FTSE/JSE SHARIAH ALL | 3,436.39 | 19 | 0.55% |
| COAL MINING | 12,620.27 | 487 | 4.01% |
| FTSE JSE Fledgling | 7,685.98 | 38 | 0.49% |
| FTSE/JSE TOP 40 USD | 3,510.28 | 13 | 0.37% |
| FTSE/JSE Alt X | 1,435.38 | 1 | 0.10% |
| SA LISTED PROPERTY | 637.02 | -3.88 | -0.61% |
| CAPPED PROPERTY | 523.64 | | -0.81% |
| RESOURCE | 18,358.85 | 197 | 1.09% |
| DIVIDEND PLUS | 201.60 | -19908 | -99.00% |
| FTSE/JSE RAFI 40 | 9,535.34 | 70 | 0.74% |
| Capped Top 40 | 23,968.69 | ####### | -99.00% |
| Capped All Share | 26,342.42 | ####### | -99.00% |
| JSE TABACO | 10,145.80 | 6 | 0.06% |
Click here for the Sharenet Index Summary page
---
Latest Consensus Changes**

| | | | |
| --- | --- | --- | --- |
| Code | Company Name | Status | Updated |
| APF | ACCELERATE PROP FUND LTD | HOLD | 21/10/2016 |
| AVI | AVI LTD | HOLD | 21/10/2016 |
| FSR | FIRSTRAND LIMITED | HOLD | 21/10/2016 |
| TBS | TIGER BRANDS LTD | SELL | 21/10/2016 |
| RES | RESILIENT PROPERTY INCOME... | SELL | 21/10/2016 |

Results Expected**

| | | |
| --- | --- | --- |
| Expected | Company Name | Fin. Date |
| 26/10/2016 | AEEI | August 2016 (Final) |
| 26/10/2016 | OASIS | September 2016 (Interim) |
| 26/10/2016 | SEKJALOA | August 2016 (Final) |
| 26/10/2016 | SEKJALOBP | August 2016 (Final) |
| 26/10/2016 | SEKJALOP | August 2016 (Final) |
---
Recent Dividends**

| | | | | |
| --- | --- | --- | --- | --- |
| Share Name | Dec-Date | LDT | Pay-Date | Amount |
| TRENCOR | 21/10/16 | 08/11/16 | 14/11/16 | ZAR 0.8000 |
| ADCORP | 20/10/16 | 29/11/16 | 05/12/16 | ZAR 0.2000 |
| DATATEC | 19/10/16 | 22/11/16 | 28/11/16 | ZAR 0.6000 |
| VALUE | 19/10/16 | 17/01/17 | 23/01/17 | ZAR 0.0600 |
| WESCOAL | 19/10/16 | 08/11/16 | 14/11/16 | ZAR 0.0421 |

Ex Div**

| | | | | |
| --- | --- | --- | --- | --- |
| Share Name | Dec-Date | LDT | Pay-Date | Amount |
| ILPREF2 | 30/09/16 | 25/10/16 | 31/10/16 | ZAR 14.7583 |
| ILRPREF1 | 30/09/16 | 25/10/16 | 31/10/16 | ZAR 14.7583 |
| NTC PREF | 03/10/16 | 25/10/16 | 31/10/16 | ZAR 4.3431 |
| WBHO | 06/09/16 | 18/10/16 | 24/10/16 | ZAR 3.1300 |
| BOWCALF | 26/09/16 | 25/10/16 | 31/10/16 | ZAR 0.1840 |
---
Upcoming AGMs**

| | | | |
| --- | --- | --- | --- |
| Code | Company Name | Date | Status |
| IMP | Impala Platinum Holdings Ltd. | 26/10/2016 | Confirmed |
| IMPCB | Impala Platinum Holdings Ltd. | 26/10/2016 | Confirmed |
| SVB | SilverBridge Holdings Ltd. | 26/10/2016 | Confirmed |
| WEA | WG Wearne Ltd. | 26/10/2016 | Confirmed |
| CLI | Client?le Ltd. | 27/10/2016 | Confirmed |
---
Stock Exchange News Service
Click here for more SENS news
---