Thursday, 18 August 2016 - 20:00
Charts
Todays Sharenet VIEWS
Moxima Gama & Ian Stiglingh
Technical Analysis by Moxima Gama Trading Update Commentary by Ian Stiglingh Naspers Trading Commentary Naspersáclosed 4.4% firmer yesterday following a second quarter update by Hong Kong based Tencent Holdings that trumped analyst's predictions. Naspersáholds a significant stake in Tencent and combined with its other listed investments is trading at over a 10% discount to the sum of the parts. Add its businesses in South Africa (DSTV, Takealot, etc.) and you are starting to wonder if...
Capital International and Sharenet
With the headlines in the UK of Brexit, we have recently been through one of those phases where words simply drop from the headlines and China has been very quiet in recent months. However, that is not to say that things have been dramatically improving in the economy and we remain concerned longer term. As always timing is impossible to predict, but last summer's equity market wobble was largely caused by Chinese GDP fears. In a recently published report, Moody's estimate that the...
Top News
Local markets The JSE All Share finished 1.30% up on Thursday, with 2.26% gains in resource shares leading the upward trend.

---

A Qatar Airways aircraft made an emergency landing at Istanbul's Ataturk airport on Thursday because of a suspected bird strike shortly after take off, according to a spokeswoman for the airline.

Syrian government warplanes bombed Kurdish-held areas of the northeastern city of Hasaka on Thursday for the first time in the five-year-old civil war, the Syrian Kurdish YPG militia and a monitoring group said.
World Markets (Spot Prices)
| | | | | |
| --- | --- | --- | --- | --- |
| Name | Time | RP | Move | % Move |
| JSE Overall | 17:00 | 52989.66 | 679.96 | 1.30% |
| JSE Top 40 | 17:00 | 46063.63 | 676.85 | 1.49% |
| JSE Gold | 17:00 | 2606.01 | 28.98 | 1.12% |
| JSE Financial | 17:00 | 42327.45 | 781.40 | 1.88% |
| JSE Industrial | 17:00 | 77995.58 | 641.91 | 0.83% |
| JSE Indust 25 | 17:00 | 69767.20 | 579.80 | 0.84% |
| JSE Resource | 17:00 | 31944.43 | 704.86 | 2.26% |
| DJ Futures | 18:28 | 18537.00 | -13.00 | -0.07% |
| DJ Ind | 19:58 | 18565.24 | -8.70 | -0.05% |
| SP 500 | 19:58 | 2184.12 | 1.90 | 0.09% |
| Nasdaq | 19:58 | 5238.11 | 9.45 | 0.18% |
| FTSE 100 | 17:13 | 6871.23 | 12.08 | 0.18% |
| DAX | 18:08 | 10603.03 | 65.36 | 0.62% |
| CAC40 | 18:08 | 4437.06 | 19.38 | 0.44% |
| Nikkei | 08:32 | 16486.01 | -259.63 | -1.55% |
| Shanghai | 09:28 | 3104.11 | -5.44 | -0.17% |
| Hang-Seng | 10:30 | 23023.16 | 223.38 | 0.98% |
| All Ords | 08:38 | 5607.30 | -20.80 | -0.37% |
| NZSE 50 | 09:02 | 7385.12 | 30.10 | 0.41% |

| | | | | |
| --- | --- | --- | --- | --- |
| Name | Time | RP | Move | % Move |
| Gold $ | 19:58 | 1351.53 | 3.63 | 0.27% |
| Gold R | 19:57 | 18060.20 | 30.01 | 0.17% |
| Gold R/kg | 19:55 | 579853 | 183 | 0.03% |
| Silver $ | 19:58 | 19.7560 | 0.1090 | 0.55% |
| Platinum $ | 19:58 | 1123.00 | 9.00 | 0.81% |
| Palladium $ | 19:57 | 711.76 | 20.26 | 2.93% |
| R186 | 16:59 | 8.41 | -0.04 | -0.47% |
| R204 | 16:59 | 7.58 | -0.04 | -0.52% |
| R207 | 16:59 | 7.75 | -0.04 | -0.58% |
| Brent Crude | 19:32 | 50.77 | 1.54 | 3.13% |
| USD / ZAR | 19:58 | 13.3610 | -0.0260 | -0.19% |
| GBP / ZAR | 18:45 | 17.5557 | 0.1376 | 0.79% |
| EUR/ ZAR | 19:35 | 15.1466 | 0.0401 | 0.27% |
| NZD/ ZAR | 19:57 | 9.7376 | 0.0325 | 0.33% |
| AUD / ZAR | 19:35 | 10.2674 | 0.0159 | 0.16% |
| USD / JPY | 19:58 | 99.8560 | -0.3710 | -0.37% |
| EUR / USD | 19:58 | 1.1344 | 0.0055 | 0.49% |
| GBP / USD | 19:58 | 1.3141 | 0.0102 | 0.78% |
Click here for the Sharenet Spot Price page
The JSE Today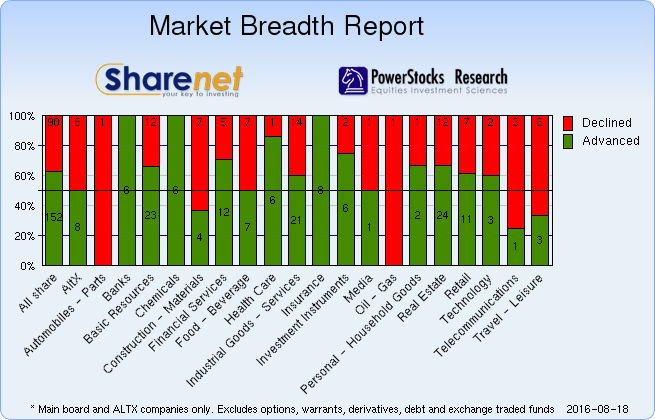 Trading Statistics
| Date | Adv. | Decl. | Unch. | Actives | Volume | Value | Trades | Orders |
| --- | --- | --- | --- | --- | --- | --- | --- | --- |
| 18/08/2016 | 225 | 116 | 55 | 396 | 221,587,157 | R20,367,551,431 | 249544 | 2103732 |
| 17/08/2016 | 120 | 226 | 50 | 396 | 293,875,964 | R28,220,514,649 | 383435 | 2463055 |
| 16/08/2016 | 162 | 195 | 60 | 417 | 308,059,909 | R25,322,064,184 | 300239 | 2439071 |
| 15/08/2016 | 122 | 218 | 59 | 399 | 232,294,100 | R18,818,125,293 | 209261 | 1570102 |
| 12/08/2016 | 233 | 124 | 45 | 402 | 271,599,208 | R20,545,953,960 | 258417 | 2118762 |
* Includes all listed instruments on the JSE
---
---
---
Index Summary
| | | | |
| --- | --- | --- | --- |
| Index Name | RP | Move | % Move |
| Top 40 | 46,063.63 | 676.85 | 1.49% |
| Industrial | 77,995.58 | 641.91 | 0.83% |
| Mid Cap | 81,124.99 | 379.30 | 0.47% |
| Small Cap | 61,505.15 | 172.40 | 0.28% |
| Resource 20 | 31,944.43 | 704.86 | 2.26% |
| Industrial 25 | 69,767.20 | 579.80 | 0.84% |
| Financial 15 | 15,495.61 | 348.64 | 2.30% |
| Financial & Ind. 30 | 72,723.49 | 970.95 | 1.35% |
| All Share | 52,989.66 | 679.96 | 1.30% |
| Oil & Gas | 7,195.69 | .00 | 0.00% |
| Mining | 24,222.39 | 552.86 | 2.34% |
| Gold Mining | 2,606.01 | 28.98 | 1.12% |
| Platinum Mining | 29.84 | .62 | 2.12% |
| GENERAL MINING | 5,764.86 | 163.66 | 2.92% |
| Oil & Gas Producers | 38,689.88 | .00 | 0.00% |
| Basic Materials | 22,763.31 | 466.87 | 2.09% |
| Chemicals | 19,674.80 | 365.27 | 1.89% |
| Forestry & Paper | 49,061.24 | 563.95 | 1.16% |
| Industrial Metals | 10,248.47 | -129.22 | -1.25% |
| Industrials | 49,057.26 | 475.93 | 0.98% |
| General Industrials | 190.40 | 1.55 | 0.82% |
| Consumer Goods | 71,296.02 | 480.29 | 0.68% |
| Automobiles & Parts | 4,415.69 | -169.84 | -3.70% |
| Household Goods | 632.82 | 12 | 1.89% |
| Health Care | 10,003.12 | 90.43 | 0.91% |
| Beverages | 261.38 | .76 | 0.29% |

| | | | |
| --- | --- | --- | --- |
| Index Name | RP | Move | % Move |
| Food Producers | 9,867.56 | 73.24 | 0.75% |
| Personal Goods | 836.86 | 12.58 | 1.53% |
| Consumer Services | 19,095.68 | 247.06 | 1.31% |
| General Retailers | 8,191.30 | -129.75 | -1.56% |
| Travel & Leisure | 6,760.77 | 62.93 | 0.94% |
| Media | 493.41 | 8.20 | 1.69% |
| Support Services | 1,978.43 | -1.30 | -0.07% |
| Telecommunications | 7,087.21 | -64.01 | -0.90% |
| Financials | 42,327.45 | 781.40 | 1.88% |
| Banks | 7,522.61 | 300.11 | 4.16% |
| Non-life Insurance | 56,531.69 | 68.91 | 0.12% |
| Life Insurance | 37,939.52 | 179.89 | 0.48% |
| General Financial | 4,007.69 | 62.04 | 1.57% |
| Technology | 54,239.49 | 324.06 | 0.60% |
| SHARIAH TOP40 | 3,161.93 | 57 | 1.83% |
| FTSE/JSE SHARIAH ALL | 3,581.85 | 56 | 1.60% |
| COAL MINING | 10,297.98 | -44 | -0.43% |
| FTSE JSE Fledgling | 7,375.19 | 11 | 0.14% |
| FTSE/JSE Alt X | 1,423.02 | 6 | 0.45% |
| SA LISTED PROPERTY | 664.60 | 4.82 | 0.73% |
| CAPPED PROPERTY | 552.28 | | 0.82% |
| RESOURCE | 18,162.80 | 373 | 2.09% |
| DIVIDEND PLUS | 212.94 | 2 | 0.98% |
| FTSE/JSE RAFI 40 | 9,727.85 | 180 | 1.88% |
| Capped Top 40 | 24,645.02 | 375 | 1.55% |
| Capped All Share | 27,105.84 | 351 | 1.31% |
| JSE TABACO | 10,817.81 | -65 | -0.60% |
Click here for the Sharenet Index Summary page
---
Latest Consensus Changes**

| | | | |
| --- | --- | --- | --- |
| Code | Company Name | Status | Updated |
| SBK | STANDARD BANK GROUP LIMIT... | SELL | 18/08/2016 |
| NPN | NASPERS LIMITED | BUY | 18/08/2016 |
| KAP | KAP INDUSTRIAL HLDGS | BUY | 18/08/2016 |
| BGA | BARCLAYS AFRICA GRP LTD | HOLD | 18/08/2016 |
| FSR | FIRSTRAND LIMITED | HOLD | 17/08/2016 |

Results Expected**

| | | |
| --- | --- | --- |
| Expected | Company Name | Fin. Date |
| 19/08/2016 | DEFCAP | June 2016 (Final) |
| 19/08/2016 | DISTELL | June 2016 (Final) |
| 19/08/2016 | RESGEN | June 2016 (Final) |
| 19/08/2016 | SHOPCONV | June 2016 (Final) |
| 19/08/2016 | SHOPRIT | June 2016 (Final) |
---
Recent Dividends**

| | | | | |
| --- | --- | --- | --- | --- |
| Share Name | Dec-Date | LDT | Pay-Date | Amount |
| EMIRA | 17/08/16 | 06/09/16 | 12/09/16 | ZAR 0.7576 |
| HARMONY | 17/08/16 | 13/09/16 | 19/09/16 | ZAR 0.5000 |
| ANCHOR | 17/08/16 | 30/08/16 | 05/09/16 | ZAR 0.1700 |
| BHPBILL | 16/08/16 | 30/08/16 | 20/09/16 | USD 0.1400 |
| ARROWA | 16/08/16 | 30/08/16 | 05/09/16 | ZAR 0.2088 |

Ex Div**

| | | | | |
| --- | --- | --- | --- | --- |
| Share Name | Dec-Date | LDT | Pay-Date | Amount |
| IMPL CONV | 19/07/16 | 16/08/16 | 22/08/16 | ZAR 250.0000 |
| BATS | 28/07/16 | 16/08/16 | 28/09/16 | GBP 0.5130 |
| SABVEST | 29/07/16 | 16/08/16 | 22/08/16 | ZAR 0.2300 |
| SABVEST-N | 29/07/16 | 16/08/16 | 22/08/16 | ZAR 0.2300 |
| MONDIPLC | 04/08/16 | 16/08/16 | 13/09/16 | EUR 0.1881 |
---
Upcoming AGMs**

| | | | |
| --- | --- | --- | --- |
| Code | Company Name | Date | Status |
| ART | Argent Industrial Ltd. | 19/08/2016 | Unconfirmed |
| TKG | Telkom SA SOC Ltd. | 24/08/2016 | Confirmed |
| TKGA | Telkom SA SOC Ltd. | 24/08/2016 | Confirmed |
| TKGB | Telkom SA SOC Ltd. | 24/08/2016 | Confirmed |
| GDN | Gooderson Leisure Corporation Ltd. | 24/08/2016 | Confirmed |
---
Stock Exchange News Service
Click here for more SENS news
---