Thursday, 11 July 2013 - 20:00
Charts
Top News
South African mining unions and gold companies started wage talks on Thursday billed as the toughest since the end of apartheid, with demands for a doubling of basic pay set against collapsing bullion prices and shrinking profit margins.

---

Global stock indexes rose sharply while the dollar tumbled on Thursday after Federal Reserve chief Ben Bernanke signaled the U.S. central bank may not be as close to winding down its stimulus policy as markets had begun to expect. On Wall Street, stocks briefly jumped 1 percent at the open. Fed Chairman Bernanke said on Wednesday the overall message from the central bank was that "a highly accommodative policy is needed for the foreseeable future." "His statement that they will

Portugal's president threw the bailed-out euro zone country into disarray on Thursday after rejecting a plan to heal a government rift, igniting what critics called a "time bomb" by calling for early elections next year.
Company Results
Revenue increased to R142.8 million (R127.8 million). Gross profit decreased to R17.9 million (R35.3 million). Net attributable loss was recorded at R2.1 million (profit of R8.9 million). In addition, headline loss per share was at 1.7cps (headline earnings per share of 6.8cps). Dividend It is the policy of the Group to declare dividends up to a maximum of one-third of annual profits after tax, subject to working capital requirements and acquisition activities. In addition, it is th. . .
World Markets (Spot Prices)
| | | | | |
| --- | --- | --- | --- | --- |
| Name | Time | RP | Move | % Move |
| JSE Overall | 17:00 | 40543.00 | 904.46 | 2.28% |
| JSE Top 40 | 17:00 | 36082.58 | 901.24 | 2.56% |
| JSE Gold | 17:00 | 1215.12 | 38.01 | 3.23% |
| JSE Financial | 17:00 | 30088.89 | 515.42 | 1.74% |
| JSE Industrial | 17:00 | 54056.44 | 842.10 | 1.58% |
| JSE Indust 25 | 17:00 | 47314.58 | 793.95 | 1.71% |
| JSE Resource | 17:00 | 44150.76 | 1793.10 | 4.23% |
| DJ Futures | 17:42 | 15360.00 | 117.00 | 0.77% |
| DJ Ind | 18:08 | 15432.40 | 140.74 | 0.92% |
| SP 500 | 18:08 | 1669.81 | 17.19 | 1.04% |
| Nasdaq | 18:08 | 3564.10 | 79.10 | 2.27% |
| FTSE 100 | 17:35 | 6543.41 | 38.45 | 0.59% |
| DAX | 18:08 | 8158.80 | 92.32 | 1.14% |
| CAC40 | 18:08 | 3868.98 | 28.45 | 0.74% |
| Nikkei | 08:38 | 14472.58 | 55.98 | 0.39% |
| Shanghai | 09:32 | 2072.99 | 64.87 | 3.23% |
| Hang-Seng | 10:32 | 21437.49 | 532.93 | 2.55% |
| All Ords | 08:41 | 4946.90 | 61.50 | 1.26% |
| NZSE 50 | 07:52 | 4560.05 | 3.28 | 0.07% |

| | | | | |
| --- | --- | --- | --- | --- |
| Name | Time | RP | Move | % Move |
| Gold $ | 19:59 | 1281.82 | 14.40 | 1.14% |
| Gold R | 19:58 | 12870.89 | 294.24 | 2.34% |
| Gold R/kg | 18:08 | 410959 | 9853 | 2.46% |
| Silver $ | 19:59 | 20.0350 | .4840 | 2.48% |
| Platinum $ | 19:59 | 1405.50 | 30.00 | 2.18% |
| Palladium $ | 19:59 | 716.90 | 2.80 | 0.39% |
| R157 | 17:24 | 6.03 | -.04 | -0.74% |
| R186 | 17:23 | 7.97 | -.08 | -0.99% |
| R204 | 17:24 | 7.04 | -.05 | -0.71% |
| R207 | 17:24 | 7.29 | -.07 | -0.95% |
| Brent Crude | 17:58 | 107.92 | .11 | 0.10% |
| Rand / Dollar | 19:59 | 10.0341 | 0.1106 | 1.11% |
| Rand / Pound | 19:55 | 15.1447 | 0.2235 | 1.50% |
| Rand / Euro | 19:55 | 13.0887 | 0.1628 | 1.26% |
| Rand / NZD | 19:58 | 7.8254 | -0.0174 | -0.22% |
| Rand / AUD | 19:55 | 9.1718 | 0.0146 | 0.16% |
| Yen / Dollar | 19:59 | 99.2650 | -0.2480 | -0.25% |
| Euro / Dollar | 19:55 | 0.7663 | -0.0013 | -0.17% |
| Dollar / Euro | 19:59 | 1.3048 | 0.0034 | 0.26% |
| Pound / Dollar | 19:55 | 0.6609 | -0.0029 | -0.44% |
Click here for the Sharenet Spot Price page
The JSE Today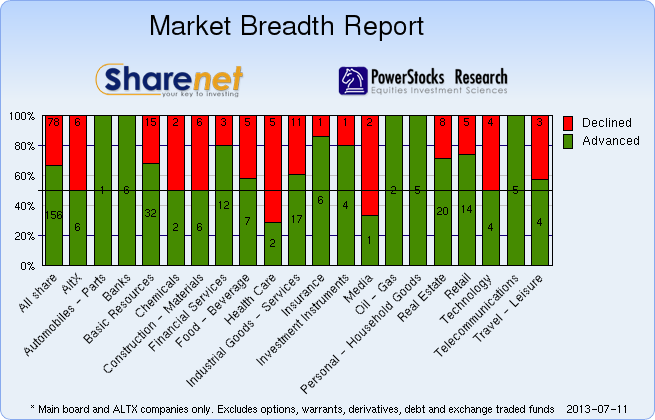 Trading Statistics
| Date | Adv. | Decl. | Unch. | Actives | Volume | Value | Trades | Orders |
| --- | --- | --- | --- | --- | --- | --- | --- | --- |
| 11/07/2013 | 242 | 108 | 50 | 400 | 172,854,388 | R12,398,360,162 | 150517 | 1854409 |
| 10/07/2013 | 145 | 182 | 71 | 398 | 163,726,739 | R10,161,025,821 | 130474 | 1877323 |
| 09/07/2013 | 186 | 161 | 63 | 410 | 152,375,051 | R9,408,454,178 | 128180 | 1907010 |
| 08/07/2013 | 181 | 155 | 61 | 397 | 155,987,527 | R10,825,792,743 | 145646 | 1999418 |
| 05/07/2013 | 101 | 237 | 67 | 405 | 170,103,641 | R11,238,189,631 | 136432 | 2337038 |
* Includes all listed instruments on the JSE
---
---
---
Index Summary
| | | | |
| --- | --- | --- | --- |
| Index Name | RP | Move | % Move |
| Top 40 | 36,082.00 | 901.00 | 2.56% |
| Industrial | 54,056.00 | 842.00 | 1.58% |
| Mid Cap | 54,975.00 | 523.00 | 0.96% |
| Small Cap | 44,508.00 | 363.00 | 0.82% |
| Resource 20 | 44,150.00 | 1793.00 | 4.23% |
| Industrial 25 | 47,314.00 | 794.00 | 1.71% |
| Financial 15 | 11,254.00 | 215.00 | 1.95% |
| Financial & Ind. 30 | 50,006.00 | 915.00 | 1.87% |
| All Share | 40,543.00 | 905.00 | 2.28% |
| Oil & Gas | 33,221.00 | 568.00 | 1.74% |
| Mining | 26,563.00 | 1207.00 | 4.76% |
| Gold Mining | 1,215.00 | 38.00 | 3.24% |
| Platinum Mining | 37.00 | 1.00 | 4.94% |
| GENERAL MINING | 7,644.00 | 377.00 | 5.20% |
| Oil & Gas Producers | 17,862.00 | 305.00 | 1.74% |
| Basic Materials | 23,620.00 | 987.00 | 4.36% |
| Chemicals | 21,871.00 | .00 | 0.00% |
| Forestry & Paper | 22,940.00 | 499.00 | 2.23% |
| Industrial Metals | 23,968.00 | 60.00 | 0.25% |
| Industrials | 40,985.00 | 593.00 | 1.47% |
| General Industrials | 122.00 | 2.00 | 2.36% |
| Consumer Goods | 51,170.00 | 997.00 | 1.99% |
| Automobiles & Parts | 7,884.00 | 145.00 | 1.88% |
| Household Goods | 175.00 | 6 | 3.69% |
| Health Care | 67,784.00 | -451.00 | -0.66% |
| Beverages | 168.00 | 4.00 | 2.60% |

| | | | |
| --- | --- | --- | --- |
| Index Name | RP | Move | % Move |
| Food Producers | 69,212.00 | 1072.00 | 1.57% |
| Personal Goods | 933.00 | 21.00 | 2.32% |
| Consumer Services | 90,913.00 | 1345.00 | 1.50% |
| General Retailers | 59,954.00 | 1064.00 | 1.81% |
| Travel & Leisure | 5,350.00 | -23.00 | -0.44% |
| Media | 168.00 | 3.00 | 2.10% |
| Support Services | 2,383.00 | 32.00 | 1.38% |
| Telecommunications | 87,554.00 | 1547.00 | 1.80% |
| Financials | 30,088.00 | 515.00 | 1.74% |
| Banks | 48,801.00 | 1082.00 | 2.27% |
| Non-life Insurance | 50,362.00 | 58.00 | 0.12% |
| Life Insurance | 29,049.00 | 522.00 | 1.83% |
| General Financial | 2,785.00 | 42.00 | 1.56% |
| Technology | 39,865.00 | 9.00 | 0.02% |
| SHARIAH TOP40 | 3,307.00 | 107 | 3.37% |
| FTSE/JSE SHARIAH ALL | 3,448.00 | 96 | 2.89% |
| COAL MINING | 18,869.00 | 409 | 2.22% |
| FTSE JSE Fledgling | 5,512.00 | -7 | -0.13% |
| FTSE/JSE Alt X | 1,003.00 | 1 | 0.13% |
| SA LISTED PROPERTY | 507.00 | | 1.01% |
| CAPPED PROPERTY | 421.00 | | 1.44% |
| RESOURCE | 24,122.00 | 974 | 4.21% |
| DIVIDEND PLUS | 202.00 | 3 | 1.91% |
| FTSE/JSE RAFI 40 | 7,927.00 | 208 | 2.70% |
| Capped Top 40 | 19,078.00 | 457 | 2.46% |
| Capped All Share | 20,539.00 | 449 | 2.23% |
| JSE TABACO | 6,754.00 | 45 | 0.68% |
Click here for the Sharenet Index Summary page
---
Latest Consensus Changes**

| | | | |
| --- | --- | --- | --- |
| Code | Company Name | Status | Updated |
| RMI | RAND MERCH INS HLDGS LTD | HOLD | 10/07/2013 |
| SUI | SUN INTERNATIONAL LTD | SELL | 10/07/2013 |
| AGL | ANGLO AMERICAN PLC | BUY | 09/07/2013 |
| SPP | THE SPAR GROUP LTD | HOLD | 09/07/2013 |
| ARL | ASTRAL FOODS | BUY | 09/07/2013 |

Results Expected**

| | | |
| --- | --- | --- |
| Expected | Company Name | Fin. Date |
---
Recent Dividends**

| | | | | |
| --- | --- | --- | --- | --- |
| Share Name | Dec-Date | LDT | Pay-Date | Amount |
| FOORDCMPS | 09/07/2013 | 26/07/2013 | 05/08/2013 | R 0.3000 |
| TELEMASTR | 02/07/2013 | 19/07/2013 | 29/07/2013 | R 0.0050 |
| HUDACO | 28/06/2013 | 08/08/2013 | 19/08/2013 | R 1.5500 |
| ARGENT | 26/06/2013 | 27/09/2013 | 07/10/2013 | R 0.0700 |
| PRESCIENT | 25/06/2013 | 26/07/2013 | 05/08/2013 | R 0.0250 |

Ex Div**

| | | | | |
| --- | --- | --- | --- | --- |
| Share Name | Dec-Date | LDT | Pay-Date | Amount |
| TONGAAT | 24/05/2013 | 05/07/2013 | 18/07/2013 | R 1.9000 |
| CROOKES | 28/05/2013 | 05/07/2013 | 12/07/2013 | R 1.6000 |
| FAMBRANDS | 27/05/2013 | 05/07/2013 | 15/07/2013 | R 1.4200 |
| AMECOR | 20/06/2013 | 05/07/2013 | 15/07/2013 | R 0.1000 |
| DATATEC | 15/05/2013 | 05/07/2013 | 15/07/2013 | R 0.0900 |
---
Upcoming AGMs**

| | | | |
| --- | --- | --- | --- |
| Code | Company Name | Date | Status |
| SLP | Sable Platinum Ltd. | 11/07/2013 | Confirmed |
| HUG | Huge Group Ltd. | 12/07/2013 | Confirmed |
| ALT | Allied Technologies Ltd. | 16/07/2013 | Confirmed |
| ANA | Adrenna Property Group Ltd. | 16/07/2013 | Unconfirmed |
| ADAP | Adrenna Property Group Ltd. | 16/07/2013 | Unconfirmed |
---
Stock Exchange News Service
Click here for more SENS news
---