Tuesday, 02 July 2013 - 20:00
Charts
Are Boutique Managers the Way to Go?
There is always debate about whether boutique managers are better at managing funds than medium and large managers. The lobbyers for boutique managers will always use the argument that large managers aren't as nimble as boutique managers and can't really participate in medium and small cap equity markets. As a way of example, one of South Africa's largest fund managers has a 10% stake in Spar and the share amounts to less than 0.5% of their AUM.
The table below shows what stake a large fund manager (R100bn) needs to take in a company to have a 4% exposure. The ff (free float) market cap was used for the calculations.
From the above table you can see that it becomes very difficult for a large fund manager to take a significant (with respect to their AUM) stake in a company that isn't in the top 40 largest companies. Liquidity constraints also come into play when they want to transact in the shares.
Having a bigger universe to invest from doesn't automatically mean that boutiques will outperform large and medium managers. The performance is reliant on the skills of the fund manager and his or her investment philosophy and process.
This is where the argument for large managers comes in. They have access to more resources than the average boutique fund manager. They normally have a bigger research team that can monitor more companies and different asset classes.
Even with the liquidity limitations in large funds, some of the large fund managers have been top performers over the past few years.
So which are better, or is there an alternative option? This is where multi managers and fund of funds come into play.

Over the past year, of the top 10 managers in the multi asset class high equity unit trust sector (i.e. balanced funds), more than half of them were FoF (fund of funds) or MM (multi manager) funds. Those 6 FoF and MM funds had 37% exposure to large managers, 31% exposure to medium managers, and 26% exposure to boutique managers by way of example.
The advantage of FoF and MM funds is that they are able to select the best managers for each of the different asset classes, whether it's a boutique, medium, or large manager. The fund manager is able to provide you access to some boutique managers that aren't always available to investors. The blend of the overall investment portfolio can be targeted in such a way as to enhance the value of the managers' abilities and it also allows management companies to remove under performing fund managers.
At Seed we take a multi-manager approach to managing our client's money. We are always actively searching and looking to find managers that excel in their chosen field and will be beneficial to the Funds. In our Funds we currently have boutique managers like Visio, Fairtree, Salient, Reitway, and Atlantic.
We are available for any questions regarding investment or retirement matters.
Kind regards,
Gerbrandt Kruger
www.seedinvestments.co.za
info@seedinvestments.co.za
021 914 4966
Tue, 02 Jul 2013
Top News
South Africa's Richards Bay Coal Terminal (RBCT) exported 5.3 million tonnes of coal in June compared with 4.35 million tonnes the previous month, RBCT data showed on Tuesday.

---

Egypt's army has plans to push President Mohamed Mursi aside and suspend the constitution if he fails to strike a power-sharing deal with his opponents within 24 hours, military sources told Reuters on Tuesday.

A Russian rocket carrying three navigation satellites worth around $200 million crashed shortly after lift-off from the Russian-leased Baikonur launch facility in Kazakhstan on Tuesday after its engines suddenly switched off.

Weary crews on Tuesday looked for a break in the weather to gain ground against a fierce Arizona wildfire that has already killed 19 of their fellow firefighters in the worst wildland fire tragedy in 80 years. Fire managers say the so-called Yarnell Hills fire, which has already charred nearly 8,400 acres (3,400 hectares) of tinder-dry chaparral and grasslands northwest of Phoenix, was zero percent contained as darkness fell on Monday evening. The lightning-sparked blaze, which broke
World Markets (Spot Prices)
| | | | | |
| --- | --- | --- | --- | --- |
| Name | Time | RP | Move | % Move |
| JSE Overall | 17:00 | 39844.70 | -88.13 | -0.22% |
| JSE Top 40 | 17:00 | 35252.13 | -113.14 | -0.32% |
| JSE Gold | 17:00 | 1275.36 | 9.39 | 0.74% |
| JSE Financial | 17:00 | 30137.34 | -102.99 | -0.34% |
| JSE Industrial | 17:00 | 53038.44 | -112.58 | -0.21% |
| JSE Indust 25 | 17:00 | 46226.92 | -168.28 | -0.36% |
| JSE Resource | 17:00 | 42907.28 | -76.96 | -0.18% |
| DJ Futures | 19:58 | 14925.00 | -42.81 | -0.29% |
| DJ Ind | 19:58 | 14954.11 | -20.85 | -0.14% |
| SP 500 | 19:58 | 1614.90 | -0.06 | -0.00% |
| Nasdaq | 19:58 | 3431.98 | 55.98 | 1.66% |
| FTSE 100 | 17:35 | 6303.94 | -3.84 | -0.06% |
| DAX | 18:12 | 7910.77 | -73.15 | -0.92% |
| CAC40 | 18:12 | 3742.57 | -24.91 | -0.66% |
| Nikkei | 08:32 | 14098.74 | 246.24 | 1.78% |
| Shanghai | 09:30 | 2006.56 | 11.32 | 0.57% |
| Hang-Seng | 10:28 | 20658.65 | -144.64 | -0.70% |
| All Ords | 08:50 | 4810.30 | 120.60 | 2.57% |
| NZSE 50 | 07:50 | 4458.25 | 40.20 | 0.91% |

| | | | | |
| --- | --- | --- | --- | --- |
| Name | Time | RP | Move | % Move |
| Gold $ | 19:59 | 1246.05 | -6.60 | -0.53% |
| Gold R | 19:58 | 12344.42 | 442.70 | 3.72% |
| Gold R/kg | 19:58 | 396873 | 521 | 0.13% |
| Silver $ | 19:59 | 19.4010 | -.1950 | -1.00% |
| Platinum $ | 19:59 | 1365.00 | -7.00 | -0.51% |
| Palladium $ | 19:59 | 681.60 | .20 | 0.03% |
| R157 | 17:34 | 6.01 | -.08 | -1.23% |
| R186 | 17:34 | 7.83 | -.05 | -0.70% |
| R204 | 17:34 | 6.99 | -.09 | -1.20% |
| R207 | 17:34 | 7.22 | -.09 | -1.16% |
| Brent Crude | 19:58 | 103.47 | 1.37 | 1.34% |
| Rand / Dollar | 19:59 | 9.9440 | 0.0316 | 0.32% |
| Rand / Pound | 19:55 | 15.0278 | -0.0331 | -0.22% |
| Rand / Euro | 19:55 | 12.9209 | -0.0349 | -0.27% |
| Rand / NZD | 04:58 | 7.7411 | -0.0133 | -0.17% |
| Rand / AUD | 19:55 | 9.0914 | -0.0684 | -0.75% |
| Yen / Dollar | 19:59 | 100.6800 | 1.0640 | 1.07% |
| Euro / Dollar | 19:55 | 0.7693 | 0.0040 | 0.52% |
| Dollar / Euro | 19:59 | 1.3003 | -0.0057 | -0.44% |
| Pound / Dollar | 19:55 | 0.6600 | 0.0031 | 0.47% |
Click here for the Sharenet Spot Price page
The JSE Today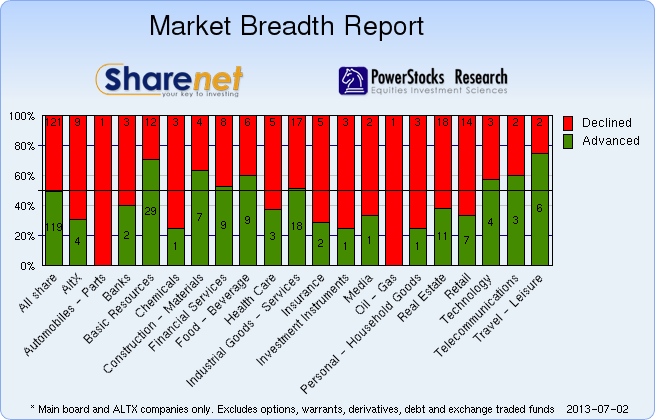 Trading Statistics
| Date | Adv. | Decl. | Unch. | Actives | Volume | Value | Trades | Orders |
| --- | --- | --- | --- | --- | --- | --- | --- | --- |
| 02/07/2013 | 184 | 173 | 60 | 417 | 179,247,330 | R11,366,180,898 | 148215 | 1914206 |
| 01/07/2013 | 249 | 121 | 64 | 434 | 211,596,587 | R12,804,586,093 | 171544 | 2159767 |
| 28/06/2013 | 266 | 102 | 69 | 437 | 306,694,401 | R19,648,980,868 | 210458 | 2189487 |
| 27/06/2013 | 192 | 168 | 64 | 424 | 285,896,281 | R15,221,773,644 | 190461 | 2306377 |
| 26/06/2013 | 200 | 154 | 66 | 420 | 270,214,370 | R15,961,805,114 | 203869 | 463310 |
* Includes all listed instruments on the JSE
---
---
---
Index Summary
| | | | |
| --- | --- | --- | --- |
| Index Name | RP | Move | % Move |
| Top 40 | 35,252.00 | -112.00 | -0.32% |
| Industrial | 53,038.00 | -112.00 | -0.21% |
| Mid Cap | 55,756.00 | 116.00 | 0.21% |
| Small Cap | 44,298.00 | 202.00 | 0.46% |
| Resource 20 | 42,907.00 | -76.00 | -0.18% |
| Industrial 25 | 46,226.00 | -168.00 | -0.36% |
| Financial 15 | 11,257.00 | -47.00 | -0.42% |
| Financial & Ind. 30 | 48,965.00 | -186.00 | -0.38% |
| All Share | 39,844.00 | -87.00 | -0.22% |
| Oil & Gas | 32,708.00 | -307.00 | -0.93% |
| Mining | 25,737.00 | 8.00 | 0.03% |
| Gold Mining | 1,275.00 | 10.00 | 0.82% |
| Platinum Mining | 38.00 | 1.00 | 3.08% |
| GENERAL MINING | 7,287.00 | -16.00 | -0.22% |
| Oil & Gas Producers | 17,586.00 | -165.00 | -0.93% |
| Basic Materials | 22,861.00 | 20.00 | 0.09% |
| Chemicals | 21,881.00 | -126.00 | -0.58% |
| Forestry & Paper | 21,479.00 | 179.00 | 0.84% |
| Industrial Metals | 23,580.00 | 166.00 | 0.71% |
| Industrials | 41,171.00 | 56.00 | 0.14% |
| General Industrials | 122.00 | .00 | 0.03% |
| Consumer Goods | 49,392.00 | -406.00 | -0.82% |
| Automobiles & Parts | 7,982.00 | -96.00 | -1.20% |
| Household Goods | 172.00 | -2 | -1.19% |
| Health Care | 68,167.00 | -126.00 | -0.18% |
| Beverages | 162.00 | -1.00 | -0.89% |

| | | | |
| --- | --- | --- | --- |
| Index Name | RP | Move | % Move |
| Food Producers | 71,913.00 | 484.00 | 0.68% |
| Personal Goods | 872.00 | -6.00 | -0.77% |
| Consumer Services | 90,405.00 | 514.00 | 0.57% |
| General Retailers | 62,435.00 | 562.00 | 0.91% |
| Travel & Leisure | 5,315.00 | 41.00 | 0.78% |
| Media | 161.00 | 2.00 | 1.36% |
| Support Services | 2,386.00 | -20.00 | -0.86% |
| Telecommunications | 86,184.00 | -350.00 | -0.41% |
| Financials | 30,137.00 | -102.00 | -0.34% |
| Banks | 50,350.00 | 129.00 | 0.26% |
| Non-life Insurance | 49,357.00 | -24.00 | -0.05% |
| Life Insurance | 28,393.00 | -193.00 | -0.68% |
| General Financial | 2,761.00 | -16.00 | -0.61% |
| Technology | 38,921.00 | 818.00 | 2.15% |
| SHARIAH TOP40 | 3,223.00 | -7 | -0.23% |
| FTSE/JSE SHARIAH ALL | 3,385.00 | -2 | -0.08% |
| COAL MINING | 18,841.00 | 54 | 0.29% |
| FTSE JSE Fledgling | 5,545.00 | -9 | -0.18% |
| FTSE/JSE Alt X | 986.00 | -10 | -1.08% |
| SA LISTED PROPERTY | 512.00 | | -0.16% |
| CAPPED PROPERTY | 420.00 | | -0.40% |
| RESOURCE | 23,439.00 | -33 | -0.14% |
| DIVIDEND PLUS | 206.00 | 1 | 0.61% |
| FTSE/JSE RAFI 40 | 7,792.00 | -18 | -0.24% |
| Capped Top 40 | 18,671.00 | -55 | -0.30% |
| Capped All Share | 20,198.00 | -44 | -0.22% |
| JSE TABACO | 6,614.00 | -9 | -0.15% |
Click here for the Sharenet Index Summary page
---
Latest Consensus Changes**

| | | | |
| --- | --- | --- | --- |
| Code | Company Name | Status | Updated |
| RLO | REUNERT LIMITED | HOLD | 01/07/2013 |
| ANG | ANGLOGOLD ASHANTI LIMITED | BUY | 28/06/2013 |
| TRU | TRUWORTHS INTERNATIONAL L... | HOLD | 28/06/2013 |
| AMS | ANGLO AMERICAN PLATINUM C... | HOLD | 28/06/2013 |
| BIL | BHP BILLITON PLC | BUY | 28/06/2013 |

Results Expected**

| | | |
| --- | --- | --- |
| Expected | Company Name | Fin. Date |
| 05/07/2013 | GLOBAL | May 2013 (Interim) |
| 11/07/2013 | JOHNDAN | June 2013 (Interim) |
---
Recent Dividends**

| | | | | |
| --- | --- | --- | --- | --- |
| Share Name | Dec-Date | LDT | Pay-Date | Amount |
| HUDACO | 28/06/2013 | 08/08/2013 | 19/08/2013 | R 1.5500 |
| ARGENT | 26/06/2013 | 27/09/2013 | 07/10/2013 | R 0.0700 |
| NAMPAK 6.5 | 25/06/2013 | 19/07/2013 | 29/07/2013 | R 0.0650 |
| NIVEUS | 25/06/2013 | 01/08/2013 | 12/08/2013 | R 0.1800 |
| PRESCIENT | 25/06/2013 | 26/07/2013 | 05/08/2013 | R 0.0250 |

Ex Div**

| | | | | |
| --- | --- | --- | --- | --- |
| Share Name | Dec-Date | LDT | Pay-Date | Amount |
| IVT PREF | 12/06/2013 | 28/06/2013 | 08/07/2013 | R 4.6319 |
| INVICTA | 11/06/2013 | 28/06/2013 | 08/07/2013 | R 1.7900 |
| ACUCAP | 13/06/2013 | 28/06/2013 | 08/07/2013 | R 1.5622 |
| SYCOM | 13/06/2013 | 28/06/2013 | 08/07/2013 | R 0.9060 |
| ADCOCK | 04/06/2013 | 28/06/2013 | 08/07/2013 | R 0.8600 |
---
Upcoming AGMs**

| | | | |
| --- | --- | --- | --- |
| Code | Company Name | Date | Status |
| NUT | Nutritional Holdings Ltd. | 05/07/2013 | Confirmed |
| IMUP | Nutritional Holdings Ltd. | 05/07/2013 | Confirmed |
| BK1P | BK One Ltd. | 05/07/2013 | Unconfirmed |
| BK1O | BK One Ltd. | 05/07/2013 | Unconfirmed |
| ADR | Adcorp Holdings Ltd. | 09/07/2013 | Unconfirmed |
---
Stock Exchange News Service
Click here for more SENS news
---