Tuesday, 23 October 2012 - 20:00
Charts
Stock Market Crashes
This month marked the 25th anniversary of one of the biggest stock market crashes ever. 20 October 1987 is known on international markets as black Monday, where in one day the US market lost over 20% and between October 14 and 19th prices fell 28.5%. Over this period, the value of all US shares lost almost $1 trillion.
A stock market crash is an event where there is a sudden price decline across a broad section of the market, where prices are driven down sharply by negative psychological sentiment. The history of publicly quoted market prices is one which is littered both with price bubbles and with spectacular crashes.
For many investors it is this possibility of a meltdown in prices that scares them from investing a reasonable proportion of their capital. Indeed, it is healthy to have a sceptical attitude towards quoted prices because, while fundamentals ultimately drive prices over the longer term, it is also important to understand that the emotional factors of fear and greed can drive prices far away from their true values.
25 year ago on Monday the 19th, panic set in and everyone turned seller, resulting in the Dow Jones Industrial Average plummeting 22.6% on the day. This was the biggest single decline since 1929 and was the subject of plenty of debate including a detailed report to the US president titled the "Presidential Task Force on Market Mechanisms".
Prices had been driven up over 40% from the previous year to August 1987. Over a 5 year period from August 1982, the Dow had risen by a compounded 28.5% to its then peak in August 1987. Despite the spectacular October crash the Dow Jones Industrial Average ended up slightly for the year.
The benefit of hindsight and a large degree of rationality allowed market participants to investigate some of the reasons that may have sparked the panic. Some of the reasons put forward included:
On Friday 16 October, UK markets were closed due to a major storm
In the week prior to the crash, an unexpectedly large US trade deficit was released, which led to the possibility of a decline in the dollar relative to other currencies
The most widespread explanation was so called program trading, which is computerised trading by large institutions using buy and sell levels
Another major cited factor was the increased use of derivatives. Typically futures and options are used as portfolio insurance, but the writers of these were forced to sell as prices plummeted, further exacerbating downward pressure
Relatively expensive valuations. PE ratios had expanded to a level of 20, from a long term average of 15.
The long term log chart of the Dow Jones Industrial Average below puts the crash into perspective. Devastating at the time, with the benefit of hindsight, this particular crash was relatively short-lived and had very little impact on the economy.
Chart : Dow Jones Industrial Average
There is never one specific cause of a market crash and indeed while some have predicted previous crashes including that in 1987, this is near impossible with any degree of regular success. The market decline in 2008 was as a result of a whole different set of circumstances.
We believe that the single biggest factor that investors need to pay attention to is valuation. This in itself is not an absolute, as emotions of greed can, and often do, stretch valuations. Reducing exposure as valuations become stretched may initially hamper performance, but it often proves beneficial as prices fall back to more normalised levels.
Kind regards,
Ian de Lange
www.seedinvestments.co.za
info@seedinvestments.co.za
021 914 4966
Tue, 23 Oct 2012
Top News
South African stocks fell for a second straight day on Friday as bullion producers such as Anglo Gold Ashanti took a hit from a decline in the spot price for the precious metal and wildcat strikes in the domestic mining sector.

---
World Markets (Spot Prices)
| | | | | |
| --- | --- | --- | --- | --- |
| Name | Time | RP | Move | % Move |
| JSE Overall | 17:00 | 36678.03 | -289.00 | -0.78% |
| JSE Top 40 | 17:00 | 32497.47 | -286.00 | -0.87% |
| JSE Gold | 17:00 | 2344.40 | 6.00 | 0.27% |
| JSE Financial | 17:00 | 27236.60 | -108.00 | -0.40% |
| JSE Industrial | 17:00 | 42993.22 | -214.00 | -0.50% |
| JSE Indust 25 | 17:00 | 36865.16 | -202.00 | -0.55% |
| JSE Resource | 17:00 | 50010.38 | -758.00 | -1.49% |
| DJ Futures | 19:42 | 13065.00 | -187.00 | -1.41% |
| DJ Ind | 19:58 | 13116.11 | -227.40 | -1.70% |
| SP 500 | 19:58 | 1413.83 | -19.36 | -1.35% |
| Nasdaq | 19:58 | 2995.54 | -10.08 | -0.34% |
| FTSE 100 | 17:35 | 5797.91 | -85.00 | -1.44% |
| DAX | 18:08 | 7173.69 | -206.95 | -2.80% |
| CAC40 | 18:08 | 3406.50 | -76.75 | -2.20% |
| Nikkei | 08:08 | 9014.25 | 3.54 | 0.04% |
| Shanghai | 09:28 | 2114.45 | -18.31 | -0.86% |
| Hang-Seng | 22/10 | 21697.55 | 145.79 | 0.68% |
| All Ords | 07:47 | 4568.00 | 3.40 | 0.07% |
| NZSE 50 | 06:48 | 4004.26 | 16.10 | 0.40% |

| | | | | |
| --- | --- | --- | --- | --- |
| Name | Time | RP | Move | % Move |
| Gold $ | 19:59 | 1708.99 | -19.91 | -1.15% |
| Gold R | 19:58 | 14968.98 | 43.99 | 0.29% |
| Gold R/kg | 19:58 | 481358 | -2139 | -0.44% |
| Silver $ | 19:59 | 31.7950 | -.5770 | -1.78% |
| Platinum $ | 19:59 | 1572.50 | -35.00 | -2.18% |
| Palladium $ | 19:59 | 595.00 | -27.20 | -4.37% |
| R157 | 17/10 | 5.35 | .07 | 0.00% |
| R204 | 17/10 | 6.14 | .10 | 0.00% |
| Brent Crude | 19:58 | 108.31 | -1.97 | -1.79% |
| Rand / Dollar | 19:58 | 8.7581 | 0.1255 | 1.45% |
| Rand / Pound | 19:55 | 13.9326 | 0.1405 | 1.02% |
| Rand / Euro | 19:55 | 11.3610 | 0.0829 | 0.74% |
| Rand / NZD | 19:58 | 7.1143 | 0.0511 | 0.72% |
| Rand / AUD | 19:55 | 8.9868 | 0.0673 | 0.75% |
| Yen / Dollar | 19:59 | 79.8200 | -0.1160 | -0.15% |
| Euro / Dollar | 19:55 | 0.7707 | 0.0056 | 0.73% |
| Dollar / Euro | 19:59 | 1.2971 | -0.0091 | -0.70% |
| Pound / Dollar | 19:55 | 0.6271 | 0.0029 | 0.46% |
Click here for the Sharenet Spot Price page
The JSE Today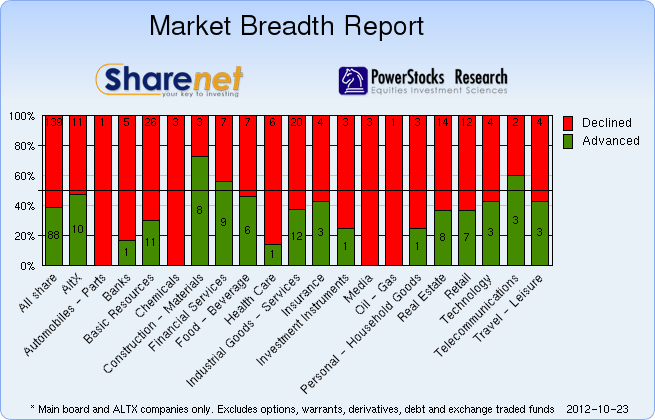 Trading Statistics
| Date | Adv. | Decl. | Unch. | Actives | Volume | Value | Trades | Orders |
| --- | --- | --- | --- | --- | --- | --- | --- | --- |
| 23/10/2012 | 133 | 225 | 72 | 430 | 165,949,986 | R9,330,942,780 | 91364 | 321750 |
| 22/10/2012 | 203 | 131 | 84 | 418 | 150,187,459 | R8,467,361,414 | 81952 | 1294927 |
| 19/10/2012 | 101 | 258 | 73 | 432 | 158,852,705 | R8,879,388,851 | 96464 | 1210130 |
| 18/10/2012 | 177 | 174 | 74 | 425 | 174,555,004 | R11,019,626,702 | 112080 | 1645317 |
| 17/10/2012 | 223 | 137 | 68 | 428 | 253,908,826 | R12,707,927,233 | 117357 | 1584005 |
* Includes all listed instruments on the JSE
---
---
---
Index Summary
| | | | |
| --- | --- | --- | --- |
| Index Name | RP | Move | % Move |
| Top 40 | 32,497.00 | -286.00 | -0.87% |
| Industrial | 42,993.00 | -214.00 | -0.50% |
| Mid Cap | 51,540.00 | -202.00 | -0.39% |
| Small Cap | 38,288.00 | -36.00 | -0.10% |
| Resource 20 | 50,010.00 | -758.00 | -1.49% |
| Industrial 25 | 36,865.00 | -202.00 | -0.55% |
| Financial 15 | 10,101.00 | -46.00 | -0.46% |
| Financial & Ind. 30 | 40,113.00 | -216.00 | -0.54% |
| All Share | 36,678.00 | -289.00 | -0.78% |
| Oil & Gas | 27,923.00 | -590.00 | -2.07% |
| Mining | 32,108.00 | -453.00 | -1.39% |
| Gold Mining | 2,344.00 | 6.00 | 0.27% |
| Platinum Mining | 49.00 | -1.00 | -2.22% |
| GENERAL MINING | 8,453.00 | -113.00 | -1.32% |
| Oil & Gas Producers | 15,014.00 | -316.00 | -2.07% |
| Basic Materials | 27,485.00 | -367.00 | -1.32% |
| Chemicals | 15,347.00 | -53.00 | -0.34% |
| Forestry & Paper | 16,451.00 | -34.00 | -0.21% |
| Industrial Metals | 26,483.00 | -269.00 | -1.01% |
| Industrials | 35,083.00 | -142.00 | -0.41% |
| General Industrials | 100.00 | .00 | 0.14% |
| Consumer Goods | 37,219.00 | -46.00 | -0.12% |
| Automobiles & Parts | 6,967.00 | -6.00 | -0.09% |
| Household Goods | 183.00 | 0 | 0.49% |
| Health Care | 50,277.00 | -468.00 | -0.92% |
| Beverages | 124.00 | .00 | 0.78% |

| | | | |
| --- | --- | --- | --- |
| Index Name | RP | Move | % Move |
| Food Producers | 65,776.00 | -193.00 | -0.29% |
| Personal Goods | 551.00 | -4.00 | -0.82% |
| Consumer Services | 79,460.00 | -447.00 | -0.56% |
| General Retailers | 64,683.00 | -602.00 | -0.92% |
| Travel & Leisure | 4,383.00 | 28.00 | 0.66% |
| Media | 119.00 | .00 | 0.03% |
| Support Services | 2,306.00 | 38.00 | 1.71% |
| Telecommunications | 73,559.00 | -1006.00 | -1.35% |
| Financials | 27,236.00 | -108.00 | -0.40% |
| Banks | 47,978.00 | -146.00 | -0.30% |
| Non-life Insurance | 46,450.00 | -190.00 | -0.41% |
| Life Insurance | 23,504.00 | -78.00 | -0.33% |
| General Financial | 2,468.00 | -1.00 | -0.07% |
| Technology | 33,591.00 | -101.00 | -0.30% |
| SHARIAH TOP40 | 3,201.00 | -41 | -1.28% |
| FTSE/JSE SHARIAH ALL | 3,307.00 | -39 | -1.19% |
| COAL MINING | 21,504.00 | -663 | -2.99% |
| FTSE JSE Fledgling | 5,568.00 | 21 | 0.38% |
| FTSE/JSE Alt X | 1,108.00 | -28 | -2.51% |
| SA LISTED PROPERTY | 485.00 | | -0.83% |
| CAPPED PROPERTY | 392.00 | | -0.52% |
| RESOURCE | 27,512.00 | -416 | -1.49% |
| DIVIDEND PLUS | 200.00 | 0 | 0.17% |
| FTSE/JSE RAFI 40 | 7,464.00 | -67 | -0.89% |
| Capped Top 40 | 17,122.00 | -150 | -0.87% |
| Capped All Share | 18,545.00 | -145 | -0.78% |
| JSE TABACO | 5,660.00 | -20 | -0.36% |
Click here for the Sharenet Index Summary page
---
Latest Consensus Changes**

| | | | |
| --- | --- | --- | --- |
| Code | Company Name | Status | Updated |
| CLS | CLICKS GROUP LTD | HOLD | 19/10/2012 |
| SAB | SABMILLER PLC | HOLD | 18/10/2012 |
| SOL | SASOL LIMITED | BUY | 18/10/2012 |
| IPL | IMPERIAL HOLDINGS LTD | HOLD | 18/10/2012 |
| LHC | LIFE HEALTHCARE GRP HLDG ... | HOLD | 17/10/2012 |

Results Expected**

| | | |
| --- | --- | --- |
| Expected | Company Name | Fin. Date |
| 24/10/2012 | CIL | August 2012 (Final) |
| 24/10/2012 | PICKNPAY | August 2012 (Interim) |
| 24/10/2012 | PIKWIK | August 2012 (Interim) |
| 24/10/2012 | ROCKCASTLE | August 2012 (Interim) |
| 24/10/2012 | SECDATA | July 2012 (Final) |
---
Recent Dividends**

| | | | | |
| --- | --- | --- | --- | --- |
| Share Name | Dec-Date | LDT | Pay-Date | Amount |
| FAMBRANDS | 22/10/2012 | 30/11/2012 | 10/12/2012 | R 1.0800 |
| OCTODEC | 22/10/2012 | 09/11/2012 | 19/11/2012 | R 0.6610 |
| PREMIUM | 22/10/2012 | 09/11/2012 | 19/11/2012 | R 0.6000 |
| LONFIN | 19/10/2012 | 02/11/2012 | 30/11/2012 | R 0.0035 |
| VIVIDEND | 19/10/2012 | 02/11/2012 | 12/11/2012 | R 0.2600 |

Ex Div**

| | | | | |
| --- | --- | --- | --- | --- |
| Share Name | Dec-Date | LDT | Pay-Date | Amount |
| CAXTON6%CPP | 29/08/2012 | 19/10/2012 | 29/10/2012 | R 4.1000 |
| SHFINV-PREF | 04/09/2012 | 19/10/2012 | 29/10/2012 | R 3.7000 |
| NTC PREF | 05/10/2012 | 19/10/2012 | 29/10/2012 | R 3.6402 |
| EOH | 12/09/2012 | 19/10/2012 | 29/10/2012 | R 0.7000 |
| ELBGROUP | 19/09/2012 | 19/10/2012 | 29/10/2012 | R 0.5200 |
---
Upcoming AGMs**

| | | | |
| --- | --- | --- | --- |
| Code | Company Name | Date | Status |
| TKG | Telkom SA Ltd. | 24/10/2012 | Confirmed |
| TKGA | Telkom SA Ltd. | 24/10/2012 | Confirmed |
| IMP | Impala Platinum Holdings Ltd. | 24/10/2012 | Confirmed |
| TKGB | Telkom SA Ltd. | 24/10/2012 | Confirmed |
| FFA | Fortress Income Fund Ltd. | 24/10/2012 | Confirmed |
---
Stock Exchange News Service
Click here for more SENS news
---