Tuesday, 17 July 2012 - 20:00
Charts
A Look at Investment Clubs
The majority of most investors' gains are through investing in shares. Investing directly in the stock market is, however, out of reach for most individual investors as it requires too much capital and is often too complex. Most investors gain access to the stock market through their retirement savings and discretionary savings, typically via unit trusts. One of the ways around this, i.e. to become a 'direct' investor, is to become part of an investment club.
What is an investment club you may ask?
An investment club is a form of partnership whereby a number of people (usually between 3 and twelve) get together on a regular basis (usually monthly) and contribute a regular amount. This amount needs to be substantial enough to build up capital on the one hand, but not that large that it places too much strain on the members of the club.
The money is pooled and invested into individual shares based on the views of the members in the club. There are a couple of factors which differentiate the successful investment clubs from the unsuccessful clubs, the first being the meetings. The meetings should be held on a regular basis with a formal agenda. This agenda should include education, a report back from the treasurer, analyzing and deciding on what should be bought, and then analyzing and deciding on what should be sold. Most successful clubs make use of advisors but it is important that the members make the final investment decisions. Members should also draft their own 'club rules' up front with regards to how decisions will be made, etc, to avoid nasty arguments down the line.
Part of the monthly contribution should be used as a levy for these meetings and to buy books and courses for the education of the members.
It is vitally important that the members are at a similar level of expertise and they should not rely on a single person to make investment decisions. The most successful clubs are typically those where consensus decisions are made.
Generally speaking more liquid instruments should be used e.g. shares and unit trusts, rather than investing in illiquid assets like physical property. It can become a problem if somebody wants to withdraw from the club and the property market is down and you struggle to sell your holdings for a fair price. Having said that, one of the most successful clubs I have seen has property as their major investment. They used the capital they had built up as deposits on properties that financed the rest of their purchases. This takes investment clubs to a whole new level, because debt is now involved, which brings in further issues such as personal sureties, etc.
For an investment club to be successful the procedures for meetings, aims of the club, contribution levels, and reporting policy need to be formalized and in writing. There can be no expectation gaps, because that is when arguments arise. Matters can get very heated when the members' capital is at stake. Everybody must know what they are getting into before they make their first investment. If your investment club is successful, it can become a substantial part of your total portfolio.
Kind regards,
Barry Hugo
www.seedinvestments.co.za
info@seedinvestments.co.za
021 914 4966
Tue, 17 Jul 2012
Top News
South African stocks dipped for the second straight session on Tuesday, with Anglo American and other miners declining after the head of the U.S. Federal Reserve gave few new clues on another round of monetary stimulus.

---

The European Commission will prolong monitoring of Romania's respect for the rule of law and fight corruption, it said on Tuesday, maintaining pressure on a government it fears could be undermining democracy.

Two people were killed and 21 others injured in what may have been a gang-related shootout at a Toronto street party late on Monday evening, raising fears of violent retaliation in Canada's largest city.
Company News
Datatec (''the group'') announced that its subsidiary Westcon Group European Operations Ltd. (''Westcon'') acquired the Austrian value added security distributor Triple AcceSSS IT GmbH (''Triple AcceSSS'') along with its Swiss subsidiary (the ''transaction''). The consideration is not disclosed. The transaction expands Westcon's security business footprint in Europe and given Triple AcceSSS' similar vendor portfolio, strengthens Westcon's relationships with security vendors such as T. . .
Company Results
Revenue increased to CAD20.8 million compared to CAD19.6 million in the corresponding period of 2011. Gross profit fell to CAD1.8 million (2011: 4.0 million) whilst the net loss attributable to equity holders widened to CAD1.6 million (2011: loss of CAD1.0 million). In addition, headline earnings per share was -5cps (2011: -3cps). Dividend No dividend was declared for the quarter.. . .
World Markets (Spot Prices)
| | | | | |
| --- | --- | --- | --- | --- |
| Name | Time | RP | Move | % Move |
| JSE Overall | 17:00 | 33706.00 | -21.00 | -0.06% |
| JSE Top 40 | 17:00 | 29558.00 | -26.00 | -0.09% |
| JSE Gold | 17:00 | 2223.00 | -30.00 | -1.34% |
| JSE Financial | 17:00 | 26214.00 | -1.00 | -0.01% |
| JSE Industrial | 17:00 | 38940.00 | 102.00 | 0.26% |
| JSE Indust 25 | 17:00 | 32980.00 | 118.00 | 0.36% |
| JSE Resource | 17:00 | 45457.00 | -280.00 | -0.61% |
| DJ Futures | 19:52 | 12760.00 | 48.00 | 0.38% |
| DJ Ind | 19:58 | 12812.28 | -84.39 | -0.65% |
| SP 500 | 19:58 | 1363.01 | 10.13 | 0.75% |
| Nasdaq | 19:58 | 2910.78 | 15.63 | 0.54% |
| FTSE 100 | 17:35 | 5629.09 | -33.34 | -0.59% |
| DAX | 18:08 | 6577.64 | 20.54 | 0.31% |
| CAC40 | 18:08 | 3176.97 | -2.93 | -0.09% |
| Nikkei | 08:30 | 8755.00 | 30.88 | 0.35% |
| Shanghai | 09:28 | 2161.19 | 13.23 | 0.62% |
| Hang-Seng | 10:28 | 19455.33 | 329.94 | 1.73% |
| All Ords | 08:48 | 4175.30 | 32.10 | 0.77% |
| NZSE 50 | 07:48 | 3468.86 | 1.52 | 0.04% |

| | | | | |
| --- | --- | --- | --- | --- |
| Name | Time | RP | Move | % Move |
| Gold $ | 19:58 | 1588.31 | -.06 | 0.00% |
| Gold R | 19:57 | 13002.61 | -20.94 | -0.16% |
| Gold R/kg | 19:58 | 417990 | -1213 | -0.29% |
| Silver $ | 19:58 | 27.3550 | .1220 | 0.45% |
| Platinum $ | 19:58 | 1415.00 | 5.50 | 0.39% |
| Palladium $ | 19:58 | 580.20 | .90 | 0.16% |
| R157 | 17:08 | 5.70 | -.10 | -1.72% |
| R204 | 10:02 | 6.44 | -.15 | -2.20% |
| Brent Crude | 19:58 | 105.13 | -.08 | -0.08% |
| Rand / Dollar | 19:58 | 8.1850 | -0.0138 | -0.17% |
| Rand / Pound | 19:55 | 12.7609 | -0.0450 | -0.35% |
| Rand / Euro | 19:55 | 10.0422 | -0.0331 | -0.33% |
| Rand / NZD | 19:57 | 6.5308 | -0.0094 | -0.14% |
| Rand / AUD | 19:55 | 8.4330 | 0.0242 | 0.29% |
| Yen / Dollar | 19:57 | 79.0700 | 0.2050 | 0.26% |
| Euro / Dollar | 19:55 | 0.8146 | -0.0001 | -0.01% |
| Dollar / Euro | 19:58 | 1.2269 | 0.0000 | 0.00% |
| Pound / Dollar | 19:55 | 0.6395 | 0.0001 | 0.02% |
Click here for the Sharenet Spot Price page
The JSE Today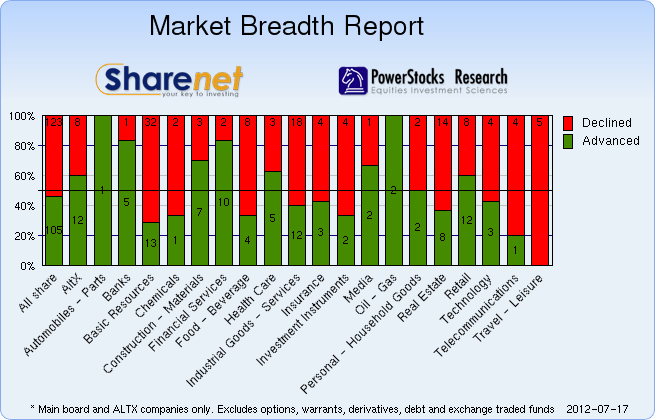 Trading Statistics
| Date | Adv. | Decl. | Unch. | Actives | Volume | Value | Trades | Orders |
| --- | --- | --- | --- | --- | --- | --- | --- | --- |
| 17/07/2012 | 147 | 173 | 78 | 398 | 147,810,465 | R7,984,898,566 | 78010 | 1203313 |
| 16/07/2012 | 168 | 155 | 68 | 391 | 168,952,601 | R6,863,333,844 | 69523 | 1197882 |
| 13/07/2012 | 205 | 130 | 71 | 406 | 153,176,112 | R8,944,287,569 | 76047 | 1155374 |
| 12/07/2012 | 89 | 115 | 71 | 275 | 65,443,012 | R289,109,516 | 79982 | 1414949 |
| 11/07/2012 | 92 | 131 | 66 | 289 | 71,961,026 | R378,380,180 | 83083 | 1421291 |
* Includes all listed instruments on the JSE
---
---
---
Index Summary
| | | | |
| --- | --- | --- | --- |
| Index Name | RP | Move | % Move |
| Top 40 | 29,558.00 | -26.00 | -0.09% |
| Industrial | 38,940.00 | 102.00 | 0.26% |
| Mid Cap | 49,848.00 | 59.00 | 0.12% |
| Small Cap | 36,717.00 | -76.00 | -0.21% |
| Resource 20 | 45,457.00 | -280.00 | -0.61% |
| Industrial 25 | 32,980.00 | 118.00 | 0.36% |
| Financial 15 | 9,809.00 | -4.00 | -0.05% |
| Financial & Ind. 30 | 36,569.00 | 82.00 | 0.23% |
| All Share | 33,706.00 | -21.00 | -0.06% |
| Oil & Gas | 25,899.00 | 138.00 | 0.54% |
| Mining | 29,158.00 | -238.00 | -0.81% |
| Gold Mining | 2,223.00 | -30.00 | -1.34% |
| Platinum Mining | 47.00 | .00 | 1.45% |
| GENERAL MINING | 7,517.00 | -66.00 | -0.88% |
| Oil & Gas Producers | 13,925.00 | 74.00 | 0.54% |
| Basic Materials | 25,130.00 | -200.00 | -0.79% |
| Chemicals | 15,142.00 | -12.00 | -0.08% |
| Forestry & Paper | 13,942.00 | -112.00 | -0.80% |
| Industrial Metals | 29,010.00 | -175.00 | -0.60% |
| Industrials | 33,579.00 | 151.00 | 0.45% |
| General Industrials | 94.00 | .00 | 1.05% |
| Consumer Goods | 32,992.00 | 261.00 | 0.80% |
| Automobiles & Parts | 6,170.00 | 102.00 | 1.69% |
| Household Goods | 159.00 | 1 | 0.87% |
| Health Care | 45,689.00 | 451.00 | 1.00% |
| Beverages | 116.00 | .00 | 0.46% |

| | | | |
| --- | --- | --- | --- |
| Index Name | RP | Move | % Move |
| Food Producers | 62,132.00 | 319.00 | 0.52% |
| Personal Goods | 422.00 | 10.00 | 2.67% |
| Consumer Services | 69,697.00 | -52.00 | -0.08% |
| General Retailers | 59,992.00 | 544.00 | 0.92% |
| Travel & Leisure | 3,909.00 | -55.00 | -1.39% |
| Media | 97.00 | .00 | -0.49% |
| Support Services | 2,304.00 | -22.00 | -0.96% |
| Telecommunications | 68,642.00 | -487.00 | -0.71% |
| Financials | 26,214.00 | -1.00 | -0.01% |
| Banks | 48,631.00 | 101.00 | 0.21% |
| Non-life Insurance | 41,601.00 | -254.00 | -0.61% |
| Life Insurance | 20,920.00 | -84.00 | -0.40% |
| General Financial | 2,451.00 | 10.00 | 0.45% |
| Technology | 30,664.00 | -6.00 | -0.02% |
| SHARIAH TOP40 | 2,860.00 | -4 | -0.17% |
| FTSE/JSE SHARIAH ALL | 2,998.00 | -4 | -0.16% |
| COAL MINING | 22,410.00 | -218 | -0.97% |
| FTSE JSE Fledgling | 5,403.00 | -28 | -0.53% |
| FTSE/JSE Alt X | 1,116.00 | 9 | 0.83% |
| SA LISTED PROPERTY | 464.00 | | 0.01% |
| CAPPED PROPERTY | 370.00 | | -0.07% |
| RESOURCE | 25,063.00 | -154 | -0.61% |
| DIVIDEND PLUS | 191.00 | 0 | 0.32% |
| FTSE/JSE RAFI 40 | 6,927.00 | -12 | -0.18% |
| Capped Top 40 | 15,620.00 | -11 | -0.08% |
| Capped All Share | 17,053.00 | -10 | -0.06% |
| JSE TABACO | 5,499.00 | -34 | -0.62% |
Click here for the Sharenet Index Summary page
---
Latest Consensus Changes**

| | | | |
| --- | --- | --- | --- |
| Code | Company Name | Status | Updated |
| MST | MUSTEK LIMITED | BUY | 12 Jul |
| IPL | IMPERIAL HOLDINGS LTD | HOLD | 12 Jul |
| RLO | REUNERT LIMITED | SELL | 12 Jul |
| ALT | ALLIED TECHNOLOGIES LIMIT... | HOLD | 12 Jul |
| BIL | BHP BILLITON PLC | BUY | 12 Jul |

Results Expected**

| | | |
| --- | --- | --- |
| Expected | Company Name | Fin. Date |
| 20 Jul 2012 | AFROX | June 2012 (Interim) |
| 20 Jul 2012 | KUMBA | June 2012 (Interim) |
| 20 Jul 2012 | MAS | May 2012 (Q) |
| 23 Jul 2012 | AMPLATS | June 2012 (Interim) |
| 23 Jul 2012 | ANGLOPLATCCP | June 2012 (Interim) |
---
Recent Dividends**

| | | | | |
| --- | --- | --- | --- | --- |
| Share Name | Dec-Date | LDT | Pay-Date | Amount |
| SBR003 | 12-07-13 | 12-07-27 | 12-08-06 | R 1.4800 |
| FOORDCMPS | 12-07-10 | 12-07-27 | 12-08-06 | R 0.3000 |
| PSV | 12-07-05 | 12-07-20 | 12-07-30 | R 0.0360 |
| REUNERT5.5 | 12-06-29 | 12-07-20 | 12-07-30 | R 0.0550 |
| HUDACO | 12-06-29 | 12-08-10 | 12-08-20 | R 1.5500 |

Ex Div**

| | | | | |
| --- | --- | --- | --- | --- |
| Share Name | Dec-Date | LDT | Pay-Date | Amount |
| LEWIS | 12-05-23 | 12-07-13 | 12-07-23 | R 2.7000 |
| NETCARE | 12-05-14 | 12-07-13 | 12-07-23 | R 0.2200 |
| NICTUS | 12-06-28 | 12-07-13 | 12-07-23 | R 0.1425 |
| AMECOR | 12-06-27 | 12-07-13 | 12-07-23 | R 0.0800 |
| ISA | 12-05-25 | 12-07-13 | 12-07-23 | R 0.0700 |
---
Upcoming AGMs**

| | | | |
| --- | --- | --- | --- |
| Code | Company Name | Date | Status |
| ALT | Allied Technologies Ltd. | 17/07/2012 | Confirmed |
| ILV | Illovo Sugar Ltd. | 18/07/2012 | Confirmed |
| WEZ | Wesizwe Platinum Ltd. | 19/07/2012 | Confirmed |
| SPA | Spanjaard Ltd. | 19/07/2012 | Confirmed |
| VOD | Vodacom Group Ltd. | 20/07/2012 | Confirmed |
---
Stock Exchange News Service
Click here for more SENS news
---