Thursday, 12 April 2012 - 20:00
Charts
Top News
South Africa's rand rallied as much as 1.5 percent against the dollar on Thursday, in line with other high-yield currencies, on expectations of further quantitative easing for the U.S. unit.

---

Syrian troops held their fire on Thursday after a U.N.-backed ceasefire deadline passed, giving respite to rebellious towns that have suffered heavy bombardments, but international envoy Kofi Annan pressed Damascus to pull its forces back entirely.

George Zimmerman will make his first public appearance since the fatal shooting of unarmed black teenager Trayvon Martin more than six weeks ago when he appears in a Florida courtroom on Thursday to face charges of second-degree murder.
---
Business Day reported that Nedbank's strategy over until 2014 will focus on boosting non-interest revenue, increasing the market share of its retail unit and pursuing growth in Africa. Under the strategy, Nedbank Retail will be repositioned and expansion in Africa will be pursued in order to close the gap with domestic rivals it has on the continent in terms of footprint and market share.. . .
Company Results
Blackstar declared their maiden final results for the year ended 31 December 2011. Revenue for the year ended 31 December 2011 was GBP91.1 million, gross profit came in at R12.2 million, loss from operations was GBP10.9 million, while loss for the period attributable to equity holders of the parent was recorded as GBP7.6 million. Furthermore, headline loss per ordinary share was GBP7.34ppc. Current trading and outlook New capital regulatory requirements, including those of Basel 3,. . .
World Markets (Spot Prices)
| | | | | |
| --- | --- | --- | --- | --- |
| Name | Time | RP | Move | % Move |
| JSE Overall | 17:00 | 33816.96 | 184.20 | 0.55% |
| JSE Top 40 | 17:00 | 29864.84 | 195.00 | 0.66% |
| JSE Gold | 17:00 | 2314.20 | -2.53 | -0.11% |
| JSE Financial | 17:00 | 24861.18 | 45.74 | 0.18% |
| JSE Industrial | 17:00 | 38001.77 | 109.09 | 0.29% |
| JSE Indust 25 | 17:00 | 31872.71 | 108.72 | 0.34% |
| JSE Resource | 17:00 | 49269.57 | 575.90 | 1.18% |
| DJ Futures | 19:12 | 12905.00 | 153.00 | 1.20% |
| DJ Ind | 19:01 | 12975.98 | 170.59 | 1.33% |
| SP 500 | 19:12 | 1386.10 | 17.39 | 1.27% |
| Nasdaq | 19:16 | 3056.25 | 39.79 | 1.32% |
| FTSE 100 | 17:35 | 5710.46 | 75.72 | 1.34% |
| DAX | 18:06 | 6743.24 | 68.51 | 1.03% |
| CAC40 | 18:06 | 3269.79 | 32.10 | 0.99% |
| Nikkei | 08:26 | 9524.79 | 66.05 | 0.70% |
| Shanghai | 09:26 | 2350.86 | 41.94 | 1.82% |
| Hang-Seng | 10:26 | 20327.32 | 186.65 | 0.93% |
| All Ords | 08:39 | 4361.70 | 34.40 | 0.79% |
| NZSE 50 | 07:46 | 3487.09 | 21.70 | 0.63% |

| | | | | |
| --- | --- | --- | --- | --- |
| Name | Time | RP | Move | % Move |
| Gold | 19:59 | 1676.52 | 17.90 | 1.08% |
| Gold/Rand | 19:58 | 13221.22 | -48.33 | -0.36% |
| Gold/R kg | 19:16 | 424921 | -1245 | -0.29% |
| Silver | 19:59 | 32.4000 | .8300 | 2.63% |
| Platinum | 19:59 | 1596.40 | 18.90 | 1.20% |
| Palladium | 19:59 | 650.05 | 16.85 | 2.66% |
| R157 | 17:08 | 6.69 | -.05 | -0.67% |
| R204 | 17:08 | 7.61 | -.03 | -0.33% |
| Brent Crude | 19:16 | 121.28 | .69 | 0.57% |
| Rand / Dollar | 19:59 | 7.8796 | -0.1210 | -1.51% |
| Rand / Pound | 19:55 | 12.5682 | -0.1270 | -1.00% |
| Rand / Euro | 19:55 | 10.4149 | -0.0716 | -0.68% |
| Rand / NZD | 19:58 | 6.5235 | -0.0247 | -0.38% |
| Rand / AUD | 19:55 | 8.2385 | -0.0085 | -0.10% |
| Yen / Dollar | 19:59 | 80.8050 | -0.0650 | -0.08% |
| Euro / Dollar | 19:55 | 0.7573 | -0.0052 | -0.68% |
| Dollar / Euro | 19:59 | 1.3194 | 0.0088 | 0.67% |
| Pound / Dollar | 19:55 | 0.6259 | -0.0025 | -0.40% |
Click here for the Sharenet Spot Price page
The JSE Today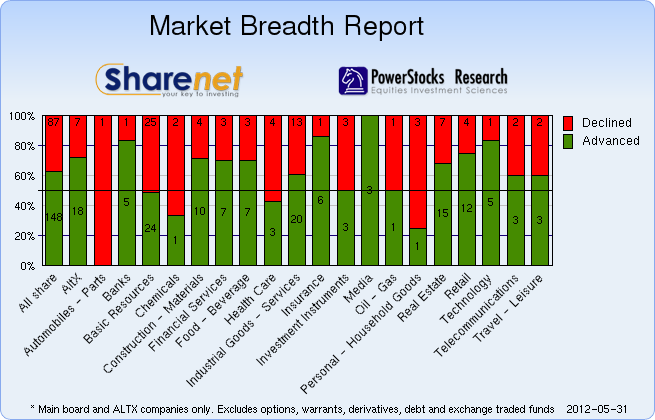 Trading Statistics
| Date | Adv. | Decl. | Unch. | Actives | Volume | Value | Trades | Orders |
| --- | --- | --- | --- | --- | --- | --- | --- | --- |
| 12/04/2012 | 195 | 142 | 74 | 411 | 242,286,043 | R15,346,476,947 | 110192 | 2786630 |
| 11/04/2012 | 153 | 176 | 88 | 417 | 279,528,789 | R14,741,923,052 | 106247 | 2657328 |
| 10/04/2012 | 159 | 167 | 87 | 413 | 224,071,342 | R14,947,206,687 | 107999 | 2506758 |
| 05/04/2012 | 193 | 139 | 75 | 407 | 232,371,780 | R13,841,369,385 | 114433 | 2955298 |
| 04/04/2012 | 85 | 262 | 64 | 411 | 290,522,919 | R18,259,222,036 | 130076 | 2808605 |
* Includes all listed instruments on the JSE
---
---
---
Index Summary
| | | | |
| --- | --- | --- | --- |
| Index Name | RP | Move | % Move |
| Top 40 | 29,864.84 | 195.00 | 0.66% |
| Industrial | 38,001.77 | 109.09 | 0.29% |
| Mid Cap | 48,252.57 | 20.72 | 0.04% |
| Small Cap | 36,101.43 | -19.03 | -0.05% |
| Resource 20 | 49,269.57 | 575.90 | 1.18% |
| Industrial 25 | 31,872.71 | 108.72 | 0.34% |
| Financial 15 | 9,411.55 | 10.02 | 0.11% |
| Financial & Ind. 30 | 35,424.88 | 111.14 | 0.31% |
| All Share | 33,816.96 | 184.20 | 0.55% |
| Oil & Gas | 27,602.30 | 96.87 | 0.35% |
| Mining | 31,771.79 | 406.57 | 1.30% |
| Gold Mining | 2,314.20 | -2.53 | -0.11% |
| Platinum Mining | 57.50 | .21 | 0.37% |
| GENERAL MINING | 8,106.30 | 146.62 | 1.84% |
| Oil & Gas Producers | 14,841.24 | 52.08 | 0.35% |
| Basic Materials | 27,205.34 | 325.24 | 1.21% |
| Chemicals | 14,843.85 | -21.67 | -0.15% |
| Forestry & Paper | 14,266.42 | 245.10 | 1.75% |
| Industrial Metals | 29,781.87 | -134.66 | -0.45% |
| Industrials | 33,183.15 | -114.68 | -0.34% |
| General Industrials | 89,688.04 | -566.25 | -0.63% |
| Consumer Goods | 33,123.04 | 262.20 | 0.80% |
| Automobiles & Parts | 5,751.72 | 54.34 | 0.95% |
| Household Goods | 185.28 | 0 | 0.18% |
| Health Care | 40,786.11 | -90.56 | -0.22% |
| Beverages | 108.97 | 1.29 | 1.20% |

| | | | |
| --- | --- | --- | --- |
| Index Name | RP | Move | % Move |
| Food Producers | 59,669.73 | 126.18 | 0.21% |
| Personal Goods | 489.89 | 3.29 | 0.68% |
| Consumer Services | 65,617.66 | 77.90 | 0.12% |
| General Retailers | 54,258.63 | -85.41 | -0.16% |
| Travel & Leisure | 3,733.96 | 20.36 | 0.55% |
| Media | 98.22 | .33 | 0.34% |
| Support Services | 2,407.43 | 29.53 | 1.24% |
| Telecommunications | 65,889.34 | -70.74 | -0.11% |
| Financials | 24,861.18 | 45.74 | 0.18% |
| Banks | 46,861.73 | 30.96 | 0.07% |
| Non-life Insurance | 42,111.64 | -127.61 | -0.30% |
| Life Insurance | 20,221.84 | -52.77 | -0.26% |
| General Financial | 2,327.80 | 14.93 | 0.65% |
| Technology | 28,143.36 | 46.37 | 0.17% |
| SHARIAH TOP40 | 3,031.08 | 25 | 0.83% |
| FTSE/JSE SHARIAH ALL | 3,149.77 | 22 | 0.71% |
| COAL MINING | 28,267.42 | -84 | -0.30% |
| FTSE JSE Fledgling | 5,434.99 | 23 | 0.43% |
| FTSE/JSE Alt X | 1,246.75 | -29 | -2.30% |
| SA LISTED PROPERTY | 408.66 | | 0.61% |
| CAPPED PROPERTY | 332.35 | | 0.70% |
| RESOURCE | 27,219.42 | 311 | 1.15% |
| DIVIDEND PLUS | 197.70 | 1 | 0.33% |
| FTSE/JSE RAFI 40 | 7,059.04 | 33 | 0.47% |
| Capped Top 40 | 15,760.65 | 94 | 0.60% |
| Capped All Share | 17,105.73 | 91 | 0.54% |
| JSE TABACO | 5,082.04 | 12 | 0.24% |
Click here for the Sharenet Index Summary page
---
Latest Consensus Changes**

| | | | |
| --- | --- | --- | --- |
| Code | Company Name | Status | Updated |
| NED | NEDBANK GROUP LTD | HOLD | 10 Apr |
| SBK | STANDARD BANK GROUP LIMIT... | SELL | 10 Apr |
| AIP | ADCOCK INGRAM HLGS LD | HOLD | 10 Apr |
| IPF | INVESTEC PROPERTY FUND LT... | HOLD | 10 Apr |
| LHC | LIFE HEALTHCARE GRP HLDG ... | BUY | 10 Apr |

Results Expected**

| | | |
| --- | --- | --- |
| Expected | Company Name | Fin. Date |
| 16 Apr 2012 | MAS | November 2011 (Q) |
| 16 Apr 2012 | PSG | February 2012 (Final) |
| 16 Apr 2012 | PSGFIN PREF | February 2012 (Final) |
| 17 Apr 2012 | DCENTRIX | February 2012 (Final) |
| 18 Apr 2012 | AFEAGLE | December 2011 (Final) |
---
Recent Dividends**

| | | | | |
| --- | --- | --- | --- | --- |
| Share Name | Dec-Date | LDT | Pay-Date | Amount |
| VIVIDEND | 12-04-05 | 12-04-25 | 12-05-07 | R 0.2450 |
| ARROWA | 12-04-04 | 12-04-19 | 12-04-30 | R 0.0500 |
| ARROWB | 12-04-04 | 12-04-19 | 12-04-30 | R 0.0309 |
| ADVTECH | 12-04-03 | 12-04-19 | 12-04-30 | R 0.1650 |
| SHFINV-PREF | 12-04-03 | 12-04-13 | 12-04-23 | R 3.7400 |

Ex Div**

| | | | | |
| --- | --- | --- | --- | --- |
| Share Name | Dec-Date | LDT | Pay-Date | Amount |
---
Upcoming AGMs**

| | | | |
| --- | --- | --- | --- |
| Code | Company Name | Date | Status |
| CIL | Consolidated Infrastructure Group Ltd. | 16/04/2012 | Confirmed |
| FCCP | Foord Compass Ltd. | 19/04/2012 | Confirmed |
| FCO | Foord Compass Ltd. | 19/04/2012 | Confirmed |
| FCOP | Foord Compass Ltd. | 19/04/2012 | Confirmed |
| CND | Conduit Capital Ltd. | 19/04/2012 | Confirmed |
---
Stock Exchange News Service
Click here for more SENS news
---