Wednesday, 08 February 2012 - 20:00
Charts
Treasure Hunting
There was a point in my life when I wanted to be a pirate. I wanted the sword, the parrot, and the treasure at the end of the treacherous journey. The starting point of any heroic quest to a lost buried treasure starts with a treasure map. My pirate career never really took off, but I never stopped looking for a map that would lead me to the treasure.
A budget can be seen as a modern day version of a treasure map. Both are hard to follow, but if followed can lead you to a treasure. Starting a budget for you or your household can be seen as finding a treasure map.
The first step to draw up a budget is to know your income and how it is spent. One way to see how you are spending your money is to go through your bank statements and savings account. From there you will be able to find out what you spend your money on and what your monthly total is.
The second step is to make a list of all the expenses that you would expect to have during a month. You need to split the list into fixed and variable expenses. Fixed expenses occur monthly and are relatively stable and include items such as mortgage/rent, car payments, levies, and medical aid. Variable expenses by their nature are more volatile and are where most of the lost treasure is hiding. Some examples of variable expenses include groceries, petrol, clothing, cellphone bills, eating out and holidays.

From the list of your expenses you will be able to see how much you spend in a month versus your monthly income. If your income is more than what you are spending then you're already on the right path to financial freedom (the treasure). You should also make sure that you include a savings portion in your budget to save for a rainy day.
If your expenses are more than your income you have two options. Either you will need to increase your income or cut back on your spending. In the short term it is usually easier cut back on spending than it is to increase your income.
Expenses can also be grouped into necessities, comforts, and luxuries. The necessities are goods/services you can't live without – the things that you need to survive. Comforts make living easier such as smartphones and buying food from Woollies. We all know what luxuries are: designer clothing, the newest gadgets, expensive holidays, etc. Your money should first be allocated to necessities, then comforts, and any leftover can be spent on luxuries.
With a completed map in hand you can start the journey to the 'X on the map' – financial freedom. However, you also need a compass to keep you from straying off course. In the technological era there's no need for outdated compasses. Applications (apps) that you can use to easily track your daily spending can be downloaded onto most smartphones. These will help ensure you don't get lost in the 'jungle of overspending' or the 'swamps of impulse buys'. Naturally the pen and paper system also works, but will take a bit more effort.
You now have the completed map, the way forward, and the means to keep you on the path to the coveted treasure. The road might be treacherous, but the reward in the end (financial freedom) is worth the adventure.
Kind regards,
Gerbrandt Kruger
info@seedinvestments.co.za
www.seedinvestments.co.za
021 9144 966
Wed, 08 Feb 2012
Top News
South Africa's government bonds fell further on Wednesday while the rand steadied despite reports the government is considering a mining wealth fund that could be used to cap the currency's gains, and as markets awaited news of a new Greek bailout.

---

Republican U.S. presidential contender Rick Santorum claimed a surge of momentum and fundraising on Wednesday, a day after his shocking sweep of nominating contests in Colorado, Minnesota and Missouri that dealt a blow to front-runner Mitt Romney.

Syrian forces thrust into the rebellious city of Homs on Wednesday, killing as many as 100 civilians by the accounts of opposition activists, and Turkey appeared to be preparing a new diplomatic push against President Bashar al-Assad.
World Markets (Spot Prices)
| | | | | |
| --- | --- | --- | --- | --- |
| Name | Time | RP | Move | % Move |
| JSE Overall | 17:00 | 34226.73 | 252.28 | 0.74% |
| JSE Top 40 | 17:00 | 30560.71 | 263.30 | 0.87% |
| JSE Gold | 17:00 | 2889.52 | 39.19 | 1.37% |
| JSE Financial | 17:00 | 24144.13 | 141.89 | 0.59% |
| JSE Industrial | 17:00 | 35855.00 | 183.81 | 0.52% |
| JSE Indust 25 | 17:00 | 30050.65 | 185.46 | 0.62% |
| JSE Resource | 17:00 | 56127.07 | 610.57 | 1.10% |
| DJ Futures | 19:30 | 12805.00 | -26.00 | -0.20% |
| DJ Ind | 19:45 | 12859.92 | -18.28 | -0.14% |
| SP 500 | 20:00 | 1346.52 | -0.53 | -0.04% |
| Nasdaq | 20:00 | 2905.24 | 1.16 | 0.04% |
| FTSE 100 | 18:35 | 5875.93 | -14.33 | -0.24% |
| DAX | 19:06 | 6748.76 | -5.44 | -0.08% |
| CAC40 | 19:06 | 3410.00 | -1.54 | -0.05% |
| Nikkei | 08:26 | 9015.59 | 98.07 | 1.10% |
| Shanghai | 09:26 | 2347.53 | 55.63 | 2.43% |
| Hang-Seng | 10:26 | 21018.46 | 319.27 | 1.54% |
| All Ords | 07:38 | 4363.70 | 18.80 | 0.43% |
| NZSE 50 | 07/02 | 3315.14 | 2.91 | 0.09% |

| | | | | |
| --- | --- | --- | --- | --- |
| Name | Time | RP | Move | % Move |
| Gold | 19:59 | 1733.89 | -9.75 | -0.56% |
| Gold/Rand | 20:00 | 13133.00 | -22.37 | -0.17% |
| Gold/R kg | 20:00 | 422226 | 3389 | 0.81% |
| Silver | 19:59 | 33.9310 | -.1790 | -0.52% |
| Platinum | 19:59 | 1659.00 | 15.50 | 0.94% |
| Palladium | 19:58 | 712.50 | 6.50 | 0.92% |
| R157 | 17:06 | 6.57 | .05 | 0.77% |
| R204 | 17:06 | 7.51 | .05 | 0.67% |
| Brent Crude | 19:56 | 116.40 | -1.71 | -1.44% |
| Rand / Dollar | 19:59 | 7.5743 | 0.0313 | 0.41% |
| Rand / Pound | 19:55 | 11.9631 | -0.0173 | -0.14% |
| Rand / Euro | 19:55 | 10.0587 | 0.0417 | 0.42% |
| Rand / NZD | 19:58 | 6.3179 | 0.0137 | 0.22% |
| Rand / AUD | 19:55 | 8.1878 | 0.0231 | 0.28% |
| Yen / Dollar | 19:59 | 77.0160 | 0.2340 | 0.30% |
| Euro / Dollar | 19:55 | 0.7532 | -0.0006 | -0.08% |
| Dollar / Euro | 19:59 | 1.3271 | 0.0012 | 0.09% |
| Pound / Dollar | 19:55 | 0.6316 | 0.0030 | 0.48% |
Click here for the Sharenet Spot Price page
The JSE Today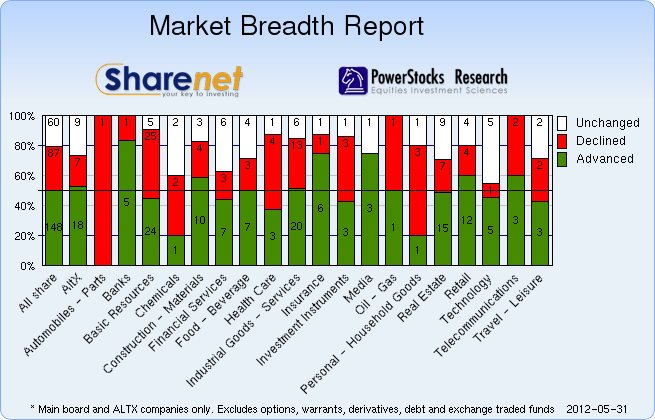 Trading Statistics
| Date | Adv. | Decl. | Unch. | Actives | Volume | Value | Trades | Orders |
| --- | --- | --- | --- | --- | --- | --- | --- | --- |
| 08/02/2012 | 215 | 129 | 80 | 424 | 277,799,379 | R14,664,968,604 | 113106 | 1831988 |
| 07/02/2012 | 135 | 196 | 96 | 427 | 237,949,647 | R14,879,226,323 | 105157 | 2483366 |
| 06/02/2012 | 157 | 200 | 88 | 445 | 226,512,952 | R15,937,599,067 | 119375 | 2376639 |
| 03/02/2012 | 183 | 169 | 83 | 435 | 263,395,243 | R17,164,935,280 | 120638 | 2589079 |
| 02/02/2012 | 233 | 116 | 90 | 439 | 385,024,668 | R21,837,079,868 | 147033 | 2453113 |
* Includes all listed instruments on the JSE
---
---
---
Index Summary
| | | | |
| --- | --- | --- | --- |
| Index Name | RP | Move | % Move |
| Top 40 | 30,560.71 | 263.30 | 0.87% |
| Industrial | 35,855.00 | 183.81 | 0.52% |
| Mid Cap | 46,333.42 | 52.46 | 0.11% |
| Small Cap | 34,315.40 | 16.60 | 0.05% |
| Resource 20 | 56,127.07 | 610.57 | 1.10% |
| Industrial 25 | 30,050.65 | 185.46 | 0.62% |
| Financial 15 | 9,131.43 | 56.67 | 0.62% |
| Financial & Ind. 30 | 33,692.19 | 225.83 | 0.67% |
| All Share | 34,226.73 | 252.28 | 0.74% |
| Oil & Gas | 30,266.04 | 68.11 | 0.23% |
| Mining | 36,331.31 | 447.26 | 1.25% |
| Gold Mining | 2,889.52 | 39.19 | 1.37% |
| Platinum Mining | 62.86 | .34 | 0.54% |
| GENERAL MINING | 9,180.40 | 123.40 | 1.36% |
| Oil & Gas Producers | 16,273.49 | 36.62 | 0.23% |
| Basic Materials | 30,739.72 | 367.46 | 1.21% |
| Chemicals | 14,478.67 | 86.25 | 0.60% |
| Forestry & Paper | 12,837.87 | -29.45 | -0.23% |
| Industrial Metals | 32,071.10 | 477.56 | 1.51% |
| Industrials | 30,990.55 | 88.74 | 0.29% |
| General Industrials | 87,575.93 | 167.63 | 0.19% |
| Consumer Goods | 30,810.75 | 197.12 | 0.64% |
| Automobiles & Parts | 4,608.17 | 27.17 | 0.59% |
| Household Goods | 169.57 | 1 | 0.66% |
| Health Care | 37,388.86 | -111.76 | -0.30% |
| Beverages | 102.86 | 1.04 | 1.02% |

| | | | |
| --- | --- | --- | --- |
| Index Name | RP | Move | % Move |
| Food Producers | 56,690.61 | -57.09 | -0.10% |
| Personal Goods | 442.75 | 1.80 | 0.41% |
| Consumer Services | 60,586.67 | 298.86 | 0.50% |
| General Retailers | 50,840.50 | 155.52 | 0.31% |
| Travel & Leisure | 3,767.98 | -20.85 | -0.55% |
| Media | 85.72 | .14 | 0.16% |
| Support Services | 2,288.84 | 2.31 | 0.10% |
| Telecommunications | 66,365.95 | 357.46 | 0.54% |
| Financials | 24,144.13 | 141.89 | 0.59% |
| Banks | 45,194.91 | 206.48 | 0.46% |
| Non-life Insurance | 36,373.64 | 366.16 | 1.02% |
| Life Insurance | 19,342.23 | 240.51 | 1.26% |
| General Financial | 2,305.70 | 8.98 | 0.39% |
| Technology | 27,189.11 | 133.77 | 0.49% |
| SHARIAH TOP40 | 3,263.22 | 31 | 0.95% |
| FTSE/JSE SHARIAH ALL | 3,338.58 | 29 | 0.86% |
| COAL MINING | 27,622.25 | -15 | -0.05% |
| FTSE JSE Fledgling | 5,042.64 | 8 | 0.16% |
| FTSE/JSE Alt X | 1,230.70 | -9 | -0.75% |
| SA LISTED PROPERTY | 412.70 | | 0.09% |
| CAPPED PROPERTY | 335.17 | | 0.19% |
| RESOURCE | 30,934.15 | 336 | 1.10% |
| DIVIDEND PLUS | 192.33 | 1 | 0.49% |
| FTSE/JSE RAFI 40 | 7,161.72 | 57 | 0.80% |
| Capped Top 40 | 16,060.96 | 137 | 0.86% |
| Capped All Share | 17,295.64 | 128 | 0.75% |
| JSE TABACO | 4,761.30 | 19 | 0.40% |
Click here for the Sharenet Index Summary page
---
Latest Consensus Changes**

| | | | |
| --- | --- | --- | --- |
| Code | Company Name | Status | Updated |
| REB | REBOSIS PROPERTY FUND LTD | BUY | 02 Feb |
| CPI | CAPITEC | HOLD | 02 Feb |
| VKE | VUKILE PROPERTY FUND LIMI... | BUY | 02 Feb |
| FFA | FORTRESS INCOME FUND LTD | BUY | 02 Feb |
| JSE | JSE LTD | BUY | 02 Feb |

Results Expected**

| | | |
| --- | --- | --- |
| Expected | Company Name | Fin. Date |
| 09 Feb 2012 | KUMBA | December 2011 (Final) |
| 09 Feb 2012 | OPTIMUM | December 2011 (Interim) |
| 10 Feb 2012 | ABSA | December 2011 (Final) |
| 10 Feb 2012 | ABSABANK-P | December 2011 (Final) |
| 10 Feb 2012 | AQUARIUS | December 2011 (Interim) |
---
Recent Dividends**

| | | | | |
| --- | --- | --- | --- | --- |
| Share Name | Dec-Date | LDT | Pay-Date | Amount |
| HARMONY | 12-02-06 | 12-03-02 | 12-03-12 | R 0.4000 |
| ZURICH SA | 12-02-06 | 12-02-24 | 12-03-05 | R 2.0000 |
| SBR003 | 12-02-06 | 12-04-25 | 12-05-07 | R 1.4700 |
| PALAMIN | 12-02-06 | 12-02-24 | 12-03-05 | R 2.0700 |
| FIRSTRANDB-P | 12-02-03 | 12-02-17 | 12-02-27 | R 3.0516 |

Ex Div**

| | | | | |
| --- | --- | --- | --- | --- |
| Share Name | Dec-Date | LDT | Pay-Date | Amount |
| FOORDCMPS | 12-01-19 | 12-02-03 | 12-02-13 | R 0.4961 |
| TREMATON | 11-11-15 | 12-02-03 | 12-02-13 | R 0.0200 |
---
Upcoming AGMs**

| | | | |
| --- | --- | --- | --- |
| Code | Company Name | Date | Status |
| AWT | Awethu Breweries Ltd | 08/02/2012 | Confirmed |
| NWN | Nu-World Holdings Ltd | 08/02/2012 | Confirmed |
| NWL | Nu-World Holdings Ltd | 08/02/2012 | Confirmed |
| SAP | Sappi Ltd | 08/02/2012 | Confirmed |
| ARL | Astral Foods Ltd | 09/02/2012 | Confirmed |
---
Stock Exchange News Service
Click here for more SENS news
---