Monday, 06 February 2012 - 20:00
Charts
Top News
South Africa's rand lost nearly 2 percent against the dollar on Monday, retreating further from last week's 5-month highs as investors used delayed debt talks in Greece to take profits on a currency some said had rallied too quickly.

---

Syrian forces bombarded Homs on Monday, killing 50 people in a sustained assault on several districts of the city which has become a centre of armed opposition to President Bashar al-Assad, the Syrian National Council opposition group said.

The leaders of rival Palestinian factions Fatah and Hamas signed a deal in Qatar on Monday to form a unity government of independent technocrats for the West Bank and Gaza, headed by Palestinian President Mahmoud Abbas.
World Markets (Spot Prices)
| | | | | |
| --- | --- | --- | --- | --- |
| Name | Time | RP | Move | % Move |
| JSE Overall | 17:00 | 34176.30 | -210.67 | -0.61% |
| JSE Top 40 | 17:00 | 30498.62 | -219.87 | -0.72% |
| JSE Gold | 17:00 | 2908.19 | 35.23 | 1.23% |
| JSE Financial | 17:00 | 23962.02 | -207.04 | -0.86% |
| JSE Industrial | 17:00 | 35803.73 | -381.67 | -1.05% |
| JSE Indust 25 | 17:00 | 29982.74 | -372.67 | -1.23% |
| JSE Resource | 17:00 | 56235.08 | -17.27 | -0.03% |
| DJ Futures | 20:00 | 12768.00 | -25.00 | -0.20% |
| DJ Ind | 19:45 | 12827.49 | -34.74 | -0.27% |
| SP 500 | 20:00 | 1343.13 | -1.77 | -0.13% |
| Nasdaq | 20:00 | 2902.29 | -3.37 | -0.12% |
| FTSE 100 | 18:35 | 5892.20 | -8.87 | -0.15% |
| DAX | 19:06 | 6764.83 | -1.84 | -0.03% |
| CAC40 | 19:06 | 3405.27 | -22.65 | -0.66% |
| Nikkei | 08:52 | 8929.20 | 97.27 | 1.10% |
| Shanghai | 09:26 | 2331.14 | .73 | 0.03% |
| Hang-Seng | 10:26 | 20709.94 | -47.04 | -0.23% |
| All Ords | 07:44 | 4364.60 | 44.50 | 1.03% |
| NZSE 50 | 03/02 | 3312.23 | -2.41 | -0.07% |

| | | | | |
| --- | --- | --- | --- | --- |
| Name | Time | RP | Move | % Move |
| Gold | 19:59 | 1722.26 | -5.29 | -0.31% |
| Gold/Rand | 20:00 | 13012.19 | -20.32 | -0.16% |
| Gold/R kg | 20:00 | 418342 | -2935 | -0.70% |
| Silver | 19:59 | 33.6610 | .0110 | 0.03% |
| Platinum | 19:59 | 1620.00 | 4.00 | 0.25% |
| Palladium | 19:59 | 703.00 | -.50 | -0.07% |
| R157 | 17:02 | 6.50 | .08 | 1.25% |
| R204 | 17:02 | 7.46 | .08 | 1.08% |
| Brent Crude | 19:56 | 115.03 | 2.38 | 2.11% |
| Rand / Dollar | 19:59 | 7.5553 | 0.0129 | 0.17% |
| Rand / Pound | 19:55 | 11.9218 | 0.0073 | 0.06% |
| Rand / Euro | 19:55 | 9.9221 | 0.0108 | 0.11% |
| Rand / NZD | 19:58 | 6.3062 | 0.0130 | 0.21% |
| Rand / AUD | 19:55 | 8.1130 | -0.0190 | -0.23% |
| Yen / Dollar | 19:59 | 76.5580 | 0.0160 | 0.02% |
| Euro / Dollar | 19:55 | 0.7612 | -0.0003 | -0.04% |
| Dollar / Euro | 19:59 | 1.3129 | 0.0008 | 0.06% |
| Pound / Dollar | 19:50 | 0.6319 | 0.0001 | 0.02% |
Click here for the Sharenet Spot Price page
The JSE Today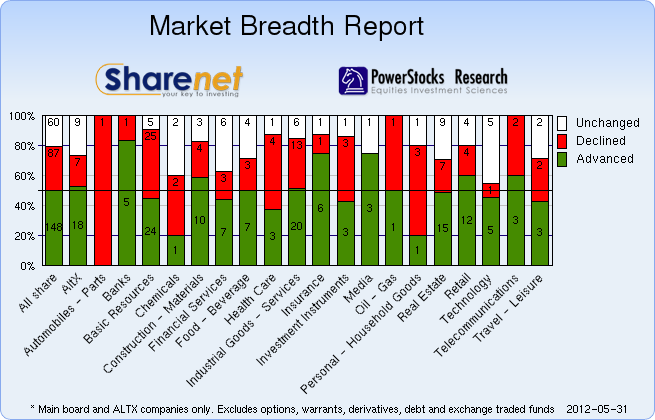 Trading Statistics
| Date | Adv. | Decl. | Unch. | Actives | Volume | Value | Trades | Orders |
| --- | --- | --- | --- | --- | --- | --- | --- | --- |
| 06/02/2012 | 157 | 200 | 88 | 445 | 226,512,952 | R15,937,599,067 | 119375 | 2376639 |
| 03/02/2012 | 183 | 169 | 83 | 435 | 263,395,243 | R17,164,935,280 | 120638 | 2589079 |
| 02/02/2012 | 233 | 116 | 90 | 439 | 385,024,668 | R21,837,079,868 | 147033 | 2453113 |
| 01/02/2012 | 229 | 124 | 80 | 433 | 280,103,124 | R17,562,478,927 | 116723 | 2665124 |
| 31/01/2012 | 227 | 139 | 85 | 451 | 323,726,083 | R20,029,881,823 | 128319 | 2221949 |
* Includes all listed instruments on the JSE
---
---
---
Index Summary
| | | | |
| --- | --- | --- | --- |
| Index Name | RP | Move | % Move |
| Top 40 | 30,498.62 | -219.87 | -0.72% |
| Industrial | 35,803.73 | -381.67 | -1.05% |
| Mid Cap | 46,388.46 | -46.36 | -0.10% |
| Small Cap | 34,397.75 | -3.35 | -0.01% |
| Resource 20 | 56,235.08 | -17.27 | -0.03% |
| Industrial 25 | 29,982.74 | -372.67 | -1.23% |
| Financial 15 | 9,045.86 | -103.89 | -1.14% |
| Financial & Ind. 30 | 33,528.02 | -437.07 | -1.29% |
| All Share | 34,176.30 | -210.67 | -0.61% |
| Oil & Gas | 30,017.07 | -161.19 | -0.53% |
| Mining | 36,457.13 | 54.23 | 0.15% |
| Gold Mining | 2,908.19 | 35.23 | 1.23% |
| Platinum Mining | 62.65 | -.02 | -0.03% |
| GENERAL MINING | 9,215.52 | -11.59 | -0.13% |
| Oil & Gas Producers | 16,139.62 | -86.67 | -0.53% |
| Basic Materials | 30,842.31 | 28.88 | 0.09% |
| Chemicals | 14,366.45 | -20.33 | -0.14% |
| Forestry & Paper | 12,965.56 | -80.85 | -0.62% |
| Industrial Metals | 32,058.03 | -179.62 | -0.56% |
| Industrials | 30,872.24 | -120.92 | -0.39% |
| General Industrials | 87,142.12 | -468.75 | -0.54% |
| Consumer Goods | 30,872.11 | -172.94 | -0.56% |
| Automobiles & Parts | 4,619.50 | 2.27 | 0.05% |
| Household Goods | 170.23 | -1 | -0.84% |
| Health Care | 37,516.37 | 230.24 | 0.62% |
| Beverages | 101.79 | -.89 | -0.87% |

| | | | |
| --- | --- | --- | --- |
| Index Name | RP | Move | % Move |
| Food Producers | 57,006.80 | -203.34 | -0.36% |
| Personal Goods | 454.14 | -2.69 | -0.59% |
| Consumer Services | 60,302.57 | -1060.48 | -1.73% |
| General Retailers | 51,084.62 | -445.22 | -0.86% |
| Travel & Leisure | 3,797.61 | -17.09 | -0.45% |
| Media | 84.35 | -3.07 | -3.51% |
| Support Services | 2,286.53 | .00 | 0.00% |
| Telecommunications | 65,946.51 | -1811.13 | -2.67% |
| Financials | 23,962.02 | -207.04 | -0.86% |
| Banks | 44,777.77 | -630.31 | -1.39% |
| Non-life Insurance | 36,349.39 | 460.73 | 1.28% |
| Life Insurance | 19,073.45 | -205.83 | -1.07% |
| General Financial | 2,298.82 | -7.44 | -0.32% |
| Technology | 27,101.55 | -424.04 | -1.54% |
| SHARIAH TOP40 | 3,271.36 | -13 | -0.40% |
| FTSE/JSE SHARIAH ALL | 3,346.02 | -13 | -0.40% |
| COAL MINING | 27,694.93 | 391 | 1.43% |
| FTSE JSE Fledgling | 5,064.94 | 22 | 0.44% |
| FTSE/JSE Alt X | 1,238.28 | -24 | -1.92% |
| SA LISTED PROPERTY | 414.76 | | 0.12% |
| CAPPED PROPERTY | 336.31 | | -0.01% |
| RESOURCE | 30,988.99 | 16 | 0.05% |
| DIVIDEND PLUS | 193.01 | -1 | -0.45% |
| FTSE/JSE RAFI 40 | 7,136.99 | -59 | -0.82% |
| Capped Top 40 | 16,017.81 | -122 | -0.76% |
| Capped All Share | 17,265.58 | -108 | -0.62% |
| JSE TABACO | 4,697.15 | 42 | 0.90% |
Click here for the Sharenet Index Summary page
---
Latest Consensus Changes**

| | | | |
| --- | --- | --- | --- |
| Code | Company Name | Status | Updated |
| REB | REBOSIS PROPERTY FUND LTD | BUY | 02 Feb |
| CPI | CAPITEC | HOLD | 02 Feb |
| VKE | VUKILE PROPERTY FUND LIMI... | BUY | 02 Feb |
| FFA | FORTRESS INCOME FUND LTD | BUY | 02 Feb |
| JSE | JSE LTD | BUY | 02 Feb |

Results Expected**

| | | |
| --- | --- | --- |
| Expected | Company Name | Fin. Date |
| 07 Feb 2012 | ARB | December 2011 (Interim) |
| 08 Feb 2012 | ADAPTIT | December 2011 (Interim) |
| 08 Feb 2012 | ARCMITTAL | December 2011 (Final) |
| 08 Feb 2012 | FIURANIUM | December 2011 (Q) |
| 08 Feb 2012 | MITTALSAP | December 2011 (Final) |
---
Recent Dividends**

| | | | | |
| --- | --- | --- | --- | --- |
| Share Name | Dec-Date | LDT | Pay-Date | Amount |
| HARMONY | 12-02-06 | 12-03-02 | 12-03-12 | R 0.4000 |
| ZURICH SA | 12-02-06 | 12-02-24 | 12-03-05 | R 2.0000 |
| SBR003 | 12-02-06 | 12-04-25 | 12-05-07 | R 1.4700 |
| PALAMIN | 12-02-06 | 12-02-24 | 12-03-05 | R 2.0700 |
| FIRSTRANDB-P | 12-02-03 | 12-02-17 | 12-02-27 | R 3.0516 |

Ex Div**

| | | | | |
| --- | --- | --- | --- | --- |
| Share Name | Dec-Date | LDT | Pay-Date | Amount |
| FOORDCMPS | 12-01-19 | 12-02-03 | 12-02-13 | R 0.4961 |
| TREMATON | 11-11-15 | 12-02-03 | 12-02-13 | R 0.0200 |
---
Upcoming AGMs**

| | | | |
| --- | --- | --- | --- |
| Code | Company Name | Date | Status |
| IDQ | Indequity Group Ltd | 06/02/2012 | Confirmed |
| IDQPB | Indequity Group Ltd | 06/02/2012 | Confirmed |
| IDQPA | Indequity Group Ltd | 06/02/2012 | Confirmed |
| IDQP | Indequity Group Ltd | 06/02/2012 | Confirmed |
| YRK | York Timber Holdings Ltd | 06/02/2012 | Confirmed |
---
Stock Exchange News Service
Click here for more SENS news
---