Tuesday, 18 March 2014 - 20:00
Charts
Seed Weekly - Loss Aversion: Why it?s Rational
Standard economic theory suggests that a rational investor will feel an equal amount of pleasure for every 1 unit of gain on an investment portfolio as they would pain for every 1 unit of loss. Research has shown, however, that losses are psychologically twice as powerful as gains, with the first proponents of this behavioural trait being Messrs Tversky and Kahneman.
Chart 1 below illustrates the emotions that one should feel in theory (in black) versus the observed emotions (blue) of investors making losses and gains.
Chart 1: Pleasure vs Pain
Should one treat losses the same as gains?
I would argue that loss aversion occurring naturally is actually rational behaviour in the case of investing.
It all comes down to the mathematics involved in recouping losses – investors require more than 1% in gains for every 1% lost in order to get back to the original (breakeven) position. This also helps to explain why most successful investors place a heavy premium on avoiding permanent capital destruction. There isn't much difference for the first 10% – 20% of losses, but thereafter the difference between the loss made and the gains required increases exponentially. Chart 2 below graphs the required gains for each increment of loss on an investment portfolio.
Chart 2: Loss v Required Gains
The required gain illustrated in Chart 2 more closely mirrors the emotions of the pain felt in Chart 1 than the theoretical position based on the assumption that gains and losses are felt equally.
At a 10% loss, you require an 11% gain to get back to your starting point, at a 20% loss the gain required increases to 25%, at 50% you need to double your return, while a 67% loss requires your investment to triple before recouping all your losses. It is evident that there isn't too much difference up to the 20% drawdown level, but from these levels it becomes increasingly difficult to rapidly recoup your losses.
As a result of this phenomenon, Seed has designed solutions to avoid deep drawdowns as far as possible. All investors need to take an element of risk in order to ensure that your portfolios grow sufficiently to cover your retirement needs. It is important, though, to manage the amount of risk you are exposed to and mitigate portfolio risk by combining uncorrelated growth assets within your portfolio. Small drawdowns will naturally be unavoidable, but permanent destruction of capital is to be avoided at all costs.
The Seed Flexible and Seed Absolute Return Funds both combine asset classes and strategies in order to generate inflation beating returns while minimising the probability of large capital drawdowns.
Take care,
Mike Browne
www.seedinvestments.co.za
info@seedinvestments.co.za
021 914 4966
Tue, 18 Mar 2014
Top News
South Africa's rand strengthened on Tuesday in line with other emerging market assets on signs that tensions between Russia and Ukraine could ease after Moscow's move to annex the Crimea region.

---

Defying Ukrainian protests and Western sanctions, Russian President Vladimir Putin signed a treaty on Tuesday making Crimea part of Russia again but said he did not plan to seize any other regions of Ukraine.

Germany's Constitutional Court upheld the legality of the euro zone's bailout fund on Tuesday, affirming a preliminary ruling during the debt crisis in 2012 that gave a green light to the European Stability Mechanism (ESM).
World Markets (Spot Prices)
| | | | | |
| --- | --- | --- | --- | --- |
| Name | Time | RP | Move | % Move |
| JSE Overall | 17:10 | 47059.19 | 242.54 | 0.52% |
| JSE Top 40 | 17:00 | 42393.08 | 236.84 | 0.56% |
| JSE Gold | 17:00 | 1589.17 | -53.84 | -3.28% |
| JSE Financial | 17:00 | 33658.02 | 23.65 | 0.07% |
| JSE Industrial | 17:10 | 61293.36 | 655.56 | 1.08% |
| JSE Indust 25 | 17:00 | 54194.47 | 603.89 | 1.13% |
| JSE Resource | 17:00 | 55125.89 | -91.55 | -0.17% |
| DJ Futures | 19:54 | 16275.00 | 103.00 | 0.64% |
| DJ Ind | 20:00 | 16357.51 | 110.29 | 0.68% |
| SP 500 | 20:00 | 1873.03 | 14.20 | 0.76% |
| Nasdaq | 20:00 | 4332.24 | 52.29 | 1.22% |
| FTSE 100 | 18:35 | 6605.28 | 36.93 | 0.56% |
| DAX | 19:08 | 9242.55 | 61.66 | 0.67% |
| CAC40 | 19:08 | 4313.26 | 41.30 | 0.97% |
| Nikkei | 08:50 | 14411.27 | 133.60 | 0.94% |
| Shanghai | 09:28 | 2025.20 | 1.53 | 0.08% |
| Hang-Seng | 10:28 | 21583.50 | 109.55 | 0.51% |
| All Ords | 07:43 | 5360.20 | 25.00 | 0.47% |
| NZSE 50 | 06:48 | 5135.66 | 47.63 | 0.94% |

| | | | | |
| --- | --- | --- | --- | --- |
| Name | Time | RP | Move | % Move |
| Gold $ | 19:59 | 1360.14 | -6.06 | -0.44% |
| Gold R | 20:00 | 14611.83 | -109.73 | -0.75% |
| Gold R/kg | 20:00 | 469770 | -7769 | -1.63% |
| Silver $ | 19:59 | 20.8400 | -.3170 | -1.50% |
| Platinum $ | 19:59 | 1457.70 | -1.80 | -0.12% |
| Palladium $ | 19:59 | 765.80 | -4.20 | -0.55% |
| R157 | 15:33 | 6.96 | .04 | 0.65% |
| R186 | 15:33 | 8.59 | .03 | 0.29% |
| R204 | 15:33 | 7.97 | .04 | 0.44% |
| R207 | 15:33 | 8.26 | .04 | 0.55% |
| Brent Crude | 20:00 | 106.67 | -1.90 | -1.75% |
| Rand / Dollar | 19:59 | 10.7436 | -0.0314 | -0.29% |
| Rand / Pound | 19:55 | 17.7808 | -0.1113 | -0.62% |
| Rand / Euro | 19:55 | 14.9567 | -0.0460 | -0.31% |
| Rand / NZD | 19:59 | 9.2777 | 0.0454 | 0.49% |
| Rand / AUD | 19:55 | 9.8092 | 0.0143 | 0.15% |
| Yen / Dollar | 19:59 | 101.4280 | -0.3690 | -0.36% |
| Euro / Dollar | 19:59 | 0.7183 | -0.0001 | -0.01% |
| Dollar / Euro | 19:59 | 1.3921 | 0.0000 | 0.00% |
| Pound / Dollar | 19:55 | 0.6028 | 0.0019 | 0.32% |
Click here for the Sharenet Spot Price page
The JSE Today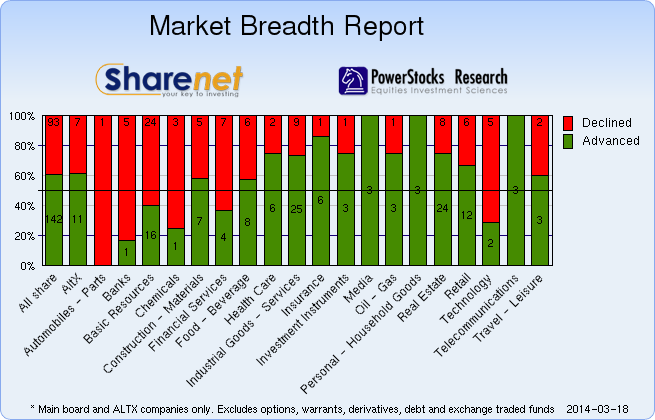 Trading Statistics
| Date | Adv. | Decl. | Unch. | Actives | Volume | Value | Trades | Orders |
| --- | --- | --- | --- | --- | --- | --- | --- | --- |
| 18/03/2014 | 213 | 151 | 65 | 429 | 241,672,031 | R18,166,063,728 | 194926 | 69065 |
| 17/03/2014 | 230 | 133 | 67 | 430 | 201,128,438 | R16,506,217,241 | 178171 | 372499 |
| 14/03/2014 | 157 | 212 | 53 | 422 | 216,686,939 | R18,662,579,653 | 186621 | 171300 |
| 13/03/2014 | 171 | 180 | 74 | 425 | 217,436,258 | R15,072,995,352 | 162313 | 1416785 |
| 12/03/2014 | 155 | 220 | 61 | 436 | 220,844,039 | R17,299,493,592 | 165145 | 928215 |
* Includes all listed instruments on the JSE
---
---
---
Index Summary
| | | | |
| --- | --- | --- | --- |
| Index Name | RP | Move | % Move |
| Top 40 | 42,393.08 | 236.84 | 0.56% |
| Industrial | 61,293.36 | 655.56 | 1.08% |
| Mid Cap | 59,212.53 | 121.78 | 0.21% |
| Small Cap | 51,556.66 | 314.45 | 0.61% |
| Resource 20 | 55,125.89 | -91.55 | -0.17% |
| Industrial 25 | 54,194.47 | 603.89 | 1.13% |
| Financial 15 | 12,859.40 | -19.33 | -0.15% |
| Financial & Ind. 30 | 57,453.22 | 482.91 | 0.85% |
| All Share | 47,059.19 | 242.54 | 0.52% |
| Oil & Gas | 44,064.54 | 329.18 | 0.75% |
| Mining | 32,803.42 | -172.53 | -0.52% |
| Gold Mining | 1,589.17 | -53.84 | -3.28% |
| Platinum Mining | 50.05 | .03 | 0.06% |
| GENERAL MINING | 9,335.34 | -15.57 | -0.17% |
| Oil & Gas Producers | 23,692.69 | 177.00 | 0.75% |
| Basic Materials | 29,126.31 | -149.73 | -0.51% |
| Chemicals | 23,804.73 | -106.27 | -0.44% |
| Forestry & Paper | 32,243.38 | -239.43 | -0.74% |
| Industrial Metals | 20,665.85 | 193.70 | 0.95% |
| Industrials | 42,221.82 | 98.74 | 0.23% |
| General Industrials | 133.64 | .34 | 0.26% |
| Consumer Goods | 55,952.03 | 386.64 | 0.70% |
| Automobiles & Parts | 9,816.43 | -33.96 | -0.34% |
| Household Goods | 363.31 | 4 | 1.06% |
| Health Care | 73,848.88 | 733.38 | 1.00% |
| Beverages | 172.67 | .13 | 0.08% |

| | | | |
| --- | --- | --- | --- |
| Index Name | RP | Move | % Move |
| Food Producers | 65,848.10 | 331.31 | 0.51% |
| Personal Goods | 1,022.43 | 12.48 | 1.24% |
| Consumer Services | 11,409.43 | 335.86 | 3.03% |
| General Retailers | 57,758.35 | 358.18 | 0.62% |
| Travel & Leisure | 5,312.56 | 34.06 | 0.65% |
| Media | 266.39 | 11.44 | 4.49% |
| Support Services | 2,602.45 | 9.46 | 0.36% |
| Telecommunications | 10,100.23 | 29.79 | 0.30% |
| Financials | 33,658.02 | 23.65 | 0.07% |
| Banks | 56,871.39 | -393.35 | -0.69% |
| Non-life Insurance | 49,257.86 | 127.61 | 0.26% |
| Life Insurance | 32,592.21 | 75.11 | 0.23% |
| General Financial | 3,289.89 | -20.82 | -0.63% |
| Technology | 42,688.89 | -116.39 | -0.27% |
| SHARIAH TOP40 | 4,093.63 | 2 | 0.04% |
| FTSE/JSE SHARIAH ALL | 4,188.95 | -1 | -0.01% |
| COAL MINING | 17,730.07 | -330 | -1.83% |
| FTSE JSE Fledgling | 6,521.14 | -25 | -0.38% |
| FTSE/JSE Alt X | 1,204.22 | -1 | -0.10% |
| SA LISTED PROPERTY | 487.64 | | 1.94% |
| CAPPED PROPERTY | 426.33 | | 1.52% |
| RESOURCE | 30,184.66 | -86 | -0.28% |
| DIVIDEND PLUS | 210.05 | 3 | 1.26% |
| FTSE/JSE RAFI 40 | 9,414.18 | 15 | 0.16% |
| Capped Top 40 | 22,452.84 | 131 | 0.59% |
| Capped All Share | 23,829.29 | 125 | 0.53% |
| JSE TABACO | 7,412.66 | 63 | 0.85% |
Click here for the Sharenet Index Summary page
---
Latest Consensus Changes**

| | | | |
| --- | --- | --- | --- |
| Code | Company Name | Status | Updated |
| ARI | AFRICAN RAINBOW MINERALS | BUY | 14/03/2014 |
| OML | OLD MUTUAL PLC | BUY | 14/03/2014 |
| WEZ | WESIZWE PLATINUM LTD | BUY | 14/03/2014 |
| SLM | SANLAM LIMITED | BUY | 14/03/2014 |
| AQP | AQUARIUS PLATINUM LTD | HOLD | 14/03/2014 |

Results Expected**

| | | |
| --- | --- | --- |
| Expected | Company Name | Fin. Date |
| 19/03/2014 | OANDO | December 2013 (Final) |
| 19/03/2014 | TIMESMED | December 2013 (Interim) |
| 20/03/2014 | AH-VEST | December 2013 (Interim) |
| 20/03/2014 | DIAMONDCP | December 2013 (Final) |
| 20/03/2014 | MASNITEA | December 2013 (Final) |
---
Recent Dividends**

| | | | | |
| --- | --- | --- | --- | --- |
| Share Name | Dec-Date | LDT | Pay-Date | Amount |
| PUTPROP | 17/03/14 | 04/04/14 | 14/04/14 | ZAR 0.1800 |
| CLOVER | 17/03/14 | 04/04/14 | 14/04/14 | ZAR 0.1600 |
| ELBGROUP | 14/03/14 | 04/04/14 | 14/04/14 | ZAR 0.2800 |
| SASFIN-P | 11/03/14 | 28/03/14 | 07/04/14 | ZAR 3.5351 |
| SASFIN | 11/03/14 | 04/04/14 | 14/04/14 | ZAR 0.6534 |

Ex Div**

| | | | | |
| --- | --- | --- | --- | --- |
| Share Name | Dec-Date | LDT | Pay-Date | Amount |
| GRINDROD PREF | 27/02/14 | 13/03/14 | 24/03/14 | ZAR 3.7700 |
| MASSMART | 27/02/14 | 13/03/14 | 24/03/14 | ZAR 2.7500 |
| SHOPRIT | 25/02/14 | 13/03/14 | 24/03/14 | ZAR 1.3200 |
| SUNINT | 24/02/14 | 13/03/14 | 24/03/14 | ZAR 0.9000 |
| DISCOVERY | 20/02/14 | 13/03/14 | 24/03/14 | ZAR 0.7300 |
---
Upcoming AGMs**

| | | | |
| --- | --- | --- | --- |
| Code | Company Name | Date | Status |
| REB | Rebosis Property Fund Ltd. | 19/03/2014 | Confirmed |
---
Stock Exchange News Service
Click here for more SENS news
---