Tuesday, 24 December 2013 - 20:00
Charts
Top News
South African stocks put in a sixth straight day of gains on Tuesday in a shortened Christmas Eve session as renewed appetite for risk brought the market closer to life highs reached last month.

---

A suicide bomber detonated a car packed with explosives at a police compound in Egypt's Nile Delta on Tuesday, killing 15 people, the interior ministry said, in one of the deadliest attacks since the army deposed President Mohamed Mursi in July.

A Gaza sniper shot dead an Israeli civilian over the border on Tuesday and Israel hit back with air strikes on two Hamas training camps which hospital officials said killed a Palestinian girl near one of the targets.
World Markets (Spot Prices)
| | | | | |
| --- | --- | --- | --- | --- |
| Name | Time | RP | Move | % Move |
| JSE Overall | 12:00 | 44912.80 | 159.61 | 0.36% |
| JSE Top 40 | 12:00 | 40163.56 | 166.05 | 0.42% |
| JSE Gold | 12:00 | 971.67 | 1.55 | 0.16% |
| JSE Financial | 12:00 | 32875.93 | 88.59 | 0.27% |
| JSE Industrial | 12:00 | 60157.59 | 203.45 | 0.34% |
| JSE Indust 25 | 12:00 | 52889.21 | 192.89 | 0.37% |
| JSE Resource | 12:00 | 49007.21 | 238.42 | 0.49% |
| DJ Futures | 20:00 | 16293.00 | 54.00 | 0.33% |
| DJ Ind | 20:00 | 16354.72 | 60.11 | 0.37% |
| SP 500 | 20:00 | 1832.65 | 4.66 | 0.25% |
| Nasdaq | 20:00 | 4153.24 | 4.34 | 0.10% |
| FTSE 100 | 14:35 | 6694.17 | 15.56 | 0.23% |
| DAX | 23/12 | 9488.82 | 88.64 | 0.94% |
| CAC40 | 15:28 | 4218.41 | 3.12 | 0.07% |
| Nikkei | 08:26 | 15889.33 | 18.91 | 0.12% |
| Shanghai | 09:30 | 2092.91 | 3.20 | 0.15% |
| Hang-Seng | 10:28 | 23179.55 | 257.99 | 1.13% |
| All Ords | 05:43 | 5325.40 | 33.90 | 0.64% |
| NZSE 50 | 06:08 | 4767.94 | 45.31 | 0.96% |

| | | | | |
| --- | --- | --- | --- | --- |
| Name | Time | RP | Move | % Move |
| Gold $ | 19:59 | 1203.50 | 5.82 | 0.49% |
| Gold R | 20:00 | 12442.63 | 62.64 | 0.51% |
| Gold R/kg | 20:00 | 400030 | 1635 | 0.41% |
| Silver $ | 19:59 | 19.4900 | .0700 | 0.36% |
| Platinum $ | 19:58 | 1330.00 | 5.50 | 0.42% |
| Palladium $ | 19:58 | 692.75 | 1.35 | 0.20% |
| R157 | 11:08 | 6.06 | .01 | 0.25% |
| R186 | 10:06 | 8.16 | .01 | 0.12% |
| R204 | 11:02 | 7.09 | .00 | 0.07% |
| R207 | 11:02 | 7.39 | -.00 | -0.07% |
| Brent Crude | 20:00 | 111.99 | .22 | 0.20% |
| Rand / Dollar | 19:59 | 10.3387 | 0.0012 | 0.01% |
| Rand / Pound | 19:55 | 16.8765 | 0.0107 | 0.06% |
| Rand / Euro | 19:55 | 14.1193 | -0.0388 | -0.27% |
| Rand / NZD | 19:59 | 8.4653 | -0.0053 | -0.06% |
| Rand / AUD | 19:55 | 9.2164 | -0.0144 | -0.16% |
| Yen / Dollar | 19:59 | 104.2300 | 0.1100 | 0.11% |
| Euro / Dollar | 19:59 | 0.7309 | 0.0006 | 0.08% |
| Dollar / Euro | 19:59 | 1.3677 | -0.0018 | -0.13% |
| Pound / Dollar | 19:55 | 0.6104 | -0.0011 | -0.18% |
Click here for the Sharenet Spot Price page
The JSE Today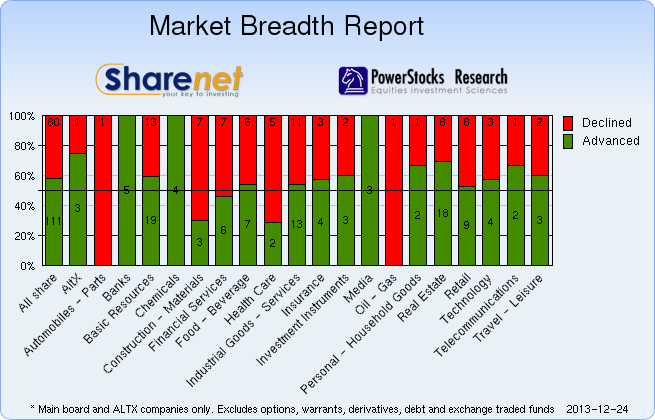 Trading Statistics
| Date | Adv. | Decl. | Unch. | Actives | Volume | Value | Trades | Orders |
| --- | --- | --- | --- | --- | --- | --- | --- | --- |
| 24/12/2013 | 148 | 106 | 55 | 309 | 39,483,057 | R1,935,356,066 | 26028 | 343916 |
| 23/12/2013 | 198 | 135 | 75 | 408 | 111,699,950 | R7,104,464,945 | 95400 | 509643 |
| 20/12/2013 | 228 | 125 | 69 | 422 | 266,535,186 | R14,282,780,925 | 143956 | 165667 |
| 19/12/2013 | 213 | 147 | 65 | 425 | 326,474,487 | R27,181,019,606 | 137935 | 326976 |
| 18/12/2013 | 190 | 135 | 73 | 398 | 198,952,553 | R12,102,388,649 | 129152 | 420028 |
* Includes all listed instruments on the JSE
---
---
---
Index Summary
| | | | |
| --- | --- | --- | --- |
| Index Name | RP | Move | % Move |
| Top 40 | 40,163.56 | 166.05 | 0.42% |
| Industrial | 60,157.59 | 203.45 | 0.34% |
| Mid Cap | 59,297.98 | 10.21 | 0.02% |
| Small Cap | 49,043.75 | 118.35 | 0.24% |
| Resource 20 | 49,007.21 | 238.42 | 0.49% |
| Industrial 25 | 52,889.21 | 192.89 | 0.37% |
| Financial 15 | 12,456.39 | 49.25 | 0.40% |
| Financial & Ind. 30 | 55,752.21 | 218.73 | 0.39% |
| All Share | 44,912.80 | 159.61 | 0.36% |
| Oil & Gas | 38,189.17 | -69.62 | -0.18% |
| Mining | 29,165.00 | 176.61 | 0.61% |
| Gold Mining | 971.67 | 1.55 | 0.16% |
| Platinum Mining | 47.23 | -.06 | -0.13% |
| GENERAL MINING | 8,585.73 | 64.71 | 0.76% |
| Oil & Gas Producers | 20,533.61 | -37.43 | -0.18% |
| Basic Materials | 26,018.03 | 139.39 | 0.54% |
| Chemicals | 23,503.52 | 97.64 | 0.42% |
| Forestry & Paper | 27,944.28 | 174.37 | 0.63% |
| Industrial Metals | 22,884.10 | -549.52 | -2.35% |
| Industrials | 43,931.30 | 54.62 | 0.12% |
| General Industrials | 134.94 | -.13 | -0.10% |
| Consumer Goods | 55,266.31 | 433.83 | 0.79% |
| Automobiles & Parts | 8,863.09 | -81.52 | -0.91% |
| Household Goods | 303.83 | -1 | -0.22% |
| Health Care | 77,671.93 | -409.76 | -0.52% |
| Beverages | 175.81 | 1.45 | 0.83% |

| | | | |
| --- | --- | --- | --- |
| Index Name | RP | Move | % Move |
| Food Producers | 66,850.08 | 4.84 | 0.01% |
| Personal Goods | 1,021.93 | 9.78 | 0.97% |
| Consumer Services | 10,727.44 | 24.32 | 0.23% |
| General Retailers | 62,032.33 | 118.15 | 0.19% |
| Travel & Leisure | 5,431.46 | 17.82 | 0.33% |
| Media | 227.62 | .61 | 0.27% |
| Support Services | 2,554.52 | -2.06 | -0.08% |
| Telecommunications | 9,862.48 | -14.54 | -0.15% |
| Financials | 32,875.93 | 88.59 | 0.27% |
| Banks | 56,302.42 | 407.76 | 0.73% |
| Non-life Insurance | 46,708.19 | -125.06 | -0.27% |
| Life Insurance | 31,852.93 | 164.79 | 0.52% |
| General Financial | 3,143.37 | -47.54 | -1.49% |
| Technology | 42,754.86 | -335.01 | -0.78% |
| SHARIAH TOP40 | 3,745.73 | 9 | 0.25% |
| FTSE/JSE SHARIAH ALL | 3,870.74 | 8 | 0.20% |
| COAL MINING | 18,095.41 | -18 | -0.10% |
| FTSE JSE Fledgling | 6,271.63 | 30 | 0.48% |
| FTSE/JSE Alt X | 1,113.80 | 3 | 0.31% |
| SA LISTED PROPERTY | 495.03 | | 0.24% |
| CAPPED PROPERTY | 423.09 | | 0.14% |
| RESOURCE | 26,708.19 | 123 | 0.46% |
| DIVIDEND PLUS | 216.33 | -1 | -0.28% |
| FTSE/JSE RAFI 40 | 8,819.94 | 36 | 0.41% |
| Capped Top 40 | 21,233.09 | 84 | 0.40% |
| Capped All Share | 22,740.99 | 80 | 0.35% |
| JSE TABACO | 6,977.69 | 83 | 1.20% |
Click here for the Sharenet Index Summary page
---
Latest Consensus Changes**

| | | | |
| --- | --- | --- | --- |
| Code | Company Name | Status | Updated |
| SOL | SASOL LIMITED | HOLD | 19/12/2013 |
| AIP | ADCOCK INGRAM HLGS LD | HOLD | 19/12/2013 |
| NPK | NAMPAK | BUY | 17/12/2013 |
| HSP | HOLDSPORT LIMITED | BUY | 16/12/2013 |
| NED | NEDBANK GROUP LTD | BUY | 16/12/2013 |

Results Expected**

| | | |
| --- | --- | --- |
| Expected | Company Name | Fin. Date |
---
Recent Dividends**

| | | | | |
| --- | --- | --- | --- | --- |
| Share Name | Dec-Date | LDT | Pay-Date | Amount |
| CULLINAN | 23/12/13 | 10/01/14 | 20/01/14 | ZAR 0.0200 |
| ORION | 19/12/13 | 10/01/14 | 20/01/14 | ZAR 0.0012 |
| REX TRUE6% | 13/12/13 | 03/01/14 | 13/01/14 | ZAR 0.0600 |
| AF-OVR 6%PP | 13/12/13 | 03/01/14 | 13/01/14 | ZAR 0.0600 |
| AF-OVR 6%PP | 13/12/13 | 03/01/14 | 13/01/14 | ZAR 0.5400 |

Ex Div**

| | | | | |
| --- | --- | --- | --- | --- |
| Share Name | Dec-Date | LDT | Pay-Date | Amount |
| TFG | 07/11/13 | 24/12/13 | 06/01/14 | ZAR 2.4300 |
| SABVEST | 03/12/13 | 18/12/13 | 30/12/13 | ZAR 1.0000 |
| SABVEST-N | 03/12/13 | 18/12/13 | 30/12/13 | ZAR 1.0000 |
| STANPROP | 02/12/13 | 18/12/13 | 10/01/14 | ZAR 0.8096 |
| STANLIB40 | 02/12/13 | 18/12/13 | 10/01/14 | ZAR 0.1751 |
---
Upcoming AGMs**

| | | | |
| --- | --- | --- | --- |
| Code | Company Name | Date | Status |
---
Stock Exchange News Service
Click here for more SENS news
---