Wednesday, 09 May 2012 - 20:00
Charts
Is there Still Value in Local Retail Shares?
In nominal terms on the first trading day in May, the market moved up to a new high, closing at 34,482. New highs make many investors nervous, but typically they are bullish indicators. It is also interesting to note that this market high was made despite the fact that a large portion of the market – the resource sector – is still down over 35% from their 2008 recent highs. In other words the new market high has been driven by the financial and industrial sectors.
Ultimately business value is dependent on earnings growth, and as a sub sector certain of the general retailers have been exceptionally good at growing their earnings over the last 10 years. The sub-category of general retailer includes well known retail stores such as Cashbuild, Mr Price, Massmart, The Foschini Group, Truworths, Woolies, and Holdsport etc.
The chart below reflects the General Retail index relative to the earnings of this sub sector from 2000, both indexed to 100. Over this period, these companies have managed to grow their earnings by over 13.2% pa compounded. This compares reasonably well to the earnings on the overall market, which over the same time period have grown by a compounded 15%. From this starting point, the share prices have actually lagged earnings growth. However the starting valuations in January 2000 for this sector were expensive with the average PE at around 20.


At times investors become very enthusiastic about certain businesses and are willing to place higher and higher multiples on earnings. This was the case in January 2000 with these shares, and again from around March 2010 as prices relative to historical earnings moved through the 18 time level (i.e. PE above 18). Continuing growth in underlying earnings have, however, been supportive of the higher prices and the February official retail sales growth rate moved up firmly to an annual 7.2%.
While there may be some concern that this rate of retail growth, especially when combined with the high levels of unsecured debt, is not sustainable, a cursory view of some of this sector's recent results and trading updates, gives a sense of generally firm growth:
• Mr Price, in its trading update for the year to March expects headline EPS to increase by between 18% and 23%.
• The Foschini Group will release its annual results to March at the end of May. It is expecting headline earnings per share to be up between 20% and 23%.
• Truworth's interims reflected a 14% gain in headline earnings and it is planning 6% growth in trading space.
• Holdsport, the owner of Sportsman's Warehouse and Outdoor Warehouse announced that its earnings for the year to February should be up around 20%.
• Massmart announced a 44 week sale update to the end of April with total sales growing by 14.7% and comparable store sales growth up 8.9%.
For a number of reasons, this sector continues to attract foreign investors, aided in no small measure by Wal-Mart's acquisition of Massmart. These businesses have proven track records, good management, relatively low levels of government intervention, and a definite emerging market growth theme, making them attractive long term investments.
But as the historical PE moves back again to the 18 times level, more and more investors are pricing in strong growth over the next few years in order to justify these more steamier valuations. Investors should show some restraint.
Kind regards,
Ian de Lange
info@seedinvestments.co.za
www.seedinvestments.co.za
021 9144 966
Wed, 09 May 2012
Top News
South Africa's rand fell nearly two percent to a four-month low against the dollar on Wednesday, the second-weakest performer in a basket of emerging market currencies, as political and economic uncertainty in Europe dented risk appetite globally.

---

Syrian rebels killed at least seven pro-government militiamen in a Damascus suburb on Wednesday, activists said, and an explosion wounded eight soldiers escorting U.N. ceasefire observers in the southern province of Deraa.

A Russian Sukhoi passenger plane with 50 people on board, including businessmen and Russian envoys, went missing during a demonstration flight near a volcano on Indonesia's Java island on Wednesday, officials said.
World Markets (Spot Prices)
| | | | | |
| --- | --- | --- | --- | --- |
| Name | Time | RP | Move | % Move |
| JSE Overall | 17:00 | 33434.04 | -113.73 | -0.34% |
| JSE Top 40 | 17:00 | 29443.83 | -55.66 | -0.19% |
| JSE Gold | 17:00 | 2256.24 | 54.86 | 2.49% |
| JSE Financial | 17:00 | 24959.64 | -163.41 | -0.65% |
| JSE Industrial | 17:00 | 37789.37 | -309.22 | -0.81% |
| JSE Indust 25 | 17:00 | 31762.67 | -228.45 | -0.71% |
| JSE Resource | 17:00 | 47912.55 | 252.84 | 0.53% |
| DJ Futures | 19:52 | 12865.00 | -15.00 | -0.12% |
| DJ Ind | 19:41 | 12906.47 | -25.62 | -0.20% |
| SP 500 | 19:56 | 1362.08 | -1.64 | -0.12% |
| Nasdaq | 19:56 | 2944.90 | -1.37 | -0.05% |
| FTSE 100 | 17:35 | 5530.05 | -24.50 | -0.44% |
| DAX | 18:06 | 6475.31 | 30.57 | 0.47% |
| CAC40 | 18:06 | 3118.65 | -6.15 | -0.20% |
| Nikkei | 08:06 | 9045.06 | -136.59 | -1.49% |
| Shanghai | 09:26 | 2408.59 | -40.30 | -1.65% |
| Hang-Seng | 10:26 | 20330.64 | -154.11 | -0.75% |
| All Ords | 08:45 | 4332.20 | -43.70 | -1.00% |
| NZSE 50 | 07:46 | 3559.47 | 7.41 | 0.21% |

| | | | | |
| --- | --- | --- | --- | --- |
| Name | Time | RP | Move | % Move |
| Gold | 19:59 | 1593.19 | -11.67 | -0.73% |
| Gold/Rand | 19:58 | 12701.71 | 50.85 | 0.40% |
| Gold/R kg | 19:56 | 408296 | 2253 | 0.55% |
| Silver | 19:59 | 29.2400 | -.2000 | -0.68% |
| Platinum | 19:59 | 1500.00 | -7.50 | -0.50% |
| Palladium | 19:59 | 613.00 | -3.20 | -0.52% |
| R157 | 11:16 | 6.54 | .06 | 0.93% |
| R204 | 17:06 | 7.40 | .07 | 0.96% |
| Brent Crude | 19:56 | 112.35 | .97 | 0.87% |
| Rand / Dollar | 19:59 | 7.9737 | 0.0914 | 1.16% |
| Rand / Pound | 19:55 | 12.8428 | 0.1307 | 1.03% |
| Rand / Euro | 19:55 | 10.3367 | 0.0839 | 0.82% |
| Rand / NZD | 19:58 | 6.2712 | 0.0593 | 0.95% |
| Rand / AUD | 19:55 | 8.0420 | 0.0655 | 0.82% |
| Yen / Dollar | 19:59 | 79.6960 | -0.1770 | -0.22% |
| Euro / Dollar | 19:55 | 0.7709 | 0.0020 | 0.26% |
| Dollar / Euro | 19:59 | 1.2965 | -0.0033 | -0.25% |
| Pound / Dollar | 19:55 | 0.6189 | 0.0001 | 0.02% |
Click here for the Sharenet Spot Price page
The JSE Today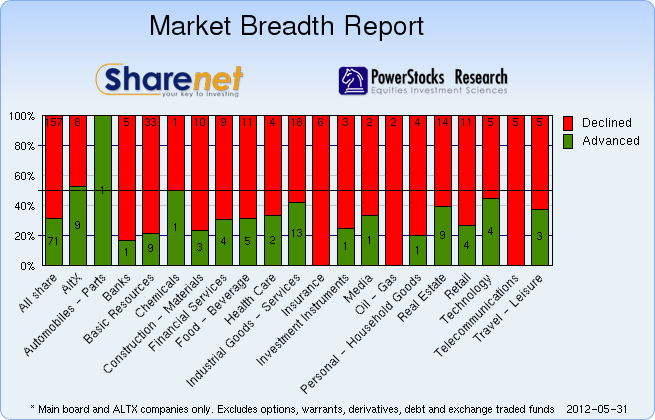 Trading Statistics
| Date | Adv. | Decl. | Unch. | Actives | Volume | Value | Trades | Orders |
| --- | --- | --- | --- | --- | --- | --- | --- | --- |
| 09/05/2012 | 139 | 201 | 89 | 429 | 262,503,829 | R13,794,513,512 | 113334 | 3012661 |
| 08/05/2012 | 103 | 245 | 59 | 407 | 203,038,641 | R11,934,344,994 | 93831 | 2491924 |
| 07/05/2012 | 116 | 221 | 74 | 411 | 194,308,050 | R7,857,551,820 | 74467 | 1843188 |
| 04/05/2012 | 158 | 194 | 74 | 426 | 283,907,945 | R13,907,638,986 | 99738 | 3008486 |
| 03/05/2012 | 159 | 183 | 90 | 432 | 242,777,948 | R13,174,831,712 | 97054 | 2986850 |
* Includes all listed instruments on the JSE
---
---
---
Index Summary
| | | | |
| --- | --- | --- | --- |
| Index Name | RP | Move | % Move |
| Top 40 | 29,443.83 | -55.66 | -0.19% |
| Industrial | 37,789.37 | -309.22 | -0.81% |
| Mid Cap | 48,379.75 | -592.59 | -1.21% |
| Small Cap | 36,010.09 | -38.76 | -0.11% |
| Resource 20 | 47,912.55 | 252.84 | 0.53% |
| Industrial 25 | 31,762.67 | -228.45 | -0.71% |
| Financial 15 | 9,404.35 | -60.76 | -0.64% |
| Financial & Ind. 30 | 35,277.22 | -243.09 | -0.68% |
| All Share | 33,434.04 | -113.73 | -0.34% |
| Oil & Gas | 26,658.63 | 172.53 | 0.65% |
| Mining | 30,876.32 | 169.16 | 0.55% |
| Gold Mining | 2,256.24 | 54.86 | 2.49% |
| Platinum Mining | 53.59 | -.22 | -0.41% |
| GENERAL MINING | 7,945.75 | 27.69 | 0.35% |
| Oil & Gas Producers | 14,333.86 | 92.78 | 0.65% |
| Basic Materials | 26,414.49 | 113.14 | 0.43% |
| Chemicals | 14,879.36 | 1.82 | 0.01% |
| Forestry & Paper | 13,361.67 | -226.00 | -1.66% |
| Industrial Metals | 28,857.06 | -89.25 | -0.31% |
| Industrials | 32,883.23 | -435.10 | -1.31% |
| General Industrials | 89.00 | -1.24 | -1.37% |
| Consumer Goods | 32,776.18 | -148.94 | -0.45% |
| Automobiles & Parts | 5,695.11 | -237.77 | -4.01% |
| Household Goods | 180.75 | -5 | -2.48% |
| Health Care | 42,179.43 | -463.81 | -1.09% |
| Beverages | 108.97 | -.11 | -0.10% |

| | | | |
| --- | --- | --- | --- |
| Index Name | RP | Move | % Move |
| Food Producers | 61,473.50 | -532.97 | -0.86% |
| Personal Goods | 468.62 | -2.80 | -0.59% |
| Consumer Services | 64,985.22 | -982.34 | -1.49% |
| General Retailers | 54,787.57 | -410.31 | -0.74% |
| Travel & Leisure | 3,758.32 | 12.48 | 0.33% |
| Media | 96.36 | -2.29 | -2.32% |
| Support Services | 2,424.59 | 29.53 | 1.23% |
| Telecommunications | 67,083.66 | -137.83 | -0.21% |
| Financials | 24,959.64 | -163.41 | -0.65% |
| Banks | 48,519.69 | -361.57 | -0.74% |
| Non-life Insurance | 41,869.18 | -880.52 | -2.06% |
| Life Insurance | 19,142.94 | -85.47 | -0.44% |
| General Financial | 2,298.14 | -26.35 | -1.13% |
| Technology | 28,465.92 | -141.35 | -0.49% |
| SHARIAH TOP40 | 2,963.86 | 6 | 0.19% |
| FTSE/JSE SHARIAH ALL | 3,089.55 | -0 | -0.01% |
| COAL MINING | 25,460.00 | -571 | -2.19% |
| FTSE JSE Fledgling | 5,406.95 | 4 | 0.07% |
| FTSE/JSE Alt X | 1,201.21 | -18 | -1.46% |
| SA LISTED PROPERTY | 418.20 | | -0.33% |
| CAPPED PROPERTY | 338.22 | | -0.50% |
| RESOURCE | 26,427.87 | 149 | 0.57% |
| DIVIDEND PLUS | 195.16 | -2 | -0.96% |
| FTSE/JSE RAFI 40 | 6,937.27 | -30 | -0.43% |
| Capped Top 40 | 15,539.46 | -34 | -0.22% |
| Capped All Share | 16,912.21 | -59 | -0.34% |
| JSE TABACO | 5,106.95 | 5 | 0.09% |
Click here for the Sharenet Index Summary page
---
Latest Consensus Changes**

| | | | |
| --- | --- | --- | --- |
| Code | Company Name | Status | Updated |
| SLM | SANLAM LIMITED | HOLD | 04 May |
| INL | INVESTEC LIMITED | BUY | 04 May |
| HPA | HOSPITALITY PROP FUND A | BUY | 04 May |
| VPF | VUNANI PROP INV FUND LTD | BUY | 04 May |
| REB | REBOSIS PROPERTY FUND LTD | BUY | 04 May |

Results Expected**

| | | |
| --- | --- | --- |
| Expected | Company Name | Fin. Date |
| 10 May 2012 | AFRIMAT | February 2012 (Final) |
| 10 May 2012 | ANGLD | March 2012 (Q) |
| 10 May 2012 | ANGLD-A | March 2012 (Q) |
| 10 May 2012 | ANGLD-B | March 2012 (Q) |
| 10 May 2012 | ANGLD-E | March 2012 (Q) |
---
Recent Dividends**

| | | | | |
| --- | --- | --- | --- | --- |
| Share Name | Dec-Date | LDT | Pay-Date | Amount |
| SPAR | 12-05-09 | 12-06-01 | 12-06-11 | R 1.5500 |
| ARROWA | 12-05-09 | 12-05-25 | 12-06-04 | R 0.1500 |
| OASIS | 12-05-09 | 12-05-25 | 12-06-04 | R 0.4399 |
| ARROWB | 12-05-09 | 12-05-25 | 12-06-04 | R 0.0968 |
| ALTRON PP | 12-05-07 | 12-06-22 | 12-07-02 | R 0.9200 |

Ex Div**

| | | | | |
| --- | --- | --- | --- | --- |
| Share Name | Dec-Date | LDT | Pay-Date | Amount |
| ASSORE | 12-04-16 | 12-05-04 | 12-05-21 | R 2.5000 |
| CIPLAMED | 12-03-15 | 12-05-04 | 12-05-14 | R 0.0750 |
| CBH | 12-02-21 | 12-05-04 | 12-05-14 | R 0.0598 |
| DIGICORE | 12-02-21 | 12-05-04 | 12-05-14 | R 0.0300 |
---
Upcoming AGMs**

| | | | |
| --- | --- | --- | --- |
| Code | Company Name | Date | Status |
| AND | Andulela Investment Holdings Ltd. | 10/05/2012 | Unconfirmed |
| ANGE | AngloGold Ashanti Ltd. | 10/05/2012 | Confirmed |
| ANGB | AngloGold Ashanti Ltd. | 10/05/2012 | Confirmed |
| ANG | AngloGold Ashanti Ltd. | 10/05/2012 | Confirmed |
| ANGA | AngloGold Ashanti Ltd. | 10/05/2012 | Confirmed |
---
Stock Exchange News Service
Click here for more SENS news
---