Monday, 26 March 2012 - 20:00
Charts
Top News
South Africa's rand and bonds firmed on Monday against the dollar on the back of Federal Reserve Chairman Ben Bernanke's dovish comments, triggering a large sell-off from the greenback against most emerging market currencies.

---

A major quake hit central Chile on Sunday, rattling buildings and temporarily triggering a coastal evacuation on fears of a tsunami, but there was no serious damage and big mines in the world's top copper producer were operating normally.

U.S. President Barack Obama vowed on Monday to pursue further nuclear arms cuts with Russia, saying the United States has more warheads than necessary, and issued stern warnings to North Korea and Iran in their nuclear standoffs with the West.
World Markets (Spot Prices)
| | | | | |
| --- | --- | --- | --- | --- |
| Name | Time | RP | Move | % Move |
| JSE Overall | 17:00 | 33664.46 | 92.39 | 0.28% |
| JSE Top 40 | 17:00 | 29796.56 | 79.63 | 0.27% |
| JSE Gold | 17:00 | 2450.15 | -14.50 | -0.59% |
| JSE Financial | 17:00 | 24666.63 | 83.35 | 0.34% |
| JSE Industrial | 17:00 | 37372.06 | 146.56 | 0.39% |
| JSE Indust 25 | 17:00 | 31346.06 | 136.70 | 0.44% |
| JSE Resource | 17:00 | 49982.38 | 39.64 | 0.08% |
| DJ Futures | 18:46 | 13125.00 | 93.00 | 0.71% |
| DJ Ind | 19:41 | 13207.80 | 127.07 | 0.97% |
| SP 500 | 19:56 | 1411.18 | 14.07 | 1.01% |
| Nasdaq | 19:56 | 3110.85 | 42.93 | 1.40% |
| FTSE 100 | 17:35 | 5902.70 | 47.81 | 0.82% |
| DAX | 18:06 | 7079.23 | 83.61 | 1.20% |
| CAC40 | 18:06 | 3501.98 | 25.80 | 0.74% |
| Nikkei | 08:26 | 10018.24 | 6.77 | 0.07% |
| Shanghai | 09:26 | 2350.60 | 1.06 | 0.05% |
| Hang-Seng | 10:26 | 20668.86 | .06 | 0.00% |
| All Ords | 07:38 | 4355.20 | -5.50 | -0.13% |
| NZSE 50 | 06:46 | 3471.92 | 22.62 | 0.66% |

| | | | | |
| --- | --- | --- | --- | --- |
| Name | Time | RP | Move | % Move |
| Gold | 19:59 | 1685.40 | 23.31 | 1.40% |
| Gold/Rand | 19:58 | 12777.17 | 7.06 | 0.06% |
| Gold/R kg | 19:56 | 410711 | -32 | -0.01% |
| Silver | 19:59 | 32.7680 | .5840 | 1.81% |
| Platinum | 19:59 | 1643.70 | 23.20 | 1.43% |
| Palladium | 19:59 | 665.30 | 11.30 | 1.73% |
| R157 | 17:06 | 6.74 | -.08 | -1.17% |
| R204 | 17:06 | 7.62 | -.08 | -1.04% |
| Brent Crude | 19:56 | 126.00 | -.24 | -0.19% |
| Rand / Dollar | 19:59 | 7.5809 | -0.1018 | -1.33% |
| Rand / Pound | 19:55 | 12.0599 | -0.1121 | -0.92% |
| Rand / Euro | 19:55 | 10.1079 | -0.0937 | -0.92% |
| Rand / NZD | 19:58 | 6.2272 | -0.0562 | -0.89% |
| Rand / AUD | 19:55 | 7.9760 | -0.0753 | -0.94% |
| Yen / Dollar | 19:58 | 82.8390 | 0.4060 | 0.49% |
| Euro / Dollar | 19:55 | 0.7498 | -0.0035 | -0.46% |
| Dollar / Euro | 19:59 | 1.3331 | 0.0064 | 0.48% |
| Pound / Dollar | 19:55 | 0.6268 | -0.0029 | -0.46% |
Click here for the Sharenet Spot Price page
The JSE Today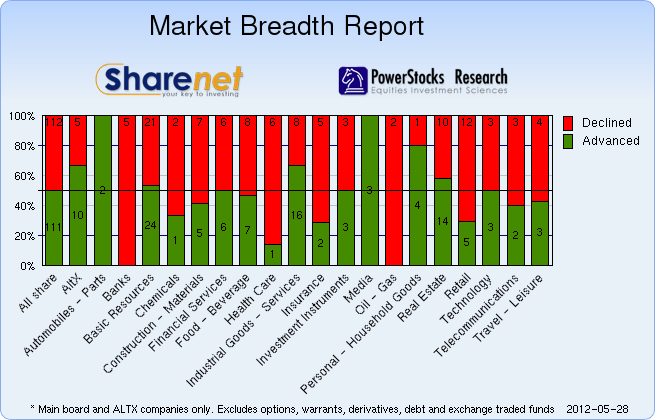 Trading Statistics
| Date | Adv. | Decl. | Unch. | Actives | Volume | Value | Trades | Orders |
| --- | --- | --- | --- | --- | --- | --- | --- | --- |
| 26/03/2012 | 194 | 160 | 76 | 430 | 218,597,092 | R12,294,681,589 | 93389 | 2576901 |
| 23/03/2012 | 153 | 170 | 88 | 411 | 254,168,259 | R14,659,274,057 | 98272 | 2336760 |
| 22/03/2012 | 122 | 220 | 74 | 416 | 293,769,839 | R20,975,245,844 | 138858 | 2522530 |
| 20/03/2012 | 147 | 201 | 71 | 419 | 320,376,263 | R16,326,238,750 | 108234 | 2366351 |
| 19/03/2012 | 136 | 191 | 76 | 403 | 217,505,223 | R10,705,215,921 | 82496 | 1813299 |
* Includes all listed instruments on the JSE
---
---
---
Index Summary
| | | | |
| --- | --- | --- | --- |
| Index Name | RP | Move | % Move |
| Top 40 | 29,796.56 | 79.63 | 0.27% |
| Industrial | 37,372.06 | 146.56 | 0.39% |
| Mid Cap | 47,458.74 | 181.81 | 0.38% |
| Small Cap | 35,820.82 | -33.69 | -0.09% |
| Resource 20 | 49,982.38 | 39.64 | 0.08% |
| Industrial 25 | 31,346.06 | 136.70 | 0.44% |
| Financial 15 | 9,331.98 | 26.93 | 0.29% |
| Financial & Ind. 30 | 34,939.04 | 138.14 | 0.40% |
| All Share | 33,664.46 | 92.39 | 0.28% |
| Oil & Gas | 28,240.99 | 385.18 | 1.38% |
| Mining | 32,197.42 | -50.49 | -0.16% |
| Gold Mining | 2,450.15 | -14.50 | -0.59% |
| Platinum Mining | 60.85 | -.09 | -0.15% |
| GENERAL MINING | 8,079.43 | -6.35 | -0.08% |
| Oil & Gas Producers | 15,184.66 | 207.11 | 1.38% |
| Basic Materials | 27,560.93 | 1.47 | 0.01% |
| Chemicals | 15,389.80 | -31.09 | -0.20% |
| Forestry & Paper | 14,363.44 | 359.26 | 2.57% |
| Industrial Metals | 29,896.01 | 442.27 | 1.50% |
| Industrials | 32,494.32 | 117.86 | 0.36% |
| General Industrials | 89,356.22 | 614.74 | 0.69% |
| Consumer Goods | 32,342.98 | 425.83 | 1.33% |
| Automobiles & Parts | 5,117.68 | -90.57 | -1.74% |
| Household Goods | 177.46 | 2 | 1.01% |
| Health Care | 39,830.50 | 488.91 | 1.24% |
| Beverages | 107.09 | 2.19 | 2.09% |

| | | | |
| --- | --- | --- | --- |
| Index Name | RP | Move | % Move |
| Food Producers | 58,663.36 | 174.95 | 0.30% |
| Personal Goods | 474.01 | 3.59 | 0.76% |
| Consumer Services | 63,021.71 | -52.91 | -0.08% |
| General Retailers | 52,643.72 | 484.94 | 0.93% |
| Travel & Leisure | 3,676.95 | -42.72 | -1.15% |
| Media | 93.05 | -1.14 | -1.21% |
| Support Services | 2,476.25 | .00 | 0.00% |
| Telecommunications | 68,114.37 | -1425.89 | -2.05% |
| Financials | 24,666.63 | 83.35 | 0.34% |
| Banks | 46,552.01 | 11.00 | 0.02% |
| Non-life Insurance | 40,580.31 | -510.44 | -1.24% |
| Life Insurance | 19,767.55 | 65.58 | 0.33% |
| General Financial | 2,314.54 | 33.46 | 1.47% |
| Technology | 28,361.54 | -111.52 | -0.39% |
| SHARIAH TOP40 | 3,059.53 | -0 | -0.01% |
| FTSE/JSE SHARIAH ALL | 3,167.89 | 0 | 0.00% |
| COAL MINING | 26,942.58 | 230 | 0.86% |
| FTSE JSE Fledgling | 5,338.80 | 19 | 0.35% |
| FTSE/JSE Alt X | 1,197.01 | -2 | -0.19% |
| SA LISTED PROPERTY | 415.49 | | 0.32% |
| CAPPED PROPERTY | 336.99 | | 0.40% |
| RESOURCE | 27,623.65 | 20 | 0.07% |
| DIVIDEND PLUS | 195.31 | 1 | 0.77% |
| FTSE/JSE RAFI 40 | 7,047.93 | 18 | 0.25% |
| Capped Top 40 | 15,736.16 | 44 | 0.28% |
| Capped All Share | 17,031.42 | 47 | 0.28% |
| JSE TABACO | 4,983.26 | 45 | 0.91% |
Click here for the Sharenet Index Summary page
---
Latest Consensus Changes**

| | | | |
| --- | --- | --- | --- |
| Code | Company Name | Status | Updated |
| ANG | ANGLOGOLD ASHANTI LIMITED | BUY | 22 Mar |
| GFI | GOLD FIELDS LIMITED | SELL | 22 Mar |
| IMP | IMPALA PLATINUM HOLDINGS ... | BUY | 22 Mar |
| HAR | HARMONY GOLD MINING COMPA... | BUY | 22 Mar |
| LHC | LIFE HEALTHCARE GRP HLDG ... | HOLD | 20 Mar |

Results Expected**

| | | |
| --- | --- | --- |
| Expected | Company Name | Fin. Date |
| 27 Mar 2012 | ALERT | December 2011 (Interim) |
| 27 Mar 2012 | HARDWARE | December 2011 (Interim) |
| 27 Mar 2012 | ILIAD | December 2011 (Final) |
| 27 Mar 2012 | ILIADA | December 2011 (Final) |
| 27 Mar 2012 | LONRHO | December 2011 (Final) |
---
Recent Dividends**

| | | | | |
| --- | --- | --- | --- | --- |
| Share Name | Dec-Date | LDT | Pay-Date | Amount |
| METAIR | 12-03-23 | 12-04-13 | 12-04-23 | R 0.7200 |
| PUTPROP | 12-03-23 | 12-04-13 | 12-04-23 | R 0.1500 |
| CASHBIL | 12-03-20 | 12-04-04 | 12-04-16 | R 2.9600 |
| ELBGROUP6 | 12-03-19 | 12-04-13 | 12-04-23 | R 0.0600 |
| ELBGROUP | 12-03-19 | 12-04-13 | 12-04-23 | R 0.1800 |

Ex Div**

| | | | | |
| --- | --- | --- | --- | --- |
| Share Name | Dec-Date | LDT | Pay-Date | Amount |
| ABSABANK-P | 12-02-10 | 12-03-23 | 12-04-02 | R 28.2720 |
| EXXARO | 12-02-23 | 12-03-23 | 12-04-02 | R 5.0000 |
| MTN GROUP | 12-03-07 | 12-03-23 | 12-04-02 | R 4.7600 |
| ABSA | 12-02-10 | 12-03-23 | 12-04-02 | R 3.9200 |
| GRINDROD PREF | 12-02-29 | 12-03-23 | 12-04-02 | R 3.6300 |
---
Upcoming AGMs**

| | | | |
| --- | --- | --- | --- |
| Code | Company Name | Date | Status |
| ZPT | Zaptronix Ltd. | 27/03/2012 | Confirmed |
| REB | Rebosis Property Fund Ltd. | 28/03/2012 | Confirmed |
| RAC | RACEC Group Ltd. | 29/03/2012 | Confirmed |
| MMP | Marshall Monteagle PLC | 29/03/2012 | Confirmed |
| MTE | Marshall Monteagle PLC | 29/03/2012 | Confirmed |
---
Stock Exchange News Service
Click here for more SENS news
---