Monday, 07 May 2012 - 20:00
Charts
Top News
South Africa's inflation trend suggests there is little room for the central bank to cut interest rates at the moment, central bank Governor Gill Marcus said on Monday.

---

Greece plunged into turmoil on Monday after an election which rejected a painful international bailout and left big questions over whether the country could avert bankruptcy and stay in the euro.

Vladimir Putin took the oath as Russia's president on Monday with a ringing appeal for unity at the start of a six-year term in which he faces growing dissent, economic problems and bitter political rivalries.
Company Results
Revenue for the interim period increased to R34.9 million (2011: R28.7 million), while profit attributable to equity holders of the parent fell to R1.9 million (2011: R5.6 million). Furthermore, headline earnings per share lowered to 0.3cps (2011: 1cps). Prospects Ingenuity's core focus remains the conversion of its development properties into income-earning assets and the maximising of value-add opportunities on existing income-earning properties. This year Ingenuity has made grea. . .
World Markets (Spot Prices)
| | | | | |
| --- | --- | --- | --- | --- |
| Name | Time | RP | Move | % Move |
| JSE Overall | 17:00 | 33956.08 | -171.20 | -0.50% |
| JSE Top 40 | 17:00 | 29898.17 | -167.30 | -0.56% |
| JSE Gold | 17:00 | 2218.68 | 1.25 | 0.06% |
| JSE Financial | 17:00 | 25315.24 | -169.23 | -0.66% |
| JSE Industrial | 17:00 | 38549.90 | -88.05 | -0.23% |
| JSE Indust 25 | 17:00 | 32412.46 | -82.94 | -0.26% |
| JSE Resource | 17:00 | 48396.36 | -413.23 | -0.85% |
| DJ Futures | 19:56 | 12983.00 | 26.00 | 0.20% |
| DJ Ind | 19:45 | 13048.18 | 9.91 | 0.08% |
| SP 500 | 20:00 | 1373.80 | 4.70 | 0.34% |
| Nasdaq | 20:00 | 2969.64 | 13.30 | 0.45% |
| FTSE 100 | 04/05 | 5655.06 | -111.49 | -1.93% |
| DAX | 18:06 | 6569.48 | 8.01 | 0.12% |
| CAC40 | 18:06 | 3214.22 | 52.25 | 1.65% |
| Nikkei | 09:06 | 9119.14 | -261.11 | -2.78% |
| Shanghai | 09:26 | 2451.95 | -.07 | -0.00% |
| Hang-Seng | 10:26 | 20536.65 | -549.35 | -2.61% |
| All Ords | 08:46 | 4361.60 | -97.80 | -2.19% |
| NZSE 50 | 07:46 | 3540.13 | -9.65 | -0.27% |

| | | | | |
| --- | --- | --- | --- | --- |
| Name | Time | RP | Move | % Move |
| Gold | 19:59 | 1638.20 | -2.88 | -0.18% |
| Gold/Rand | 20:00 | 12789.10 | 153.39 | 1.21% |
| Gold/R kg | 20:00 | 411170 | -2883 | -0.70% |
| Silver | 19:59 | 30.0240 | -.1560 | -0.52% |
| Platinum | 19:59 | 1525.00 | 8.00 | 0.53% |
| Palladium | 19:58 | 645.10 | .80 | 0.12% |
| R157 | 17:06 | 6.42 | .05 | 0.79% |
| R204 | 12:02 | 7.25 | .06 | 0.83% |
| Brent Crude | 19:56 | 112.80 | .25 | 0.22% |
| Rand / Dollar | 19:59 | 7.8068 | -0.0175 | -0.22% |
| Rand / Pound | 19:55 | 12.6030 | -0.0270 | -0.21% |
| Rand / Euro | 19:55 | 10.1919 | -0.0200 | -0.20% |
| Rand / NZD | 19:58 | 6.2098 | 0.0034 | 0.05% |
| Rand / AUD | 19:55 | 7.9710 | 0.0125 | 0.16% |
| Yen / Dollar | 19:59 | 79.9200 | 0.1880 | 0.24% |
| Euro / Dollar | 19:55 | 0.7654 | -0.0022 | -0.29% |
| Dollar / Euro | 19:58 | 1.3055 | 0.0032 | 0.25% |
| Pound / Dollar | 19:55 | 0.6174 | -0.0015 | -0.24% |
Click here for the Sharenet Spot Price page
The JSE Today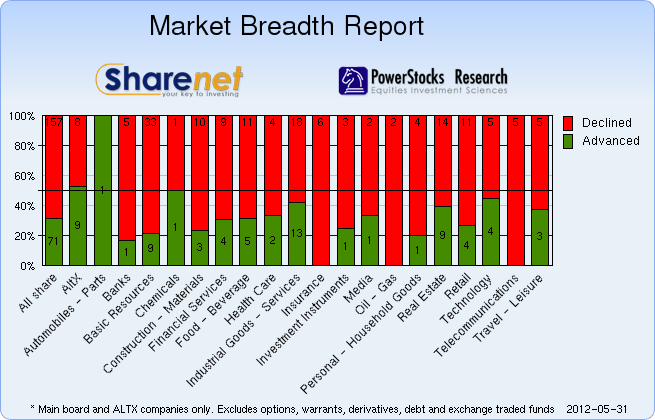 Trading Statistics
| Date | Adv. | Decl. | Unch. | Actives | Volume | Value | Trades | Orders |
| --- | --- | --- | --- | --- | --- | --- | --- | --- |
| 07/05/2012 | 116 | 221 | 74 | 411 | 194,308,050 | R7,857,551,820 | 74467 | 1843188 |
| 04/05/2012 | 158 | 194 | 74 | 426 | 283,907,945 | R13,907,638,986 | 99738 | 3008486 |
| 03/05/2012 | 159 | 183 | 90 | 432 | 242,777,948 | R13,174,831,712 | 97054 | 2986850 |
| 02/05/2012 | 175 | 150 | 94 | 419 | 223,579,915 | R13,619,664,125 | 92838 | 2764027 |
| 30/04/2012 | 189 | 124 | 84 | 397 | 192,333,675 | R10,687,424,678 | 81236 | 2449844 |
* Includes all listed instruments on the JSE
---
---
---
Index Summary
| | | | |
| --- | --- | --- | --- |
| Index Name | RP | Move | % Move |
| Top 40 | 29,898.17 | -167.30 | -0.56% |
| Industrial | 38,549.90 | -88.05 | -0.23% |
| Mid Cap | 49,278.12 | -140.90 | -0.29% |
| Small Cap | 36,197.38 | -6.25 | -0.02% |
| Resource 20 | 48,396.36 | -413.23 | -0.85% |
| Industrial 25 | 32,412.46 | -82.94 | -0.26% |
| Financial 15 | 9,549.98 | -74.76 | -0.78% |
| Financial & Ind. 30 | 35,959.82 | -140.94 | -0.39% |
| All Share | 33,956.08 | -171.20 | -0.50% |
| Oil & Gas | 26,805.44 | -361.73 | -1.33% |
| Mining | 31,205.26 | -222.24 | -0.71% |
| Gold Mining | 2,218.68 | 1.25 | 0.06% |
| Platinum Mining | 55.42 | -.23 | -0.41% |
| GENERAL MINING | 8,037.25 | -75.67 | -0.93% |
| Oil & Gas Producers | 14,412.79 | -194.49 | -1.33% |
| Basic Materials | 26,732.51 | -188.52 | -0.70% |
| Chemicals | 14,933.90 | -80.73 | -0.54% |
| Forestry & Paper | 13,743.51 | -88.33 | -0.64% |
| Industrial Metals | 29,740.47 | -197.66 | -0.66% |
| Industrials | 33,783.33 | -35.16 | -0.10% |
| General Industrials | 91.88 | -.26 | -0.28% |
| Consumer Goods | 33,153.10 | -5.38 | -0.02% |
| Automobiles & Parts | 6,077.81 | -2.26 | -0.04% |
| Household Goods | 187.12 | 4 | 2.05% |
| Health Care | 42,890.80 | -21.92 | -0.05% |
| Beverages | 109.21 | -.54 | -0.49% |

| | | | |
| --- | --- | --- | --- |
| Index Name | RP | Move | % Move |
| Food Producers | 62,266.51 | -179.41 | -0.29% |
| Personal Goods | 478.81 | 1.60 | 0.34% |
| Consumer Services | 67,356.05 | -411.25 | -0.61% |
| General Retailers | 55,975.26 | -409.35 | -0.73% |
| Travel & Leisure | 3,722.14 | -25.18 | -0.67% |
| Media | 102.44 | -.55 | -0.53% |
| Support Services | 2,424.03 | 24.62 | 1.03% |
| Telecommunications | 67,814.02 | -152.43 | -0.22% |
| Financials | 25,315.24 | -169.23 | -0.66% |
| Banks | 49,261.40 | -401.11 | -0.81% |
| Non-life Insurance | 43,158.05 | -229.70 | -0.53% |
| Life Insurance | 19,474.54 | -113.06 | -0.58% |
| General Financial | 2,357.74 | -6.01 | -0.25% |
| Technology | 28,689.05 | 26.25 | 0.09% |
| SHARIAH TOP40 | 3,001.45 | -16 | -0.54% |
| FTSE/JSE SHARIAH ALL | 3,131.73 | -15 | -0.48% |
| COAL MINING | 27,134.08 | -155 | -0.57% |
| FTSE JSE Fledgling | 5,421.97 | -15 | -0.28% |
| FTSE/JSE Alt X | 1,274.11 | 29 | 2.34% |
| SA LISTED PROPERTY | 420.00 | | -0.68% |
| CAPPED PROPERTY | 339.12 | | -0.48% |
| RESOURCE | 26,689.22 | -215 | -0.80% |
| DIVIDEND PLUS | 199.03 | -1 | -0.61% |
| FTSE/JSE RAFI 40 | 7,052.64 | -38 | -0.53% |
| Capped Top 40 | 15,783.19 | -86 | -0.54% |
| Capped All Share | 17,177.12 | -86 | -0.50% |
| JSE TABACO | 5,149.63 | 17 | 0.34% |
Click here for the Sharenet Index Summary page
---
Latest Consensus Changes**

| | | | |
| --- | --- | --- | --- |
| Code | Company Name | Status | Updated |
| INL | INVESTEC LIMITED | BUY | 03 May |
| HPA | HOSPITALITY PROP FUND A | BUY | 03 May |
| VPF | VUNANI PROP INV FUND LTD | BUY | 03 May |
| REB | REBOSIS PROPERTY FUND LTD | BUY | 03 May |
| CPI | CAPITEC | BUY | 03 May |

Results Expected**

| | | |
| --- | --- | --- |
| Expected | Company Name | Fin. Date |
| 08 May 2012 | ALTRON | February 2012 (Final) |
| 08 May 2012 | ALTRON PP | February 2012 (Final) |
| 09 May 2012 | EASTPLATS | March 2012 (Q) |
| 09 May 2012 | EHSV | March 2012 (Q) |
| 09 May 2012 | HARMONY | March 2012 (Q) |
---
Recent Dividends**

| | | | | |
| --- | --- | --- | --- | --- |
| Share Name | Dec-Date | LDT | Pay-Date | Amount |
| REDEFINE | 12-05-03 | 12-05-18 | 12-05-28 | R 0.3150 |
| REDEFINTL | 12-04-30 | 12-05-18 | 12-05-28 | R 0.0209 |
| HOSP-A | 12-04-30 | 12-05-18 | 12-05-28 | R 0.6334 |
| HOSP-B | 12-04-30 | 12-05-18 | 12-05-28 | R 0.0791 |
| CLICKS | 12-04-26 | 12-06-22 | 12-07-02 | R 0.4410 |

Ex Div**

| | | | | |
| --- | --- | --- | --- | --- |
| Share Name | Dec-Date | LDT | Pay-Date | Amount |
| ASSORE | 12-04-16 | 12-05-04 | 12-05-21 | R 2.5000 |
| CIPLAMED | 12-03-15 | 12-05-04 | 12-05-14 | R 0.0750 |
| CBH | 12-02-21 | 12-05-04 | 12-05-14 | R 0.0598 |
| DIGICORE | 12-02-21 | 12-05-04 | 12-05-14 | R 0.0300 |
---
Upcoming AGMs**

| | | | |
| --- | --- | --- | --- |
| Code | Company Name | Date | Status |
| BEL | Bell Equipment Ltd. | 07/05/2012 | Confirmed |
| HULB | Hulamin Ltd. | 07/05/2012 | Confirmed |
| HULA | Hulamin Ltd. | 07/05/2012 | Confirmed |
| HLM | Hulamin Ltd. | 07/05/2012 | Confirmed |
| IFH | IFA Hotels - Resorts Ltd. | 08/05/2012 | Confirmed |
---
Stock Exchange News Service
Click here for more SENS news
---