Monday, 19 March 2012 - 20:00
Charts
Top News
South Africa's rand edged firmer against the dollar on Monday after central bank data showed the current account deficit unexpectedly narrowed in the fourth quarter of last year, and in line with a stronger euro.

---

Apple pushed U.S. stock indexes higher o n M onday after it announced regular dividends and stock buy-backs, but investors awaited more evidence of an economic recovery to resume a broad rally that has driven world stocks to a near eight-month high.

A gunman on a motorbike shot dead at least four people, including three children, at a Jewish school in Toulouse on Monday, just days after three soldiers were killed in similar shootings in the same area of southwest France.
World Markets (Spot Prices)
| | | | | |
| --- | --- | --- | --- | --- |
| Name | Time | RP | Move | % Move |
| JSE Overall | 17:00 | 34214.07 | -7.55 | -0.02% |
| JSE Top 40 | 17:00 | 30395.53 | -2.76 | -0.01% |
| JSE Gold | 17:00 | 2439.36 | -17.94 | -0.73% |
| JSE Financial | 17:00 | 24829.70 | -48.93 | -0.20% |
| JSE Industrial | 17:00 | 37636.78 | -61.03 | -0.16% |
| JSE Indust 25 | 17:00 | 31620.08 | -39.28 | -0.12% |
| JSE Resource | 17:00 | 51832.68 | 153.11 | 0.30% |
| DJ Futures | 19:56 | 13200.00 | 37.00 | 0.28% |
| DJ Ind | 19:45 | 13265.62 | 33.00 | 0.25% |
| SP 500 | 20:00 | 1413.31 | 9.14 | 0.65% |
| Nasdaq | 20:00 | 3084.05 | 28.79 | 0.94% |
| FTSE 100 | 18:35 | 5961.11 | -4.47 | -0.07% |
| DAX | 19:06 | 7154.22 | -3.60 | -0.05% |
| CAC40 | 19:06 | 3577.88 | -16.95 | -0.47% |
| Nikkei | 08:06 | 10141.99 | 12.16 | 0.12% |
| Shanghai | 09:26 | 2410.18 | 5.45 | 0.23% |
| Hang-Seng | 10:28 | 21115.29 | -202.56 | -0.95% |
| All Ords | 07:44 | 4381.20 | 16.50 | 0.38% |
| NZSE 50 | 06:46 | 3485.97 | -19.05 | -0.54% |

| | | | | |
| --- | --- | --- | --- | --- |
| Name | Time | RP | Move | % Move |
| Gold | 19:59 | 1664.40 | 5.37 | 0.32% |
| Gold/Rand | 20:00 | 12509.13 | -39.28 | -0.31% |
| Gold/R kg | 20:00 | 402169 | -1263 | -0.31% |
| Silver | 19:59 | 32.9160 | .3770 | 1.16% |
| Platinum | 19:59 | 1670.03 | -1.97 | -0.12% |
| Palladium | 19:59 | 702.58 | 6.28 | 0.90% |
| R157 | 17:06 | 6.84 | .01 | 0.15% |
| R204 | 17:06 | 7.71 | .02 | 0.19% |
| Brent Crude | 19:56 | 125.52 | .41 | 0.33% |
| Rand / Dollar | 19:59 | 7.5157 | -0.0515 | -0.68% |
| Rand / Pound | 19:55 | 11.9289 | -0.0346 | -0.29% |
| Rand / Euro | 19:55 | 9.9600 | -0.0193 | -0.19% |
| Rand / NZD | 18/03 | 6.2461 | 0.0123 | 0.00% |
| Rand / AUD | 19:55 | 7.9928 | -0.0337 | -0.42% |
| Yen / Dollar | 19:59 | 83.3900 | 0.0460 | 0.06% |
| Euro / Dollar | 19:55 | 0.7548 | -0.0035 | -0.46% |
| Dollar / Euro | 19:59 | 1.3243 | 0.0068 | 0.52% |
| Pound / Dollar | 19:55 | 0.6286 | -0.0020 | -0.32% |
Click here for the Sharenet Spot Price page
The JSE Today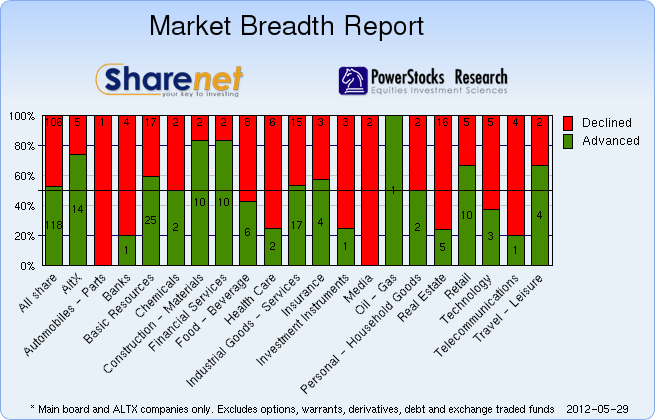 Trading Statistics
| Date | Adv. | Decl. | Unch. | Actives | Volume | Value | Trades | Orders |
| --- | --- | --- | --- | --- | --- | --- | --- | --- |
| 19/03/2012 | 136 | 191 | 76 | 403 | 217,505,223 | R10,705,215,921 | 82496 | 1813299 |
| 16/03/2012 | 171 | 195 | 52 | 418 | 346,257,724 | R18,500,235,126 | 99503 | 2378395 |
| 15/03/2012 | 136 | 214 | 75 | 425 | 365,887,884 | R25,512,678,837 | 183171 | 2671292 |
| 14/03/2012 | 250 | 117 | 68 | 435 | 380,934,505 | R22,163,507,388 | 130964 | 2383594 |
| 13/03/2012 | 228 | 117 | 68 | 413 | 254,846,329 | R16,348,900,948 | 107465 | 2137011 |
* Includes all listed instruments on the JSE
---
---
---
Index Summary
| | | | |
| --- | --- | --- | --- |
| Index Name | RP | Move | % Move |
| Top 40 | 30,395.53 | -2.76 | -0.01% |
| Industrial | 37,636.78 | -61.03 | -0.16% |
| Mid Cap | 47,378.56 | -113.15 | -0.24% |
| Small Cap | 35,705.62 | 267.27 | 0.75% |
| Resource 20 | 51,832.68 | 153.11 | 0.30% |
| Industrial 25 | 31,620.08 | -39.28 | -0.12% |
| Financial 15 | 9,420.28 | -29.98 | -0.32% |
| Financial & Ind. 30 | 35,285.81 | -79.97 | -0.23% |
| All Share | 34,214.07 | -7.55 | -0.02% |
| Oil & Gas | 28,637.52 | 32.54 | 0.11% |
| Mining | 33,449.21 | 100.15 | 0.30% |
| Gold Mining | 2,439.36 | -17.94 | -0.73% |
| Platinum Mining | 61.07 | .16 | 0.26% |
| GENERAL MINING | 8,534.58 | 48.54 | 0.57% |
| Oil & Gas Producers | 15,397.87 | 17.50 | 0.11% |
| Basic Materials | 28,579.07 | 70.25 | 0.25% |
| Chemicals | 15,390.09 | 21.52 | 0.14% |
| Forestry & Paper | 14,322.52 | -57.86 | -0.40% |
| Industrial Metals | 31,074.85 | -104.30 | -0.33% |
| Industrials | 32,427.27 | -206.47 | -0.63% |
| General Industrials | 89,119.37 | -502.56 | -0.56% |
| Consumer Goods | 32,547.50 | -61.10 | -0.19% |
| Automobiles & Parts | 5,235.43 | -11.32 | -0.22% |
| Household Goods | 180.15 | 0 | 0.22% |
| Health Care | 39,573.07 | -126.93 | -0.32% |
| Beverages | 107.06 | .29 | 0.27% |

| | | | |
| --- | --- | --- | --- |
| Index Name | RP | Move | % Move |
| Food Producers | 58,961.67 | 244.20 | 0.42% |
| Personal Goods | 483.10 | -6.39 | -1.31% |
| Consumer Services | 63,462.20 | 10.32 | 0.02% |
| General Retailers | 52,386.65 | 189.59 | 0.36% |
| Travel & Leisure | 3,733.38 | -5.58 | -0.15% |
| Media | 92.66 | -.62 | -0.66% |
| Support Services | 2,504.23 | 13.99 | 0.56% |
| Telecommunications | 69,327.31 | 88.60 | 0.13% |
| Financials | 24,829.70 | -48.93 | -0.20% |
| Banks | 46,999.42 | -445.25 | -0.94% |
| Non-life Insurance | 40,784.49 | 204.18 | 0.50% |
| Life Insurance | 20,025.78 | 123.40 | 0.62% |
| General Financial | 2,328.26 | -9.19 | -0.39% |
| Technology | 28,337.35 | 297.67 | 1.06% |
| SHARIAH TOP40 | 3,148.37 | 2 | 0.07% |
| FTSE/JSE SHARIAH ALL | 3,247.16 | -0 | -0.01% |
| COAL MINING | 27,802.46 | -158 | -0.57% |
| FTSE JSE Fledgling | 5,317.45 | 4 | 0.08% |
| FTSE/JSE Alt X | 1,218.74 | -3 | -0.26% |
| SA LISTED PROPERTY | 413.51 | | 0.34% |
| CAPPED PROPERTY | 337.21 | | 0.06% |
| RESOURCE | 28,594.36 | 78 | 0.27% |
| DIVIDEND PLUS | 196.51 | -0 | -0.19% |
| FTSE/JSE RAFI 40 | 7,175.97 | -8 | -0.11% |
| Capped Top 40 | 16,031.35 | -6 | -0.04% |
| Capped All Share | 17,305.69 | -5 | -0.03% |
| JSE TABACO | 4,955.40 | 13 | 0.27% |
Click here for the Sharenet Index Summary page
---
Latest Consensus Changes**

| | | | |
| --- | --- | --- | --- |
| Code | Company Name | Status | Updated |
| VPF | VUNANI PROP INV FUND LTD | BUY | 15 Mar |
| REB | REBOSIS PROPERTY FUND LTD | BUY | 15 Mar |
| CPI | CAPITEC | BUY | 15 Mar |
| VKE | VUKILE PROPERTY FUND LIMI... | BUY | 15 Mar |
| FFA | FORTRESS INCOME FUND LTD | BUY | 15 Mar |

Results Expected**

| | | |
| --- | --- | --- |
| Expected | Company Name | Fin. Date |
| 20 Mar 2012 | CASHBIL | December 2011 (Interim) |
| 20 Mar 2012 | WORKFORCE | December 2011 (Final) |
| 21 Mar 2012 | 1TIME | December 2011 (Final) |
| 21 Mar 2012 | ARROWA | September 2011 (Final) |
| 21 Mar 2012 | ARROWB | September 2011 (Final) |
---
Recent Dividends**

| | | | | |
| --- | --- | --- | --- | --- |
| Share Name | Dec-Date | LDT | Pay-Date | Amount |
| ELBGROUP6 | 12-03-19 | 12-04-13 | 12-04-23 | R 0.0600 |
| ELBGROUP | 12-03-19 | 12-04-13 | 12-04-23 | R 0.1800 |
| VUKILE | 12-03-16 | 12-04-04 | 12-04-16 | R 0.7050 |
| O-LINE | 12-03-16 | 12-03-29 | 12-04-10 | R 0.0300 |
| CULLINAN | 12-03-16 | 12-04-13 | 12-04-23 | R 0.0100 |

Ex Div**

| | | | | |
| --- | --- | --- | --- | --- |
| Share Name | Dec-Date | LDT | Pay-Date | Amount |
| SANTAM | 12-02-28 | 12-03-15 | 12-03-26 | R 8.5000 |
| SANTAM | 12-02-28 | 12-03-15 | 12-03-26 | R 3.5500 |
| IMPERIALP | 12-02-22 | 12-03-15 | 12-03-26 | R 3.3843 |
| CAPITEC-P | 12-02-29 | 12-03-15 | 12-03-26 | R 3.3658 |
| PSGFIN PREF | 12-02-29 | 12-03-15 | 12-03-26 | R 3.3473 |
---
Upcoming AGMs**

| | | | |
| --- | --- | --- | --- |
| Code | Company Name | Date | Status |
| SDH | SecureData Holdings Ltd. | 20/03/2012 | Confirmed |
| HDC | Hudaco Industries Ltd. | 22/03/2012 | Confirmed |
---
Stock Exchange News Service
Click here for more SENS news
---