Tuesday, 06 March 2012 - 20:00
Charts
S.Africa bond yields at 1 month highs, rand drags prices
By Xola Potelwa
JOHANNESBURG (Reuters) - The rand fell against the dollar on Tuesday, reflecting weakness in emerging market currencies as investors fret about the euro zone debt crisis and global growth, driving government bond yields to one-month highs even after a strong debt auction.
The short to medium term outlook for the currency and bonds was seen as positive, however, as carry trades are expected to support the high-yielding rand while March bond coupon payments should find their way back to cushion the debt market.
The government benchmark 2015 bond yield added 3 basis points to 6.71 percent while the 2026 yield climbed 2.5 basis points to 8.315 percent, levels last seen towards the end of January.
"Euro weakness and subsequent rand weakness has pushed yields to three-week highs, (however) March is a big coupon month which should support in the weeks ahead," said Steve Arnold, a bond trader at Investec Bank.
Yields on government bonds sold at auction earlier on Tuesday fell after the sale as secondary market demand pushed prices higher, especially on the 2021 bond, which attracted bids worth four times the amount of debt on offer.
"Seen in the context of a relatively quiet market, the strong result is quite positive. We believe fiscal data has supported a bond-bullish view, though it has not really come through in general price action yet," Leon Myburgh, sub-Sahara strategist at Citi bank in Johannesburg, said in a note.
The 2021 bond held on to some of those gains at the official close, while the 2018 and 2041 bonds ended steady.
The rand was down 1.22 percent on the dollar to 7.6475, and was the third worst performer in a basket of 20 emerging market currencies tracked by Reuters at 1530 GMT. It closed at 7.5550 in New York on Monday.
Investors are looking to early morning data on Wednesday to see if the central bank has upped its reserves accumulation, which was boosted in January by flows from an international bond sale. The reserves data is due at 0600 GMT.
Tue, 06 Mar 2012
Top News
Miners such as Lonmin were felled by a slide in metal prices and led South African shares lower on Tuesday, with blue chips posting their biggest one-day loss in over 3 months.

---

India's Rahul Gandhi failed spectacularly to deliver a promised comeback for his Congress party in crucial state elections, casting fresh doubt on his capacity to become the next member of a storied dynasty to lead the country.

Searching through piles of bodies after Japan's March 11 tsunami, Kenji Sato was struck by the thought -- he could easily have been one of them, had it not been for his son born earlier that day.
World Markets (Spot Prices)
| | | | | |
| --- | --- | --- | --- | --- |
| Name | Time | RP | Move | % Move |
| JSE Overall | 17:00 | 33387.04 | -644.73 | -1.89% |
| JSE Top 40 | 17:00 | 29612.31 | -624.47 | -2.07% |
| JSE Gold | 17:00 | 2547.64 | -58.67 | -2.25% |
| JSE Financial | 17:00 | 24223.63 | -482.03 | -1.95% |
| JSE Industrial | 17:00 | 36511.08 | -498.88 | -1.35% |
| JSE Indust 25 | 17:00 | 30621.49 | -455.20 | -1.46% |
| JSE Resource | 17:00 | 50881.33 | -1371.20 | -2.62% |
| DJ Futures | 20:00 | 12755.00 | -204.00 | -1.57% |
| DJ Ind | 19:45 | 12763.39 | -199.42 | -1.54% |
| SP 500 | 20:00 | 1343.53 | -20.80 | -1.52% |
| Nasdaq | 20:00 | 2907.68 | -42.80 | -1.45% |
| FTSE 100 | 18:35 | 5765.80 | -109.02 | -1.86% |
| DAX | 19:06 | 6633.11 | -233.35 | -3.40% |
| CAC40 | 19:06 | 3362.56 | -124.98 | -3.58% |
| Nikkei | 08:26 | 9637.63 | -60.96 | -0.63% |
| Shanghai | 09:46 | 2410.45 | -34.56 | -1.41% |
| Hang-Seng | 10:46 | 20806.25 | -459.06 | -2.16% |
| All Ords | 07:38 | 4295.50 | -58.70 | -1.35% |
| NZSE 50 | 06:46 | 3401.83 | 13.99 | 0.41% |

| | | | | |
| --- | --- | --- | --- | --- |
| Name | Time | RP | Move | % Move |
| Gold | 19:59 | 1666.94 | -39.65 | -2.32% |
| Gold/Rand | 20:00 | 12763.26 | -144.17 | -1.12% |
| Gold/R kg | 20:00 | 410339 | -3553 | -0.86% |
| Silver | 19:59 | 32.5540 | -1.4510 | -4.27% |
| Platinum | 19:59 | 1603.15 | -58.35 | -3.51% |
| Palladium | 19:59 | 666.70 | -34.30 | -4.89% |
| R157 | 17:06 | 6.71 | .03 | 0.45% |
| R204 | 17:06 | 7.58 | .01 | 0.13% |
| Brent Crude | 19:56 | 122.55 | -1.53 | -1.23% |
| Rand / Dollar | 19:59 | 7.6567 | 0.1148 | 1.52% |
| Rand / Pound | 19:55 | 11.9953 | 0.0474 | 0.40% |
| Rand / Euro | 19:55 | 10.0402 | 0.0576 | 0.58% |
| Rand / NZD | 19:58 | 6.2107 | 0.0171 | 0.28% |
| Rand / AUD | 19:55 | 8.0710 | 0.0085 | 0.11% |
| Yen / Dollar | 19:59 | 80.6550 | -0.8570 | -1.05% |
| Euro / Dollar | 19:55 | 0.7622 | 0.0058 | 0.77% |
| Dollar / Euro | 19:59 | 1.3113 | -0.0101 | -0.77% |
| Pound / Dollar | 19:55 | 0.6363 | 0.0061 | 0.97% |
Click here for the Sharenet Spot Price page
The JSE Today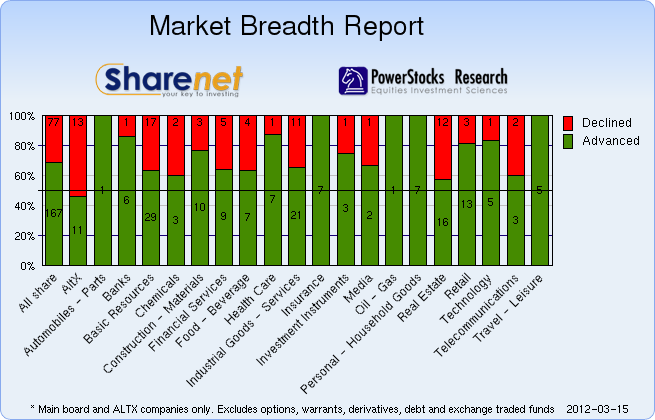 Trading Statistics
| Date | Adv. | Decl. | Unch. | Actives | Volume | Value | Trades | Orders |
| --- | --- | --- | --- | --- | --- | --- | --- | --- |
| 06/03/2012 | 87 | 267 | 66 | 420 | 280,646,722 | R15,125,479,596 | 106442 | 2189355 |
| 05/03/2012 | 169 | 189 | 81 | 439 | 195,533,091 | R10,001,326,627 | 77993 | 2234758 |
| 02/03/2012 | 163 | 183 | 70 | 416 | 295,751,073 | R12,536,138,390 | 96929 | 2363212 |
| 01/03/2012 | 179 | 166 | 74 | 419 | 271,385,725 | R13,010,101,703 | 103845 | 2663127 |
| 29/02/2012 | 184 | 168 | 86 | 438 | 354,539,089 | R17,174,701,962 | 117157 | 2328994 |
* Includes all listed instruments on the JSE
---
---
---
Index Summary
| | | | |
| --- | --- | --- | --- |
| Index Name | RP | Move | % Move |
| Top 40 | 29,612.31 | -624.47 | -2.07% |
| Industrial | 36,511.08 | -498.88 | -1.35% |
| Mid Cap | 46,651.82 | -535.67 | -1.14% |
| Small Cap | 34,934.84 | -202.22 | -0.58% |
| Resource 20 | 50,881.33 | -1371.20 | -2.62% |
| Industrial 25 | 30,621.49 | -455.20 | -1.46% |
| Financial 15 | 9,168.08 | -203.73 | -2.17% |
| Financial & Ind. 30 | 34,191.21 | -588.37 | -1.69% |
| All Share | 33,387.04 | -644.73 | -1.89% |
| Oil & Gas | 29,815.78 | -681.07 | -2.23% |
| Mining | 32,571.89 | -884.88 | -2.64% |
| Gold Mining | 2,547.64 | -58.67 | -2.25% |
| Platinum Mining | 60.61 | -1.81 | -2.90% |
| GENERAL MINING | 8,137.74 | -226.74 | -2.71% |
| Oil & Gas Producers | 16,031.39 | -366.20 | -2.23% |
| Basic Materials | 27,880.25 | -740.88 | -2.59% |
| Chemicals | 15,237.55 | -28.20 | -0.18% |
| Forestry & Paper | 13,673.20 | -248.95 | -1.79% |
| Industrial Metals | 31,750.53 | -887.20 | -2.72% |
| Industrials | 31,530.18 | -437.34 | -1.37% |
| General Industrials | 87,048.33 | -1590.55 | -1.79% |
| Consumer Goods | 31,410.46 | -466.01 | -1.46% |
| Automobiles & Parts | 4,929.73 | -13.58 | -0.27% |
| Household Goods | 173.12 | -3 | -1.90% |
| Health Care | 38,239.64 | -145.76 | -0.38% |
| Beverages | 105.10 | -1.35 | -1.27% |

| | | | |
| --- | --- | --- | --- |
| Index Name | RP | Move | % Move |
| Food Producers | 58,336.91 | -329.60 | -0.56% |
| Personal Goods | 449.44 | -11.79 | -2.56% |
| Consumer Services | 61,748.91 | -1053.01 | -1.68% |
| General Retailers | 51,971.71 | -817.53 | -1.55% |
| Travel & Leisure | 3,689.23 | -16.93 | -0.46% |
| Media | 87.83 | -2.49 | -2.76% |
| Support Services | 2,475.56 | 63.87 | 2.65% |
| Telecommunications | 67,142.25 | -395.94 | -0.59% |
| Financials | 24,223.63 | -482.03 | -1.95% |
| Banks | 45,772.27 | -771.79 | -1.66% |
| Non-life Insurance | 40,008.58 | -1069.38 | -2.60% |
| Life Insurance | 19,119.92 | -632.75 | -3.20% |
| General Financial | 2,308.76 | -47.30 | -2.01% |
| Technology | 27,334.77 | 4.63 | 0.02% |
| SHARIAH TOP40 | 3,069.34 | -72 | -2.29% |
| FTSE/JSE SHARIAH ALL | 3,168.66 | -68 | -2.09% |
| COAL MINING | 27,763.64 | -631 | -2.22% |
| FTSE JSE Fledgling | 5,262.01 | -5 | -0.09% |
| FTSE/JSE Alt X | 1,333.53 | -12 | -0.91% |
| SA LISTED PROPERTY | 414.18 | | -0.90% |
| CAPPED PROPERTY | 333.51 | | -1.11% |
| RESOURCE | 28,129.46 | -745 | -2.58% |
| DIVIDEND PLUS | 194.23 | -3 | -1.76% |
| FTSE/JSE RAFI 40 | 6,989.80 | -142 | -1.99% |
| Capped Top 40 | 15,638.70 | -324 | -2.03% |
| Capped All Share | 16,894.20 | -324 | -1.88% |
| JSE TABACO | 4,804.62 | 2 | 0.03% |
Click here for the Sharenet Index Summary page
---
Latest Consensus Changes**

| | | | |
| --- | --- | --- | --- |
| Code | Company Name | Status | Updated |
| DSY | DISCOVERY HOLDINGS LIMITE... | BUY | 02 Mar |
| LBH | LIBERTY HOLDINGS LTD ORD | HOLD | 02 Mar |
| KEH | KEATON ENERGY HLDGS LTD | HOLD | 01 Mar |
| HYP | HYPROP INVESTMENTS LIMITE... | HOLD | 01 Mar |
| FSR | FIRSTRAND LIMITED | BUY | 01 Mar |

Results Expected**

| | | |
| --- | --- | --- |
| Expected | Company Name | Fin. Date |
| 07 Mar 2012 | ASPEN | December 2011 (Interim) |
| 07 Mar 2012 | ASPENPREF | December 2011 (Interim) |
| 07 Mar 2012 | KAP | December 2011 (Interim) |
| 07 Mar 2012 | MTN GROUP | December 2011 (Final) |
| 07 Mar 2012 | RMIH | December 2011 (Interim) |
---
Recent Dividends**

| | | | | |
| --- | --- | --- | --- | --- |
| Share Name | Dec-Date | LDT | Pay-Date | Amount |
| PSG | 12-03-02 | 12-03-23 | 12-04-02 | R 0.5600 |
| SPURCORP | 12-03-01 | 12-03-15 | 12-03-26 | R 0.4000 |
| LIB-HOLD | 12-03-01 | 12-03-15 | 12-03-26 | R 0.7700 |
| CAPITEC | 12-03-01 | 12-03-15 | 12-03-26 | R 3.0000 |
| BOWCALF | 12-03-01 | 12-03-15 | 12-03-26 | R 0.1600 |

Ex Div**

| | | | | |
| --- | --- | --- | --- | --- |
| Share Name | Dec-Date | LDT | Pay-Date | Amount |
| HUDACO | 12-01-26 | 12-03-02 | 12-03-12 | R 3.1000 |
| GFIELDS | 12-02-17 | 12-03-02 | 12-03-12 | R 2.3000 |
| ANGLD | 12-02-15 | 12-03-02 | 12-03-16 | R 2.0000 |
| DISTELL | 12-02-15 | 12-03-02 | 12-03-12 | R 1.4300 |
| IMPLATS | 12-02-16 | 12-03-02 | 12-03-12 | R 1.3500 |
---
Upcoming AGMs**

| | | | |
| --- | --- | --- | --- |
| Code | Company Name | Date | Status |
| EOH | EOH Holdings Ltd. | 06/03/2012 | Confirmed |
| QPG | Quantum Property Group Ltd. | 08/03/2012 | Confirmed |
---
Stock Exchange News Service
Click here for more SENS news
---