Friday, 11 May 2012 - 20:00
Charts
Top News
The spread between South Africa's 2015 and 2026 benchmark bonds hit a historic high on Friday, with yields at the longer end of the government bond curve pushed up as the treasury signals more issuance in that area next week.

---

The brother of a man gunned down by Anders Behring Breivik hurled a shoe at the mass killer in court on Friday, shouting "Go to hell, go to hell, you killed my brother."

Algeria on Friday declared its ruling party for the past 50 years the victor in a parliamentary election, going against the tide of the "Arab Spring" which has transformed its neighbours.
World Markets (Spot Prices)
| | | | | |
| --- | --- | --- | --- | --- |
| Name | Time | RP | Move | % Move |
| JSE Overall | 17:00 | 34038.46 | 168.75 | 0.50% |
| JSE Top 40 | 17:00 | 30076.45 | 179.11 | 0.60% |
| JSE Gold | 17:00 | 2358.36 | 25.12 | 1.08% |
| JSE Financial | 17:00 | 25469.73 | 141.47 | 0.56% |
| JSE Industrial | 17:00 | 38271.99 | 256.20 | 0.67% |
| JSE Indust 25 | 17:00 | 32247.48 | 252.11 | 0.79% |
| JSE Resource | 17:00 | 49087.96 | 106.13 | 0.22% |
| DJ Futures | 19:36 | 12827.00 | 22.00 | 0.17% |
| DJ Ind | 19:45 | 12859.13 | 24.07 | 0.19% |
| SP 500 | 20:00 | 1359.41 | 4.83 | 0.36% |
| Nasdaq | 20:00 | 2949.90 | 15.19 | 0.52% |
| FTSE 100 | 17:35 | 5575.52 | 31.57 | 0.57% |
| DAX | 18:06 | 6579.93 | 61.93 | 0.95% |
| CAC40 | 18:06 | 3129.77 | -.40 | -0.01% |
| Nikkei | 08:52 | 8953.31 | -56.34 | -0.63% |
| Shanghai | 09:26 | 2394.98 | -15.25 | -0.63% |
| Hang-Seng | 10:26 | 19964.63 | -262.65 | -1.30% |
| All Ords | 08:40 | 4342.70 | -11.10 | -0.25% |
| NZSE 50 | 08:52 | 3548.06 | -20.99 | -0.59% |

| | | | | |
| --- | --- | --- | --- | --- |
| Name | Time | RP | Move | % Move |
| Gold | 19:59 | 1582.81 | -10.10 | -0.63% |
| Gold/Rand | 20:00 | 12812.69 | 31.58 | 0.25% |
| Gold/R kg | 20:00 | 411928 | -722 | -0.18% |
| Silver | 19:59 | 28.9100 | -.0770 | -0.27% |
| Platinum | 19:59 | 1464.00 | -18.00 | -1.21% |
| Palladium | 19:58 | 599.60 | -11.70 | -1.91% |
| R157 | 17:06 | 6.44 | -.01 | -0.16% |
| R204 | 14:06 | 7.37 | .06 | 0.82% |
| Brent Crude | 19:56 | 112.21 | -.45 | -0.40% |
| Rand / Dollar | 19:59 | 8.0949 | 0.0711 | 0.89% |
| Rand / Pound | 19:55 | 12.9750 | 0.0537 | 0.42% |
| Rand / Euro | 19:55 | 10.4573 | 0.0749 | 0.72% |
| Rand / NZD | 19:58 | 6.3586 | 0.0674 | 1.07% |
| Rand / AUD | 19:55 | 8.1285 | 0.0510 | 0.63% |
| Yen / Dollar | 19:59 | 79.8920 | 0.0120 | 0.02% |
| Euro / Dollar | 19:55 | 0.7735 | 0.0005 | 0.06% |
| Dollar / Euro | 19:59 | 1.2922 | -0.0006 | -0.05% |
| Pound / Dollar | 19:55 | 0.6219 | 0.0022 | 0.36% |
Click here for the Sharenet Spot Price page
The JSE Today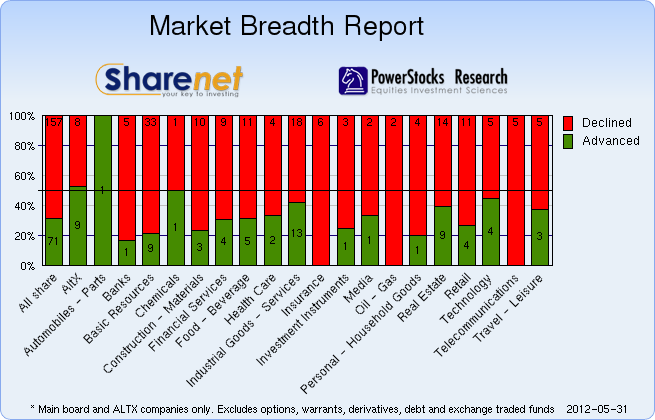 Trading Statistics
| Date | Adv. | Decl. | Unch. | Actives | Volume | Value | Trades | Orders |
| --- | --- | --- | --- | --- | --- | --- | --- | --- |
| 11/05/2012 | 187 | 150 | 77 | 414 | 221,124,619 | R11,934,872,759 | 93887 | 2824782 |
| 10/05/2012 | 220 | 118 | 65 | 403 | 246,225,049 | R13,449,576,348 | 120021 | 3010267 |
| 09/05/2012 | 139 | 201 | 89 | 429 | 262,503,829 | R13,794,513,512 | 113334 | 3012661 |
| 08/05/2012 | 103 | 245 | 59 | 407 | 203,038,641 | R11,934,344,994 | 93831 | 2491924 |
| 07/05/2012 | 116 | 221 | 74 | 411 | 194,308,050 | R7,857,551,820 | 74467 | 1843188 |
* Includes all listed instruments on the JSE
---
---
---
Index Summary
| | | | |
| --- | --- | --- | --- |
| Index Name | RP | Move | % Move |
| Top 40 | 30,076.45 | 179.11 | 0.60% |
| Industrial | 38,271.99 | 256.20 | 0.67% |
| Mid Cap | 48,466.38 | 9.51 | 0.02% |
| Small Cap | 36,142.33 | 5.82 | 0.02% |
| Resource 20 | 49,087.96 | 106.13 | 0.22% |
| Industrial 25 | 32,247.48 | 252.11 | 0.79% |
| Financial 15 | 9,637.51 | 69.04 | 0.72% |
| Financial & Ind. 30 | 35,950.38 | 283.88 | 0.80% |
| All Share | 34,038.46 | 168.75 | 0.50% |
| Oil & Gas | 27,757.43 | 363.24 | 1.33% |
| Mining | 31,536.51 | 3.14 | 0.01% |
| Gold Mining | 2,358.36 | 25.12 | 1.08% |
| Platinum Mining | 55.02 | .11 | 0.20% |
| GENERAL MINING | 8,068.06 | -21.26 | -0.26% |
| Oil & Gas Producers | 14,924.66 | 195.31 | 1.33% |
| Basic Materials | 26,971.53 | 9.02 | 0.03% |
| Chemicals | 14,933.92 | 2.98 | 0.02% |
| Forestry & Paper | 13,687.35 | 256.30 | 1.91% |
| Industrial Metals | 29,390.55 | -240.27 | -0.81% |
| Industrials | 32,988.43 | 92.09 | 0.28% |
| General Industrials | 89.77 | .73 | 0.82% |
| Consumer Goods | 33,257.19 | 389.11 | 1.18% |
| Automobiles & Parts | 5,570.57 | -86.05 | -1.52% |
| Household Goods | 183.37 | -1 | -0.54% |
| Health Care | 42,657.83 | 149.27 | 0.35% |
| Beverages | 111.57 | 2.17 | 1.98% |

| | | | |
| --- | --- | --- | --- |
| Index Name | RP | Move | % Move |
| Food Producers | 61,288.56 | -543.85 | -0.88% |
| Personal Goods | 472.22 | 4.80 | 1.03% |
| Consumer Services | 65,856.61 | 127.61 | 0.19% |
| General Retailers | 55,073.91 | 90.14 | 0.16% |
| Travel & Leisure | 3,784.76 | -7.39 | -0.19% |
| Media | 98.04 | .19 | 0.19% |
| Support Services | 2,424.59 | -.56 | -0.02% |
| Telecommunications | 68,028.56 | 474.99 | 0.70% |
| Financials | 25,469.73 | 141.47 | 0.56% |
| Banks | 49,501.31 | 179.35 | 0.36% |
| Non-life Insurance | 42,611.88 | 173.55 | 0.41% |
| Life Insurance | 19,944.66 | 285.46 | 1.45% |
| General Financial | 2,329.23 | 8.12 | 0.35% |
| Technology | 28,812.40 | 79.87 | 0.28% |
| SHARIAH TOP40 | 3,025.98 | 12 | 0.39% |
| FTSE/JSE SHARIAH ALL | 3,145.84 | 11 | 0.34% |
| COAL MINING | 25,630.82 | -71 | -0.28% |
| FTSE JSE Fledgling | 5,430.24 | 25 | 0.46% |
| FTSE/JSE Alt X | 1,213.68 | -42 | -3.32% |
| SA LISTED PROPERTY | 419.45 | | -0.09% |
| CAPPED PROPERTY | 340.39 | | 0.24% |
| RESOURCE | 27,070.77 | 56 | 0.21% |
| DIVIDEND PLUS | 197.01 | 0 | 0.01% |
| FTSE/JSE RAFI 40 | 7,090.84 | 47 | 0.67% |
| Capped Top 40 | 15,877.68 | 101 | 0.64% |
| Capped All Share | 17,218.42 | 87 | 0.51% |
| JSE TABACO | 5,172.12 | 66 | 1.29% |
Click here for the Sharenet Index Summary page
---
Latest Consensus Changes**

| | | | |
| --- | --- | --- | --- |
| Code | Company Name | Status | Updated |
| RBP | ROYAL BAFOKENG PLATINUM L... | HOLD | 09 May |
| ARQ | ANOORAQ RESOURCES CORPORA... | HOLD | 09 May |
| AMS | ANGLO AMERICAN PLATINUM C... | HOLD | 09 May |
| MSM | MASSMART HOLDINGS LTD | SELL | 09 May |
| LON | LONMIN PLC | BUY | 09 May |

Results Expected**

| | | |
| --- | --- | --- |
| Expected | Company Name | Fin. Date |
| 14 May 2012 | ASTRAL | March 2012 (Interim) |
| 14 May 2012 | EHSV | March 2012 (Q) |
| 14 May 2012 | LONMIN | March 2012 (Interim) |
| 14 May 2012 | LONMIND | March 2012 (Interim) |
| 14 May 2012 | NETCARE | March 2012 (Interim) |
---
Recent Dividends**

| | | | | |
| --- | --- | --- | --- | --- |
| Share Name | Dec-Date | LDT | Pay-Date | Amount |
| OCEANA | 12-05-11 | 12-06-22 | 12-07-02 | R 0.4500 |
| BEIGEPREF2 | 12-05-11 | 12-05-25 | 12-06-04 | R 0.1294 |
| LIFEHC | 12-05-11 | 12-06-01 | 12-06-11 | R 0.4500 |
| ANGLD | 12-05-10 | 12-05-25 | 12-06-08 | R 1.0000 |
| FPT | 12-05-10 | 12-05-25 | 12-06-04 | R 0.2800 |

Ex Div**

| | | | | |
| --- | --- | --- | --- | --- |
| Share Name | Dec-Date | LDT | Pay-Date | Amount |
| ASSORE | 12-04-16 | 12-05-04 | 12-05-21 | R 2.5000 |
| OCTODEC | 12-04-19 | 12-05-11 | 12-05-21 | R 0.7120 |
| PREMIUM | 12-04-19 | 12-05-11 | 12-05-21 | R 0.6000 |
| REBOSIS | 12-04-25 | 12-05-11 | 12-05-21 | R 0.4300 |
| DCENTRIX | 12-04-17 | 12-05-11 | 12-05-21 | R 0.1953 |
---
Upcoming AGMs**

| | | | |
| --- | --- | --- | --- |
| Code | Company Name | Date | Status |
| MASB | Masonite (Africa) Ltd. | 11/05/2012 | Unconfirmed |
| MASP | Masonite (Africa) Ltd. | 11/05/2012 | Unconfirmed |
| MAS | Masonite (Africa) Ltd. | 11/05/2012 | Unconfirmed |
| GFI | Gold Fields Ltd. | 14/05/2012 | Confirmed |
| GFPP | Gold Fields Ltd. | 14/05/2012 | Confirmed |
---
Stock Exchange News Service
Click here for more SENS news
---