Tuesday, 05 June 2012 - 20:00
Charts
?Life Cover Is A Waste Of Money!?
There are many people that have a mental block when it comes to life cover. The very idea that someone else is going to "benefit" from their death and that they have to "waste" their hard earned money on something that will give them no benefit, causes them to lose every trace of rational behaviour.
There are 3 basic reasons why one would need life cover, namely;
covering one's future income stream for the benefit of dependants,

covering one's debts
for the provision of liquidity in one's estate (rather than a fire sale of prime assets).
Once these basic obligations have been fulfilled, then one typically has sufficient life cover.
Below is a copy of a letter I wrote to a client who, apart from his aversion to life cover, is an extremely intelligent and rational person.
"As discussed with you previously, your present situation is that R20 000 pm is needed by your dependents as a future income. You presently have a shortfall of approximately one million rand to cover that income. One million rand life cover will cost you R261.55 pm. If we divide R261.55 into one million rand you'll see that you have to pay this R261.55 pm for 318 years to make up the one million rand (if we assume a no interest).

You have stated that you will rather invest R1 000 pm into SATRIX 40. If we assume a growth rate of 10% pa compounded monthly; it will take you 22½ years to build up one million rand capital. If you invest R738.45 pm into SATRIX 40 and R261.55 into a life policy it will take you just over 25 years to build up one million rand capital, but you would not have the down side risk of insufficient capital should you prematurely pass away."
Despite the obvious risks that the client's dependants are exposed to while he is building up capital, he decided not to take the cover. To date, they haven't needed it, but they still have 22 years before the SATRIX 40 investment will probably reach one million rand!
Another argument I often hear against the use of life cover, especially when it is for individuals with high value but illiquid estates (like buildings or farms), is that their heirs should sell a building or take out a bond. However if we look at a 50 year old male who has a sizeable estate and needs to pay R5million in estate duty, a R5 million building yielding 10% would produce an income of R500 000 pa, while a bond of R5 million over 10 years would cost approximately R66 075 p.m. It generally does not make sense that an otherwise rational businessman would want to choose these options rather than pay a life cover premium of R2 600pm.
Unfortunately life cover, like rugby and politics, seems to be one of those areas where reason often takes a back seat and emotions take control. It is important to make an accurate assessment of future obligations and then to assess the most efficient way to meet this obligation.
Kind regards,
Barry Hugo
info@seedinvestments.co.za
www.seedinvestments.co.za
021 914 4966
Tue, 05 Jun 2012
Top News
South African stocks posted modest gains on Tuesday with stronger-than-expected data on the U.S. service sector boosting Johannesburg's beaten-down mining sector.

---

A senior Chinese official demanded on Tuesday that foreign embassies stop issuing air pollution readings, saying it was against the law and diplomatic conventions, in pointed criticism of a closely watched U.S. embassy index.

An adviser to Iran's supreme leader has urged world powers to formally recognise its nuclear rights to bring about a "favourable result" at talks on its atomic programme later this month, state media reported on Tuesday.
World Markets (Spot Prices)
| | | | | |
| --- | --- | --- | --- | --- |
| Name | Time | RP | Move | % Move |
| JSE Overall | 17:00 | 33117.85 | 41.55 | 0.13% |
| JSE Top 40 | 17:00 | 29180.76 | 35.98 | 0.12% |
| JSE Gold | 17:00 | 2640.70 | 17.18 | 0.65% |
| JSE Financial | 17:00 | 24955.62 | 9.85 | 0.04% |
| JSE Industrial | 17:00 | 37384.40 | -157.82 | -0.42% |
| JSE Indust 25 | 17:00 | 31502.89 | -144.76 | -0.46% |
| JSE Resource | 17:00 | 47076.76 | 463.04 | 0.99% |
| DJ Futures | 19:58 | 12100.00 | -3.00 | -0.02% |
| DJ Ind | 19:58 | 12128.40 | 9.83 | 0.08% |
| SP 500 | 19:58 | 1283.90 | 5.86 | 0.46% |
| Nasdaq | 19:58 | 2771.46 | 23.98 | 0.87% |
| FTSE 100 | 01/06 | 5260.19 | -60.67 | -1.15% |
| DAX | 18:08 | 5969.40 | -80.89 | -1.34% |
| CAC40 | 18:08 | 2986.10 | 31.61 | 1.07% |
| Nikkei | 08:28 | 8382.00 | 86.37 | 1.04% |
| Shanghai | 09:28 | 2311.92 | 3.37 | 0.15% |
| Hang-Seng | 10:30 | 18259.03 | 73.44 | 0.40% |
| All Ords | 08:41 | 4092.40 | 59.00 | 1.46% |
| NZSE 50 | 07:50 | 3420.79 | -31.21 | -0.90% |

| | | | | |
| --- | --- | --- | --- | --- |
| Name | Time | RP | Move | % Move |
| Gold $ | 19:58 | 1617.30 | -.83 | -0.05% |
| Gold R | 19:57 | 13644.04 | -96.34 | -0.70% |
| Gold R/kg | 19:58 | 438847 | -4292 | -0.97% |
| Silver $ | 19:58 | 28.5050 | .2690 | 0.95% |
| Platinum $ | 19:58 | 1438.50 | 14.00 | 0.98% |
| Palladium $ | 19:58 | 618.70 | 10.60 | 1.74% |
| R157 | 17:04 | 6.33 | -.01 | -0.16% |
| R204 | 17:04 | 7.30 | -.01 | -0.07% |
| Brent Crude | 19:58 | 98.89 | .80 | 0.82% |
| Rand / Dollar | 19:58 | 8.4376 | -0.0546 | -0.64% |
| Rand / Pound | 19:55 | 12.9375 | -0.0928 | -0.71% |
| Rand / Euro | 19:55 | 10.5018 | -0.1043 | -0.98% |
| Rand / NZD | 19:57 | 6.3740 | -0.0459 | -0.71% |
| Rand / AUD | 19:55 | 8.2153 | -0.0432 | -0.52% |
| Yen / Dollar | 19:58 | 78.7390 | 0.4040 | 0.52% |
| Euro / Dollar | 19:55 | 0.8032 | 0.0031 | 0.39% |
| Dollar / Euro | 19:58 | 1.2443 | -0.0050 | -0.40% |
| Pound / Dollar | 19:55 | 0.6503 | 0.0005 | 0.08% |
Click here for the Sharenet Spot Price page
The JSE Today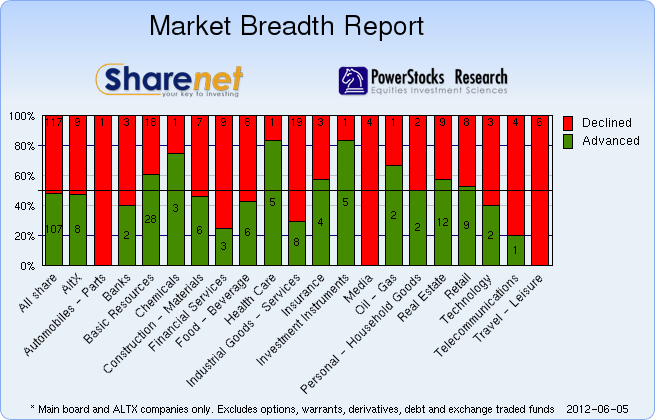 Trading Statistics
| Date | Adv. | Decl. | Unch. | Actives | Volume | Value | Trades | Orders |
| --- | --- | --- | --- | --- | --- | --- | --- | --- |
| 05/06/2012 | 182 | 150 | 72 | 404 | 219,939,273 | R12,281,996,363 | 97328 | 2372946 |
| 04/06/2012 | 132 | 225 | 79 | 436 | 186,078,336 | R9,889,003,305 | 93145 | 2278632 |
| 01/06/2012 | 190 | 160 | 83 | 433 | 347,953,413 | R16,613,257,050 | 126195 | 3690123 |
| 31/05/2012 | 211 | 120 | 77 | 408 | 511,338,938 | R26,637,237,957 | 156694 | 3680996 |
| 30/05/2012 | 98 | 228 | 79 | 405 | 228,553,393 | R11,961,480,110 | 115379 | 3891342 |
* Includes all listed instruments on the JSE
---
---
---
Index Summary
| | | | |
| --- | --- | --- | --- |
| Index Name | RP | Move | % Move |
| Top 40 | 29,180.76 | 35.98 | 0.12% |
| Industrial | 37,384.40 | -157.82 | -0.42% |
| Mid Cap | 47,850.85 | 100.32 | 0.21% |
| Small Cap | 35,389.93 | -93.18 | -0.26% |
| Resource 20 | 47,076.76 | 463.04 | 0.99% |
| Industrial 25 | 31,502.89 | -144.76 | -0.46% |
| Financial 15 | 9,410.02 | -2.05 | -0.02% |
| Financial & Ind. 30 | 35,024.90 | -141.76 | -0.40% |
| All Share | 33,117.85 | 41.55 | 0.13% |
| Oil & Gas | 26,977.98 | 75.67 | 0.28% |
| Mining | 30,318.18 | 337.47 | 1.13% |
| Gold Mining | 2,640.70 | 17.18 | 0.65% |
| Platinum Mining | 50.89 | .22 | 0.43% |
| GENERAL MINING | 7,496.03 | 100.30 | 1.36% |
| Oil & Gas Producers | 14,505.56 | 40.69 | 0.28% |
| Basic Materials | 25,990.89 | 280.03 | 1.09% |
| Chemicals | 14,306.30 | 144.17 | 1.02% |
| Forestry & Paper | 13,410.09 | 34.53 | 0.26% |
| Industrial Metals | 29,374.24 | 290.84 | 1.00% |
| Industrials | 32,407.18 | -47.66 | -0.15% |
| General Industrials | 89.05 | .02 | 0.02% |
| Consumer Goods | 31,925.08 | -163.35 | -0.51% |
| Automobiles & Parts | 5,638.50 | -22.65 | -0.40% |
| Household Goods | 168.65 | -1 | -0.54% |
| Health Care | 42,386.44 | 353.82 | 0.84% |
| Beverages | 106.41 | -1.23 | -1.14% |

| | | | |
| --- | --- | --- | --- |
| Index Name | RP | Move | % Move |
| Food Producers | 59,540.75 | -9.87 | -0.02% |
| Personal Goods | 455.94 | 2.10 | 0.46% |
| Consumer Services | 65,941.05 | -293.51 | -0.44% |
| General Retailers | 55,040.00 | 232.19 | 0.42% |
| Travel & Leisure | 3,805.01 | -11.53 | -0.30% |
| Media | 96.98 | -1.71 | -1.73% |
| Support Services | 2,381.76 | -5.59 | -0.23% |
| Telecommunications | 66,047.14 | -933.08 | -1.39% |
| Financials | 24,955.62 | 9.85 | 0.04% |
| Banks | 48,545.99 | -41.79 | -0.09% |
| Non-life Insurance | 42,877.31 | 2.55 | 0.01% |
| Life Insurance | 19,251.35 | 26.18 | 0.14% |
| General Financial | 2,244.62 | .18 | 0.01% |
| Technology | 27,934.05 | 279.90 | 1.01% |
| SHARIAH TOP40 | 2,922.41 | 16 | 0.56% |
| FTSE/JSE SHARIAH ALL | 3,045.45 | 15 | 0.51% |
| COAL MINING | 25,532.23 | 476 | 1.90% |
| FTSE JSE Fledgling | 5,271.24 | -43 | -0.81% |
| FTSE/JSE Alt X | 1,213.35 | 54 | 4.70% |
| SA LISTED PROPERTY | 420.92 | | 0.19% |
| CAPPED PROPERTY | 340.15 | | 0.16% |
| RESOURCE | 26,068.08 | 257 | 1.00% |
| DIVIDEND PLUS | 190.78 | 0 | 0.08% |
| FTSE/JSE RAFI 40 | 6,843.83 | 2 | 0.03% |
| Capped Top 40 | 15,432.53 | 14 | 0.09% |
| Capped All Share | 16,757.75 | 20 | 0.12% |
| JSE TABACO | 5,085.74 | -41 | -0.81% |
Click here for the Sharenet Index Summary page
---
Latest Consensus Changes**

| | | | |
| --- | --- | --- | --- |
| Code | Company Name | Status | Updated |
| SAB | SABMILLER PLC | HOLD | 01 Jun |
| TON | TONGAAT HULETT LTD | BUY | 01 Jun |
| CML | CORONATION FUND MANAGERS ... | BUY | 01 Jun |
| RDF | REDEFINE PROPERTIES LTD | SELL | 01 Jun |
| BCX | BUSINESS CONNEXION GROUP ... | BUY | 01 Jun |

Results Expected**

| | | |
| --- | --- | --- |
| Expected | Company Name | Fin. Date |
| 06 Jun 2012 | BRAIT | March 2012 (Final) |
| 06 Jun 2012 | FIURANIUM | March 2012 (Final) |
| 07 Jun 2012 | ACUCAP | March 2012 (Final) |
| 07 Jun 2012 | LABAT | February 2012 (Final) |
| 08 Jun 2012 | BSI STEEL | March 2012 (Final) |
---
Recent Dividends**

| | | | | |
| --- | --- | --- | --- | --- |
| Share Name | Dec-Date | LDT | Pay-Date | Amount |
| HOWDEN | 12-05-30 | 12-06-29 | 12-07-09 | R 1.4600 |
| TRUSTCO | 12-05-30 | 12-06-29 | 12-07-20 | R 0.0225 |
| WILDRNESS | 12-05-30 | 12-06-08 | 12-06-27 | R 0.0860 |
| HOWDEN | 12-05-30 | 12-06-29 | 12-07-09 | R 0.2900 |
| TFG PREF | 12-05-29 | 12-09-14 | 12-09-25 | R 0.0650 |

Ex Div**

| | | | | |
| --- | --- | --- | --- | --- |
| Share Name | Dec-Date | LDT | Pay-Date | Amount |
| SPAR | 12-05-09 | 12-06-01 | 12-06-11 | R 1.5500 |
| PICKNPAY | 12-04-18 | 12-06-01 | 12-06-11 | R 1.0835 |
| CORONAT | 12-05-15 | 12-06-01 | 12-06-11 | R 0.9500 |
| PIKWIK | 12-04-18 | 12-06-01 | 12-06-11 | R 0.5257 |
| LIFEHC | 12-05-11 | 12-06-01 | 12-06-11 | R 0.4500 |
---
Upcoming AGMs**

| | | | |
| --- | --- | --- | --- |
| Code | Company Name | Date | Status |
| PAM | Palabora Mining Company Ltd. | 05/06/2012 | Confirmed |
| PAMCD | Palabora Mining Company Ltd. | 05/06/2012 | Confirmed |
| MPT | Mpact Ltd. | 05/06/2012 | Confirmed |
| SLMP1 | Sanlam Ltd. | 06/06/2012 | Confirmed |
| SLMA | Sanlam Ltd. | 06/06/2012 | Confirmed |
---
Stock Exchange News Service
Click here for more SENS news
---