Tuesday, 28 April 2015 - 20:00
Charts
Seed Weekly - The Benefits of Multi Management
Multi management, much like other investment style/process, is just one way of investing. While it can't be considered the 'holy grail' of investing (if someone finds the 'holy grail' please let me know!) it does have advantages over some of the more traditional/well known forms of asset management for the average retail investor.
The first problem that investors into single manager solutions funds face is that the underlying manager requires investment skills across the entire range of asset classes. There are many top managers out there, and many do have decent skills across a broad set of asset classes, but we generally find that managers have an area of excellence which drives performance, rather than being the best across all areas (jack of all trades, master of none – or in this case one!)
As multi managers, we believe that manager focus and specialisation is key to ensuring consistent top performance. Multi managers have the luxury of allocating capital to a variety of carefully selected managers (manager research and selection is a key skill of a multi manager). The chart below shows the range of managers currently used in the Seed Flexible Fund. 'Other' comprises some more niches strategies that include China and Africa equity and global property – skill sets in these more niched areas are even more difficult to replicate within one organisation.
A common argument in favour of single managers is that the manager has full sight into the portfolio and can make changes taking the entire portfolio into account, whereas investors trying to build a portfolio with multiple building blocks don't have the same information. While this line of thinking holds for the average investor trying to blend a range of funds, at Seed we have insight into all of the mandates that are part of our Funds. Most of the mandates that form part of our solutions are segregated mandates, where we have full see through into the holdings on a daily basis, and can therefore use this data to inform any decisions that are required.
We believe that our multi managed process, whereby segregated mandates are accessed as far as possible, is superior to the more common Fund of Fund (FoF) process in that we generally customise each mandate with the manager to ensure that the Fund is optimised. This typically takes the form of more concentrated portfolios comprising the managers' best views, but can also involve either increasing or decreasing the risk taken when compared to their retail fund offering. As previously mentioned, accessing segregated mandates also gives us greater insight into the manager's investment process, which enables us to build greater conviction in the manager's abilities.
The Seed Flexible and Seed Absolute Return Funds are both multi managed multi asset class Funds. Both have performed particularly well over the past few years when compared to both their inflation targets and peers. The Seed Flexible Fund has top quartile performance over 3 and 1 years, while the Seed Absolute Return Fund (with a shorter track record) has top quartile performance over 1 year. For more information on these Funds please contact us.
Take care,
Mike Browne
www.seedinvestments.co.za
info@seedinvestments.co.za
021 914 4966
Tue, 28 Apr 2015
Top News
South African stocks retreated from record highs on Tuesday on as Coronation Fund Managers flagged lower first-half earnings but iron ore companies bucked the weaker trend.

---

The day after rioters tore through Baltimore, the city's mayor was criticized on Tuesday for a slow police response to some of the worst U.S. urban unrest in years after the funeral of a 25-year-old black man who died in police custody.

Greek Prime Minister Alexis Tsipras said on Tuesday he was confident of an outline deal with international creditors within two weeks, after shaking up his negotiating team and sidelining his finance minister who has infuriated euro zone partners.
World Markets (Spot Prices)
| | | | | |
| --- | --- | --- | --- | --- |
| Name | Time | RP | Move | % Move |
| JSE Overall | 17:00 | 55039.29 | -149.05 | -0.27% |
| JSE Top 40 | 17:00 | 48758.27 | -207.09 | -0.42% |
| JSE Gold | 17:00 | 1354.59 | 56.50 | 4.35% |
| JSE Financial | 17:00 | 46675.50 | -258.16 | -0.55% |
| JSE Industrial | 17:00 | 77853.75 | -504.11 | -0.64% |
| JSE Indust 25 | 17:00 | 69374.37 | -513.79 | -0.74% |
| JSE Resource | 17:00 | 44921.97 | 699.96 | 1.58% |
| DJ Futures | 19:58 | 18027.00 | 37.00 | 0.21% |
| DJ Ind | 19:58 | 18112.85 | 74.88 | 0.42% |
| SP 500 | 19:58 | 2115.52 | 6.60 | 0.31% |
| Nasdaq | 19:58 | 5069.71 | 9.46 | 0.19% |
| FTSE 100 | 17:35 | 7030.53 | -73.45 | -1.03% |
| DAX | 18:08 | 11811.66 | -227.50 | -1.89% |
| CAC40 | 18:08 | 5173.38 | -95.53 | -1.81% |
| Nikkei | 08:32 | 20058.95 | 75.63 | 0.38% |
| Shanghai | 09:28 | 4476.21 | -51.19 | -1.13% |
| Hang-Seng | 06:28 | 28407.31 | -26.28 | -0.09% |
| All Ords | 08:40 | 5921.50 | -33.30 | -0.56% |
| NZSE 50 | 07:50 | 5769.65 | 4.29 | 0.07% |

| | | | | |
| --- | --- | --- | --- | --- |
| Name | Time | RP | Move | % Move |
| Gold $ | 19:59 | 1214.26 | 12.51 | 1.04% |
| Gold R | 19:59 | 14376.45 | -41.90 | -0.29% |
| Gold R/kg | 19:58 | 462358 | 6310 | 1.38% |
| Silver $ | 19:59 | 16.6540 | .2550 | 1.55% |
| Platinum $ | 19:59 | 1160.10 | 18.60 | 1.63% |
| Palladium $ | 19:59 | 779.40 | 4.40 | 0.57% |
| R186 | 16:59 | 7.93 | -.12 | -1.49% |
| R204 | 16:59 | 7.20 | -.15 | -2.04% |
| R207 | 16:59 | 7.39 | -.14 | -1.86% |
| Brent Crude | 19:58 | 64.82 | -.03 | -0.05% |
| Rand / Dollar | 19:59 | 11.8415 | -0.1542 | -1.29% |
| Rand / Pound | 19:55 | 18.1155 | -0.1251 | -0.69% |
| Rand / Euro | 19:55 | 13.0058 | -0.0497 | -0.38% |
| Rand / NZD | 19:59 | 9.1491 | -0.0163 | -0.18% |
| Rand / AUD | 19:55 | 9.4964 | 0.0771 | 0.82% |
| Yen / Dollar | 19:59 | 118.9160 | -0.1580 | -0.13% |
| Euro / Dollar | 19:57 | 0.9103 | -0.0086 | -0.94% |
| Dollar / Euro | 19:59 | 1.0985 | 0.0101 | 0.93% |
| Pound / Dollar | 19:55 | 0.6524 | -0.0042 | -0.64% |
Click here for the Sharenet Spot Price page
The JSE Today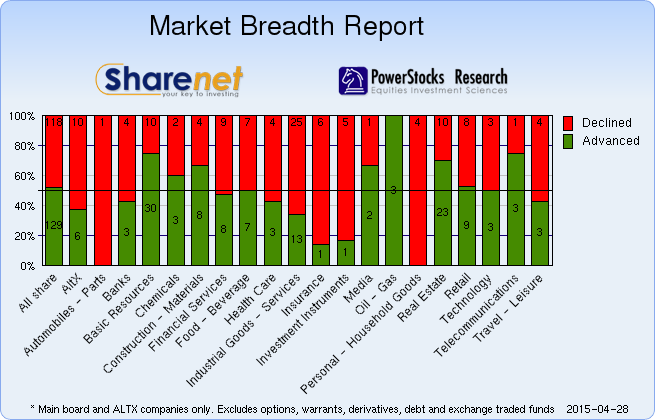 Trading Statistics
| Date | Adv. | Decl. | Unch. | Actives | Volume | Value | Trades | Orders |
| --- | --- | --- | --- | --- | --- | --- | --- | --- |
| 28/04/2015 | 191 | 198 | 54 | 443 | 287,648,509 | R20,697,040,760 | 307914 | 809333 |
| 24/04/2015 | 212 | 159 | 57 | 428 | 253,339,482 | R21,632,917,705 | 277258 | 1894567 |
| 23/04/2015 | 218 | 145 | 66 | 429 | 233,841,957 | R16,884,685,300 | 222289 | 1668232 |
| 22/04/2015 | 185 | 169 | 73 | 427 | 214,935,581 | R15,845,547,344 | 230565 | 1699808 |
| 21/04/2015 | 204 | 165 | 49 | 418 | 198,711,976 | R16,846,823,238 | 229856 | 737986 |
* Includes all listed instruments on the JSE
---
---
---
Index Summary
| | | | |
| --- | --- | --- | --- |
| Index Name | RP | Move | % Move |
| Top 40 | 48,758.27 | -207.09 | -0.42% |
| Industrial | 77,853.75 | -504.11 | -0.64% |
| Mid Cap | 76,601.28 | 336.36 | 0.44% |
| Small Cap | 61,105.28 | 480.35 | 0.79% |
| Resource 20 | 44,921.97 | 699.96 | 1.58% |
| Industrial 25 | 69,374.37 | -513.79 | -0.74% |
| Financial 15 | 17,786.46 | -124.90 | -0.70% |
| Financial & Ind. 30 | 74,605.41 | -563.77 | -0.75% |
| All Share | 55,039.29 | -149.05 | -0.27% |
| Oil & Gas | 30,814.47 | 253.97 | 0.83% |
| Mining | 27,135.19 | 449.34 | 1.68% |
| Gold Mining | 1,354.59 | 56.50 | 4.35% |
| Platinum Mining | 32.75 | 1.96 | 6.37% |
| GENERAL MINING | 7,903.72 | 66.36 | 0.85% |
| Oil & Gas Producers | 16,568.37 | 136.55 | 0.83% |
| Basic Materials | 25,348.49 | 316.56 | 1.26% |
| Chemicals | 25,059.58 | 189.12 | 0.76% |
| Forestry & Paper | 41,472.28 | -617.04 | -1.47% |
| Industrial Metals | 10,229.78 | 706.87 | 7.42% |
| Industrials | 46,491.44 | -417.86 | -0.89% |
| General Industrials | 165.11 | -2.06 | -1.23% |
| Consumer Goods | 66,773.16 | -1116.59 | -1.64% |
| Automobiles & Parts | 8,333.21 | -45.29 | -0.54% |
| Household Goods | 533.24 | -6 | -1.03% |
| Health Care | 10,701.36 | -108.16 | -1.00% |
| Beverages | 219.43 | -4.20 | -1.88% |

| | | | |
| --- | --- | --- | --- |
| Index Name | RP | Move | % Move |
| Food Producers | 9,009.83 | -27.80 | -0.31% |
| Personal Goods | 1,062.78 | -11.79 | -1.10% |
| Consumer Services | 17,077.78 | -131.52 | -0.76% |
| General Retailers | 85,755.49 | -563.18 | -0.65% |
| Travel & Leisure | 6,580.12 | -55.22 | -0.83% |
| Media | 419.18 | -4.09 | -0.97% |
| Support Services | 2,890.19 | -51.04 | -1.74% |
| Telecommunications | 12,092.13 | 309.28 | 2.62% |
| Financials | 46,675.50 | -258.16 | -0.55% |
| Banks | 85,036.89 | 84.58 | 0.10% |
| Non-life Insurance | 58,318.24 | -329.24 | -0.56% |
| Life Insurance | 44,267.34 | -654.67 | -1.46% |
| General Financial | 4,435.77 | -62.40 | -1.39% |
| Technology | 61,651.27 | 22.66 | 0.04% |
| SHARIAH TOP40 | 3,879.65 | 34 | 0.90% |
| FTSE/JSE SHARIAH ALL | 4,125.12 | 38 | 0.94% |
| COAL MINING | 12,957.80 | 563 | 4.54% |
| FTSE JSE Fledgling | 6,917.84 | 35 | 0.51% |
| FTSE/JSE Alt X | 1,323.78 | -6 | -0.44% |
| SA LISTED PROPERTY | 663.73 | | 0.67% |
| CAPPED PROPERTY | 568.51 | | 0.01% |
| RESOURCE | 24,628.22 | 408 | 1.68% |
| DIVIDEND PLUS | 245.30 | 3 | 1.08% |
| FTSE/JSE RAFI 40 | 10,462.68 | 45 | 0.43% |
| Capped Top 40 | 26,040.37 | -103 | -0.39% |
| Capped All Share | 27,916.93 | -76 | -0.27% |
| JSE TABACO | 8,452.94 | -326 | -3.71% |
Click here for the Sharenet Index Summary page
---
Latest Consensus Changes**

| | | | |
| --- | --- | --- | --- |
| Code | Company Name | Status | Updated |
| CLS | CLICKS GROUP LTD | SELL | 24/04/2015 |
| BAW | BARLOWORLD LIMITED | BUY | 24/04/2015 |
| MTN | MTN GROUP LIMITED | HOLD | 24/04/2015 |
| SBK | STANDARD BANK GROUP LIMIT... | BUY | 23/04/2015 |
| AMS | ANGLO AMERICAN PLATINUM C... | BUY | 23/04/2015 |

Results Expected**

| | | |
| --- | --- | --- |
| Expected | Company Name | Fin. Date |
| 29/04/2015 | OAKBAY | February 2015 (Final) |
| 30/04/2015 | BEIGE | December 2014 (Interim) |
| 30/04/2015 | BEIGEP | December 2014 (Interim) |
| 30/04/2015 | BEIGEPREF2 | December 2014 (Interim) |
| 30/04/2015 | GIJIMA | December 2014 (Interim) |
---
Recent Dividends**

| | | | | |
| --- | --- | --- | --- | --- |
| Share Name | Dec-Date | LDT | Pay-Date | Amount |
| BLACKSTAR | 24/04/15 | 08/05/15 | 08/06/15 | GBP 0.0077 |
| CLICKS | 23/04/15 | 26/06/15 | 06/07/15 | ZAR 0.6550 |
| ECSP A | 22/04/15 | 08/05/15 | 18/05/15 | ZAR 0.7671 |
| ECSP C | 22/04/15 | 08/05/15 | 18/05/15 | ZAR 1.0164 |
| CULINAN5.5 | 22/04/15 | 08/05/15 | 18/05/15 | ZAR 0.0550 |

Ex Div**

| | | | | |
| --- | --- | --- | --- | --- |
| Share Name | Dec-Date | LDT | Pay-Date | Amount |
| ILIAD | 17/03/15 | 22/04/15 | 04/05/15 | ZAR 0.2200 |
| ZEDER | 08/04/15 | 22/04/15 | 04/05/15 | ZAR 0.0550 |
---
Upcoming AGMs**

| | | | |
| --- | --- | --- | --- |
| Code | Company Name | Date | Status |
| CIL | Consolidated Infrastructure Group Ltd. | 30/04/2015 | Confirmed |
| CPF | Capital Property Fund Ltd. | 30/04/2015 | Confirmed |
| ABSP | Absa Bank Ltd. | 01/05/2015 | Unconfirmed |
| BEL | Bell Equipment Ltd. | 04/05/2015 | Confirmed |
| WKF | Workforce Holdings Ltd. | 05/05/2015 | Confirmed |
---
Stock Exchange News Service
Click here for more SENS news
---