INVESTOR RELATIONS
Sharenet offers a simple, easy-to-implement, all-in-one, cost-effective IR solution that helps your company meet its IR responsibilities and reassures investors by way of open and detailed communication.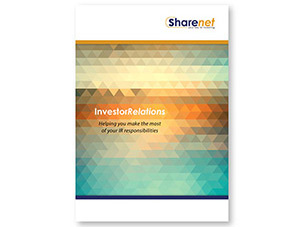 Our clients include a wide cross section of JSE listed companies as well as media houses. All of them trust us to supply current and accurate data.

For the majority of investors a company website is the first port of call for investor related information. At the very least, companies should host a dedicated investor relations page with the current share price and relevant Stock Exchange News (SENS) items.
An IR page is also the ideal place to announce interim and year-end financials. Sharenet offers this service as well as links to these documents.
JSE listed comapnies and media houses use our IR services for the following reasons:
Our data feeds are accurate, clean and clearly laid out.
We offer access to 5 years of archived SENS items.
We set up and manage packages quickly and efficiently.
Our services help our clients talk to their investors in a relevant and professional way.
For more information or to discuss your IR requirements please contact us on: