By Mfuneko Toyana
PRETORIA (Reuters) – A debate over ownership of the South African central bank is increasing investor uncertainty and fuelling the risk premium attached to the country's debt, Governor Lesetja Kganyago said on Wednesday.
Earlier this year, a faction in the governing African National Congress party pushed to broaden the South African Reserve Bank's mandate to include boosting economic growth and job creation alongside price stability. The party also called for the bank to be nationalised.
That followed a decline in first-quarter economic growth of 3.2%, the worst in a decade, as power outages by state utility Eskom hit mining, manufacturing and retailers.
President Cyril Ramaphosa and Finance Minister Tito Mboweni defended the bank's independence and its inflation-targeting mandate, and this month Kganyago was appointed for another five-year term as its governor.
"This shareholding debate is more damaging to our economy than it should be. It sends the signal to both investors here and abroad that our macroeconomic framework is at risk, making the cost of debt higher than it would otherwise be," Kganyago said in a speech at a university in Pretoria.
DEBT RISKS RISING
In its February budget, the National Treasury forecast net loan debt as a ratio of gross domestic product would rise from 49.9% now to 55.5% by 2022. Analysts expect a figure closer to 60% because of bailouts to state companies, a level seen as a red line by ratings agencies.
On Tuesday, Mboweni announced Eskom would get an extra 59 billion rand ($4.24 billion) to keep operating and pay down its more than 400 billion rand of debt.
But he warned that 2019/20 tax revenues might be "significantly lower" and that the government may need to borrow more than planned, putting markets on edge as the risk of a credit downgrade by Moody's to a sub-investment rating resurfaced.
Moody's is the last of the top three ratings firms to rate Pretoria's debt at investment grade. It is due to deliver a ratings review in November.
"Government's debt-to-GDP ratio is moving steadily higher, and with bailouts for state-owned enterprises, there are real risks we will soon have one of the highest debt levels amongst our emerging-market peers," Kganyago said.
Kganyago added that the bank sought to keep real neutral rates — lending rates minus inflation — at a level that would compensate investors for the country's rising risk premium.
"Our risk premium has increased by about three-quarters of a percentage point over the past five years. If risk subsides again, perhaps because we borrow less or invest more to grow faster, we will have more monetary space and might cut rates responsibly," Kganyago said.
Last Thursday, the bank cut lending rates by 25 basis points to 6.5%, resisting calls for a 50-bps cut, to boost growth and take advantage of an easing cycle in developed markets.
POINT TARGET?
On the bank's mandate of currency stability and inflation targeting, Kganyago hinted at a permanent move to a definite inflation target of 4.5%, away from the current target, a range of 3% to 6%.
Headline consumer inflation was 4.5% year-on-year in June, unchanged from May and in the middle of the central bank's target range, Statistics South Africa reported on Wednesday.
"If we reformed the target now, in consultation with National Treasury, we would likely go to either 3% or 4%, with a tolerance band of maybe 1 percentage point on either side," Kganyago said.
(Editing by MacDonald Dzirutwe, Larry King)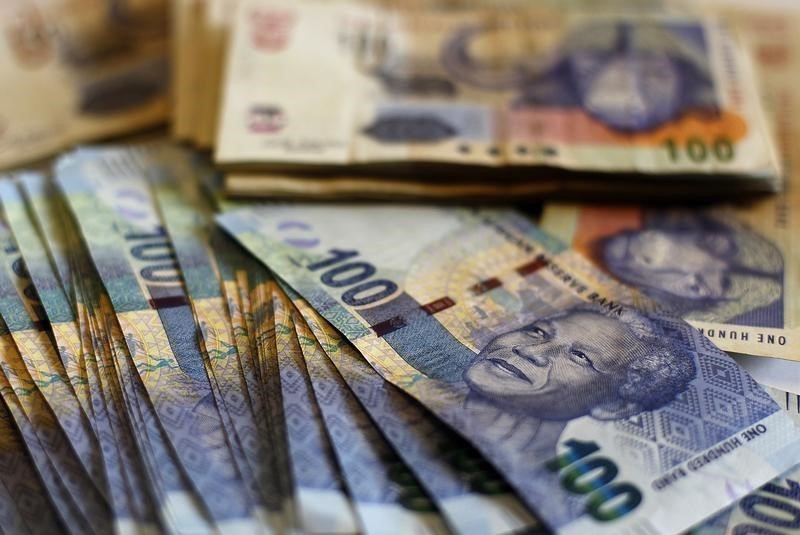 New South African bank notes featuring an image of former South African President Nelson Mandela are displayed at an office in Johannesburg