(Updates prices)
JOHANNESBURG, Aug 7 (Reuters) – South Africa's rand fell on Friday as the dollar regained momentum and the country's stock market corrected by over a percent, dragged down by bourse heavyweight Naspers Ltd.
At 1626 GMT, the rand was 0.89% weaker at 17.5775 per dollar.
The dollar rebounded from a two-year low as President Donald Trump's decision to ban U.S. transactions with two popular Chinese apps reduced risk appetite.
The rand also suffered from worsening sentiment towards emerging markets, led by weakness in Turkey's currency, which hit a record low in a new phase of high volatility trading.
Shares on the Johannesburg Stock Exchange (JSE) corrected after Trump's decision to ban Chinese apps WeChat and TikTok – beginning 45 days from Friday – roiled markets globally.
Locally, this had a major impact on Africa's technology and media behemoth Naspers Ltd which, through its subsidiary Prosus NV, holds a more than 30% stake in WeChat parent Tencent.
Shares in Naspers, which along with Prosus has a weighting of close to a quarter in the two major JSE indices, fell by almost 5% in intra-day trade before ending the day down 4.18%.
This pushed the FTSE/JSE All Share Index down by 1.56% to settle at 56,758 points for the week, losing almost half of its value gained since Monday. The FTSE/JSE Top 40 Companies Index fell by 1.72% to end the week at 52,437 points.
"We had a good run in Naspers and a correction was due in any case," said Stephen Meintjes, head of research at Momentum Securities.
There will be a lot of "sound and fury" regarding Trump's decision, but it will not substantially impact Tencent's revenues as most of its businesses are outside the United States, he said.
Bonds firmed, with the yield on the benchmark 2030 government issue down 5.5 basis points to 9.235%. (Reporting by Olivia Kumwenda-Mtambo and Promit Mukherjee; editing by Barbara Lewis)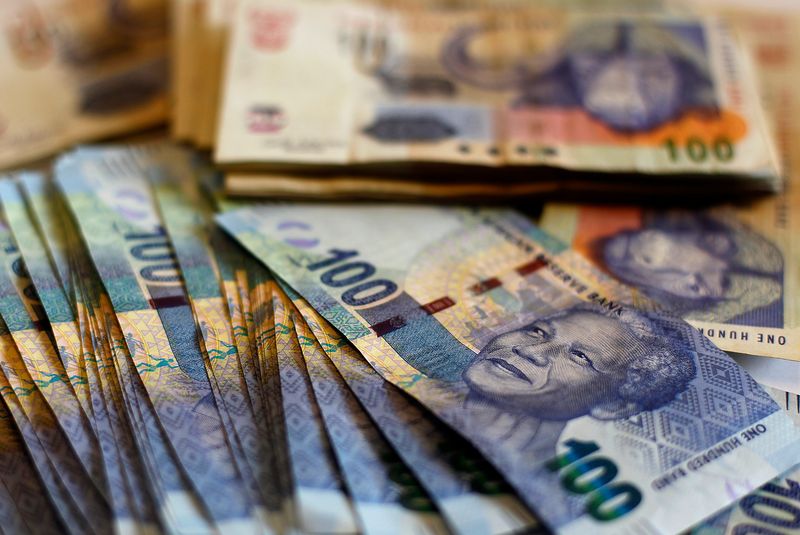 New South African bank notes featuring an image of former South African President Nelson Mandela are displayed at an office in Johannesburg