JOHANNESBURG (Reuters) – South Africa's rand weakened in early trade on Tuesday ahead of a series of data releases, including first quarter economic growth figures, trade and budget balance, which are all expected to show a struggling economy with bleak prospects.
At 0630 GMT, the rand was 0.3% weaker at 17.3125 per dollar, giving up Monday's small gains as investors awaited the data for direction.
The currency has struggled for direction in the sessions following last Wednesday's emergency budget speech, which painted an unsurprisingly bleak picture of the finances of the continent's most developed economy and little market reaction.
First quarter gross domestic figures due at 0930 GMT are set to show the economy continued to contract after shrinking in the last two quarters of 2019, while slack activity after the national cornavirus lockdown that began in March is likely to have strangled trade and revenue collections.
"There is not a lot going to for S.A. at the moment, other than semi-decent yield but I am not sure that is enough to warrant a move back below 17.0000 just yet. We will need to have a shift in global risk appetite for that to happen," Warrick Butlter, Standard Bank's chief trader, said in a note.
Bonds were slightly weaker, with the yield on the benchmark government issue due in 2030 up 1.5 basis points to 9.185%.
(Reporting by Mfuneko Toyana; Editing by Rashmi Aich)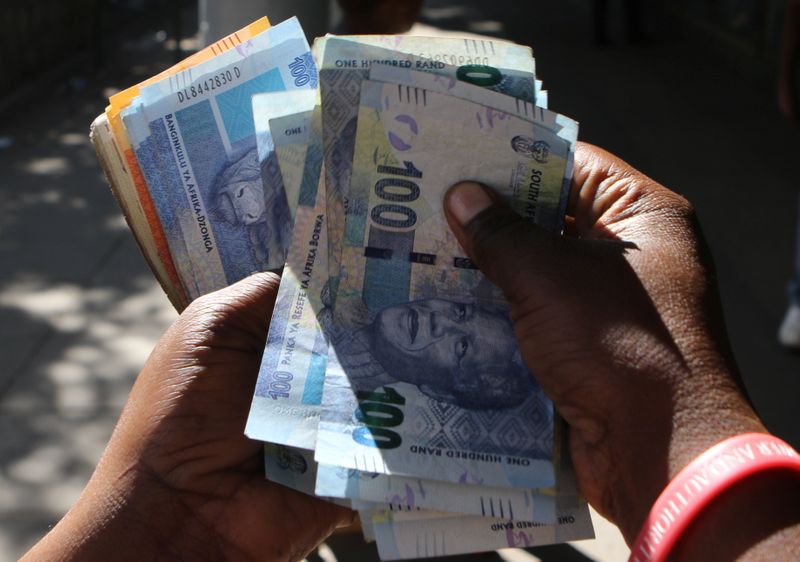 A street money changer counts South African Rands in Harare