(Adds stocks, updates levels)
JOHANNESBURG, Jan 13 (Reuters) – South Africa's rand weakened against the dollar on Monday ahead of a central bank meeting later in the week and key economic data that investors will use to gauge how the economy is performing.
By 1621 GMT, the rand traded at 14.4250 per dollar, 0.35% weaker than its close on Friday.
This week the focus will shift to the South African Reserve Bank's monetary policy meeting on Thursday, when it will announce its interest rate decision after keeping rates on hold at 6.5% at its last meeting.
Other key data due this week include consumer confidence on Tuesday, November retail sales on Wednesday and mining production on Thursday.
"Where the rand concludes this week may be heavily influenced by the South African Reserve Bank's rates decision," said Lukman Otunuga, Senior Research Analyst at FXTM.
"While the central bank is widely expected to leave interest rates unchanged at 6.5% in January, much focus will be on the statement and whether any clues are offered on monetary policy this quarter."
The rand also reacted to Moody's comments that low growth and limited scope to reduce spending will keep South Africa's fiscal deficits elevated in 2020.
The ratings agency said it expects only a modest acceleration in growth to 1% in 2020 from 0.7% in 2019, "which is still below the 1.7% average growth rate recorded over the past decade."
"South Africa has struggled to implement reforms that would durably lift growth due in part to outstanding vested interests," Moody's said in its 2020 outlook on Sub Saharan African countries report.
NEGATIVE OUTLOOK
In November, Moody's kept the country's last investment-grade credit rating intact, but revised the outlook on that rating from stable to negative, sending a warning that a downgrade could follow in the next 12-18 months – or sooner if the government doesn't come up with a credible budget in February.
The rand has struggled for momentum in recent weeks as power cuts and weak domestic economic data failed to provide a basis for optimism.
Troubled state utility Eskom said it did not plan to implement rotational power cuts on Monday, but cautioned it would do so if it lost generation units during the day.
In fixed income, the yield on the benchmark instrument due in 2026 was up 5 basis point to 8.280%.
In the equities market, the Johannesburg All-share index rose 0.15% to 57,572 points, while the Top-40 index gained 0.19% to 51,343 points.
Stocks gained alongside emerging market peers as investors awaited the signing of a U.S.-China trade deal this week.
Among the gainers, Massmart, majority-owned by U.S. retail giant Walmart, climbed 5.80% to 51.64 rand after the retailer said it could cut up to 1,440 jobs under a plan to close some stores as it struggles to grow sales in a tough economy. (Reporting by Nqobile Dludla Editing by Gareth Jones)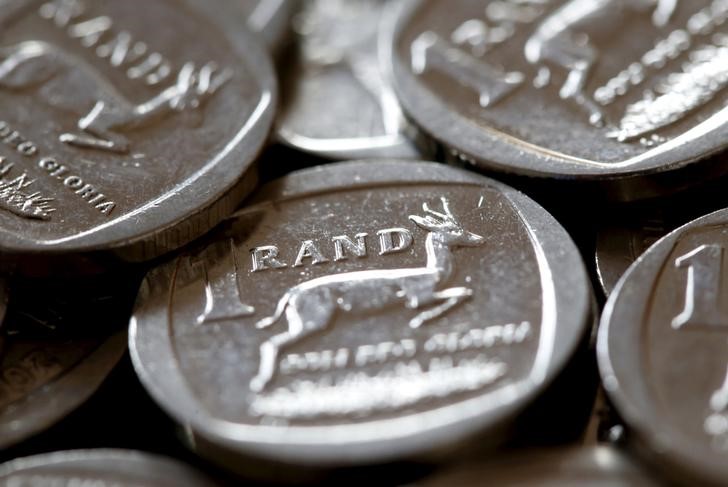 South African Rand coins are seen in this photo illustration