TECHNICAL ANALYSIS NEWSLETTER
OVERVIEW
Sharenet's Technical Analysis Newsletter gives clients access to the experience and impressive technical analysis track record of one of South Africa's top analysts - Moxima Gama.
Moxima's insights, condensed into sucinct email presenations, and combined with the trading tools and training offered by Sharenet mean that you are more likely to spot opportunity and risk where others only see data, giving you that all important trading edge.
WHY SHOULD I SUBSCRIBE TO THE TECHNICAL ANALYSIS DAILY NEWSLETTER?
DAILY NEWSLETTER benefits include:
SA Top-5 technical analyst, Moxima Gama, shares her market insights with you
Daily Analysis email reports in PDF and web-link formats
SA TOP-40 Index analysis on hourly & daily candles every day
Up to four high-probability share trades per week with upside, downside and alternatives
A whole market of opportunities direct to your inbox
Includes occasional JSE sector analysis (multiple shares)
Overall JSE index tracking
Searchable archives of latest analysis for any share
Direct integration into Advanced Charts
Analysis includes multiple support & resistance levels
DAILY NEWSLETTER with Advanced Charts
Includes everything in the DAILY NEWSLETTER (above)
Advanced Charts graphs with built-in annotations, support and resistance levels as well as trend lines from latest analysis
Advanced Charts comes included with Intraday 15-min delayed data feed (worth R175/month)
DAILY NEWSLETTER
for only
R499 / month
DAILY NEWSLETTER
with Advanced Charts
R925 / month R698 / month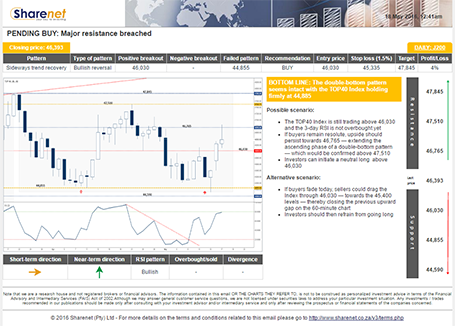 Introduction Video

Newsletter Delivery Methods Video

Newsletter Online Portal Demonstration Video

Advanced Charts Integration Video
Request a FREE Newsletter Trial
WHAT IS TECHNICAL ANALYSIS?
Technical analysis studies supply and demand in a market in an attempt to determine what direction, or trend, will continue in the future. In other words, technical analysis attempts to understand the emotions in the market by studying the market itself, as opposed to its components.
Technical Analysis assumes that both public and insider information are priced into a stock, and this essential combination can be expressed through the relationship between stock price and volume over time.
While not a method of 'predicting the future' as often believed, technical analysis measures probabilities, identifies high confidence 'buy' and 'sell' signals, and minimizes risk.
THE BENEFITS OF OUR TECHNICAL ANALYSIS
Using candlestick charts or bars and proprietary tools, the technical indicator establishes near-term market bias and identifies patterns, trends, support and resistance levels, moving averages, attractive entry and exit points, buying opportunities and more.
Sharenet's Technical Analysis Newsletter (TAN) enables you to:
Make more educated trades
Each newsletter issue gives detailed charts showing movements along with Moxima Gama's analysis.


Get Individual Stock recommendations
The newsletter points you to 5 or more weekly stocks that are well positioned to make substantial moves.


Invest with the trend
Every issue brings authoritative analysis on whether the market is trending bullish or bearish, so you know whether to favour long or short positions.


Save time
High-volume and professional traders can save an hour or two every day of prep time by using the daily newsletter.


Add discipline to your trading
The objective tools of technical analysis eliminate emotional responses to market movements.


Benefit from continuity
The daily newsletter reviews the previous day's market moves, so you have a clear view of the broad market's direction.


See what others can't see
Breaks down the market averages by time frame, revealing patterns and key technical levels other methods of analysis overlook.


Increase your confidence
Using Moxima Gama's world-class insight and authoritative commentary, you'll make trades with reliable perspective on the outlook going forward.


Help control downside risk
The daily newsletter disciplines your trading so that you limit losing trades while allowing your winners to run.
ABOUT MOXIMA GAMA

Before joining Sharenet Moxima spent 13 years honing her skills in the finance and business sectors and subsequently received numerous accolades for her achievements, including being rated as one of South Africa's Top-3 Technical Analysts by the Financial Mail (2014).
In 2010 Moxima started her own consultancy after leaving Standard Bank where she worked as their Equity Technical Analyst for online share trading clients, while also heading up and running their country-wide investment seminars. She has written for the likes of Forbes magazine and continues to write for Finweek on a bi-weekly basis.
With over 5 years' broadcasting experience on stock market analysis topics you can watch Moxima every Friday on CNBC on the Market Watch Show where she talks about her share pick of the week.
WHAT OTHER TECHNICAL ANALYSIS TOOLS DO WE OFFER?
We offer the following technical analysis tools to help you understand and trade the market more effectively:
Request a FREE Newsletter Trial