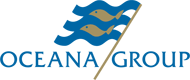 Oceana final results March 2018
Revenue for the interim period increased by 11% to 3.5 billion (2017: R3.1 billion). Gross profit grew by 13% to R1.3 billion (2017: R1.2 billion). Operating profit was 5% lower at R478.8 million (2017: R505 million). Profit attributable to shareholders of Oceana shot up by 61% to R364.9 million (2017: R226.3 million). Furthermore, headline earnings per share rose to 310.4 cents per share (2017: 193.8 cents per share).
Cash dividend declaration
Notice is hereby given of dividend number 148. A gross interim dividend amounting to 112 cents per share, for the six months ended 31 March 2018, was declared on Thursday, 17 May 2018, out of current earnings.
Company prospects
Our African operations are well positioned to deliver a solid performance for the next six months. Our US operations are expected to be positively impacted by good landings and improved oil yields based on early season indicators.
The search for a new CEO ("CEO") is underway. Imraan Soomra, who was appointed interim CEO in February 2018, will remain in the joint role of interim CEO and CFO until an appointment is made.
The information set out in the paragraphs above has not been reviewed or reported on by the auditors.
2018-05-17 17:39:11