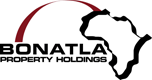 Bonatla - voluntary update on suspension
In accordance with paragraph 1.6 of the JSE Listings Requirements which deals with the suspension of a company∆s securities by the Johannesburg Stock Exchange (ŰJSEŲ), shareholders are provided with an update on the Company∆s status below.
As was announced on 13 November 2017, the Company requested that the Kinfedi Consortium adhere to the terms of the funding agreement entered between Bonatla and Kinfedi and the drawdown certificate by no later than 30 November 2017. To date, no progress has been made in this regard and the Company is taking steps to rectify this.
On 13 November 2017 the Company informed shareholders that it had decided not to proceed with the negotiations regarding the Jozini Property Portfolio. The following announced transactions are still ongoing:
- share-swap agreement for Kimberley Diamond and Jewellery Hub announced on 5 May 2014;
- share-swap agreement for Lincoln Meade Park announced on 5 May 2014;
- acquisition of Grande Roche Estates and Grande Roche Hotel on 23 December 2016; and
- acquisition of the Ruitersvlei Property Portfolio on 30 November 2016.
The Company believes that the above transactions will enable it to meet the requirements of Section 4.28 of the JSE Listings Requirements following the conclusion of the above and previously announced transactions.
The Company was making progress with the drafting of the Circular to shareholders regarding, inter alia, the information regarding the acquisition of the Bluezone portfolio and other previously announced transactions but is now awaiting the publication of the latest results to be able to make progress in this regard. As separately announced, shareholders are still required to exercise caution when dealing in the Company∆s shares.
2018-01-03 10:34:55