Friday, 15 September 2017 - 20:00
Charts
Todays Sharenet VIEWS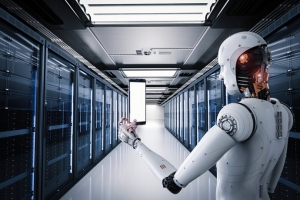 AJ Cilliers

Human beings are facing a triple threat, made up of big data, super-fast computers and smart algorithms.
---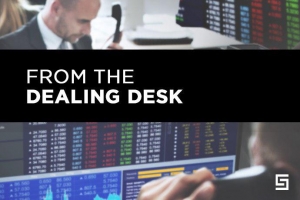 Sharenet

Aspen released a solid set of results that took the market and investors by surprise.
---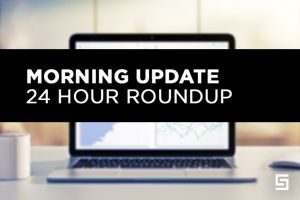 Sharenet

SA markets declined yesterday on a day that saw above average volumes traded.
---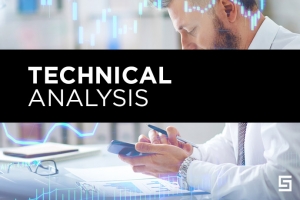 Moxima Gama

EOH tested the support trendline of its long term bull trend
Top News
PPC, South Africa's biggest cement producer, said on Friday it expected Canada's Fairfax Africa Investments to raise its 9.2 billion-rand ($700 million) takeover offer.

---
World Markets (Spot Prices)
| | | | | |
| --- | --- | --- | --- | --- |
| Name | Time | RP | Move | % Move |
| JSE Overall | 17:00 | 55645.15 | -205.17 | -0.37% |
| JSE Top 40 | 17:00 | 49274.60 | -240.23 | -0.49% |
| JSE Financial | 17:00 | 41448.52 | -224.72 | -0.54% |
| JSE Industrial | 17:00 | 83330.31 | -275.81 | -0.33% |
| JSE Indust 25 | 17:00 | 75549.83 | -326.45 | -0.43% |
| JSE Resource | 17:00 | 35062.81 | -138.62 | -0.39% |
| JSE Gold | 17:00 | 1391.83 | 10.91 | 0.79% |
| USD / ZAR | 19:59 | 13.1799 | 0.0605 | 0.46% |
| GBP / ZAR | 19:55 | 17.8484 | 0.2933 | 1.67% |
| EUR / ZAR | 19:55 | 15.7280 | 0.0893 | 0.57% |
| NZD / ZAR | 19:59 | 9.6084 | 0.1253 | 1.32% |
| AUD / ZAR | 19:55 | 10.5371 | 0.0344 | 0.33% |
| USD / JPY | 19:59 | 110.8590 | 0.6430 | 0.58% |
| EUR / USD | 19:59 | 1.1936 | 0.0022 | 0.18% |
| GBP / USD | 19:59 | 1.3576 | 0.0179 | 1.34% |
| BTC / USD | 19:59 | 3589.95 | 350.20 | 10.81% |
| BCH / USD | 19:59 | 409.02 | 20.31 | 5.23% |
| BTC / ZAR | 19:59 | 52502.00 | 6912.00 | 15.16% |
| ETH / USD | 19:59 | 249.27 | 25.55 | 11.42% |

| | | | | |
| --- | --- | --- | --- | --- |
| Name | Time | RP | Move | % Move |
| LTC / USD | 19:59 | 50.13 | 4.88 | 10.78% |
| DJ Futures | 19:54 | 22205.00 | 31.00 | 0.14% |
| DJ Ind | 13/09 | 22203.48 | 45.30 | 0.20% |
| SP 500 | 19:31 | 2497.50 | 1.88 | 0.08% |
| Nasdaq | 14/09 | 6429.08 | -31.11 | -0.48% |
| FTSE 100 | 17:42 | 7215.47 | -79.92 | -1.10% |
| DAX | 18:08 | 12518.81 | -21.64 | -0.17% |
| CAC40 | 18:08 | 5213.91 | -11.29 | -0.22% |
| Nikkei | 08:28 | 19909.50 | 102.06 | 0.52% |
| Shanghai | 09:28 | 3353.62 | -17.81 | -0.53% |
| Hang-Seng | 10:30 | 27807.59 | 30.39 | 0.11% |
| ASX All | 08:48 | 5755.80 | -42.60 | -0.73% |
| NZSE 50 | 09:04 | 7762.66 | -56.57 | -0.72% |
| Gold $ | 19:59 | 1321.60 | -7.67 | -0.58% |
| Gold R | 19:59 | 17414.06 | -24.38 | -0.14% |
| Gold R/kg | 19:59 | 559862 | -784 | -0.14% |
| Brent Crude | 19:54 | 55.45 | 0.23 | 0.42% |
| Silver $ | 19:59 | 17.6180 | -0.1260 | -0.71% |
| Platinum $ | 19:59 | 969.14 | -14.26 | -1.45% |
| Palladium $ | 19:59 | 925.12 | 2.12 | 0.23% |
| R186 | 17:08 | 8.40 | -0.01 | -0.18% |
| R204 | 17:08 | 6.85 | 0.00 | 0.07% |
| R207 | 17:08 | 7.07 | -0.03 | -0.42% |
Click here for the Sharenet Spot Price page
The JSE Today
Trading Statistics
| Date | Adv. | Decl. | Unch. | Actives | Volume | Value | Trades | Orders |
| --- | --- | --- | --- | --- | --- | --- | --- | --- |
| 15/09/2017 | 167 | 177 | 67 | 411 | 534,463,401 | R39,390,900,339 | 294939 | 3005204 |
| 14/09/2017 | 153 | 183 | 51 | 387 | 350,787,463 | R21,830,851,874 | 282894 | 2937477 |
| 13/09/2017 | 125 | 194 | 51 | 370 | 289,967,226 | R17,447,426,493 | 249939 | 2560264 |
| 12/09/2017 | 227 | 146 | 53 | 426 | 226,983,104 | R15,488,960,095 | 228572 | 2382722 |
| 11/09/2017 | 154 | 167 | 64 | 385 | 238,705,637 | R17,677,614,939 | 229322 | 2452762 |
* Includes all listed instruments on the JSE
---
---
---
Index Summary
| | | | |
| --- | --- | --- | --- |
| Index Name | RP | Move | % Move |
| Top 40 | 49,274.60 | -240.23 | -0.49% |
| Industrial | 83,330.31 | -275.81 | -0.33% |
| Mid Cap | 73,970.47 | -84.30 | -0.11% |
| Small Cap | 59,959.78 | 694.05 | 1.17% |
| Resource 20 | 35,062.81 | -138.62 | -0.39% |
| Industrial 25 | 75,549.83 | -326.45 | -0.43% |
| Financial 15 | 15,144.81 | -127.66 | -0.84% |
| Financial & Ind. 30 | 78,020.52 | -424.60 | -0.54% |
| All Share | 55,645.15 | -205.17 | -0.37% |
| Oil & Gas | 7,195.69 | .00 | 0.00% |
| Mining | 25,914.25 | -39.02 | -0.15% |
| Gold Mining | 1,391.83 | 10.91 | 0.79% |
| Platinum Mining | 19.25 | -.55 | -2.78% |
| GENERAL MINING | 7,776.56 | -10.98 | -0.14% |
| Oil & Gas Producers | 38,689.88 | .00 | 0.00% |
| Basic Materials | 24,813.60 | -66.78 | -0.27% |
| Chemicals | 20,283.34 | -346.27 | -1.68% |
| Forestry & Paper | 62,762.46 | 330.28 | 0.53% |
| Industrial Metals | 12,054.98 | 238.74 | 2.02% |
| Industrials | 46,918.09 | -99.64 | -0.21% |
| General Industrials | 176.14 | -.78 | -0.44% |
| Consumer Goods | 78,597.52 | 600.23 | 0.77% |
| Automobiles & Parts | 4,302.47 | 133.60 | 3.20% |
| Household Goods | 425.84 | -7 | -1.51% |
| Health Care | 7,594.40 | -22.38 | -0.29% |
| Beverages | 213.28 | 1.25 | 0.59% |

| | | | |
| --- | --- | --- | --- |
| Index Name | RP | Move | % Move |
| Food Producers | 9,055.68 | .49 | 0.01% |
| Personal Goods | 1,193.52 | 11.98 | 1.01% |
| Consumer Services | 21,911.45 | -185.67 | -0.84% |
| General Retailers | 6,668.60 | 51.49 | 0.78% |
| Travel & Leisure | 4,853.79 | -9.36 | -0.19% |
| Media | 635.71 | -8.97 | -1.39% |
| Support Services | 1,905.80 | -7.73 | -0.40% |
| Telecommunications | 6,887.50 | -100.08 | -1.43% |
| Financials | 41,448.52 | -224.72 | -0.54% |
| Banks | 7,575.60 | -111.97 | -1.46% |
| Non-life Insurance | 67,408.73 | -256.38 | -0.38% |
| Life Insurance | 36,917.62 | -339.98 | -0.91% |
| General Financial | 3,800.06 | -20.17 | -0.53% |
| Technology | 47,724.87 | -92.52 | -0.19% |
| SHARIAH TOP40 | 3,113.17 | -17 | -0.53% |
| FTSE/JSE SHARIAH ALL | 3,498.98 | -12 | -0.35% |
| COAL MINING | 15,296.53 | 253 | 1.68% |
| FTSE JSE Fledgling | 7,461.43 | 46 | 0.62% |
| FTSE/JSE TOP 40 USD | 4,025.62 | 528 | 15.11% |
| FTSE/JSE Alt X | 1,149.14 | -13 | -1.13% |
| SA LISTED PROPERTY | 658.39 | 2.70 | 0.41% |
| CAPPED PROPERTY | 531.76 | | 0.50% |
| RESOURCE | 19,798.73 | -53 | -0.27% |
| DIVIDEND PLUS | 213.02 | -2 | -0.74% |
| FTSE/JSE RAFI 40 | 10,295.18 | -52 | -0.50% |
| Capped Top 40 | 25,788.14 | -97 | -0.37% |
| Capped All Share | 28,086.26 | -77 | -0.27% |
| JSE TABACO | 10,848.73 | 249 | 2.35% |
Click here for the Sharenet Index Summary page
---
Latest Consensus Changes**

| | | | |
| --- | --- | --- | --- |
| Code | Company Name | Status | Updated |
| ARI | AFRICAN RAINBOW MINERALS | BUY | 14/09/2017 |
| FSR | FIRSTRAND LIMITED | HOLD | 14/09/2017 |
| HLM | HULAMIN LIMITED | BUY | 13/09/2017 |
| MMG | MICROMEGA HOLDINGS LIMITE... | BUY | 13/09/2017 |
| TCP | TRANSACTION CAPITAL LTD | BUY | 13/09/2017 |

Results Expected**

| | | |
| --- | --- | --- |
| Expected | Company Name | Fin. Date |
| 18/09/2017 | DISCOVERY | June 2017 (Final) |
| 18/09/2017 | DSY B PREF | June 2017 (Final) |
| 18/09/2017 | SILVERB | June 2017 (Final) |
| 19/09/2017 | AFRO-C | June 2017 (Final) |
| 19/09/2017 | AFROC-P | June 2017 (Final) |
---
Recent Dividends**

| | | | | |
| --- | --- | --- | --- | --- |
| Share Name | Dec-Date | LDT | Pay-Date | Amount |
| ASPEN | 14/09/17 | 03/10/17 | 09/10/17 | ZAR 2.8700 |
| CAPEVINH | 13/09/17 | 03/10/17 | 09/10/17 | ZAR 0.1360 |
| MAS | 13/09/17 | 03/10/17 | 11/10/17 | EUR 0.0319 |
| JASCO | 13/09/17 | 03/10/17 | 09/10/17 | ZAR 0.0100 |
| TRELLIDOR | 12/09/17 | 03/10/17 | 09/10/17 | ZAR 0.1950 |

Ex Div**

| | | | | |
| --- | --- | --- | --- | --- |
| Share Name | Dec-Date | LDT | Pay-Date | Amount |
| RBP CONV | 18/08/17 | 12/09/17 | 18/09/17 | ZAR 354.7900 |
| NASPERS-N | 23/06/17 | 12/09/17 | 18/09/17 | ZAR 5.8000 |
| DSY B PREF | 25/08/17 | 12/09/17 | 18/09/17 | ZAR 5.2068 |
| GRINDROD PREF | 23/08/17 | 12/09/17 | 18/09/17 | ZAR 4.5800 |
| STANBANK | 17/08/17 | 12/09/17 | 18/09/17 | ZAR 4.0000 |
---
Upcoming AGMs**

| | | | |
| --- | --- | --- | --- |
| Code | Company Name | Date | Status |
| UPL | Universal Partners Ltd. | 19/09/2017 | Confirmed |
| MIX | MiX Telematics Ltd. | 20/09/2017 | Confirmed |
| PBG | PBT Group Ltd. | 20/09/2017 | Confirmed |
| DLT | Delta Property Fund Ltd. | 21/09/2017 | Confirmed |
| EPS | Eastern Platinum Ltd. | 21/09/2017 | Confirmed |
---
Stock Exchange News Service
Click here for more SENS news
---