Tuesday, 11 April 2017 - 20:00
Charts
Todays Sharenet VIEWS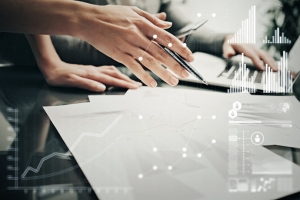 Joani van Wyk

In a previous article, we showed that the companies within the Top40 Index collectively generate 62% of their earnings in foreign markets. Breaking down the index, we found that there were several good picks that could effectively hedge against rand weakness. Following recent market events, we test our theory by looking at the performance of these companies since the cabinet reshuffle.
---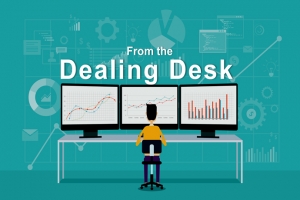 Sharenet

Richemont have had a good run in the past couple of months, but it was also coming off a low base since luxury goods sales slowed in September last year.
---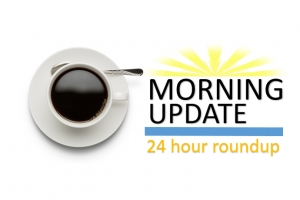 Sharenet

SA markets rallied yesterday led by gains in resources and a weaker Rand that boosted large cap offshore earners.
Top News
Barclays' plan to sell its African business and pull out of the continent are being hindered by South Africa's political upheaval and credit-rating downgrades, according to banking sources and fund managers.

---

Hungary faced criticism from Washington and Brussels on Tuesday over a new law they believe targets a Budapest university founded by U.S. financier George Soros that is viewed as a bastion of independent thinking in eastern Europe.

---

A fire razed most of the Grande-Synthe migrant camp near Dunkirk in northern France overnight after fighting among its inhabitants left several people injured, the region's top government official said early on Tuesday.

---
Company News
Old Mutual published its Annual Financial Report for 2016. Copies of the Annual Financial Report, the Strategic Report for 2016, the shareholder circular containing Notice of the 2017 Annual General Meeting (AGM) and the Form of Proxy for the AGM have been submitted to the National Storage Mechanism and will shortly be available for inspection at www.hemscott.com/nsm.do. These documents will also be available on the Company∆s own website at www.oldmutualplc.com. Copies of the Annual Fina. . .
Company Results
Revenue increased to R10.2 billion (R9.3 billion). Gross profit rose to R1.66 billion (R1.55 billion). Total income grew to R313 million (R289 million). Loss attributable to owners was recorded at R796 million (profit of R782 million). In addition, headline loss per share came to 47.5 cents per share (headline earnings per share of 36.5 cents per share). Dividend The directors have resolved to declare a gross final dividend of 11 cents (2016: 9 cents) per share from income reserves i. . .
World Markets (Spot Prices)
| | | | | |
| --- | --- | --- | --- | --- |
| Name | Time | RP | Move | % Move |
| JSE Overall | 17:00 | 53535.16 | 395.20 | 0.74% |
| JSE Top 40 | 17:00 | 46757.54 | 335.05 | 0.72% |
| JSE Gold | 17:00 | 1623.32 | 65.68 | 4.22% |
| JSE Financial | 17:00 | 39891.84 | 535.00 | 1.36% |
| JSE Industrial | 17:00 | 78703.13 | 556.32 | 0.71% |
| JSE Indust 25 | 17:00 | 70534.98 | 554.34 | 0.79% |
| JSE Resource | 17:00 | 34768.80 | 49.67 | 0.14% |
| DJ Futures | 19:58 | 20585.00 | -13.00 | -0.06% |
| DJ Ind | 19:58 | 20626.11 | -31.91 | -0.15% |
| SP 500 | 18:31 | 2348.62 | -8.54 | -0.36% |
| Nasdaq | 19:58 | 5855.65 | -25.28 | -0.43% |
| FTSE 100 | 17:46 | 7365.50 | 16.56 | 0.23% |
| DAX | 18:08 | 12139.35 | -61.17 | -0.50% |
| CAC40 | 18:08 | 5101.86 | -5.59 | -0.11% |
| Nikkei | 08:28 | 18747.87 | -50.01 | -0.27% |
| Shanghai | 09:28 | 3288.97 | 19.58 | 0.60% |
| Hang-Seng | 10:30 | 24088.46 | -173.72 | -0.72% |
| All Ords | 08:43 | 5964.60 | 15.70 | 0.26% |
| NZSE 50 | 07:48 | 7254.38 | 15.52 | 0.21% |

| | | | | |
| --- | --- | --- | --- | --- |
| Name | Time | RP | Move | % Move |
| Gold $ | 19:59 | 1272.74 | 18.00 | 1.43% |
| Gold R | 19:58 | 17597.16 | 105.53 | 0.60% |
| Gold R/kg | 19:58 | 565749 | 3393 | 0.60% |
| Silver $ | 19:59 | 18.2530 | 0.3540 | 1.98% |
| Platinum $ | 19:59 | 966.66 | 29.91 | 3.20% |
| Palladium $ | 19:59 | 804.87 | 17.37 | 2.21% |
| R186 | 17:37 | 8.95 | -0.04 | -0.44% |
| R204 | 17:05 | 7.65 | 0.02 | 0.26% |
| R207 | 17:05 | 7.82 | 0.01 | 0.06% |
| Brent Crude | 19:38 | 56.02 | -0.30 | -0.53% |
| USD / ZAR | 19:59 | 13.8275 | -0.1145 | -0.82% |
| GBP / ZAR | 19:55 | 17.2213 | -0.0624 | -0.36% |
| EUR/ ZAR | 19:55 | 14.6567 | -0.1213 | -0.82% |
| NZD/ ZAR | 19:59 | 9.6158 | -0.0972 | -1.00% |
| AUD / ZAR | 19:55 | 10.3648 | -0.1022 | -0.98% |
| USD / JPY | 19:59 | 109.6980 | -1.1520 | -1.04% |
| EUR / USD | 19:59 | 1.0604 | 0.0006 | 0.06% |
| GBP / USD | 19:59 | 1.2485 | 0.0067 | 0.54% |
Click here for the Sharenet Spot Price page
The JSE Today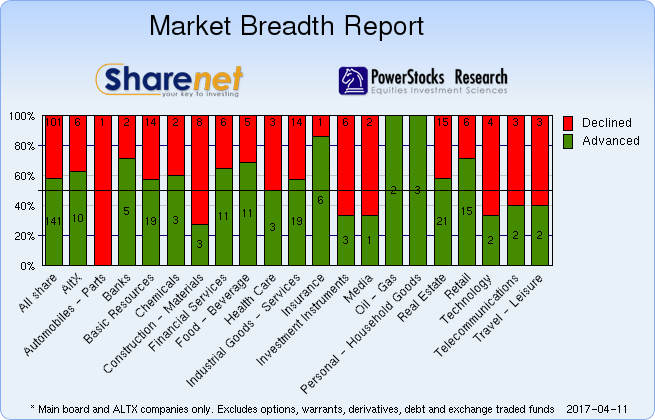 Trading Statistics
| Date | Adv. | Decl. | Unch. | Actives | Volume | Value | Trades | Orders |
| --- | --- | --- | --- | --- | --- | --- | --- | --- |
| 11/04/2017 | 207 | 130 | 44 | 381 | 316,020,785 | R22,057,056,318 | 317628 | 3141230 |
| 10/04/2017 | 182 | 196 | 62 | 440 | 299,865,440 | R19,619,500,859 | 288809 | 2672314 |
| 07/04/2017 | 169 | 176 | 64 | 409 | 277,359,794 | R18,757,392,939 | 293235 | 3197271 |
| 06/04/2017 | 132 | 229 | 56 | 417 | 360,252,899 | R23,371,001,263 | 336367 | 2576300 |
| 05/04/2017 | 173 | 198 | 47 | 418 | 384,880,011 | R26,409,528,121 | 361591 | 3220006 |
* Includes all listed instruments on the JSE
---
---
---
Index Summary
| | | | |
| --- | --- | --- | --- |
| Index Name | RP | Move | % Move |
| Top 40 | 46,757.54 | 335.05 | 0.72% |
| Industrial | 78,703.13 | 556.32 | 0.71% |
| Mid Cap | 77,071.75 | 1081.93 | 1.42% |
| Small Cap | 62,859.83 | -108.92 | -0.17% |
| Resource 20 | 34,768.80 | 49.67 | 0.14% |
| Industrial 25 | 70,534.98 | 554.34 | 0.79% |
| Financial 15 | 14,419.31 | 203.21 | 1.43% |
| Financial & Ind. 30 | 72,960.30 | 657.05 | 0.91% |
| All Share | 53,535.16 | 395.20 | 0.74% |
| Oil & Gas | 7,195.69 | .00 | 0.00% |
| Mining | 25,647.32 | 108.12 | 0.42% |
| Gold Mining | 1,623.32 | 65.68 | 4.22% |
| Platinum Mining | 24.31 | .75 | 3.18% |
| GENERAL MINING | 7,271.84 | -35.94 | -0.49% |
| Oil & Gas Producers | 38,689.88 | .00 | 0.00% |
| Basic Materials | 24,833.73 | 49.69 | 0.20% |
| Chemicals | 21,237.79 | -171.07 | -0.80% |
| Forestry & Paper | 62,300.44 | 402.83 | 0.65% |
| Industrial Metals | 12,158.50 | -345.82 | -2.77% |
| Industrials | 45,700.01 | 206.60 | 0.45% |
| General Industrials | 171.13 | 1.16 | 0.68% |
| Consumer Goods | 79,275.50 | 1089.21 | 1.39% |
| Automobiles & Parts | 5,434.70 | -88.31 | -1.60% |
| Household Goods | 472.85 | 5 | 1.03% |
| Health Care | 7,411.11 | 18.28 | 0.25% |
| Beverages | 224.87 | 2.03 | 0.91% |

| | | | |
| --- | --- | --- | --- |
| Index Name | RP | Move | % Move |
| Food Producers | 9,937.00 | 154.55 | 1.58% |
| Personal Goods | 1,106.13 | 18.38 | 1.69% |
| Consumer Services | 19,295.19 | 57.80 | 0.30% |
| General Retailers | 6,828.84 | 90.91 | 1.35% |
| Travel & Leisure | 5,823.14 | -54.57 | -0.93% |
| Media | 532.86 | -.49 | -0.09% |
| Support Services | 2,192.64 | -17.59 | -0.80% |
| Telecommunications | 6,918.83 | 68.76 | 1.00% |
| Financials | 39,891.84 | 535.00 | 1.36% |
| Banks | 6,949.71 | 112.95 | 1.65% |
| Non-life Insurance | 64,162.92 | 985.91 | 1.56% |
| Life Insurance | 36,055.14 | 686.54 | 1.94% |
| General Financial | 3,845.27 | 52.49 | 1.38% |
| Technology | 54,280.74 | -170.91 | -0.31% |
| SHARIAH TOP40 | 3,100.90 | 10 | 0.31% |
| FTSE/JSE SHARIAH ALL | 3,508.96 | 13 | 0.36% |
| COAL MINING | 15,787.03 | -379 | -2.35% |
| FTSE JSE Fledgling | 7,746.20 | -3 | -0.03% |
| FTSE/JSE TOP 40 USD | 3,621.14 | 124 | 3.54% |
| FTSE/JSE Alt X | 1,327.70 | 23 | 1.74% |
| SA LISTED PROPERTY | 616.41 | 4.11 | 0.67% |
| CAPPED PROPERTY | 511.88 | | 0.69% |
| RESOURCE | 19,814.79 | 40 | 0.20% |
| DIVIDEND PLUS | 213.62 | 2 | 1.07% |
| FTSE/JSE RAFI 40 | 10,062.51 | 75 | 0.75% |
| Capped Top 40 | 24,853.81 | 198 | 0.80% |
| Capped All Share | 27,290.81 | 214 | 0.79% |
| JSE TABACO | 11,888.49 | 113 | 0.96% |
Click here for the Sharenet Index Summary page
---
Latest Consensus Changes**

| | | | |
| --- | --- | --- | --- |
| Code | Company Name | Status | Updated |
| SOL | SASOL LIMITED | BUY | 10/04/2017 |
| FSR | FIRSTRAND LIMITED | HOLD | 07/04/2017 |
| SBK | STANDARD BANK GROUP LIMIT... | SELL | 07/04/2017 |
| NED | NEDBANK GROUP LTD | HOLD | 07/04/2017 |
| BGA | BARCLAYS AFRICA GRP LTD | HOLD | 07/04/2017 |

Results Expected**

| | | |
| --- | --- | --- |
| Expected | Company Name | Fin. Date |
| 12/04/2017 | EASTPLATS | December 2016 (Final) |
| 12/04/2017 | PHUMELELA | January 2017 (Interim) |
| 13/04/2017 | ASCEN A | February 2017 (Interim) |
| 13/04/2017 | ASCEN B | February 2017 (Interim) |
| 13/04/2017 | PSG KST | February 2017 (Final) |
---
Recent Dividends**

| | | | | |
| --- | --- | --- | --- | --- |
| Share Name | Dec-Date | LDT | Pay-Date | Amount |
| ZEDER | 10/04/17 | 02/05/17 | 08/05/17 | ZAR 0.1100 |
| BARWORLD6%P | 03/04/17 | 02/05/17 | 08/05/17 | ZAR 0.0600 |
| NTC PREF | 03/04/17 | 09/05/17 | 15/05/17 | ZAR 4.3194 |
| ILPREF2 | 31/03/17 | 18/04/17 | 24/04/17 | ZAR 14.4374 |
| TELEMASTR | 31/03/17 | 18/04/17 | 24/04/17 | ZAR 0.0050 |

Ex Div**

| | | | | |
| --- | --- | --- | --- | --- |
| Share Name | Dec-Date | LDT | Pay-Date | Amount |
| ABSABANK-P | 23/02/17 | 04/04/17 | 10/04/17 | ZAR 36.4479 |
| NEDBANK | 28/02/17 | 10/04/17 | 18/04/17 | ZAR 6.3000 |
| B-AFRICA | 23/02/17 | 04/04/17 | 10/04/17 | ZAR 5.7000 |
| SHFINV-PREF | 15/03/17 | 10/04/17 | 18/04/17 | ZAR 4.3668 |
| SASFIN-P | 16/03/17 | 04/04/17 | 10/04/17 | ZAR 4.3668 |
---
Upcoming AGMs**

| | | | |
| --- | --- | --- | --- |
| Code | Company Name | Date | Status |
| AIA | Ascension Properties Ltd. | 11/04/2017 | Confirmed |
| AIB | Ascension Properties Ltd. | 11/04/2017 | Confirmed |
| RBP | Royal Bafokeng Platinum Ltd. | 12/04/2017 | Confirmed |
---
Stock Exchange News Service
Click here for more SENS news
---