Wednesday, 08 February 2017 - 20:00
Charts
Todays Sharenet VIEWS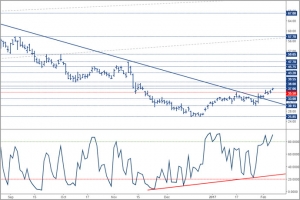 Moxima Gama
Because resistance was encountered at 3,550cps, a positive breakout of the bear trend was confirmed above that level. However, the 3-day RSI is currently overbought and could trigger a near term reversal.
---
Ian Stiglingh & Cheyne Anderson
SA markets recovered late in the afternoon to close mostly flat. Gold was the best performing sector with other resources closely following while food retailers were subject to selling pressure.
Top News
South Africa's gold industry, which faces a class action suit from miners who contracted the fatal lung disease silicosis, said on Wednesday the government had 3.7 billion rand ($275 million) in a fund available for compensation to sufferers.

---

President Donald Trump stepped up his criticism of the U.S. judiciary on Wednesday, saying courts seem to be "so political," a day after his U.S. travel ban on people from seven Muslim-majority countries faced close scrutiny from an appeals court.

---

Syrian rebels backed by the Turkish military have captured the outskirts of the Islamic State-held city of al-Bab in northern Syria, the Turkish government and rebel sources said on Wednesday.

---
---
MTN is currently in the process of finalising its financial results for the year ended 31 December 2016 (FY2016) which will be announced on the Johannesburg Stock Exchange News Service on or about Thursday, 2 March 2017. Shareholders are therefore advised that MTN expects to report a loss in basic headline earnings per share (HEPS) and basic earnings per share (EPS) for FY2016. In the prior year comparable period MTN reported HEPS of 1 204 cents and EPS of 746 cents. The expected d. . .
World Markets (Spot Prices)
| | | | | |
| --- | --- | --- | --- | --- |
| Name | Time | RP | Move | % Move |
| JSE Overall | 17:00 | 51803.48 | -378.43 | -0.73% |
| JSE Top 40 | 17:00 | 44922.93 | -443.95 | -0.98% |
| JSE Gold | 17:00 | 1612.23 | 43.95 | 2.80% |
| JSE Financial | 17:00 | 40277.90 | -87.49 | -0.22% |
| JSE Industrial | 17:00 | 74240.11 | -710.43 | -0.95% |
| JSE Indust 25 | 17:00 | 65989.38 | -724.40 | -1.09% |
| JSE Resource | 17:00 | 34190.65 | -311.25 | -0.90% |
| DJ Futures | 19:52 | 19991.00 | -22.00 | -0.11% |
| DJ Ind | 20:00 | 20040.02 | -50.27 | -0.25% |
| SP 500 | 20:00 | 2291.29 | -1.79 | -0.08% |
| Nasdaq | 20:00 | 5670.07 | -4.15 | -0.07% |
| FTSE 100 | 18:42 | 7188.82 | 2.60 | 0.04% |
| DAX | 19:08 | 11543.38 | -6.06 | -0.05% |
| CAC40 | 19:08 | 4766.60 | 12.13 | 0.26% |
| Nikkei | 08:28 | 19007.60 | 96.82 | 0.51% |
| Shanghai | 09:32 | 3166.98 | 13.89 | 0.44% |
| Hang-Seng | 10:28 | 23485.13 | 153.56 | 0.66% |
| All Ords | 07:38 | 5703.40 | 30.80 | 0.54% |
| NZSE 50 | 09:08 | 7066.27 | -.78 | -0.01% |

| | | | | |
| --- | --- | --- | --- | --- |
| Name | Time | RP | Move | % Move |
| Gold $ | 19:59 | 1242.60 | 9.92 | 0.80% |
| Gold R | 20:00 | 16619.40 | 61.64 | 0.37% |
| Gold R/kg | 20:00 | 534314 | 1982 | 0.37% |
| Silver $ | 19:59 | 17.7960 | 0.1170 | 0.66% |
| Platinum $ | 19:59 | 1017.51 | 14.27 | 1.42% |
| Palladium $ | 19:59 | 769.43 | 8.43 | 1.11% |
| R186 | 17:38 | 8.85 | -0.03 | -0.34% |
| R204 | 17:12 | 7.78 | -0.02 | -0.26% |
| R207 | 17:23 | 7.96 | -0.01 | -0.19% |
| Brent Crude | 20:00 | 55.19 | 0.11 | 0.20% |
| USD / ZAR | 19:59 | 13.3747 | -0.0602 | -0.45% |
| GBP / ZAR | 19:55 | 16.7230 | -0.0474 | -0.28% |
| EUR/ ZAR | 19:55 | 14.3045 | -0.0452 | -0.31% |
| NZD/ ZAR | 19:59 | 9.7904 | -0.0149 | -0.15% |
| AUD / ZAR | 19:55 | 10.2228 | -0.0276 | -0.27% |
| USD / JPY | 19:59 | 111.7610 | -0.5590 | -0.50% |
| EUR / USD | 19:59 | 1.0696 | 0.0015 | 0.14% |
| GBP / USD | 19:59 | 1.2535 | 0.0027 | 0.22% |
Click here for the Sharenet Spot Price page
The JSE Today
Trading Statistics
| Date | Adv. | Decl. | Unch. | Actives | Volume | Value | Trades | Orders |
| --- | --- | --- | --- | --- | --- | --- | --- | --- |
| 08/02/2017 | 164 | 193 | 64 | 421 | 358,628,749 | R20,696,966,133 | 285334 | 2430805 |
| 07/02/2017 | 195 | 190 | 59 | 444 | 311,488,311 | R18,004,973,171 | 261133 | 1785659 |
| 06/02/2017 | 158 | 183 | 67 | 408 | 259,950,476 | R14,031,075,015 | 247850 | 2530624 |
| 03/02/2017 | 151 | 207 | 73 | 431 | 262,220,870 | R17,201,349,407 | 241670 | 2394168 |
| 02/02/2017 | 141 | 224 | 53 | 418 | 382,971,489 | R20,490,067,346 | 295815 | 2862500 |
* Includes all listed instruments on the JSE
---
---
---
Index Summary
| | | | |
| --- | --- | --- | --- |
| Index Name | RP | Move | % Move |
| Top 40 | 44,922.93 | -443.95 | -0.98% |
| Industrial | 74,240.11 | -710.43 | -0.95% |
| Mid Cap | 77,968.01 | 347.34 | 0.45% |
| Small Cap | 63,567.56 | 68.35 | 0.11% |
| Resource 20 | 34,190.65 | -311.25 | -0.90% |
| Industrial 25 | 65,989.38 | -724.40 | -1.09% |
| Financial 15 | 14,620.45 | -49.06 | -0.33% |
| Financial & Ind. 30 | 69,332.89 | -694.43 | -0.99% |
| All Share | 51,803.48 | -378.43 | -0.73% |
| Oil & Gas | 7,195.69 | .00 | 0.00% |
| Mining | 26,032.54 | -217.69 | -0.83% |
| Gold Mining | 1,612.23 | 43.95 | 2.80% |
| Platinum Mining | 24.82 | .46 | 1.89% |
| GENERAL MINING | 7,432.66 | -137.24 | -1.81% |
| Oil & Gas Producers | 38,689.88 | .00 | 0.00% |
| Basic Materials | 24,369.49 | -185.23 | -0.75% |
| Chemicals | 19,835.84 | -256.70 | -1.28% |
| Forestry & Paper | 53,998.68 | 66.89 | 0.12% |
| Industrial Metals | 12,501.04 | 95.90 | 0.77% |
| Industrials | 47,305.17 | 195.96 | 0.42% |
| General Industrials | 178.50 | .69 | 0.39% |
| Consumer Goods | 73,658.51 | -497.19 | -0.67% |
| Automobiles & Parts | 4,981.81 | -18.11 | -0.36% |
| Household Goods | 461.39 | -11 | -2.24% |
| Health Care | 8,332.68 | -11.41 | -0.14% |
| Beverages | 244.24 | -2.45 | -0.99% |

| | | | |
| --- | --- | --- | --- |
| Index Name | RP | Move | % Move |
| Food Producers | 10,064.79 | 25.03 | 0.25% |
| Personal Goods | 993.67 | -13.28 | -1.32% |
| Consumer Services | 17,448.51 | -281.86 | -1.59% |
| General Retailers | 7,018.78 | 7.64 | 0.11% |
| Travel & Leisure | 6,062.52 | -26.37 | -0.43% |
| Media | 464.61 | -11.91 | -2.50% |
| Support Services | 2,159.36 | 7.62 | 0.35% |
| Telecommunications | 6,613.83 | -92.09 | -1.37% |
| Financials | 40,277.90 | -87.49 | -0.22% |
| Banks | 7,245.16 | -51.11 | -0.70% |
| Non-life Insurance | 61,522.39 | -592.07 | -0.95% |
| Life Insurance | 35,669.70 | -10.74 | -0.03% |
| General Financial | 3,927.66 | -11.02 | -0.28% |
| Technology | 57,249.59 | 1697.36 | 3.06% |
| SHARIAH TOP40 | 3,081.57 | -29 | -0.93% |
| FTSE/JSE SHARIAH ALL | 3,495.94 | -22 | -0.63% |
| COAL MINING | 13,904.67 | 188 | 1.37% |
| FTSE JSE Fledgling | 8,130.95 | -5 | -0.06% |
| FTSE/JSE TOP 40 USD | 3,605.03 | 108 | 3.08% |
| FTSE/JSE Alt X | 1,374.80 | -11 | -0.78% |
| SA LISTED PROPERTY | 630.66 | -1.82 | -0.29% |
| CAPPED PROPERTY | 513.36 | | 0.18% |
| RESOURCE | 19,444.37 | -148 | -0.75% |
| DIVIDEND PLUS | 208.19 | 0 | 0.00% |
| FTSE/JSE RAFI 40 | 9,847.94 | -49 | -0.49% |
| Capped Top 40 | 24,099.22 | -205 | -0.84% |
| Capped All Share | 26,549.29 | -173 | -0.65% |
| JSE TABACO | 10,774.74 | 155 | 1.46% |
Click here for the Sharenet Index Summary page
---
Latest Consensus Changes**

| | | | |
| --- | --- | --- | --- |
| Code | Company Name | Status | Updated |
| KIO | KUMBA IRON ORE LTD | HOLD | 06/02/2017 |
| SNT | SANTAM LTD | BUY | 06/02/2017 |
| FSR | FIRSTRAND LIMITED | HOLD | 06/02/2017 |
| MTN | MTN GROUP LIMITED | HOLD | 06/02/2017 |
| NED | NEDBANK GROUP LTD | HOLD | 06/02/2017 |

Results Expected**

| | | |
| --- | --- | --- |
| Expected | Company Name | Fin. Date |
| 09/02/2017 | FORTRESSA | December 2016 (Interim) |
| 09/02/2017 | FORTRESSB | December 2016 (Interim) |
| 09/02/2017 | NET1UEPS | December 2016 (Interim) |
| 09/02/2017 | NET1UEPSP | December 2016 (Interim) |
| 09/02/2017 | NET1UEPSPP | December 2016 (Interim) |
---
Recent Dividends**

| | | | | |
| --- | --- | --- | --- | --- |
| Share Name | Dec-Date | LDT | Pay-Date | Amount |
| TRADEHOLD PREF | 07/02/17 | 21/02/17 | 01/03/17 | ZAR 0.1960 |
| HUDACO | 03/02/17 | 28/02/17 | 06/03/17 | ZAR 3.5500 |
| RESILIENT | 02/02/17 | 28/02/17 | 06/03/17 | ZAR 2.7022 |
| MIXTEL | 02/02/17 | 21/02/17 | 27/02/17 | ZAR 0.0200 |
| HARMONY | 02/02/17 | 14/03/17 | 20/03/17 | ZAR 0.5000 |

Ex Div**

| | | | | |
| --- | --- | --- | --- | --- |
| Share Name | Dec-Date | LDT | Pay-Date | Amount |
| ECSP C6 | 24/01/17 | 07/02/17 | 13/02/17 | ZAR 1.1123 |
| ECSP C2 | 24/01/17 | 07/02/17 | 13/02/17 | ZAR 1.1123 |
| ECSP C | 24/01/17 | 07/02/17 | 13/02/17 | ZAR 1.1123 |
| ECSP C5 | 24/01/17 | 07/02/17 | 13/02/17 | ZAR 1.1123 |
| ECSP C4 | 24/01/17 | 07/02/17 | 13/02/17 | ZAR 1.1123 |
---
Upcoming AGMs**

| | | | |
| --- | --- | --- | --- |
| Code | Company Name | Date | Status |
| SAP | Sappi Ltd. | 08/02/2017 | Confirmed |
| BAWP | Barloworld Ltd. | 08/02/2017 | Confirmed |
| BAW | Barloworld Ltd. | 08/02/2017 | Confirmed |
| NWL | Nu-World Holdings Ltd. | 08/02/2017 | Confirmed |
| NWN | Nu-World Holdings Ltd. | 08/02/2017 | Confirmed |
---
Stock Exchange News Service
Click here for more SENS news
---