Tuesday, 24 January 2017 - 20:00
Charts
Todays Sharenet VIEWS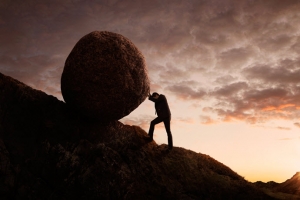 Dwaine van Vuuren
In our VIEWS article on the 14th December 2016 we commented on how a J200:TOP40 P/E ratio of 24x was serving as huge "fundamental resistance" and that in the absence of any material earnings announcements, or major "animal spirits" willing to entertain new lifetime valuation highs, P/E's of above 24 were likely to severely limit JSE gains.
Top News
Local markets On Tuesday, gold mining and resource shares continued to lead gains, and the All Share closed 0.57% higher.

---

Russia and regional powers Turkey and Iran backed a shaky truce between Syria's warring parties on Tuesday and agreed to monitor its compliance, but on the ground rebels faced continued fighting on two fronts which could undermine the deal.

---

China said on Tuesday it had "irrefutable" sovereignty over disputed islands in the South China Sea after the White House vowed to defend "international territories" in the strategic waterway.

---
Company Results
The company has published maiden final results for November 2016, therefore there are no comparatives. Revenue amounted to USD722 443, while profit from operations came in at USD94 796. Total comprehensive income for the period was recorded at USD100 200. Dividend No dividends were authorized or paid during the period under review. Outlook The Company successfully completed a dual listing on the Alternative Exchange of the JSE on 23 November 2016. This affected the share price de. . .
World Markets (Spot Prices)
| | | | | |
| --- | --- | --- | --- | --- |
| Name | Time | RP | Move | % Move |
| JSE Overall | 17:00 | 53342.04 | 301.56 | 0.57% |
| JSE Top 40 | 17:00 | 46461.91 | 224.73 | 0.49% |
| JSE Gold | 17:00 | 1518.90 | 22.81 | 1.52% |
| JSE Financial | 17:00 | 41570.86 | .85 | 0.00% |
| JSE Industrial | 17:00 | 75640.89 | 180.61 | 0.24% |
| JSE Indust 25 | 17:00 | 67417.73 | 122.02 | 0.18% |
| JSE Resource | 17:00 | 36210.15 | 659.29 | 1.85% |
| DJ Futures | 19:58 | 19823.00 | 83.00 | 0.42% |
| DJ Ind | 19:58 | 19908.25 | 108.40 | 0.55% |
| SP 500 | 19:58 | 2276.66 | 11.46 | 0.51% |
| Nasdaq | 19:58 | 5577.77 | 24.83 | 0.45% |
| FTSE 100 | 20/01 | 7151.18 | -47.26 | -0.66% |
| DAX | 19:08 | 11594.94 | 49.19 | 0.43% |
| CAC40 | 19:08 | 4830.03 | 8.62 | 0.18% |
| Nikkei | 08:28 | 18787.99 | -103.04 | -0.55% |
| Shanghai | 09:28 | 3142.55 | 5.78 | 0.18% |
| Hang-Seng | 10:28 | 22949.86 | 51.34 | 0.22% |
| All Ords | 07:35 | 5706.30 | 38.30 | 0.68% |
| NZSE 50 | 09:08 | 7064.16 | -3.69 | -0.05% |

| | | | | |
| --- | --- | --- | --- | --- |
| Name | Time | RP | Move | % Move |
| Gold $ | 19:59 | 1212.58 | -4.93 | -0.40% |
| Gold R | 19:59 | 16190.31 | -194.93 | -1.19% |
| Gold R/kg | 19:58 | 520429 | -6356 | -1.21% |
| Silver $ | 19:59 | 17.1700 | -0.0490 | -0.28% |
| Platinum $ | 19:59 | 1001.20 | 21.62 | 2.21% |
| Palladium $ | 19:59 | 794.02 | 17.42 | 2.24% |
| R186 | 17:37 | 8.69 | -0.06 | -0.69% |
| R204 | 17:26 | 7.75 | -0.06 | -0.83% |
| R207 | 17:34 | 7.90 | -0.06 | -0.69% |
| Brent Crude | 19:58 | 55.68 | 0.19 | 0.34% |
| USD / ZAR | 19:59 | 13.3490 | -0.1095 | -0.81% |
| GBP / ZAR | 19:55 | 16.6836 | -0.1426 | -0.85% |
| EUR/ ZAR | 19:55 | 14.3515 | -0.1408 | -0.97% |
| NZD/ ZAR | 19:59 | 9.6989 | -0.0796 | -0.81% |
| AUD / ZAR | 19:55 | 10.1297 | -0.0983 | -0.96% |
| USD / JPY | 19:59 | 113.5560 | 0.9760 | 0.87% |
| EUR / USD | 19:59 | 1.0757 | -0.0013 | -0.12% |
| GBP / USD | 19:59 | 1.2527 | -0.0006 | -0.05% |
Click here for the Sharenet Spot Price page
The JSE Today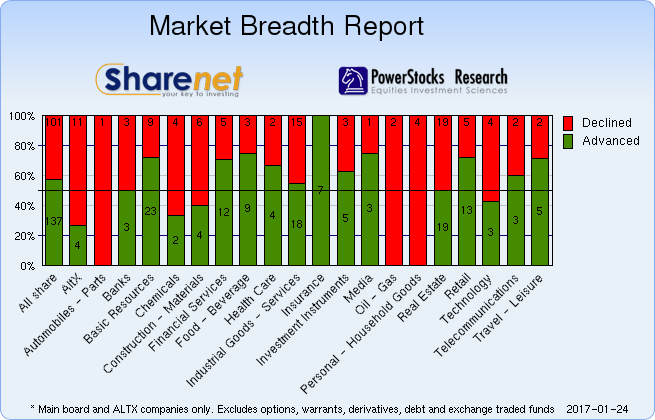 Trading Statistics
| Date | Adv. | Decl. | Unch. | Actives | Volume | Value | Trades | Orders |
| --- | --- | --- | --- | --- | --- | --- | --- | --- |
| 24/01/2017 | 202 | 148 | 71 | 421 | 304,359,795 | R23,442,068,712 | 318147 | 2440965 |
| 23/01/2017 | 217 | 123 | 57 | 397 | 228,426,260 | R17,232,742,270 | 247687 | 2597845 |
| 20/01/2017 | 121 | 209 | 74 | 404 | 201,641,191 | R16,795,564,039 | 202858 | 626860 |
| 19/01/2017 | 156 | 192 | 50 | 398 | 226,892,135 | R18,072,587,805 | 246651 | 1236498 |
| 18/01/2017 | 182 | 147 | 60 | 389 | 273,045,854 | R18,682,304,418 | 277999 | 2567301 |
* Includes all listed instruments on the JSE
---
---
---
Index Summary
| | | | |
| --- | --- | --- | --- |
| Index Name | RP | Move | % Move |
| Top 40 | 46,461.91 | 224.73 | 0.49% |
| Industrial | 75,640.89 | 180.61 | 0.24% |
| Mid Cap | 79,224.50 | 657.69 | 0.84% |
| Small Cap | 62,623.10 | 476.60 | 0.77% |
| Resource 20 | 36,210.15 | 659.29 | 1.85% |
| Industrial 25 | 67,417.73 | 122.02 | 0.18% |
| Financial 15 | 15,171.28 | -19.97 | -0.13% |
| Financial & Ind. 30 | 71,089.45 | 46.95 | 0.07% |
| All Share | 53,342.04 | 301.56 | 0.57% |
| Oil & Gas | 7,195.69 | .00 | 0.00% |
| Mining | 27,258.88 | 691.21 | 2.60% |
| Gold Mining | 1,518.90 | 22.81 | 1.52% |
| Platinum Mining | 25.26 | 1.26 | 5.25% |
| GENERAL MINING | 7,969.98 | 194.26 | 2.50% |
| Oil & Gas Producers | 38,689.88 | .00 | 0.00% |
| Basic Materials | 25,618.91 | 471.54 | 1.88% |
| Chemicals | 22,151.14 | 105.20 | 0.48% |
| Forestry & Paper | 54,548.30 | -367.88 | -0.67% |
| Industrial Metals | 11,653.15 | 469.43 | 4.20% |
| Industrials | 47,754.57 | 303.10 | 0.64% |
| General Industrials | 181.97 | 1.19 | 0.66% |
| Consumer Goods | 74,541.14 | -429.49 | -0.57% |
| Automobiles & Parts | 4,793.86 | -120.01 | -2.44% |
| Household Goods | 478.20 | -4 | -0.76% |
| Health Care | 8,448.54 | 27.94 | 0.33% |
| Beverages | 241.73 | .71 | 0.29% |

| | | | |
| --- | --- | --- | --- |
| Index Name | RP | Move | % Move |
| Food Producers | 10,273.57 | 125.41 | 1.24% |
| Personal Goods | 1,024.63 | -10.79 | -1.04% |
| Consumer Services | 17,714.86 | 130.71 | 0.74% |
| General Retailers | 7,151.99 | 93.33 | 1.32% |
| Travel & Leisure | 6,122.54 | 36.60 | 0.60% |
| Media | 471.27 | 3.93 | 0.84% |
| Support Services | 1,993.18 | 14.92 | 0.75% |
| Telecommunications | 7,110.98 | 13.58 | 0.19% |
| Financials | 41,570.86 | .85 | 0.00% |
| Banks | 7,660.36 | -40.02 | -0.52% |
| Non-life Insurance | 62,510.94 | 396.48 | 0.64% |
| Life Insurance | 37,031.36 | 230.62 | 0.63% |
| General Financial | 3,972.62 | 14.09 | 0.36% |
| Technology | 57,273.68 | 484.67 | 0.85% |
| SHARIAH TOP40 | 3,225.77 | 39 | 1.23% |
| FTSE/JSE SHARIAH ALL | 3,625.42 | 45 | 1.25% |
| COAL MINING | 13,343.38 | 508 | 3.96% |
| FTSE JSE Fledgling | 8,044.82 | -6 | -0.07% |
| FTSE/JSE TOP 40 USD | 3,748.47 | 251 | 7.18% |
| FTSE/JSE Alt X | 1,383.02 | -16 | -1.11% |
| SA LISTED PROPERTY | 643.81 | 1.16 | 0.18% |
| CAPPED PROPERTY | 520.79 | | -0.04% |
| RESOURCE | 20,441.28 | 376 | 1.88% |
| DIVIDEND PLUS | 216.16 | 1 | 0.37% |
| FTSE/JSE RAFI 40 | 10,260.06 | 66 | 0.65% |
| Capped Top 40 | 24,958.51 | 112 | 0.45% |
| Capped All Share | 27,354.92 | 152 | 0.56% |
| JSE TABACO | 10,196.91 | -61 | -0.59% |
Click here for the Sharenet Index Summary page
---
Latest Consensus Changes**

| | | | |
| --- | --- | --- | --- |
| Code | Company Name | Status | Updated |
| ARI | AFRICAN RAINBOW MINERALS | BUY | 23/01/2017 |
| S32 | SOUTH32 LIMITED | SELL | 23/01/2017 |
| EXX | EXXARO RESOURCES LIMITED | HOLD | 23/01/2017 |
| ASR | ASSORE LTD | SELL | 23/01/2017 |
| KIO | KUMBA IRON ORE LTD | SELL | 23/01/2017 |

Results Expected**

| | | |
| --- | --- | --- |
| Expected | Company Name | Fin. Date |
| 27/01/2017 | FRONTIER | November 2016 (Q) |
| 30/01/2017 | ANGLD | September 2016 (Q) |
| 30/01/2017 | ANGLD-A | September 2016 (Q) |
| 30/01/2017 | ANGLD-B | September 2016 (Q) |
| 30/01/2017 | ANGLD-E | September 2016 (Q) |
---
Recent Dividends**

| | | | | |
| --- | --- | --- | --- | --- |
| Share Name | Dec-Date | LDT | Pay-Date | Amount |
| CULINAN5.5P | 13/01/17 | 31/01/17 | 06/02/17 | ZAR 0.0550 |
| NAMPAK 6.5 | 02/12/16 | 31/01/17 | 06/02/17 | ZAR 0.0650 |
| NAMPAK 6%P | 02/12/16 | 31/01/17 | 06/02/17 | ZAR 0.0600 |
| WINHOLD | 25/11/16 | 21/02/17 | 27/02/17 | ZAR 0.0400 |
| QUANTUM | 24/11/16 | 07/02/17 | 13/02/17 | ZAR 0.0600 |

Ex Div**

| | | | | |
| --- | --- | --- | --- | --- |
| Share Name | Dec-Date | LDT | Pay-Date | Amount |
| AEG CONV | 29/12/16 | 17/01/17 | 24/01/17 | ZAR 362.5000 |
| ILRPREF1 | 30/12/16 | 24/01/17 | 30/01/17 | ZAR 14.7583 |
| ILPREF2 | 30/12/16 | 24/01/17 | 30/01/17 | ZAR 14.7583 |
| PNR FOODS | 21/11/16 | 24/01/17 | 30/01/17 | ZAR 2.6000 |
| CLICKS | 27/10/16 | 24/01/17 | 30/01/17 | ZAR 1.9600 |
---
Upcoming AGMs**

| | | | |
| --- | --- | --- | --- |
| Code | Company Name | Date | Status |
| ORE | Orion Real Estate Ltd. | 24/01/2017 | Confirmed |
| TMT | Trematon Capital Investments Ltd. | 25/01/2017 | Confirmed |
| AHL | AH-Vest Ltd. | 25/01/2017 | Confirmed |
| EFG | Efficient Group Ltd. | 25/01/2017 | Confirmed |
| LHC | Life Healthcare Group Holdings Ltd. | 25/01/2017 | Confirmed |
---
Stock Exchange News Service
Click here for more SENS news
---