Monday, 12 September 2016 - 20:00
Charts
Todays Sharenet VIEWS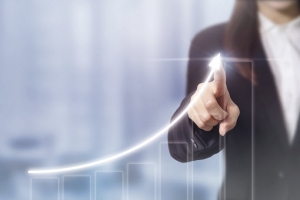 Jeremy Woods: Out of the Woods
The fundraising of R4b currently in action at cement producer PPC is a very clever way of solving the potential debt crisis facing the company. Before the announcement of the fundraising, PPC had several billion of debt, which I think for some investors, put them off investing.
Top News
---

Austria on Monday delayed a re-run of a presidential election as faulty glue on postal ballots scuppered its second attempt to organise a ballot that could give the European Union its first far-right head of state.

---

A nationwide ceasefire brokered by the United States and Russia came into effect in Syria on Monday evening, the second attempt this year by Washington and Moscow to halt the five-year-old civil war.

---
SA Business
South Africa's rand traded slightly weaker against the dollar early on Monday as renewed talk of a possible rate hike by the U.S. Federal Reserve subdued risk appetite. * At 0615 GMT, the rand trades at 14.4530 per dollar, 0.23percent weaker from its New York close on Friday. * Locally, focus on current account data due out on Tuesday. * In fixed income, the yield for the benchmark instrumentdue in 2026 adds 0.5 basis points to 8.76 percent.. . .
---
Aspen announced that Group companies have signed agreements with various subsidiary companies of GlaxoSmithKline plc ("GSK") relating to the following three separate transactions: Acquisition of a portoflio of anaesthetic products Aspen Global Incorporated ("AGI") has signed an agreement with GSK whereby AGI will acquire a portfolio of anaesthetics globally (with the exception of certain territories, primarily North America) ("the Anaesthetics Transaction"). GSK's anaesthetics por. . .
World Markets (Spot Prices)
| | | | | |
| --- | --- | --- | --- | --- |
| Name | Time | RP | Move | % Move |
| JSE Overall | 17:00 | 52802.00 | -545.30 | -1.02% |
| JSE Top 40 | 17:00 | 46294.07 | -440.85 | -0.94% |
| JSE Gold | 17:00 | 2257.54 | -59.66 | -2.57% |
| JSE Financial | 17:00 | 40381.33 | -596.29 | -1.46% |
| JSE Industrial | 17:00 | 79379.78 | -477.44 | -0.60% |
| JSE Indust 25 | 17:00 | 71199.14 | -388.65 | -0.54% |
| JSE Resource | 17:00 | 31351.24 | -622.41 | -1.95% |
| DJ Futures | 19:48 | 18137.00 | 96.00 | 0.53% |
| DJ Ind | 19:58 | 18239.46 | 154.01 | 0.85% |
| SP 500 | 19:58 | 2148.27 | 20.46 | 0.96% |
| Nasdaq | 19:58 | 5184.30 | 58.39 | 1.14% |
| FTSE 100 | 15:52 | 6682.01 | -94.94 | -1.40% |
| DAX | 18:08 | 10431.77 | -141.67 | -1.34% |
| CAC40 | 18:08 | 4439.80 | -51.60 | -1.15% |
| Nikkei | 08:38 | 16672.92 | -292.84 | -1.73% |
| Shanghai | 09:28 | 3021.98 | -56.87 | -1.85% |
| Hang-Seng | 10:28 | 23290.60 | -809.10 | -3.36% |
| All Ords | 08:36 | 5319.10 | -121.40 | -2.23% |
| NZSE 50 | 07:48 | 7279.76 | -188.84 | -2.53% |

| | | | | |
| --- | --- | --- | --- | --- |
| Name | Time | RP | Move | % Move |
| Gold $ | 19:59 | 1327.09 | .53 | 0.04% |
| Gold R | 19:58 | 18907.35 | -175.15 | -0.92% |
| Gold R/kg | 19:57 | 608023 | -5479 | -0.89% |
| Silver $ | 19:59 | 19.0320 | 0.0230 | 0.12% |
| Platinum $ | 19:59 | 1047.20 | -8.48 | -0.80% |
| Palladium $ | 19:59 | 662.84 | -9.66 | -1.44% |
| R186 | 17:38 | 8.72 | -0.04 | -0.46% |
| R204 | 17:19 | 7.78 | -0.04 | -0.58% |
| R207 | 17:19 | 7.99 | -0.04 | -0.56% |
| Brent Crude | 19:48 | 48.22 | -1.21 | -2.45% |
| USD / ZAR | 19:59 | 14.2110 | -0.1720 | -1.20% |
| GBP / ZAR | 19:55 | 18.9907 | -0.1008 | -0.53% |
| EUR/ ZAR | 19:55 | 16.0356 | -0.1506 | -0.93% |
| NZD/ ZAR | 19:58 | 10.4593 | -0.0757 | -0.72% |
| AUD / ZAR | 19:55 | 10.7702 | -0.1004 | -0.92% |
| USD / JPY | 19:59 | 101.6460 | -1.0210 | -0.99% |
| EUR / USD | 19:59 | 1.1253 | 0.0028 | 0.25% |
| GBP / USD | 19:59 | 1.3341 | 0.0000 | 0.00% |
Click here for the Sharenet Spot Price page
The JSE Today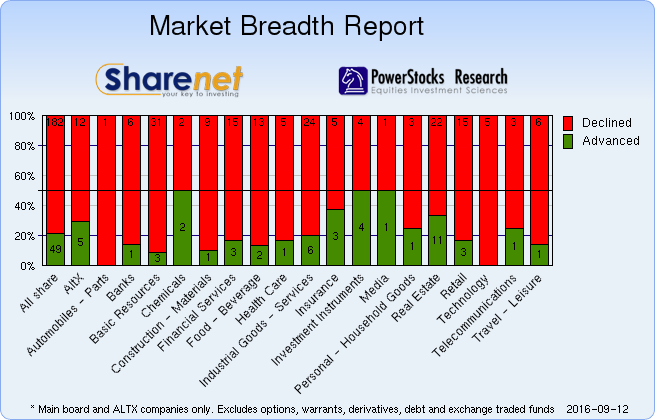 Trading Statistics
| Date | Adv. | Decl. | Unch. | Actives | Volume | Value | Trades | Orders |
| --- | --- | --- | --- | --- | --- | --- | --- | --- |
| 12/09/2016 | 69 | 260 | 56 | 385 | 292,016,704 | R20,162,710,120 | 297561 | 1958923 |
| 09/09/2016 | 189 | 157 | 59 | 405 | 314,636,514 | R22,568,598,092 | 334219 | 32443 |
| 08/09/2016 | 136 | 195 | 70 | 401 | 393,510,828 | R29,956,842,793 | 421830 | 361492 |
| 07/09/2016 | 154 | 176 | 68 | 398 | 281,879,839 | R22,133,422,359 | 305562 | 66741 |
| 06/09/2016 | 220 | 128 | 61 | 409 | 285,565,185 | R20,859,369,730 | 308528 | 283780 |
* Includes all listed instruments on the JSE
---
---
---
Index Summary
| | | | |
| --- | --- | --- | --- |
| Index Name | RP | Move | % Move |
| Top 40 | 46,294.07 | -440.85 | -0.94% |
| Industrial | 79,379.78 | -477.44 | -0.60% |
| Mid Cap | 76,939.84 | -1191.52 | -1.53% |
| Small Cap | 62,040.85 | -451.51 | -0.72% |
| Resource 20 | 31,351.24 | -622.41 | -1.95% |
| Industrial 25 | 71,199.14 | -388.65 | -0.54% |
| Financial 15 | 14,735.98 | -240.01 | -1.60% |
| Financial & Ind. 30 | 73,559.10 | -563.70 | -0.76% |
| All Share | 52,802.00 | -545.30 | -1.02% |
| Oil & Gas | 7,195.69 | .00 | 0.00% |
| Mining | 23,361.99 | -616.58 | -2.57% |
| Gold Mining | 2,257.54 | -59.66 | -2.57% |
| Platinum Mining | 28.96 | -.77 | -2.59% |
| GENERAL MINING | 5,788.93 | -154.21 | -2.59% |
| Oil & Gas Producers | 38,689.88 | .00 | 0.00% |
| Basic Materials | 22,309.04 | -428.27 | -1.88% |
| Chemicals | 19,336.36 | 12.43 | 0.06% |
| Forestry & Paper | 52,296.86 | -313.93 | -0.60% |
| Industrial Metals | 9,840.02 | -425.53 | -4.15% |
| Industrials | 47,493.78 | -879.96 | -1.82% |
| General Industrials | 182.12 | -3.35 | -1.81% |
| Consumer Goods | 74,654.95 | 105.41 | 0.14% |
| Automobiles & Parts | 4,254.92 | -24.91 | -0.58% |
| Household Goods | 569.82 | -12 | -2.09% |
| Health Care | 9,573.52 | 7.58 | 0.08% |
| Beverages | 286.50 | 2.06 | 0.72% |

| | | | |
| --- | --- | --- | --- |
| Index Name | RP | Move | % Move |
| Food Producers | 10,006.78 | -48.82 | -0.49% |
| Personal Goods | 871.92 | -.40 | -0.05% |
| Consumer Services | 19,500.67 | -263.93 | -1.34% |
| General Retailers | 7,036.46 | -71.86 | -1.01% |
| Travel & Leisure | 6,643.73 | -94.28 | -1.40% |
| Media | 533.56 | -8.57 | -1.58% |
| Support Services | 1,897.55 | -17.70 | -0.92% |
| Telecommunications | 6,608.76 | -44.24 | -0.66% |
| Financials | 40,381.33 | -596.29 | -1.46% |
| Banks | 6,865.80 | -101.36 | -1.45% |
| Non-life Insurance | 56,914.52 | -127.61 | -0.22% |
| Life Insurance | 36,848.77 | -794.19 | -2.11% |
| General Financial | 3,982.42 | -75.95 | -1.87% |
| Technology | 55,490.05 | -373.14 | -0.67% |
| SHARIAH TOP40 | 3,055.12 | -53 | -1.71% |
| FTSE/JSE SHARIAH ALL | 3,453.69 | -58 | -1.66% |
| COAL MINING | 9,607.74 | -67 | -0.69% |
| FTSE JSE Fledgling | 7,272.35 | -87 | -1.19% |
| FTSE/JSE Alt X | 1,418.24 | -12 | -0.86% |
| SA LISTED PROPERTY | 622.85 | -6.92 | -1.10% |
| CAPPED PROPERTY | 528.01 | | -0.99% |
| RESOURCE | 17,800.34 | -342 | -1.88% |
| DIVIDEND PLUS | 203.10 | -3 | -1.38% |
| FTSE/JSE RAFI 40 | 9,493.32 | -141 | -1.47% |
| Capped Top 40 | 24,476.83 | -246 | -0.99% |
| Capped All Share | 26,841.39 | -284 | -1.05% |
| JSE TABACO | 11,527.76 | 92 | 0.80% |
Click here for the Sharenet Index Summary page
---
Latest Consensus Changes**

| | | | |
| --- | --- | --- | --- |
| Code | Company Name | Status | Updated |
| RMI | RAND MERCH INS HLDGS LTD | SELL | 09/09/2016 |
| GRT | GROWTHPOINT PROPERTIES LI... | HOLD | 09/09/2016 |
| NED | NEDBANK GROUP LTD | HOLD | 09/09/2016 |
| SBK | STANDARD BANK GROUP LIMIT... | SELL | 09/09/2016 |
| APN | ASPEN PHARMACARE HLDGS | BUY | 08/09/2016 |

Results Expected**

| | | |
| --- | --- | --- |
| Expected | Company Name | Fin. Date |
| 13/09/2016 | COMAIR | June 2016 (Final) |
| 13/09/2016 | COMAIRN | June 2016 (Final) |
| 13/09/2016 | RANLD | June 2016 (Interim) |
| 14/09/2016 | ASCENDIS | June 2016 (Final) |
| 14/09/2016 | ASPEN | June 2016 (Final) |
---
Recent Dividends**

| | | | | |
| --- | --- | --- | --- | --- |
| Share Name | Dec-Date | LDT | Pay-Date | Amount |
| RMBH | 09/09/16 | 04/10/16 | 10/10/16 | ZAR 1.5300 |
| WESCOAL | 09/09/16 | 20/09/16 | 26/09/16 | ZAR 0.0421 |
| FIRSTRAND | 08/09/16 | 04/10/16 | 10/10/16 | ZAR 1.1800 |
| SPURCORP | 08/09/16 | 27/09/16 | 03/10/16 | ZAR 0.7300 |
| ARM | 08/09/16 | 27/09/16 | 03/10/16 | ZAR 2.2500 |

Ex Div**

| | | | | |
| --- | --- | --- | --- | --- |
| Share Name | Dec-Date | LDT | Pay-Date | Amount |
| ABSABANK-P | 29/07/16 | 06/09/16 | 12/09/16 | ZAR 36.9658 |
| NEDBANK | 01/08/16 | 06/09/16 | 12/09/16 | ZAR 5.7000 |
| B-AFRICA | 29/07/16 | 06/09/16 | 12/09/16 | ZAR 4.6000 |
| STANBANK-P | 18/08/16 | 06/09/16 | 12/09/16 | ZAR 3.9613 |
| SHOPRIT | 23/08/16 | 06/09/16 | 12/09/16 | ZAR 2.9600 |
---
Upcoming AGMs**

| | | | |
| --- | --- | --- | --- |
| Code | Company Name | Date | Status |
| HUG | Huge Group Ltd. | 14/09/2016 | Confirmed |
| MIX | MiX Telematics Ltd. | 14/09/2016 | Confirmed |
| HUL | Hulisani Ltd. | 14/09/2016 | Confirmed |
| SCL | SacOil Holdings Ltd. | 19/09/2016 | Confirmed |
---
Stock Exchange News Service
Click here for more SENS news
---