Tuesday, 18 August 2015 - 20:00
Charts
Seed Weekly - Is your portfolio diversified or diworsified?
In previous articles we have discussed the benefits of diversification. Like with all things, too much of a good thing can sometimes be a bad thing. Diversification has been described as probably the only free lunch an investor can get in portfolio construction. A well-diversified portfolio will have lower volatility and if done correctly, better risk/reward benefits.

Below is an example of a blended portfolio and the individual underlying funds that make up the portfolio. The blended portfolio is represented by the large red dot - a balanced portfolio that targets CPI + 6%. The large black dot is the average balanced fund.
The blended portfolio was able to outperform the average manager over the period with a lower downside deviation (the risk of losing capital). You will also notice that the portfolio's downside deviation is lower than the underlying funds. Investors have therefore received the benefit of diversification by blending funds with low correlations to each other.

Unfortunately the diversification benefit does have its limits. With each additional fund added to the portfolio the diversification benefit decreases. Eventually you will reach a point where the portfolio's risk is equal to that of the market and any extra inclusion will not provide any real benefit.
The graph below indicates this principle using a portfolio of shares. The benefits of lower volatility are marginal from owning 20 shares to 200 compared to the benefits from 1 to 20.
The ability of additional shares or funds to add meaningful outperformance to a portfolio decrease as more and more positions are added. If you have an over-diversified portfolio you are reducing the likelihood that your portfolio will outperform the market, the second reason for diversifying. Eventually, it will become easier and cheaper to buy an index tracker fund or ETF.
When constructing a portfolio there is no exact number of funds or shares that you should own in your portfolio. However, the principles discussed and the risk and return objectives of the portfolio must all be taken into account.
We typically aim to construct a portfolio with between 5 and 7 funds. By limiting the number of funds we are forced to have a high conviction in the fund and or managers that we select. Each fund manager is included for a specific purpose and is monitored against its benchmark objective and our expectations.
Kind regards,
Gerbrandt Kruger
Tel +27 21 914 4966
Fax +27 21 914 4912
Email info@seedinvestments.co.za
Seed is hiring: Click through to our LinkedIn profiles to see vacancies at Seed Investment Consultants and Seed Analytics
Top News
Miner and commodity trader Glencore is considering closing its Eland platinum mine in South Africa due to falling prices, it said on Tuesday.

---

Thai authorities said on Tuesday they were looking for a suspect seen on closed-circuit television (CCTV) footage near a popular shrine where a bomb blast killed 22 people, nearly half of them foreigners.

Myanmar's Nobel laureate Aung San Suu Kyi said on Tuesday her opposition would ally with powerful ousted ruling party leader Shwe Mann, as the country's political forces re-align in the biggest shake-up since the end of military rule.
World Markets (Spot Prices)
| | | | | |
| --- | --- | --- | --- | --- |
| Name | Time | RP | Move | % Move |
| JSE Overall | 17:00 | 50977.03 | 225.93 | 0.45% |
| JSE Top 40 | 17:00 | 45467.35 | 179.83 | 0.40% |
| JSE Gold | 17:00 | 842.53 | 25.79 | 3.16% |
| JSE Financial | 17:00 | 45017.66 | 258.87 | 0.58% |
| JSE Industrial | 17:00 | 73857.81 | 427.08 | 0.58% |
| JSE Indust 25 | 17:00 | 65855.13 | 383.19 | 0.59% |
| JSE Resource | 17:00 | 35157.04 | -169.35 | -0.48% |
| DJ Futures | 19:28 | 17467.00 | -37.00 | -0.21% |
| DJ Ind | 19:58 | 17492.33 | -52.85 | -0.30% |
| SP 500 | 19:58 | 2094.17 | -8.27 | -0.39% |
| Nasdaq | 19:58 | 5055.06 | -36.64 | -0.72% |
| FTSE 100 | 17:35 | 6526.29 | -24.01 | -0.37% |
| DAX | 18:08 | 10915.92 | -24.41 | -0.22% |
| CAC40 | 18:08 | 4971.25 | -13.58 | -0.27% |
| Nikkei | 08:28 | 20554.47 | -65.79 | -0.32% |
| Shanghai | 09:28 | 3748.16 | -245.51 | -6.15% |
| Hang-Seng | 10:28 | 23474.97 | -339.68 | -1.43% |
| All Ords | 08:37 | 5309.40 | -59.20 | -1.10% |
| NZSE 50 | 08:28 | 5710.77 | -16.65 | -0.29% |

| | | | | |
| --- | --- | --- | --- | --- |
| Name | Time | RP | Move | % Move |
| Gold $ | 19:59 | 1117.14 | -.51 | -0.05% |
| Gold R | 19:58 | 14423.53 | 4.23 | 0.03% |
| Gold R/kg | 19:58 | 463948 | -154 | -0.03% |
| Silver $ | 19:59 | 14.8470 | -.4700 | -3.07% |
| Platinum $ | 19:59 | 991.30 | -.20 | -0.02% |
| Palladium $ | 19:59 | 595.75 | -17.55 | -2.86% |
| R186 | 17:34 | 8.28 | .08 | 0.91% |
| R204 | 17:34 | 7.56 | .07 | 0.93% |
| R207 | 17:34 | 7.78 | .07 | 0.84% |
| Brent Crude | 19:18 | 48.60 | -.43 | -0.88% |
| USD / ZAR | 19:59 | 12.9142 | 0.0164 | 0.13% |
| GBP / ZAR | 19:55 | 20.1922 | 0.1107 | 0.55% |
| EUR/ ZAR | 19:55 | 14.2399 | -0.0576 | -0.40% |
| NZD/ ZAR | 19:58 | 8.4965 | 0.0173 | 0.20% |
| AUD / ZAR | 19:55 | 9.4748 | -0.0405 | -0.43% |
| USD / JPY | 19:59 | 124.3780 | -0.0330 | -0.03% |
| EUR / USD | 19:59 | 1.1026 | -0.0051 | -0.46% |
| GBP / USD | 19:59 | 1.5657 | 0.0074 | 0.48% |
Click here for the Sharenet Spot Price page
The JSE Today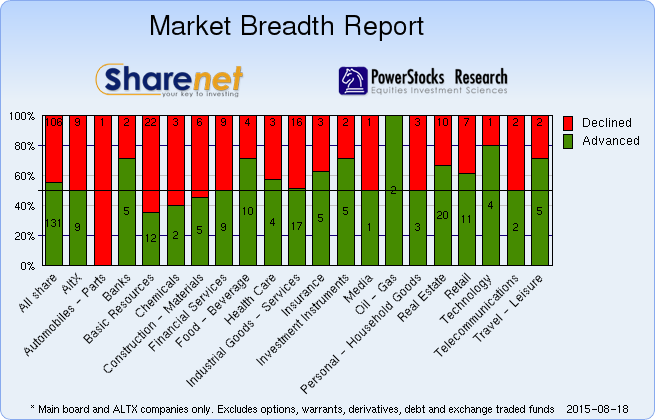 Trading Statistics
| Date | Adv. | Decl. | Unch. | Actives | Volume | Value | Trades | Orders |
| --- | --- | --- | --- | --- | --- | --- | --- | --- |
| 18/08/2015 | 203 | 142 | 70 | 415 | 260,895,289 | R17,258,096,147 | 222540 | 1585095 |
| 17/08/2015 | 165 | 170 | 65 | 400 | 214,540,505 | R15,921,623,036 | 243963 | 1534496 |
| 14/08/2015 | 129 | 242 | 47 | 418 | 192,343,218 | R14,318,960,777 | 188695 | 1515140 |
| 13/08/2015 | 205 | 148 | 60 | 413 | 220,165,700 | R16,745,063,621 | 202590 | 1610277 |
| 12/08/2015 | 98 | 269 | 44 | 411 | 286,816,236 | R22,332,758,872 | 301392 | 1808752 |
* Includes all listed instruments on the JSE
---
---
---
Index Summary
| | | | |
| --- | --- | --- | --- |
| Index Name | RP | Move | % Move |
| Top 40 | 45,467.35 | 179.83 | 0.40% |
| Industrial | 73,857.81 | 427.08 | 0.58% |
| Mid Cap | 67,243.61 | 565.03 | 0.85% |
| Small Cap | 59,039.58 | 16.06 | 0.03% |
| Resource 20 | 35,157.04 | -169.35 | -0.48% |
| Industrial 25 | 65,855.13 | 383.19 | 0.59% |
| Financial 15 | 16,950.37 | 97.26 | 0.58% |
| Financial & Ind. 30 | 71,092.21 | 370.29 | 0.52% |
| All Share | 50,977.03 | 225.93 | 0.45% |
| Oil & Gas | 9,312.06 | 8.46 | 0.09% |
| Mining | 20,940.45 | -107.77 | -0.51% |
| Gold Mining | 842.53 | 25.79 | 3.16% |
| Platinum Mining | 21.48 | -.10 | -0.46% |
| GENERAL MINING | 6,387.36 | -58.05 | -0.90% |
| Oil & Gas Producers | 50,069.25 | 45.52 | 0.09% |
| Basic Materials | 20,791.36 | -64.93 | -0.31% |
| Chemicals | 20,689.95 | -49.08 | -0.24% |
| Forestry & Paper | 49,634.09 | 331.65 | 0.67% |
| Industrial Metals | 5,894.03 | -156.31 | -2.58% |
| Industrials | 44,097.42 | 555.74 | 1.28% |
| General Industrials | 158.87 | 2.72 | 1.74% |
| Consumer Goods | 67,965.91 | 480.97 | 0.71% |
| Automobiles & Parts | 8,324.15 | -22.64 | -0.27% |
| Household Goods | 538.73 | 14 | 2.75% |
| Health Care | 9,847.27 | 92.01 | 0.94% |
| Beverages | 228.24 | 1.57 | 0.69% |

| | | | |
| --- | --- | --- | --- |
| Index Name | RP | Move | % Move |
| Food Producers | 8,730.28 | 142.67 | 1.66% |
| Personal Goods | 1,026.53 | -.60 | -0.06% |
| Consumer Services | 15,612.91 | 58.06 | 0.37% |
| General Retailers | 8,258.77 | 164.00 | 2.03% |
| Travel & Leisure | 5,984.69 | 23.03 | 0.39% |
| Media | 370.66 | -1.45 | -0.39% |
| Support Services | 3,241.55 | -33.41 | -1.02% |
| Telecommunications | 9,836.46 | 17.44 | 0.18% |
| Financials | 45,017.66 | 258.87 | 0.58% |
| Banks | 7,666.86 | 37.21 | 0.49% |
| Non-life Insurance | 55,602.68 | 638.05 | 1.16% |
| Life Insurance | 41,741.96 | 139.11 | 0.33% |
| General Financial | 4,709.85 | 69.74 | 1.50% |
| Technology | 69,173.23 | 571.39 | 0.83% |
| SHARIAH TOP40 | 3,353.48 | 5 | 0.16% |
| FTSE/JSE SHARIAH ALL | 3,561.88 | 12 | 0.34% |
| COAL MINING | 8,132.44 | -211 | -2.53% |
| FTSE JSE Fledgling | 6,710.35 | -14 | -0.21% |
| FTSE/JSE Alt X | 1,458.01 | 4 | 0.28% |
| SA LISTED PROPERTY | 654.50 | | 0.42% |
| CAPPED PROPERTY | 583.86 | | 0.53% |
| RESOURCE | 19,017.24 | -98 | -0.51% |
| DIVIDEND PLUS | 206.82 | 1 | 0.30% |
| FTSE/JSE RAFI 40 | 9,201.67 | 27 | 0.29% |
| Capped Top 40 | 24,276.01 | 99 | 0.41% |
| Capped All Share | 25,856.48 | 115 | 0.45% |
| JSE TABACO | 9,486.95 | 38 | 0.40% |
Click here for the Sharenet Index Summary page
---
Latest Consensus Changes**

| | | | |
| --- | --- | --- | --- |
| Code | Company Name | Status | Updated |
| EXX | EXXARO RESOURCES LIMITED | HOLD | 17/08/2015 |
| NPN | NASPERS LIMITED | BUY | 13/08/2015 |
| OML | OLD MUTUAL PLC | BUY | 12/08/2015 |
| RBP | ROYAL BAFOKENG PLATINUM L... | BUY | 12/08/2015 |
| SGL | SIBANYE GOLD LIMITED | HOLD | 11/08/2015 |

Results Expected**

| | | |
| --- | --- | --- |
| Expected | Company Name | Fin. Date |
| 19/08/2015 | BLUETEL | May 2015 (Final) |
| 19/08/2015 | DEFCAP | June 2015 (Final) |
| 19/08/2015 | EASTPLATS | March 2015 (Q) |
| 19/08/2015 | GLENCORE | June 2015 (Interim) |
| 19/08/2015 | SHOPCONV | June 2015 (Final) |
---
Recent Dividends**

| | | | | |
| --- | --- | --- | --- | --- |
| Share Name | Dec-Date | LDT | Pay-Date | Amount |
| CLIENTELE | 17/08/15 | 11/09/15 | 21/09/15 | ZAR 0.9000 |
| GROUP 5 | 17/08/15 | 17/09/15 | 28/09/15 | ZAR 0.2500 |
| ADAPTIT | 17/08/15 | 04/09/15 | 14/09/15 | ZAR 0.1090 |
| STANBANK6.5 | 14/08/15 | 28/08/15 | 07/09/15 | ZAR 0.0325 |
| STANBANK-P | 14/08/15 | 28/08/15 | 07/09/15 | ZAR 3.5320 |

Ex Div**

| | | | | |
| --- | --- | --- | --- | --- |
| Share Name | Dec-Date | LDT | Pay-Date | Amount |
| FIRSTRANDB-P | 28/07/15 | 14/08/15 | 24/08/15 | ZAR 3.6393 |
| BATS | 29/07/15 | 14/08/15 | 30/09/15 | GBP 0.4940 |
| SABVEST | 29/07/15 | 14/08/15 | 24/08/15 | ZAR 0.2100 |
| SABVEST-N | 29/07/15 | 14/08/15 | 24/08/15 | ZAR 0.2100 |
| MONDILTD | 06/08/15 | 14/08/15 | 15/09/15 | EUR 0.1438 |
---
Upcoming AGMs**

| | | | |
| --- | --- | --- | --- |
| Code | Company Name | Date | Status |
| DLT | Delta Property Fund Ltd. | 19/08/2015 | Confirmed |
| ART | Argent Industrial Ltd. | 20/08/2015 | Confirmed |
| RACP | RECM - Calibre Ltd. | 20/08/2015 | Confirmed |
| RACC | RECM - Calibre Ltd. | 20/08/2015 | Confirmed |
| SPA | Spanjaard Ltd. | 21/08/2015 | Confirmed |
---
Stock Exchange News Service
Click here for more SENS news
---