Tuesday, 26 May 2015 - 20:00
Charts
Human & Financial Capital
I was involved in a very interesting discussion with a client in the past week regarding the future value of assets and the role this plays your existing investment portfolio. Most advisers would (or at least should) take great care in estimating the future value of an investment portfolio in order to plan for a client's retirement. There are an innumerable number of calculation methods and tools available to assist clients in this very important part of their lives.
It is a well-known fact that any shortfalls in the current level of your assets need to be covered with an insurance policy. The capital shortfall to cover your dependants is made up with a life insurance policy while your future earnings can be insured with an income protection policy. There are definitely many more uses for broader life insurance products but for the topic of discussion the above will suffice. With the above 2 products we insure very real assets, albeit assets we would only realise in the future.
What this means is that most individuals have a very constant total level of wealth throughout their lifetime, your total capital. Your total capital is made up by your Financial capital (the assets already accumulated) and Human capital (the assets that you will still earn/procure over the course of your life). The 2 pools of capital are interlinked and both should be regarded with equal diligence.
Below is a graphic illustration of how the real levels of Human and Financial capital change over time:
Note the Total capital remains unchanged throughout the measured time period, as it is the sum of Human and Financial capital.
The most daring assumption in the above graph, and consequently the topic of discussion, is the fact that contributions are made and increased consistently and without interruptions. This may be a realistic assumption for someone employed with the same company throughout their career following a linear path to the top. For such an investor, the Human capital is very predictable and stable, it is also fully absorbed into Financial capital. Although not a realistic assumption it is nigh impossible to account for potential future losses in your Human capital portfolio.
The more predictable your Human capital over time the more risk you can allow in your Financial capital. If your Human capital is volatile, think of an entrepreneur or an individual remunerated largely with performance bonuses, you cannot quite allow for the same measure of risk in the Financial portfolio. These individuals face a risk that the Human capital is not fully absorbed into Financial capital. The converse is also true that they might end up with more Financial capital than estimated.
Incorporating the profile of your Human capital into longer term planning goes a long way in helping investors reach their goals. If the value of your Human capital is not predictable over time you may be required to delve into your Financial capital at some stage. This means that not all of your assets can be invested into a growth oriented strategy, regardless of your age or willingness to assume risk, as an untimely redemption out of a growth strategy can lead an investor to sustain losses.
I concluded the discussion with the statement that an investment portfolio can contain a certain amount of risk in both your Financial and Human capital. The riskier your Human capital the less risk you can take up in your Financial capital and vice versa.
We, at Seed, take great care to be cognisant of the various factors important in effectively managing our clients' assets. We also understand that each client has unique circumstances that requires thorough and diligent consideration.
Kind regards,
Stefan Keeve
Tue, 26 May 2015
Top News
South Africa's rand slipped to a two-week low on Tuesday, weighed down by poor domestic data while the dollar stretched recent gains.

---

A 14-year-old boy from Austria who downloaded bomb-making plans onto his Playstation games console was sentenced to a two-year jail term on Tuesday after pleading guilty to terrorism charges, a court spokeswoman said.

Iraq's Shi'ite paramilitaries said on Tuesday they had taken charge of the campaign to drive Islamic State from the western province of Anbar, giving the operation an openly sectarian codename that could infuriate its Sunni Muslim population.
---
Shareholders of CSG (˘Shareholders÷) are referred to the announcement published by the company on the Stock Exchange News Service of the JSE Ltd. (˘JSE÷) dated 13 March 2015 (˘the Announcement÷). Further to the publication of the Announcement and in accordance with paragraph 3.59 of the JSE Listings Requirements, Shareholders are hereby advised that Ms Mathukana Mokoka (˘Ms Mokoka÷) has been appointed as an independent non-executive director of the company and as member of the compan. . .
World Markets (Spot Prices)
| | | | | |
| --- | --- | --- | --- | --- |
| Name | Time | RP | Move | % Move |
| JSE Overall | 17:00 | 52963.39 | -1022.27 | -1.89% |
| JSE Top 40 | 17:00 | 46916.48 | -928.29 | -1.94% |
| JSE Gold | 17:00 | 1084.22 | -22.39 | -2.02% |
| JSE Financial | 17:00 | 45012.27 | -860.91 | -1.88% |
| JSE Industrial | 17:00 | 75490.87 | -1280.32 | -1.67% |
| JSE Indust 25 | 17:00 | 67171.45 | -1108.71 | -1.62% |
| JSE Resource | 17:00 | 41738.97 | -1297.62 | -3.02% |
| DJ Futures | 19:58 | 17981.00 | -293.39 | -1.61% |
| DJ Ind | 19:58 | 18006.14 | -225.88 | -1.24% |
| SP 500 | 19:58 | 2101.70 | -24.36 | -1.15% |
| Nasdaq | 19:58 | 5025.12 | -64.24 | -1.26% |
| FTSE 100 | 17:35 | 6948.99 | -82.73 | -1.18% |
| DAX | 18:08 | 11625.13 | -189.88 | -1.61% |
| CAC40 | 18:08 | 5083.54 | -33.63 | -0.66% |
| Nikkei | 08:28 | 20437.48 | 23.71 | 0.12% |
| Shanghai | 09:28 | 4910.90 | 97.10 | 2.02% |
| Hang-Seng | 06:28 | 28391.63 | 398.80 | 1.42% |
| All Ords | 08:36 | 5770.40 | 50.50 | 0.88% |
| NZSE 50 | 07:28 | 5795.86 | .88 | 0.02% |

| | | | | |
| --- | --- | --- | --- | --- |
| Name | Time | RP | Move | % Move |
| Gold $ | 19:59 | 1187.02 | -19.77 | -1.64% |
| Gold R | 19:58 | 14352.52 | -37.13 | -0.26% |
| Gold R/kg | 19:58 | 461292 | -157 | -0.03% |
| Silver $ | 19:59 | 16.7470 | -.3460 | -2.02% |
| Platinum $ | 19:59 | 1123.36 | -23.64 | -2.06% |
| Palladium $ | 19:59 | 781.48 | -6.02 | -0.76% |
| R186 | 16:55 | 8.16 | .03 | 0.37% |
| R204 | 16:55 | 7.46 | .09 | 1.15% |
| R207 | 16:55 | 7.69 | .07 | 0.85% |
| Brent Crude | 19:58 | 63.42 | -1.95 | -2.98% |
| USD / ZAR | 19:59 | 12.0902 | 0.1651 | 1.38% |
| GBP / ZAR | 19:55 | 18.5766 | 0.1529 | 0.83% |
| EUR/ ZAR | 19:55 | 13.1438 | 0.0473 | 0.36% |
| NZD/ ZAR | 19:58 | 8.7515 | 0.0343 | 0.39% |
| AUD / ZAR | 19:55 | 9.3618 | 0.0249 | 0.27% |
| USD / JPY | 19:59 | 122.9550 | 1.4260 | 1.17% |
| EUR / USD | 19:59 | 1.0873 | -0.0106 | -0.97% |
| GBP / USD | 19:59 | 1.5396 | -0.0074 | -0.48% |
Click here for the Sharenet Spot Price page
The JSE Today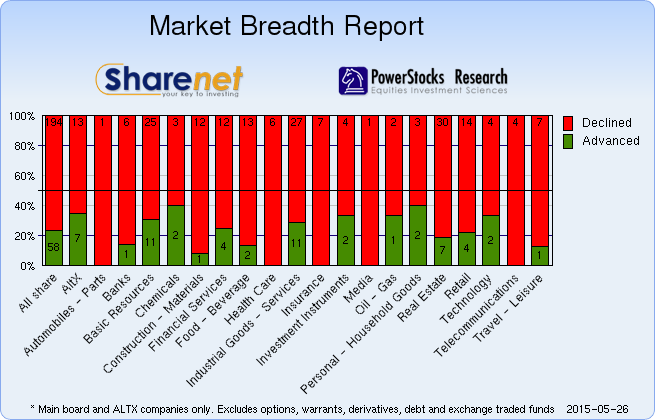 Trading Statistics
| Date | Adv. | Decl. | Unch. | Actives | Volume | Value | Trades | Orders |
| --- | --- | --- | --- | --- | --- | --- | --- | --- |
| 26/05/2015 | 90 | 280 | 46 | 416 | 266,271,433 | R17,910,415,139 | 238927 | 1933035 |
| 25/05/2015 | 160 | 183 | 69 | 412 | 118,313,991 | R6,076,475,373 | 99520 | 223897 |
| 22/05/2015 | 174 | 169 | 69 | 412 | 221,120,563 | R15,291,625,024 | 206330 | 102927 |
| 21/05/2015 | 161 | 177 | 59 | 397 | 225,853,420 | R14,217,948,399 | 221213 | 1794971 |
| 20/05/2015 | 155 | 192 | 61 | 408 | 229,407,303 | R15,433,156,970 | 226040 | 1889595 |
* Includes all listed instruments on the JSE
---
---
---
Index Summary
| | | | |
| --- | --- | --- | --- |
| Index Name | RP | Move | % Move |
| Top 40 | 46,916.48 | -928.29 | -1.94% |
| Industrial | 75,490.87 | -1280.32 | -1.67% |
| Mid Cap | 73,049.47 | -1290.26 | -1.74% |
| Small Cap | 61,125.49 | -837.33 | -1.35% |
| Resource 20 | 41,738.97 | -1297.62 | -3.02% |
| Industrial 25 | 67,171.45 | -1108.71 | -1.62% |
| Financial 15 | 17,036.56 | -362.97 | -2.09% |
| Financial & Ind. 30 | 72,116.93 | -1262.81 | -1.72% |
| All Share | 52,963.39 | -1022.27 | -1.89% |
| Oil & Gas | 35,555.16 | -423.27 | -1.18% |
| Mining | 25,221.40 | -752.00 | -2.90% |
| Gold Mining | 1,084.22 | -22.39 | -2.02% |
| Platinum Mining | 30.68 | -.35 | -1.13% |
| GENERAL MINING | 7,498.43 | -248.10 | -3.20% |
| Oil & Gas Producers | 19,117.35 | -227.59 | -1.18% |
| Basic Materials | 23,826.69 | -555.93 | -2.28% |
| Chemicals | 22,625.93 | -289.45 | -1.26% |
| Forestry & Paper | 45,762.50 | -138.95 | -0.30% |
| Industrial Metals | 8,898.06 | 91.77 | 1.04% |
| Industrials | 44,910.17 | -1147.97 | -2.49% |
| General Industrials | 157.35 | -4.75 | -2.93% |
| Consumer Goods | 67,132.56 | -1153.90 | -1.69% |
| Automobiles & Parts | 8,208.66 | -133.61 | -1.60% |
| Household Goods | 519.86 | -14 | -2.56% |
| Health Care | 10,184.08 | -177.95 | -1.72% |
| Beverages | 224.60 | -5.01 | -2.18% |

| | | | |
| --- | --- | --- | --- |
| Index Name | RP | Move | % Move |
| Food Producers | 8,631.21 | -168.50 | -1.91% |
| Personal Goods | 1,066.78 | -13.88 | -1.28% |
| Consumer Services | 16,359.58 | -275.11 | -1.65% |
| General Retailers | 86,975.22 | -1372.96 | -1.55% |
| Travel & Leisure | 6,399.40 | -163.69 | -2.49% |
| Media | 392.90 | -7.33 | -1.83% |
| Support Services | 2,979.32 | -27.21 | -0.91% |
| Telecommunications | 10,772.20 | -186.36 | -1.70% |
| Financials | 45,012.27 | -860.91 | -1.88% |
| Banks | 79,475.79 | -1898.18 | -2.33% |
| Non-life Insurance | 55,434.24 | -1161.26 | -2.05% |
| Life Insurance | 42,860.84 | -931.95 | -2.13% |
| General Financial | 4,556.30 | -82.75 | -1.78% |
| Technology | 63,200.31 | -571.40 | -0.90% |
| SHARIAH TOP40 | 3,640.19 | -81 | -2.19% |
| FTSE/JSE SHARIAH ALL | 3,875.23 | -80 | -2.02% |
| COAL MINING | 10,871.91 | -119 | -1.08% |
| FTSE JSE Fledgling | 6,953.96 | -52 | -0.75% |
| FTSE/JSE Alt X | 1,345.53 | -13 | -0.93% |
| SA LISTED PROPERTY | 635.92 | | -1.24% |
| CAPPED PROPERTY | 551.03 | | -1.16% |
| RESOURCE | 22,892.83 | -682 | -2.89% |
| DIVIDEND PLUS | 228.54 | -5 | -2.14% |
| FTSE/JSE RAFI 40 | 9,884.67 | -208 | -2.06% |
| Capped Top 40 | 25,041.31 | -494 | -1.94% |
| Capped All Share | 26,863.99 | -519 | -1.89% |
| JSE TABACO | 8,529.48 | -18 | -0.21% |
Click here for the Sharenet Index Summary page
---
Latest Consensus Changes**

| | | | |
| --- | --- | --- | --- |
| Code | Company Name | Status | Updated |
| GFI | GOLD FIELDS LIMITED | HOLD | 25/05/2015 |
| BIL | BHP BILLITON PLC | BUY | 22/05/2015 |
| REI | REINET INVESTMENTS SCA | BUY | 21/05/2015 |
| TBS | TIGER BRANDS LTD | BUY | 21/05/2015 |
| SPP | THE SPAR GROUP LTD | BUY | 21/05/2015 |

Results Expected**

| | | |
| --- | --- | --- |
| Expected | Company Name | Fin. Date |
| 27/05/2015 | CULINAN5.5 | March 2015 (Interim) |
| 27/05/2015 | CULINANPR | March 2015 (Interim) |
| 27/05/2015 | CULLINAN | March 2015 (Interim) |
| 27/05/2015 | CULPREF3 | March 2015 (Interim) |
| 27/05/2015 | LEWIS | March 2015 (Final) |
---
Recent Dividends**

| | | | | |
| --- | --- | --- | --- | --- |
| Share Name | Dec-Date | LDT | Pay-Date | Amount |
| ILLOVO | 25/05/15 | 26/06/15 | 06/07/15 | ZAR 0.5300 |
| TONGAAT | 25/05/15 | 11/06/15 | 25/06/15 | ZAR 2.1000 |
| FAMBRANDS | 25/05/15 | 03/07/15 | 13/07/15 | ZAR 2.0000 |
| VERIMARK | 25/05/15 | 11/06/15 | 22/06/15 | ZAR 0.0522 |
| ECSP C2 | 25/05/15 | 05/06/15 | 15/06/15 | ZAR 1.0164 |

Ex Div**

| | | | | |
| --- | --- | --- | --- | --- |
| Share Name | Dec-Date | LDT | Pay-Date | Amount |
| AECI | 24/02/15 | 22/05/15 | 01/06/15 | ZAR 3.7500 |
| OCTODEC | 04/05/15 | 22/05/15 | 01/06/15 | ZAR 0.9680 |
| REDEFINE | 07/05/15 | 22/05/15 | 01/06/15 | ZAR 0.3900 |
| TRADEHOLD PREF | 08/05/15 | 22/05/15 | 01/06/15 | ZAR 0.1756 |
| LODESTONE | 06/05/15 | 22/05/15 | 01/06/15 | ZAR 0.1299 |
---
Upcoming AGMs**

| | | | |
| --- | --- | --- | --- |
| Code | Company Name | Date | Status |
| EXX | Exxaro Resources Ltd. | 26/05/2015 | Confirmed |
| ZSA | Zurich Insurance Company South Africa Lt... | 27/05/2015 | Confirmed |
| ACL | ArcelorMittal South Africa Ltd. | 27/05/2015 | Confirmed |
| MLAP | ArcelorMittal South Africa Ltd. | 27/05/2015 | Confirmed |
| GND | Grindrod Ltd. | 27/05/2015 | Confirmed |
---
Stock Exchange News Service
Click here for more SENS news
---