Tuesday, 14 October 2014 - 20:00
Charts
Seed weekly - Retirement Reform
With the end of the year looming we should all be starting to plan for the year 2015; a very highly anticipated event is the implementation of the much publicised Retirement Reform. The date Treasury has set for implementation of many of the new regulations is 1 March 2015.
There has been much speculation among the general public regarding the new regulations that was extensively covered in the press. Although we don't have a final draft on all the proposed changes, Treasury has been providing regular updates on some of the areas that they have finalised. Not all of these topics were always covered in the press and many members of the public are not entirely familiar with how these changes will impact them.
There have also been some instances where members' have cashed in their retirement funds as they fear that the Government will nationalise their pension/provident funds, there is absolutely no substance to these rumours and should be disregarded altogether.
The retirement reforms that we will undergo in a few months are Government's response to, among other things, South Africans' low rate of saving. The new regulation attempts to encourage members to preserve their retirement benefits and also to make retirement products easier to understand. There are many differences between the pre- and post-retirement treatment of benefits from Pension & Provident funds and Retirement Annuities, the proposed reforms go some way to simplifying these vehicles.
One of the most important changes is the amalgamation of contributions to all 3 different retirement vehicles. From 1 March 2015 a person can contribute 27.5% of their annual taxable income, capped at R 350 000 pa, to either a Pension fund, Provident fund, Retirement Annuity or a combination of the 3. This eases the planning surrounding your annual tax deductible contributions to retirement vehicles and also makes it more 'fair' to individuals who do not have access to Pension and Provident funds.
There have been some misconceptions formed about the treatment of Provident Fund benefits after retirement. The new regulations state that only benefits accumulated after 1 March 2015 in Provident funds will be treated the same as benefits from Pension funds and Retirement Annuities, i.e. up to one third may be taken in cash while the balance needs to be transferred to a Living Annuity. Members of Provident funds will still be able to take the full benefit accumulated by 1 March 2015 in cash, and contributions made (with benefits accumulated) by members 55 years of age or older on 1 March 2015 will not be affected by the new regulations. Another important note is that for the members younger than 55 Treasury decided to include a 'de minimis rule' stating that if you contribute less than R 150 000 after 1 March 2015 to the day you retire the benefits will still be available fully in cash on retirement date.
The above is a brief description of some of the changes to be implemented. Many changes haven't been covered in this piece or finalised by Treasury. Our team of dedicated investment consultants is available to guide you through the process of aligning your investment portfolio in order to be prepared for the changes on the way.
Kind regards,
Stefan Keeve
www.seedinvestments.co.za
info@seedinvestments.co.za
021 914 4966
Tue, 14 Oct 2014
Top News
South Africa's rand struggled against the dollar on Tuesday as investors fretted about weak global growth prospects, with worries about the domestic budget deficit likely to add pressure in coming days.

---

Hundreds of Hong Kong police used sledgehammers and chainsaws on Tuesday to tear down barricades erected by pro-democracy protesters near government offices and the financial centre, reopening a major road for the first time in two weeks.

A magnitude 7.3 earthquake struck late on Monday off the coast of El Salvador and Nicaragua and was felt across Central America, killing at least one person, but there were no immediate reports of major damage.
World Markets (Spot Prices)
| | | | | |
| --- | --- | --- | --- | --- |
| Name | Time | RP | Move | % Move |
| JSE Overall | 17:00 | 47686.85 | 318.51 | 0.67% |
| JSE Top 40 | 17:00 | 42500.95 | 319.80 | 0.76% |
| JSE Gold | 17:00 | 1185.52 | 11.93 | 1.02% |
| JSE Financial | 17:00 | 36360.95 | 233.45 | 0.65% |
| JSE Industrial | 17:00 | 63976.55 | 250.77 | 0.39% |
| JSE Indust 25 | 17:00 | 56381.64 | 250.68 | 0.45% |
| JSE Resource | 17:00 | 50226.10 | 673.10 | 1.36% |
| DJ Futures | 19:32 | 14258.25 | -1973.75 | -12.16% |
| DJ Ind | 19:58 | 16390.81 | 69.74 | 0.43% |
| SP 500 | 19:58 | 1887.64 | 12.90 | 0.69% |
| Nasdaq | 19:58 | 4249.38 | 35.72 | 0.85% |
| FTSE 100 | 17:29 | 6399.25 | 33.01 | 0.52% |
| DAX | 18:08 | 8825.21 | 12.78 | 0.15% |
| CAC40 | 18:08 | 4088.25 | 9.55 | 0.23% |
| Nikkei | 08:28 | 14936.51 | -364.04 | -2.38% |
| Shanghai | 09:28 | 2359.47 | -6.54 | -0.28% |
| Hang-Seng | 06:28 | 23294.66 | 151.28 | 0.65% |
| All Ords | 07:35 | 5204.00 | 50.90 | 0.99% |
| NZSE 50 | 06:48 | 5145.89 | -24.16 | -0.47% |

| | | | | |
| --- | --- | --- | --- | --- |
| Name | Time | RP | Move | % Move |
| Gold $ | 19:59 | 1233.25 | -3.18 | -0.26% |
| Gold R | 19:59 | 13620.86 | -16.51 | -0.12% |
| Gold R/kg | 19:58 | 437956 | 2123 | 0.49% |
| Silver $ | 19:59 | 17.4100 | -.0840 | -0.48% |
| Platinum $ | 19:59 | 1268.10 | 8.10 | 0.64% |
| Palladium $ | 19:59 | 791.80 | 8.30 | 1.06% |
| R157 | 22/09 | 6.99 | -.02 | 0.00% |
| R186 | 17:16 | 8.04 | -.03 | -0.31% |
| R204 | 17:14 | 7.26 | -.02 | -0.27% |
| R207 | 17:14 | 7.49 | -.02 | -0.33% |
| Brent Crude | 19:58 | 86.62 | -3.59 | -3.98% |
| Rand / Dollar | 19:59 | 11.0446 | 0.0147 | 0.13% |
| Rand / Pound | 19:55 | 17.5461 | -0.1570 | -0.89% |
| Rand / Euro | 19:55 | 13.9771 | -0.0798 | -0.57% |
| Rand / NZD | 19:59 | 8.6747 | -0.0260 | -0.30% |
| Rand / AUD | 19:55 | 9.6412 | -0.0281 | -0.29% |
| Yen / Dollar | 19:59 | 107.0590 | 0.0720 | 0.07% |
| Euro / Dollar | 19:59 | 0.7902 | 0.0053 | 0.68% |
| Dollar / Euro | 19:59 | 1.2656 | -0.0086 | -0.67% |
| Pound / Dollar | 19:55 | 0.6280 | 0.0061 | 0.98% |
Click here for the Sharenet Spot Price page
The JSE Today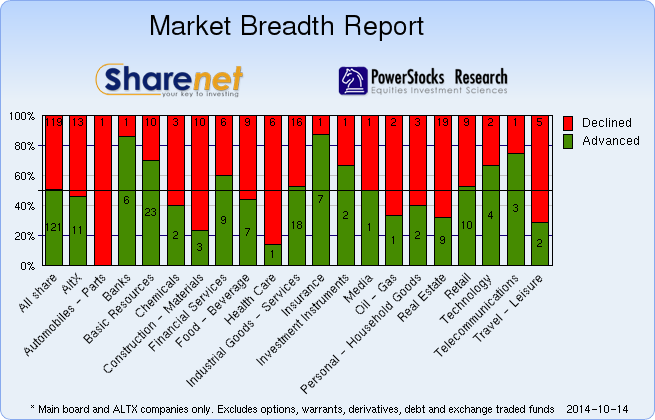 Trading Statistics
| Date | Adv. | Decl. | Unch. | Actives | Volume | Value | Trades | Orders |
| --- | --- | --- | --- | --- | --- | --- | --- | --- |
| 14/10/2014 | 199 | 162 | 61 | 422 | 216,971,235 | R17,895,168,092 | 291015 | 1146434 |
| 13/10/2014 | 199 | 146 | 69 | 414 | 219,513,337 | R16,416,407,235 | 215586 | 997251 |
| 10/10/2014 | 78 | 304 | 47 | 429 | 253,295,955 | R17,189,017,920 | 238327 | 1704077 |
| 09/10/2014 | 188 | 139 | 69 | 396 | 240,477,846 | R15,887,904,746 | 240713 | 1829327 |
| 08/10/2014 | 100 | 269 | 55 | 424 | 234,843,919 | R16,318,055,960 | 232868 | 1485032 |
* Includes all listed instruments on the JSE
---
---
---
Index Summary
| | | | |
| --- | --- | --- | --- |
| Index Name | RP | Move | % Move |
| Top 40 | 42,500.95 | 319.80 | 0.76% |
| Industrial | 63,976.55 | 250.77 | 0.39% |
| Mid Cap | 63,614.54 | 195.18 | 0.31% |
| Small Cap | 54,462.12 | -37.87 | -0.07% |
| Resource 20 | 50,226.10 | 673.10 | 1.36% |
| Industrial 25 | 56,381.64 | 250.68 | 0.45% |
| Financial 15 | 13,856.98 | 116.79 | 0.85% |
| Financial & Ind. 30 | 59,906.26 | 323.06 | 0.54% |
| All Share | 47,686.85 | 318.51 | 0.67% |
| Oil & Gas | 42,468.56 | -96.87 | -0.23% |
| Mining | 29,246.98 | 503.17 | 1.75% |
| Gold Mining | 1,185.52 | 11.93 | 1.02% |
| Platinum Mining | 37.41 | .46 | 1.24% |
| GENERAL MINING | 8,675.72 | 158.78 | 1.86% |
| Oil & Gas Producers | 22,834.56 | -52.08 | -0.23% |
| Basic Materials | 26,103.53 | 424.70 | 1.65% |
| Chemicals | 23,532.48 | -119.64 | -0.51% |
| Forestry & Paper | 30,507.45 | 199.97 | 0.66% |
| Industrial Metals | 16,971.88 | 676.87 | 4.15% |
| Industrials | 44,537.91 | 113.77 | 0.26% |
| General Industrials | 145.89 | -.12 | -0.08% |
| Consumer Goods | 57,197.96 | -1.51 | -0.00% |
| Automobiles & Parts | 6,736.76 | -79.26 | -1.16% |
| Household Goods | 364.96 | 3 | 0.72% |
| Health Care | 91,140.63 | 645.94 | 0.71% |
| Beverages | 198.12 | .49 | 0.25% |

| | | | |
| --- | --- | --- | --- |
| Index Name | RP | Move | % Move |
| Food Producers | 80,321.68 | -129.16 | -0.16% |
| Personal Goods | 880.71 | -3.10 | -0.35% |
| Consumer Services | 11,594.02 | 118.90 | 1.04% |
| General Retailers | 64,336.69 | 725.43 | 1.14% |
| Travel & Leisure | 5,809.01 | -2.01 | -0.03% |
| Media | 261.91 | 3.04 | 1.17% |
| Support Services | 2,729.93 | -15.75 | -0.57% |
| Telecommunications | 11,247.52 | 38.53 | 0.34% |
| Financials | 36,360.95 | 233.45 | 0.65% |
| Banks | 63,206.04 | 755.74 | 1.21% |
| Non-life Insurance | 50,921.91 | 222.04 | 0.44% |
| Life Insurance | 33,732.52 | 318.72 | 0.95% |
| General Financial | 3,506.23 | -2.18 | -0.06% |
| Technology | 45,852.38 | 311.07 | 0.68% |
| SHARIAH TOP40 | 3,905.01 | 41 | 1.06% |
| FTSE/JSE SHARIAH ALL | 4,069.90 | 37 | 0.91% |
| COAL MINING | 16,560.70 | 491 | 3.05% |
| FTSE JSE Fledgling | 6,566.32 | -5 | -0.07% |
| FTSE/JSE Alt X | 1,288.58 | 0 | 0.02% |
| SA LISTED PROPERTY | 539.06 | | 0.10% |
| CAPPED PROPERTY | 466.59 | | -0.00% |
| RESOURCE | 27,324.99 | 362 | 1.34% |
| DIVIDEND PLUS | 214.97 | 2 | 1.05% |
| FTSE/JSE RAFI 40 | 9,334.53 | 75 | 0.81% |
| Capped Top 40 | 22,570.20 | 167 | 0.75% |
| Capped All Share | 24,166.26 | 161 | 0.67% |
| JSE TABACO | 7,705.03 | -26 | -0.33% |
Click here for the Sharenet Index Summary page
---
Latest Consensus Changes**

| | | | |
| --- | --- | --- | --- |
| Code | Company Name | Status | Updated |
| BTI | BRITISH AM. TOBACCO PLC | BUY | 10/10/2014 |
| PFG | PIONEER FOODS GROUP LTD | SELL | 09/10/2014 |
| OCE | OCEANA GROUP LIMITED | HOLD | 09/10/2014 |
| TBS | TIGER BRANDS LTD | BUY | 09/10/2014 |
| MPT | MPACT LIMITED | BUY | 09/10/2014 |

Results Expected**

| | | |
| --- | --- | --- |
| Expected | Company Name | Fin. Date |
| 15/10/2014 | CMH | August 2014 (Interim) |
| 15/10/2014 | CMH PREF | August 2014 (Interim) |
| 15/10/2014 | DATATEC | August 2014 (Interim) |
| 16/10/2014 | CAPEVINH | June 2014 (Final) |
| 16/10/2014 | EASTPLATS | June 2014 (Interim) |
---
Recent Dividends**

| | | | | |
| --- | --- | --- | --- | --- |
| Share Name | Dec-Date | LDT | Pay-Date | Amount |
| PSG | 13/10/14 | 31/10/14 | 10/11/14 | ZAR 0.5500 |
| DELPROP | 13/10/14 | 31/10/14 | 10/11/14 | ZAR 0.4001 |
| EQUITES | 10/10/14 | 31/10/14 | 10/11/14 | ZAR 0.2037 |
| FPT | 09/10/14 | 31/10/14 | 10/11/14 | ZAR 0.2928 |
| PSG KST | 08/10/14 | 24/10/14 | 03/11/14 | ZAR 0.0400 |

Ex Div**

| | | | | |
| --- | --- | --- | --- | --- |
| Share Name | Dec-Date | LDT | Pay-Date | Amount |
| WBHO | 01/09/14 | 10/10/14 | 20/10/14 | ZAR 2.3300 |
| A-V-I | 08/09/14 | 10/10/14 | 20/10/14 | ZAR 1.8000 |
| ECSP C | 07/10/14 | 10/10/14 | 20/10/14 | ZAR 0.4356 |
| ECSP A | 07/10/14 | 10/10/14 | 20/10/14 | ZAR 0.3288 |
| RCL | 27/08/14 | 10/10/14 | 20/10/14 | ZAR 0.2000 |
---
Upcoming AGMs**

| | | | |
| --- | --- | --- | --- |
| Code | Company Name | Date | Status |
| VLE | Value Group Ltd. | 14/10/2014 | Confirmed |
| TSH | Tsogo Sun Holdings Ltd. | 15/10/2014 | Confirmed |
| MMG | MICROmega Holdings Ltd. | 16/10/2014 | Confirmed |
| WSL | Wescoal Holdings Ltd. | 21/10/2014 | Confirmed |
---
Stock Exchange News Service
Click here for more SENS news
---