Monday, 09 September 2013 - 20:00
Charts
Top News
South African stocks fell slightly on Monday after leading financial shares such as Barclays Africa Group and Standard Bank took a knock from trading ex-dividend, or without the right to the latest dividend payout.

---

Kenya's president said it could be forced to halt cooperation with the International Criminal Court if it requires both him and his deputy - both charged with crimes against humanity - to attend hearings in The Hague at the same time.

The Polish government's majority in parliament fell to two seats on Monday with the departure of one of its most senior lawmakers, leaving Prime Minister Donald Tusk's grip on power at its most fragile since he took office six years ago.
---
In June 2011 Africa Prepaid Services Nigeria Ltd. ("APSN"), a subsidiary of Bluetel, launched arbitration proceedings in South Africa ("the arbitration proceedings") against Multi-Links Telecommunications Ltd. ("MLT"), a subsidiary of Telkom at the time, for payment of the sum of USD457 million arising out of the cancellation of a Super Dealer Agreement ("the SDA"). In terms of the SDA, APSN acquired the right to market and distribute a range of products for MLT in Nigeria. In the arbitr. . .
Company Results
Revenue for the year increased to R181.3 billion (2012:169.4 billion). Operating profit grew to R40.6 billion (2012: R36.8 billion). Earnings attributable to shareholders rose to R26.3 billion (2012: R23.6 billion). Furthermore, headline earnings per share jumped to 5262cps (2012: 4228cps) Dividend A. . .
World Markets (Spot Prices)
| | | | | |
| --- | --- | --- | --- | --- |
| Name | Time | RP | Move | % Move |
| JSE Overall | 17:00 | 42769.62 | -68.09 | -0.16% |
| JSE Top 40 | 17:00 | 38306.88 | -115.23 | -0.30% |
| JSE Gold | 17:00 | 1310.28 | 22.26 | 1.73% |
| JSE Financial | 17:00 | 30615.37 | -38.61 | -0.13% |
| JSE Industrial | 17:00 | 55402.42 | -149.97 | -0.27% |
| JSE Indust 25 | 17:00 | 48482.34 | -165.24 | -0.34% |
| JSE Resource | 17:00 | 50510.65 | -26.79 | -0.05% |
| DJ Futures | 19:28 | 15040.00 | 131.00 | 0.88% |
| DJ Ind | 19:58 | 15049.02 | 126.52 | 0.85% |
| SP 500 | 19:58 | 1668.36 | 13.19 | 0.80% |
| Nasdaq | 19:58 | 3698.51 | 38.50 | 1.05% |
| FTSE 100 | 17:35 | 6530.74 | -16.59 | -0.25% |
| DAX | 18:08 | 8276.32 | .65 | 0.01% |
| CAC40 | 18:08 | 4040.33 | -8.86 | -0.22% |
| Nikkei | 08:28 | 14205.23 | 344.42 | 2.48% |
| Shanghai | 09:28 | 2212.52 | 72.52 | 3.39% |
| Hang-Seng | 10:28 | 22750.65 | 129.43 | 0.57% |
| All Ords | 08:40 | 5179.40 | 35.40 | 0.69% |
| NZSE 50 | 07:50 | 4614.02 | 16.84 | 0.37% |

| | | | | |
| --- | --- | --- | --- | --- |
| Name | Time | RP | Move | % Move |
| Gold $ | 19:59 | 1386.12 | -5.18 | -0.37% |
| Gold R | 19:58 | 13803.54 | -130.58 | -0.94% |
| Gold R/kg | 19:58 | 443947 | -2624 | -0.59% |
| Silver $ | 19:59 | 23.6660 | -.1450 | -0.61% |
| Platinum $ | 19:59 | 1482.00 | -6.00 | -0.40% |
| Palladium $ | 19:59 | 684.20 | -9.80 | -1.41% |
| R157 | 17:17 | 6.17 | -.16 | -2.53% |
| R186 | 17:40 | 8.30 | -.12 | -1.43% |
| R204 | 17:17 | 7.26 | -.13 | -1.69% |
| R207 | 17:17 | 7.59 | -.14 | -1.75% |
| Brent Crude | 19:58 | 114.07 | -1.19 | -1.03% |
| Rand / Dollar | 19:58 | 9.9587 | -0.0559 | -0.56% |
| Rand / Pound | 19:55 | 15.6218 | -0.0070 | -0.04% |
| Rand / Euro | 19:55 | 13.2177 | 0.0192 | 0.15% |
| Rand / NZD | 19:58 | 7.9974 | -0.0188 | -0.23% |
| Rand / AUD | 19:55 | 9.2048 | -0.0167 | -0.18% |
| Yen / Dollar | 19:59 | 99.5970 | -0.2020 | -0.20% |
| Euro / Dollar | 19:55 | 0.7534 | -0.0054 | -0.71% |
| Dollar / Euro | 19:59 | 1.3268 | 0.0095 | 0.72% |
| Pound / Dollar | 19:55 | 0.6362 | -0.0033 | -0.52% |
Click here for the Sharenet Spot Price page
The JSE Today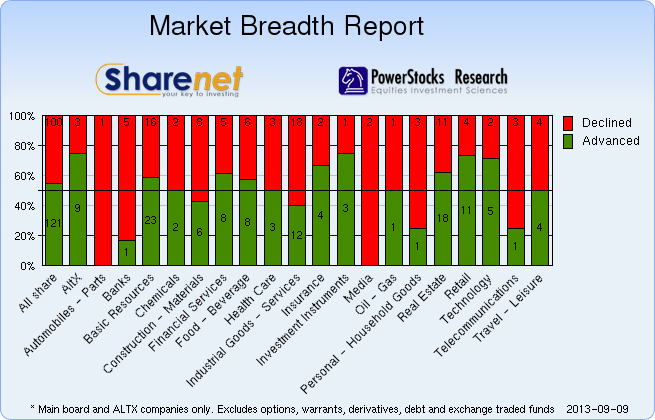 Trading Statistics
| Date | Adv. | Decl. | Unch. | Actives | Volume | Value | Trades | Orders |
| --- | --- | --- | --- | --- | --- | --- | --- | --- |
| 09/09/2013 | 180 | 159 | 75 | 414 | 187,638,599 | R11,686,837,827 | 138920 | 1487293 |
| 06/09/2013 | 182 | 156 | 85 | 423 | 178,897,441 | R10,685,255,503 | 133588 | 1764716 |
| 05/09/2013 | 218 | 129 | 58 | 405 | 192,254,062 | R10,618,518,359 | 118083 | 1583745 |
| 04/09/2013 | 114 | 235 | 53 | 402 | 172,101,728 | R10,953,239,375 | 136640 | 1152407 |
| 03/09/2013 | 227 | 133 | 68 | 428 | 162,554,709 | R10,160,453,085 | 105975 | 1363301 |
* Includes all listed instruments on the JSE
---
---
---
Index Summary
| | | | |
| --- | --- | --- | --- |
| Index Name | RP | Move | % Move |
| Top 40 | 38,306.88 | -115.23 | -0.30% |
| Industrial | 55,402.42 | -149.97 | -0.27% |
| Mid Cap | 55,900.43 | 320.11 | 0.58% |
| Small Cap | 46,677.67 | 231.86 | 0.50% |
| Resource 20 | 50,510.65 | -26.79 | -0.05% |
| Industrial 25 | 48,482.34 | -165.24 | -0.34% |
| Financial 15 | 11,561.58 | -24.59 | -0.21% |
| Financial & Ind. 30 | 51,334.27 | -214.80 | -0.42% |
| All Share | 42,769.62 | -68.09 | -0.16% |
| Oil & Gas | 37,008.64 | -38.60 | -0.10% |
| Mining | 30,643.23 | 16.68 | 0.05% |
| Gold Mining | 1,310.28 | 22.26 | 1.73% |
| Platinum Mining | 49.86 | 1.07 | 2.19% |
| GENERAL MINING | 8,762.48 | -34.72 | -0.39% |
| Oil & Gas Producers | 19,898.86 | -20.76 | -0.10% |
| Basic Materials | 27,133.67 | 24.66 | 0.09% |
| Chemicals | 22,269.51 | 115.18 | 0.52% |
| Forestry & Paper | 27,092.27 | 39.81 | 0.15% |
| Industrial Metals | 24,330.45 | 232.72 | 0.97% |
| Industrials | 42,001.95 | -8.92 | -0.02% |
| General Industrials | 124.63 | -.11 | -0.09% |
| Consumer Goods | 51,833.60 | -135.14 | -0.26% |
| Automobiles & Parts | 7,434.22 | -38.49 | -0.52% |
| Household Goods | 205.41 | -1 | -0.26% |
| Health Care | 69,967.52 | 146.02 | 0.21% |
| Beverages | 165.16 | -1.23 | -0.74% |

| | | | |
| --- | --- | --- | --- |
| Index Name | RP | Move | % Move |
| Food Producers | 68,054.14 | -102.15 | -0.15% |
| Personal Goods | 985.38 | -.30 | -0.03% |
| Consumer Services | 9,587.98 | -31.41 | -0.33% |
| General Retailers | 60,364.17 | 949.04 | 1.60% |
| Travel & Leisure | 5,591.66 | 34.55 | 0.62% |
| Media | 191.94 | -2.59 | -1.33% |
| Support Services | 2,584.70 | -16.77 | -0.64% |
| Telecommunications | 8,496.69 | -89.22 | -1.04% |
| Financials | 30,615.37 | -38.61 | -0.13% |
| Banks | 51,662.97 | -891.35 | -1.70% |
| Non-life Insurance | 47,726.53 | .00 | 0.00% |
| Life Insurance | 29,273.33 | 167.32 | 0.57% |
| General Financial | 2,853.23 | 23.53 | 0.83% |
| Technology | 43,783.91 | 307.77 | 0.71% |
| SHARIAH TOP40 | 3,663.03 | -7 | -0.20% |
| FTSE/JSE SHARIAH ALL | 3,768.86 | -4 | -0.09% |
| COAL MINING | 20,902.73 | -108 | -0.52% |
| FTSE JSE Fledgling | 5,752.38 | 5 | 0.08% |
| FTSE/JSE Alt X | 1,035.60 | 5 | 0.50% |
| SA LISTED PROPERTY | 489.61 | | 0.81% |
| CAPPED PROPERTY | 407.14 | | 0.61% |
| RESOURCE | 27,655.71 | 7 | 0.03% |
| DIVIDEND PLUS | 205.71 | 1 | 0.31% |
| FTSE/JSE RAFI 40 | 8,492.47 | -10 | -0.12% |
| Capped Top 40 | 20,254.62 | -50 | -0.25% |
| Capped All Share | 21,650.11 | -30 | -0.14% |
| JSE TABACO | 6,631.91 | 43 | 0.65% |
Click here for the Sharenet Index Summary page
---
Latest Consensus Changes**

| | | | |
| --- | --- | --- | --- |
| Code | Company Name | Status | Updated |
| NPN | NASPERS LIMITED | BUY | 06/09/2013 |
| ANG | ANGLOGOLD ASHANTI LIMITED | BUY | 05/09/2013 |
| PIK | PICK N PAY STORES LIMITED | SELL | 05/09/2013 |
| CLH | CITY LODGE HOTELS LIMITED | HOLD | 04/09/2013 |
| SUI | SUN INTERNATIONAL LTD | BUY | 04/09/2013 |

Results Expected**

| | | |
| --- | --- | --- |
| Expected | Company Name | Fin. Date |
| 10/09/2013 | AVENG | June 2013 (Final) |
| 10/09/2013 | COMAIR | June 2013 (Final) |
| 10/09/2013 | COMAIRN | June 2013 (Final) |
| 10/09/2013 | FIRSTRAND | June 2013 (Final) |
| 10/09/2013 | FIRSTRANDB-P | June 2013 (Final) |
---
Recent Dividends**

| | | | | |
| --- | --- | --- | --- | --- |
| Share Name | Dec-Date | LDT | Pay-Date | Amount |
| COMPCLEAR | 06/09/13 | 18/10/13 | 28/10/13 | ZAR 0.3000 |
| PINNACLE | 05/09/13 | 08/11/13 | 18/11/13 | ZAR 0.4100 |
| AFGRI | 04/09/13 | 15/11/13 | 25/11/13 | ZAR 0.0330 |
| EQSTRA | 04/09/13 | 19/09/13 | 30/09/13 | ZAR 0.3600 |
| DISCOVERY | 03/09/13 | 04/10/13 | 14/10/13 | ZAR 0.6450 |

Ex Div**

| | | | | |
| --- | --- | --- | --- | --- |
| Share Name | Dec-Date | LDT | Pay-Date | Amount |
| ABSABANK-P | 30/07/13 | 06/09/13 | 16/09/13 | ZAR 29.9945 |
| NEDBANK | 06/08/13 | 06/09/13 | 16/09/13 | ZAR 3.9000 |
| B-AFRICA | 30/07/13 | 06/09/13 | 16/09/13 | ZAR 3.5000 |
| EXXARO | 22/08/13 | 06/09/13 | 16/09/13 | ZAR 2.3500 |
| STANBANK | 15/08/13 | 06/09/13 | 16/09/13 | ZAR 2.3300 |
---
Upcoming AGMs**

| | | | |
| --- | --- | --- | --- |
| Code | Company Name | Date | Status |
| DTC | Datatec Ltd. | 10/09/2013 | Confirmed |
| FMC | Forbes - Manhattan Coal Corp | 11/09/2013 | Confirmed |
| AFP | Alexander Forbes Preference Share Invest... | 13/09/2013 | Confirmed |
---
Stock Exchange News Service
Click here for more SENS news
---