Monday, 22 July 2013 - 20:00
Charts
Top News
The chief financial officer of South Africa's MTN has resigned with immediate effect due to an ongoing investigation into certain allegations made against him, the mobile operator said on Monday.

---

The European Union agreed on Monday to put the armed wing of Hezbollah on its terrorism blacklist, a move driven by concerns over the Lebanese militant group's involvement in a deadly bus bombing in Bulgaria and the Syrian war.

Portugal's president has soothed investor concerns by keeping the government in place until 2015, but unresolved tensions over austerity mean the country's political crisis has not been laid to rest.
---
All defined terms, unless otherwise stated herein, bear the same meaning as set out in the circular to shareholders dated 14 December 2012 ("Circular"). Shareholders are referred to the detailed terms announcement released on 6 December 2012, the Circular and the subsequent announcement released on 5 April 2013, in relation to the proposed strategic combination of the Barclays' African operations with Absa Group and the proposed change of name of "Absa Group Ltd." to "Barclays Africa Gro. . .
Company Results
Net sales revenue grew by 24% to R24.1 billion (R19.4 billion). Operating profit shot up to R2.7 billion (R399 million). Profit attributable to owner of the company turned around to R1.2 billion (loss of R464 million). In addition, headline earnings per share rose to 514cps (273cps). Outlook The global platinum market continues to suffer supply disruptions, production curtailment and capital rationing in the current economic environment, while net platinum demand is expected to rem. . .
World Markets (Spot Prices)
| | | | | |
| --- | --- | --- | --- | --- |
| Name | Time | RP | Move | % Move |
| JSE Overall | 17:00 | 40894.05 | 344.65 | 0.85% |
| JSE Top 40 | 17:00 | 36394.28 | 364.57 | 1.01% |
| JSE Gold | 17:00 | 1292.49 | 90.70 | 7.55% |
| JSE Financial | 17:00 | 30417.36 | 102.80 | 0.34% |
| JSE Industrial | 17:00 | 53632.50 | 171.19 | 0.32% |
| JSE Indust 25 | 17:00 | 46854.53 | 160.89 | 0.34% |
| JSE Resource | 17:00 | 45982.32 | 1007.22 | 2.24% |
| DJ Futures | 13:22 | 13611.28 | -1891.72 | -12.20% |
| DJ Ind | 20:00 | 15531.08 | -12.66 | -0.08% |
| SP 500 | 20:00 | 1693.15 | 1.06 | 0.06% |
| Nasdaq | 20:00 | 3590.01 | 2.40 | 0.07% |
| FTSE 100 | 17:35 | 6623.17 | -7.50 | -0.11% |
| DAX | 18:10 | 8331.06 | -.51 | -0.01% |
| CAC40 | 18:10 | 3939.92 | 14.60 | 0.37% |
| Nikkei | 08:32 | 14658.04 | 68.13 | 0.47% |
| Shanghai | 09:30 | 2004.76 | 12.11 | 0.61% |
| Hang-Seng | 10:32 | 21416.50 | 54.08 | 0.25% |
| All Ords | 08:44 | 4988.90 | 29.50 | 0.59% |
| NZSE 50 | 08:28 | 4554.04 | 15.73 | 0.35% |

| | | | | |
| --- | --- | --- | --- | --- |
| Name | Time | RP | Move | % Move |
| Gold $ | 19:59 | 1333.50 | 36.48 | 2.81% |
| Gold R | 20:00 | 13122.44 | 553.60 | 4.40% |
| Gold R/kg | 20:00 | 421886 | 11135 | 2.71% |
| Silver $ | 19:59 | 20.4500 | .9150 | 4.68% |
| Platinum $ | 19:59 | 1443.00 | 17.00 | 1.19% |
| Palladium $ | 19:59 | 745.10 | 1.10 | 0.15% |
| R157 | 17:15 | 5.99 | .00 | 0.08% |
| R186 | 17:17 | 7.88 | .00 | 0.00% |
| R204 | 17:05 | 6.92 | .00 | 0.00% |
| R207 | 17:24 | 7.16 | -.02 | -0.28% |
| Brent Crude | 20:00 | 108.26 | -.44 | -0.40% |
| Rand / Dollar | 19:59 | 9.8406 | -0.0194 | -0.20% |
| Rand / Pound | 19:55 | 15.0704 | 0.0316 | 0.21% |
| Rand / Euro | 19:55 | 12.9714 | 0.0036 | 0.03% |
| Rand / NZD | 02:29 | 7.8080 | 0.0067 | 0.09% |
| Rand / AUD | 19:55 | 9.1014 | 0.0345 | 0.38% |
| Yen / Dollar | 19:59 | 99.5240 | -0.8540 | -0.85% |
| Euro / Dollar | 19:55 | 0.7576 | -0.0032 | -0.42% |
| Dollar / Euro | 19:59 | 1.3190 | 0.0056 | 0.42% |
| Pound / Dollar | 19:55 | 0.6506 | -0.0040 | -0.61% |
Click here for the Sharenet Spot Price page
The JSE Today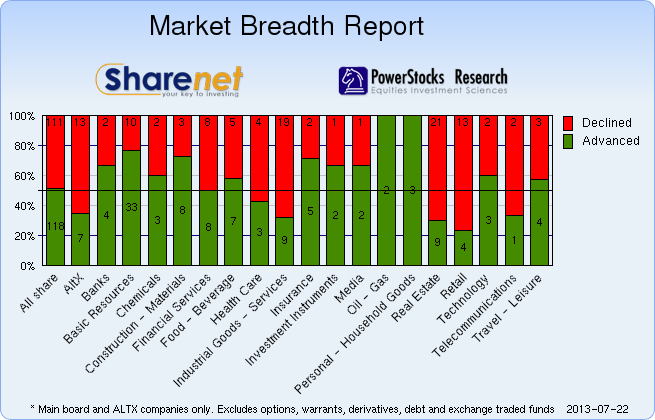 Trading Statistics
| Date | Adv. | Decl. | Unch. | Actives | Volume | Value | Trades | Orders |
| --- | --- | --- | --- | --- | --- | --- | --- | --- |
| 22/07/2013 | 182 | 149 | 67 | 398 | 168,006,388 | R10,818,389,476 | 138759 | 1664526 |
| 19/07/2013 | 122 | 204 | 70 | 396 | 162,692,896 | R10,172,874,264 | 128403 | 537953 |
| 18/07/2013 | 197 | 145 | 68 | 410 | 190,770,343 | R12,794,079,282 | 170536 | 845908 |
| 17/07/2013 | 215 | 139 | 60 | 414 | 248,669,272 | R16,612,335,564 | 182621 | 1848603 |
| 16/07/2013 | 138 | 195 | 70 | 403 | 164,451,627 | R11,618,361,089 | 139036 | 1785625 |
* Includes all listed instruments on the JSE
---
---
---
Index Summary
| | | | |
| --- | --- | --- | --- |
| Index Name | RP | Move | % Move |
| Top 40 | 36,394.00 | 365.00 | 1.01% |
| Industrial | 53,632.00 | 171.00 | 0.32% |
| Mid Cap | 55,471.00 | 9.00 | 0.02% |
| Small Cap | 44,837.00 | 145.00 | 0.33% |
| Resource 20 | 45,982.00 | 1007.00 | 2.24% |
| Industrial 25 | 46,854.00 | 161.00 | 0.35% |
| Financial 15 | 11,364.00 | 63.00 | 0.56% |
| Financial & Ind. 30 | 49,739.00 | 235.00 | 0.48% |
| All Share | 40,894.00 | 345.00 | 0.85% |
| Oil & Gas | 33,788.00 | 492.00 | 1.48% |
| Mining | 27,806.00 | 677.00 | 2.50% |
| Gold Mining | 1,292.00 | 91.00 | 7.62% |
| Platinum Mining | 38.00 | 1.00 | 4.30% |
| GENERAL MINING | 8,008.00 | 144.00 | 1.84% |
| Oil & Gas Producers | 18,167.00 | 264.00 | 1.48% |
| Basic Materials | 24,603.00 | 558.00 | 2.32% |
| Chemicals | 21,818.00 | -129.00 | -0.59% |
| Forestry & Paper | 22,950.00 | 144.00 | 0.64% |
| Industrial Metals | 24,096.00 | 679.00 | 2.90% |
| Industrials | 40,924.00 | -95.00 | -0.23% |
| General Industrials | 122.00 | .00 | 0.27% |
| Consumer Goods | 51,166.00 | 581.00 | 1.15% |
| Automobiles & Parts | 8,061.00 | .00 | 0.01% |
| Household Goods | 182.00 | 7 | 4.09% |
| Health Care | 67,237.00 | -295.00 | -0.44% |
| Beverages | 167.00 | 2.00 | 1.71% |

| | | | |
| --- | --- | --- | --- |
| Index Name | RP | Move | % Move |
| Food Producers | 71,255.00 | 34.00 | 0.05% |
| Personal Goods | 924.00 | 8.00 | 0.93% |
| Consumer Services | 89,080.00 | -679.00 | -0.76% |
| General Retailers | 57,464.00 | -1614.00 | -2.73% |
| Travel & Leisure | 5,317.00 | -47.00 | -0.88% |
| Media | 170.00 | 1.00 | 0.95% |
| Support Services | 2,409.00 | 14.00 | 0.61% |
| Telecommunications | 85,564.00 | 97.00 | 0.11% |
| Financials | 30,417.00 | 103.00 | 0.34% |
| Banks | 48,852.00 | 161.00 | 0.33% |
| Non-life Insurance | 49,477.00 | 454.00 | 0.93% |
| Life Insurance | 29,395.00 | 198.00 | 0.68% |
| General Financial | 2,830.00 | 7.00 | 0.28% |
| Technology | 40,650.00 | 442.00 | 1.10% |
| SHARIAH TOP40 | 3,385.00 | 56 | 1.70% |
| FTSE/JSE SHARIAH ALL | 3,522.00 | 50 | 1.44% |
| COAL MINING | 19,619.00 | 1089 | 5.88% |
| FTSE JSE Fledgling | 5,531.00 | 13 | 0.24% |
| FTSE/JSE Alt X | 992.00 | -4 | -0.42% |
| SA LISTED PROPERTY | 524.00 | | -0.29% |
| CAPPED PROPERTY | 433.00 | | 0.15% |
| RESOURCE | 25,122.00 | 569 | 2.32% |
| DIVIDEND PLUS | 203.00 | 1 | 0.66% |
| FTSE/JSE RAFI 40 | 8,038.00 | 100 | 1.26% |
| Capped Top 40 | 19,212.00 | 188 | 0.99% |
| Capped All Share | 20,702.00 | 173 | 0.84% |
| JSE TABACO | 6,736.00 | 66 | 0.99% |
Click here for the Sharenet Index Summary page
---
Latest Consensus Changes**

| | | | |
| --- | --- | --- | --- |
| Code | Company Name | Status | Updated |
| VOD | VODACOM GROUP LIMITED | HOLD | 19/07/2013 |
| NED | NEDBANK GROUP LTD | BUY | 18/07/2013 |
| SBK | STANDARD BANK GROUP LIMIT... | HOLD | 18/07/2013 |
| AMS | ANGLO AMERICAN PLATINUM C... | HOLD | 18/07/2013 |
| FSR | FIRSTRAND LIMITED | HOLD | 18/07/2013 |

Results Expected**

| | | |
| --- | --- | --- |
| Expected | Company Name | Fin. Date |
| 23/07/2013 | ELLIES | April 2013 (Final) |
| 23/07/2013 | KUMBA | June 2013 (Interim) |
| 24/07/2013 | AECI | June 2013 (Interim) |
| 24/07/2013 | AECI 5.5%P | June 2013 (Interim) |
| 24/07/2013 | AQUARIUS | June 2013 (Q) |
---
Recent Dividends**

| | | | | |
| --- | --- | --- | --- | --- |
| Share Name | Dec-Date | LDT | Pay-Date | Amount |
| FOORDCMPS | 09/07/2013 | 26/07/2013 | 05/08/2013 | R 0.3000 |
| HUDACO | 28/06/2013 | 08/08/2013 | 19/08/2013 | R 1.5500 |
| ARGENT | 26/06/2013 | 27/09/2013 | 07/10/2013 | R 0.0700 |
| NASPERS-N | 25/06/2013 | 13/09/2013 | 23/09/2013 | R 3.8500 |
| PRESCIENT | 25/06/2013 | 26/07/2013 | 05/08/2013 | R 0.0250 |

Ex Div**

| | | | | |
| --- | --- | --- | --- | --- |
| Share Name | Dec-Date | LDT | Pay-Date | Amount |
| AME | 14/06/2013 | 19/07/2013 | 29/07/2013 | R 2.0000 |
| PERGRIN | 06/06/2013 | 19/07/2013 | 29/07/2013 | R 0.7200 |
| PERGRIN | 06/06/2013 | 19/07/2013 | 29/07/2013 | R 0.2800 |
| NETCARE | 20/05/2013 | 19/07/2013 | 29/07/2013 | R 0.2700 |
| INVPLC | 23/05/2013 | 19/07/2013 | 12/08/2013 | R 0.1000 |
---
Upcoming AGMs**

| | | | |
| --- | --- | --- | --- |
| Code | Company Name | Date | Status |
| ATN | Allied Electronics Corporation Ltd. | 22/07/2013 | Confirmed |
| ATNP | Allied Electronics Corporation Ltd. | 22/07/2013 | Confirmed |
| OAS | Oasis Crescent Property Fund | 22/07/2013 | Confirmed |
| WKF | Workforce Holdings Ltd. | 24/07/2013 | Confirmed |
| MDC | Mediclinic International Ltd. | 25/07/2013 | Confirmed |
---
Stock Exchange News Service
Click here for more SENS news
---