Tuesday, 19 March 2013 - 20:00
Charts
Earnings Weakness
At the beginning of each month we take an in depth look at the valuations of a variety of asset classes. We mostly have standard valuation metrics that we look at – we want our process to be as consistent as possible – but, from time to time when anomalies arise, we also look at other factors (or the same factors from different angles). When there are anomalies in the output, we perform the extra research in an attempt to get a better understanding of the factors at play. Ultimately the human touch is important in an investment process – you can't solely rely on output exported into an Excel spreadsheet when managing investments.
The results at the beginning of March proved a case in point. In February the market was down nearly 2%, but rather than being cheaper than the previous month (when using the market PE ratio as the valuation technique) it was significantly more expensive (PE of 16.6 at the end of February compared to 15.2 at the end of January).
Fortunately the PE ratio is a simple formula. If P is down and the PE ratio is up, it simply means that E (earnings) must be down. When I took a closer look, I saw that the market's earnings were down over 10% during February, with the vast majority of the fall coming on 15 February – see Chart 1 below. It just so happened that Anglo American (AGL) reported a 55% (in USD) drop in earnings on the 15th. Essentially Anglo's poor results had a major impact on the market's earnings falling (and consequently an increasing PE).
Chart 1: ALSI Earnings during February
This surprised me, so I decided to take a closer look at the market's earnings over time. I was interested to see that there have been some significant earnings drawdowns over the past 27 years. But while earnings have fallen significantly over this period – see Chart 2 below, the market has typically fallen more. The market falls/crashes have also typically occurred before the fall in earnings (lending support to the fact that the market is forward looking and anticipates poor earnings).
Chart 2: Drawdown of ALSI (P) and ALSI (E), i.e. Fall in Price vs Fall in Earnings
When looking at this is data from some other directions I saw that earnings are typically half as volatile as the price and that there's not much correlation between the monthly returns and the monthly earnings growth. Over a rolling 12 month period the largest gain in earnings has been 49% for the 12 months ending 31 July 2001 and the worst period ended on 28 February 2010 with earnings contraction of 32%.
Interesting, February 2013 was the biggest monthly contraction in earnings over this 27 year period, the previous worst being -9.7% in August 2009. While this kind of analysis doesn't give us all of the answers, it does at least help us understand where the change in valuation has come from.
Into March we have used the rising market to reduce our allocation to local equities across our unit trusts and range of portfolios. For more information on the Seed Flexible and Seed Absolute Return Funds, you can download the latest (February) fact sheets by clicking here.
Take care,
Mike Browne
www.seedinvestments.co.za
info@seedinvestments.co.za
021 914 4966
Tue, 19 Mar 2013
Top News
South Africa's benchmark share index fell for the third straight day on Tuesday, weighed down by mining companies as worries about the euro zone debt crisis dented metal prices.

---

Global stock markets fell on Tuesday, extending the previous day's decline as investors continued to fret about a bail-out plan for Cyprus and the possible effect on the euro zone should it collapse. Markets have been volatile, with U.S. stocks opening lower and then briefly rebounding as investors used strong housing data as an opportunity to pick up beaten down shares. In midday trading, however, shares returned to negative territory. European stocks, along with the euro and oil, had b

Cyprus's government proposed to spare small savers from a divisive levy on bank deposits but said it expected parliament to reject the measure, needed to secure an international rescue and avoid a default that would shake the euro zone.
World Markets (Spot Prices)
| | | | | |
| --- | --- | --- | --- | --- |
| Name | Time | RP | Move | % Move |
| JSE Overall | 17:00 | 40346.17 | -123.00 | -0.31% |
| JSE Top 40 | 17:00 | 35809.56 | -144.00 | -0.40% |
| JSE Gold | 17:00 | 1932.08 | -7.00 | -0.41% |
| JSE Financial | 17:00 | 30720.53 | 237.00 | 0.78% |
| JSE Industrial | 17:00 | 49854.06 | -110.00 | -0.22% |
| JSE Indust 25 | 17:00 | 43125.72 | -95.00 | -0.22% |
| JSE Resource | 17:00 | 49426.18 | -618.00 | -1.24% |
| DJ Futures | 19:42 | 14310.00 | -80.00 | -0.56% |
| DJ Ind | 19:58 | 14401.55 | -50.51 | -0.35% |
| SP 500 | 19:58 | 1541.04 | -11.06 | -0.71% |
| Nasdaq | 19:58 | 3209.76 | -27.83 | -0.86% |
| FTSE 100 | 18:35 | 6441.32 | -16.60 | -0.26% |
| DAX | 19:10 | 7947.79 | -62.91 | -0.79% |
| CAC40 | 19:10 | 3775.75 | -49.72 | -1.30% |
| Nikkei | 08:32 | 12468.23 | 247.60 | 2.03% |
| Shanghai | 09:28 | 2257.43 | 17.42 | 0.78% |
| Hang-Seng | 10:30 | 22041.86 | -41.50 | -0.19% |
| All Ords | 07:43 | 5004.40 | -23.00 | -0.46% |
| NZSE 50 | 06:48 | 4345.04 | 4.02 | 0.09% |

| | | | | |
| --- | --- | --- | --- | --- |
| Name | Time | RP | Move | % Move |
| Gold $ | 19:59 | 1612.67 | 8.19 | 0.51% |
| Gold R | 19:58 | 14946.50 | 253.24 | 1.72% |
| Gold R/kg | 19:58 | 480743 | 8242 | 1.74% |
| Silver $ | 19:59 | 28.9220 | .0440 | 0.15% |
| Platinum $ | 19:59 | 1554.00 | -18.75 | -1.19% |
| Palladium $ | 19:59 | 729.00 | -32.00 | -4.20% |
| R157 | 16:52 | 5.44 | .06 | 1.02% |
| R204 | 16:52 | 6.15 | .06 | 0.90% |
| R207 | 17:31 | 6.40 | .05 | 0.79% |
| Brent Crude | 19:58 | 107.56 | -2.55 | -2.32% |
| Rand / Dollar | 19:59 | 9.2643 | 0.1074 | 1.17% |
| Rand / Pound | 19:55 | 13.9684 | 0.1531 | 1.11% |
| Rand / Euro | 19:55 | 11.9234 | 0.0464 | 0.39% |
| Rand / NZD | 19:58 | 7.6299 | 0.0603 | 0.80% |
| Rand / AUD | 19:55 | 9.6030 | 0.0650 | 0.68% |
| Yen / Dollar | 19:59 | 94.9140 | -0.3540 | -0.37% |
| Euro / Dollar | 19:55 | 0.7772 | 0.0057 | 0.74% |
| Dollar / Euro | 19:59 | 1.2877 | -0.0086 | -0.66% |
| Pound / Dollar | 19:55 | 0.6619 | 0.0002 | 0.03% |
Click here for the Sharenet Spot Price page
The JSE Today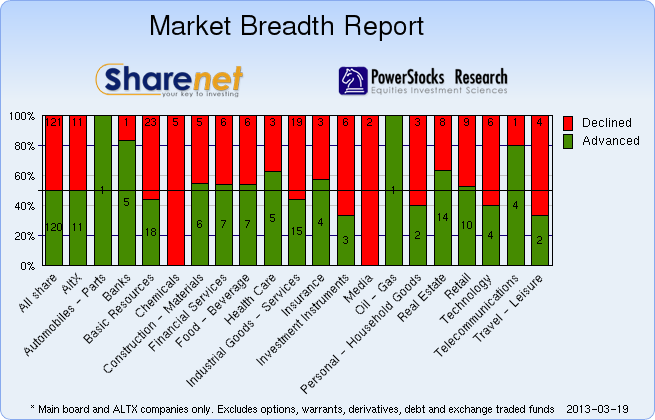 Trading Statistics
| Date | Adv. | Decl. | Unch. | Actives | Volume | Value | Trades | Orders |
| --- | --- | --- | --- | --- | --- | --- | --- | --- |
| 19/03/2013 | 184 | 174 | 69 | 427 | 222,443,805 | R15,668,812,627 | 150002 | 1263754 |
| 18/03/2013 | 125 | 236 | 66 | 427 | 198,532,248 | R14,108,049,205 | 165172 | 1361088 |
| 15/03/2013 | 159 | 186 | 76 | 421 | 391,530,562 | R29,875,451,138 | 184721 | 1368568 |
| 14/03/2013 | 160 | 173 | 92 | 425 | 224,196,440 | R15,505,140,688 | 160136 | 1261899 |
| 13/03/2013 | 143 | 211 | 74 | 428 | 218,554,885 | R16,400,426,842 | 176070 | 1759023 |
* Includes all listed instruments on the JSE
---
---
---
Index Summary
| | | | |
| --- | --- | --- | --- |
| Index Name | RP | Move | % Move |
| Top 40 | 35,809.00 | -144.00 | -0.40% |
| Industrial | 49,854.00 | -110.00 | -0.22% |
| Mid Cap | 55,761.00 | 32.00 | 0.06% |
| Small Cap | 43,530.00 | 264.00 | 0.61% |
| Resource 20 | 49,426.00 | -618.00 | -1.24% |
| Industrial 25 | 43,125.00 | -95.00 | -0.22% |
| Financial 15 | 11,561.00 | 109.00 | 0.96% |
| Financial & Ind. 30 | 46,875.00 | 16.00 | 0.03% |
| All Share | 40,346.00 | -123.00 | -0.31% |
| Oil & Gas | 31,329.00 | .00 | 0.00% |
| Mining | 31,020.00 | -434.00 | -1.38% |
| Gold Mining | 1,932.00 | -7.00 | -0.41% |
| Platinum Mining | 49.00 | .00 | -0.14% |
| GENERAL MINING | 8,394.00 | -140.00 | -1.65% |
| Oil & Gas Producers | 16,845.00 | .00 | 0.00% |
| Basic Materials | 26,975.00 | -362.00 | -1.33% |
| Chemicals | 19,087.00 | -113.00 | -0.59% |
| Forestry & Paper | 21,412.00 | 117.00 | 0.55% |
| Industrial Metals | 24,585.00 | -873.00 | -3.43% |
| Industrials | 40,216.00 | 143.00 | 0.36% |
| General Industrials | 117.00 | 1.00 | 1.07% |
| Consumer Goods | 47,019.00 | -136.00 | -0.29% |
| Automobiles & Parts | 8,308.00 | 211.00 | 2.61% |
| Household Goods | 171.00 | -2 | -1.44% |
| Health Care | 60,245.00 | 133.00 | 0.22% |
| Beverages | 165.00 | 3.00 | 1.96% |

| | | | |
| --- | --- | --- | --- |
| Index Name | RP | Move | % Move |
| Food Producers | 68,821.00 | -1134.00 | -1.62% |
| Personal Goods | 747.00 | -21.00 | -2.79% |
| Consumer Services | 80,797.00 | -876.00 | -1.07% |
| General Retailers | 61,816.00 | 350.00 | 0.57% |
| Travel & Leisure | 5,259.00 | 30.00 | 0.59% |
| Media | 128.00 | -4.00 | -3.37% |
| Support Services | 2,339.00 | -42.00 | -1.79% |
| Telecommunications | 82,206.00 | 690.00 | 0.85% |
| Financials | 30,720.00 | 237.00 | 0.78% |
| Banks | 52,936.00 | 705.00 | 1.35% |
| Non-life Insurance | 49,640.00 | -127.00 | -0.26% |
| Life Insurance | 28,829.00 | 257.00 | 0.90% |
| General Financial | 2,833.00 | -1.00 | -0.05% |
| Technology | 35,954.00 | -76.00 | -0.21% |
| SHARIAH TOP40 | 3,398.00 | -36 | -1.07% |
| FTSE/JSE SHARIAH ALL | 3,526.00 | -31 | -0.90% |
| COAL MINING | 20,449.00 | -522 | -2.49% |
| FTSE JSE Fledgling | 5,924.00 | -7 | -0.12% |
| FTSE/JSE Alt X | 882.00 | 9 | 1.12% |
| SA LISTED PROPERTY | 515.00 | | -0.02% |
| CAPPED PROPERTY | 414.00 | | 0.42% |
| RESOURCE | 27,198.00 | -324 | -1.18% |
| DIVIDEND PLUS | 215.00 | 0 | 0.17% |
| FTSE/JSE RAFI 40 | 8,247.00 | -7 | -0.10% |
| Capped Top 40 | 18,900.00 | -66 | -0.35% |
| Capped All Share | 20,427.00 | -56 | -0.28% |
| JSE TABACO | 6,262.00 | 84 | 1.37% |
Click here for the Sharenet Index Summary page
---
Latest Consensus Changes**

| | | | |
| --- | --- | --- | --- |
| Code | Company Name | Status | Updated |
| IPL | IMPERIAL HOLDINGS LTD | HOLD | 21/01/2013 |
| BIL | BHP BILLITON PLC | HOLD | 21/01/2013 |
| TRU | TRUWORTHS INTERNATIONAL L... | SELL | 21/01/2013 |
| AMS | ANGLO AMERICAN PLATINUM C... | HOLD | 21/01/2013 |
| ANG | ANGLOGOLD ASHANTI LIMITED | HOLD | 21/01/2013 |

Results Expected**

| | | |
| --- | --- | --- |
| Expected | Company Name | Fin. Date |
| 20/03/2013 | URONE | December 2012 (Final) |
| 21/03/2013 | BIOSCI | December 2012 (Interim) |
| 21/03/2013 | LONRHO | December 2012 (Final) |
| 21/03/2013 | MICROMEGA | December 2012 (Final) |
| 21/03/2013 | SABLE | December 2012 (Interim) |
---
Recent Dividends**

| | | | | |
| --- | --- | --- | --- | --- |
| Share Name | Dec-Date | LDT | Pay-Date | Amount |
| METAIR | 18/03/2013 | 05/04/2013 | 15/04/2013 | R 0.9500 |
| ADVTECH | 18/03/2013 | 05/04/2013 | 15/04/2013 | R 0.1400 |
| BELL | 18/03/2013 | 05/04/2013 | 15/04/2013 | R 0.4000 |
| ILIAD | 18/03/2013 | 12/04/2013 | 22/04/2013 | R 0.2000 |
| PUTPROP | 13/03/2013 | 12/04/2013 | 22/04/2013 | R 0.1800 |

Ex Div**

| | | | | |
| --- | --- | --- | --- | --- |
| Share Name | Dec-Date | LDT | Pay-Date | Amount |
| SANTAM | 27/02/2013 | 14/03/2013 | 25/03/2013 | R 4.1000 |
| GRINDROD PREF | 27/02/2013 | 14/03/2013 | 25/03/2013 | R 3.7900 |
| PSGFIN PREF | 28/02/2013 | 14/03/2013 | 25/03/2013 | R 3.5124 |
| CAPITEC-P | 28/02/2013 | 14/03/2013 | 25/03/2013 | R 3.5124 |
| MASSMART | 28/02/2013 | 14/03/2013 | 25/03/2013 | R 2.7500 |
---
Upcoming AGMs**

| | | | |
| --- | --- | --- | --- |
| Code | Company Name | Date | Status |
| REB | Rebosis Property Fund Ltd. | 20/03/2013 | Confirmed |
| SDH | SecureData Holdings Ltd. | 20/03/2013 | Confirmed |
---
Stock Exchange News Service
Click here for more SENS news
---