Monday, 14 January 2013 - 20:00
Charts
Top News
Platinum rose to a three-month high on Monday, and is on the brink of being on parity with gold, as the prospect of further supply outages in South Africa triggered strong buying by commodity funds. Gold edged up, but trailed platinum's rise, helped by gains in agricultural and energy commodity

---

India's army chief threatened to retaliate against Pakistan for the killing of two soldiers in fighting near the border of the disputed region of Kashmir, saying he had asked his commanders there to be aggressive in the face of provocation.

Syria's civil war is unleashing a "staggering humanitarian crisis" on the Middle East as hundreds of thousands of refugees flee violence including gang rape, an international aid agency said on Monday.
---
Amplats is currently finalising its results for the year ended 31 December 2012 ("the period"), which will be released on SENS on or about 4 February 2013. Headline earnings per share ("HEPS") for the period is expected to decrease to a loss of between 491 cents and 628 cents from a profit of 1 365 cents reported for the year ended 31 December 2011 ("the comparative period"). The expected decrease in HEPS is primarily due to lower sales volumes and lower realised prices during 2. . .
Company Results
Revenue increased to R59.9 million (R52 million). Gross profit rose to R21.2 million (R20.8 million). Operating profit before finance costs slumped to R0.6 million (R2.9 million). Net attributed profit plummeted to R12 003 (profit of R2.3 million). In addition, headline earnings per share sunk to 0.01cps (2.27cps). Prospects Following the change in control of the company and due to the unavailability of the Clayville factory development and the current Talton factory lease coming to. . .
World Markets (Spot Prices)
| | | | | |
| --- | --- | --- | --- | --- |
| Name | Time | RP | Move | % Move |
| JSE Overall | 17:00 | 40144.07 | -136.00 | -0.34% |
| JSE Top 40 | 17:00 | 35673.42 | -118.00 | -0.33% |
| JSE Gold | 17:00 | 2232.91 | 17.00 | 0.81% |
| JSE Financial | 17:00 | 30340.39 | 121.00 | 0.40% |
| JSE Industrial | 17:00 | 47693.45 | -419.00 | -0.87% |
| JSE Indust 25 | 17:00 | 41088.25 | -390.00 | -0.94% |
| JSE Resource | 17:00 | 52834.62 | 21.00 | 0.04% |
| DJ Futures | 19:38 | 13430.00 | 1.00 | 0.01% |
| DJ Ind | 20:00 | 13495.02 | 6.59 | 0.05% |
| SP 500 | 20:00 | 1468.68 | -3.37 | -0.23% |
| Nasdaq | 20:00 | 3111.96 | -13.67 | -0.44% |
| FTSE 100 | 18:35 | 6107.86 | -13.72 | -0.22% |
| DAX | 16:28 | 7757.27 | 41.74 | 0.54% |
| CAC40 | 15:08 | 3718.31 | 12.29 | 0.33% |
| Nikkei | 11/01 | 10801.57 | 148.93 | 1.40% |
| Shanghai | 09:48 | 2311.74 | 68.74 | 3.06% |
| Hang-Seng | 07:28 | 23431.48 | 167.41 | 0.72% |
| All Ords | 07:40 | 4745.70 | 11.90 | 0.25% |
| NZSE 50 | 06:48 | 4153.92 | 22.17 | 0.54% |

| | | | | |
| --- | --- | --- | --- | --- |
| Name | Time | RP | Move | % Move |
| Gold $ | 19:59 | 1665.50 | 3.43 | 0.21% |
| Gold R | 20:00 | 14507.84 | 7.43 | 0.05% |
| Gold R/kg | 20:00 | 466427 | 2288 | 0.49% |
| Silver $ | 19:59 | 30.8900 | .4570 | 1.50% |
| Platinum $ | 19:59 | 1654.50 | 30.00 | 1.85% |
| Palladium $ | 19:59 | 702.50 | 5.00 | 0.72% |
| R157 | 17:41 | 5.32 | -.02 | -0.47% |
| R204 | 17:42 | 5.93 | -.03 | -0.50% |
| R207 | 17:42 | 6.19 | -.04 | -0.64% |
| Brent Crude | 20:00 | 110.97 | .40 | 0.36% |
| Rand / Dollar | 19:59 | 8.7108 | -0.0123 | -0.14% |
| Rand / Pound | 19:55 | 13.9646 | -0.0765 | -0.54% |
| Rand / Euro | 19:55 | 11.6419 | -0.0112 | -0.10% |
| Rand / NZD | 19:58 | 7.3215 | 0.0218 | 0.30% |
| Rand / AUD | 19:55 | 9.2018 | 0.0133 | 0.14% |
| Yen / Dollar | 19:59 | 89.3300 | -0.1530 | -0.17% |
| Euro / Dollar | 19:58 | 0.7481 | -0.0002 | -0.03% |
| Dollar / Euro | 19:59 | 1.3367 | 0.0005 | 0.03% |
| Pound / Dollar | 19:55 | 0.6221 | 0.0026 | 0.42% |
Click here for the Sharenet Spot Price page
The JSE Today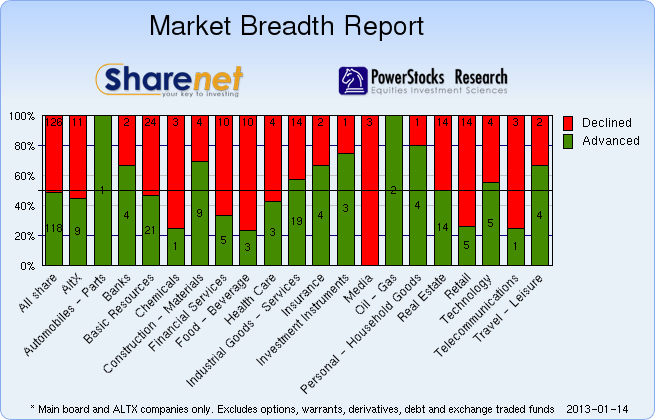 Trading Statistics
| Date | Adv. | Decl. | Unch. | Actives | Volume | Value | Trades | Orders |
| --- | --- | --- | --- | --- | --- | --- | --- | --- |
| 14/01/2013 | 182 | 171 | 81 | 434 | 174,808,241 | R12,189,248,395 | 147327 | 1193143 |
| 11/01/2013 | 179 | 149 | 84 | 412 | 168,205,119 | R11,492,420,484 | 142583 | 1303177 |
| 10/01/2013 | 168 | 179 | 71 | 418 | 174,444,841 | R10,881,572,028 | 115568 | 1214804 |
| 09/01/2013 | 214 | 133 | 79 | 426 | 173,216,797 | R13,075,398,777 | 145220 | 1090465 |
| 08/01/2013 | 183 | 157 | 74 | 414 | 165,729,562 | R10,367,999,080 | 121511 | 1057001 |
* Includes all listed instruments on the JSE
---
---
---
Index Summary
| | | | |
| --- | --- | --- | --- |
| Index Name | RP | Move | % Move |
| Top 40 | 35,673.00 | -118.00 | -0.33% |
| Industrial | 47,693.00 | -419.00 | -0.87% |
| Mid Cap | 55,468.00 | -177.00 | -0.32% |
| Small Cap | 41,843.00 | -298.00 | -0.71% |
| Resource 20 | 52,834.00 | 21.00 | 0.04% |
| Industrial 25 | 41,088.00 | -390.00 | -0.94% |
| Financial 15 | 11,423.00 | 41.00 | 0.36% |
| Financial & Ind. 30 | 45,002.00 | -239.00 | -0.53% |
| All Share | 40,144.00 | -136.00 | -0.34% |
| Oil & Gas | 28,226.00 | 188.00 | 0.67% |
| Mining | 34,224.00 | -23.00 | -0.07% |
| Gold Mining | 2,232.00 | 17.00 | 0.81% |
| Platinum Mining | 59.00 | .00 | 0.34% |
| GENERAL MINING | 9,070.00 | -4.00 | -0.05% |
| Oil & Gas Producers | 15,176.00 | 101.00 | 0.68% |
| Basic Materials | 29,478.00 | 9.00 | 0.03% |
| Chemicals | 17,572.00 | -65.00 | -0.37% |
| Forestry & Paper | 18,554.00 | 168.00 | 0.92% |
| Industrial Metals | 30,355.00 | 458.00 | 1.53% |
| Industrials | 38,373.00 | -48.00 | -0.13% |
| General Industrials | 110.00 | .00 | -0.05% |
| Consumer Goods | 42,906.00 | -226.00 | -0.52% |
| Automobiles & Parts | 7,246.00 | 21.00 | 0.29% |
| Household Goods | 191.00 | 1 | 0.74% |
| Health Care | 55,805.00 | -617.00 | -1.09% |
| Beverages | 139.00 | -1.00 | -1.08% |

| | | | |
| --- | --- | --- | --- |
| Index Name | RP | Move | % Move |
| Food Producers | 69,143.00 | -831.00 | -1.19% |
| Personal Goods | 728.00 | 2.00 | 0.36% |
| Consumer Services | 81,027.00 | -2365.00 | -2.84% |
| General Retailers | 66,899.00 | -2517.00 | -3.63% |
| Travel & Leisure | 4,815.00 | 3.00 | 0.07% |
| Media | 117.00 | .00 | -0.65% |
| Support Services | 2,264.00 | -3.00 | -0.17% |
| Telecommunications | 84,507.00 | -93.00 | -0.11% |
| Financials | 30,340.00 | 121.00 | 0.40% |
| Banks | 54,512.00 | 326.00 | 0.60% |
| Non-life Insurance | 48,267.00 | 286.00 | 0.60% |
| Life Insurance | 26,838.00 | 58.00 | 0.22% |
| General Financial | 2,819.00 | 8.00 | 0.32% |
| Technology | 32,958.00 | -28.00 | -0.09% |
| SHARIAH TOP40 | 3,527.00 | 0 | 0.02% |
| FTSE/JSE SHARIAH ALL | 3,638.00 | 0 | -0.03% |
| COAL MINING | 22,324.00 | 12 | 0.06% |
| FTSE JSE Fledgling | 5,806.00 | 21 | 0.37% |
| FTSE/JSE Alt X | 892.00 | -8 | -0.97% |
| SA LISTED PROPERTY | 501.00 | | 0.56% |
| CAPPED PROPERTY | 410.00 | | 0.28% |
| RESOURCE | 29,106.00 | 10 | 0.04% |
| DIVIDEND PLUS | 219.00 | 0 | -0.32% |
| FTSE/JSE RAFI 40 | 8,231.00 | -10 | -0.12% |
| Capped Top 40 | 18,825.00 | -62 | -0.33% |
| Capped All Share | 20,308.00 | -69 | -0.34% |
| JSE TABACO | 5,639.00 | -25 | -0.45% |
Click here for the Sharenet Index Summary page
---
Latest Consensus Changes**

| | | | |
| --- | --- | --- | --- |
| Code | Company Name | Status | Updated |
| GFI | GOLD FIELDS LIMITED | HOLD | 08/01/2013 |
| CFR | COMPAGNIE FIN RICHEMONT | HOLD | 08/01/2013 |
| KIO | KUMBA IRON ORE LTD | HOLD | 08/01/2013 |
| BIL | BHP BILLITON PLC | HOLD | 08/01/2013 |
| AMS | ANGLO AMERICAN PLATINUM C... | HOLD | 08/01/2013 |

Results Expected**

| | | |
| --- | --- | --- |
| Expected | Company Name | Fin. Date |
| 18/01/2013 | AH-VEST | September 2012 (Interim) |
| 21/01/2013 | FOORD | December 2012 (Final) |
| 21/01/2013 | FOORDCMPS | December 2012 (Final) |
| 21/01/2013 | FOORDDP | December 2012 (Final) |
| 21/01/2013 | FOORDPP | December 2012 (Final) |
---
Recent Dividends**

| | | | | |
| --- | --- | --- | --- | --- |
| Share Name | Dec-Date | LDT | Pay-Date | Amount |
| MAS | 04/01/2013 | 18/01/2013 | 01/02/2013 | R 0.0191 |
| REUNERT5.5 | 03/01/2013 | 18/01/2013 | 28/01/2013 | R 0.0550 |
| NAMPAK 6%P | 06/12/2012 | 18/01/2013 | 28/01/2013 | R 0.0600 |
| NAMPAK 6.5 | 06/12/2012 | 18/01/2013 | 28/01/2013 | R 0.0650 |
| TREMATON | 29/11/2012 | 01/02/2013 | 11/02/2013 | R 0.0250 |

Ex Div**

| | | | | |
| --- | --- | --- | --- | --- |
| Share Name | Dec-Date | LDT | Pay-Date | Amount |
| ASTRAL | 12/11/2012 | 11/01/2013 | 21/01/2013 | R 3.3600 |
| REUNERT | 20/11/2012 | 11/01/2013 | 21/01/2013 | R 2.7500 |
| LEWIS | 12/11/2012 | 11/01/2013 | 21/01/2013 | R 2.1200 |
| TONGAAT | 12/11/2012 | 11/01/2013 | 24/01/2013 | R 1.5000 |
| OMNIA | 27/11/2012 | 11/01/2013 | 21/01/2013 | R 1.5000 |
---
Upcoming AGMs**

| | | | |
| --- | --- | --- | --- |
| Code | Company Name | Date | Status |
| BCA | Business Connexion Group Ltd. | 14/01/2013 | Confirmed |
| BCX | Business Connexion Group Ltd. | 14/01/2013 | Confirmed |
| AET | Alert Steel Holdings Ltd. | 15/01/2013 | Confirmed |
| POY | Poynting Holdings Ltd. | 16/01/2013 | Unconfirmed |
| BWIP | B-W Instrumentation and Electrical Ltd. | 18/01/2013 | Confirmed |
---
Stock Exchange News Service
Click here for more SENS news
---