Wednesday, 08 August 2012 - 20:00
Charts
Using Dividends as an Income Source
Many investors, particularly those that are approaching retirement, have an aversion to investing in the stock market. The reason most often used is that the stock market is "too risky for me". While the daily and monthly gyrations in the markets make the average investor shudder, the opportunity cost of investing in cash and not having a growing income stream is too high for most investors. We have often said and written that the riskiest investment strategy over the long run is not to have enough risk in your portfolio.
In a simple exercise I have compared two investors that are 5 years from retirement (not taking tax into account. Taking tax into account would favour the investor who invests into shares). Investor A makes an investment into the ALSI (local stock market) and Investor B leaves his investment in cash. In both cases the investors let their savings grow with all distributions (dividends and interest income) reinvested for the first 5 years. From the 6th year both investors live off the distributions. The chart below shows the initial yield received by each investor (relative to their initial investment) in their first year of retirement.
It is clear from the chart that in most of the periods Investor A would be significantly better off in his first year of retirement than Investor B. The peaks in the dividend yield have coincided with strong market returns and strong dividend growth.
Investor A is further benefited by the fact that he'll have a growing income stream once he moves into the drawdown phase, whereas Investor B's income will be determined by the prevailing interest rates. Dividends are inflation proofed over time, with the chart below showing the annual growth in income (over rolling 5 year periods) of a cash investment versus an equity investment. An equity investor's income would have grown, on average, at 13% per annum over this period, well above the average inflation rate. For those investors relying purely on interest income the picture is dire. Even before the effects of inflation there are many periods where a cash investor would need to reduce their standard of living. After taking into account tax and inflation the picture is even worse!
One of the reasons for the major discrepancy is that the market values of the shares grow above inflation over time, whereas the nominal cash investment never changes. By investing with this mindset, investors should be able to better weather those periods of poor market returns in the understanding that they are not going to be relying on the capital to provide an income, but rather the growing dividend stream.
At Seed we are aware of the importance of dividends in the total return generated by any portfolio, and as such our portfolios and funds currently have an allocation to higher yielding shares. This will not only provide a greater yield than the average equity investor (as depicted above) but has also traditionally provided more protection to investors in negative markets.
Take care,
Mike Browne
www.seedinvestments.co.za
info@seedinvestments.co.za
021 914 4966
Wed, 08 Aug 2012
Top News
South Africa's Top-40 index ended up 0.09 percent on Wednesday, unwinding some of the gains that had pushed it to an all-time high in earlier trade, as doubts arise over whether the euro zone is any nearer to resolving its debt crisis.

---

Troops loyal to President Bashar al-Assad assaulted rebel strongholds in Aleppo on Wednesday in one of their biggest ground attacks since rebels seized chunks of Syria's biggest city three weeks ago.

Gunmen killed three people in an attack on a mosque in the Nigerian town of Okene on Tuesday, a day after 19 were killed in gunfire at a church in the same town in a new outbreak of sectarian violence in central Nigeria, police said on Wednesday.
World Markets (Spot Prices)
| | | | | |
| --- | --- | --- | --- | --- |
| Name | Time | RP | Move | % Move |
| JSE Overall | 17:00 | 35494.64 | 7.00 | 0.02% |
| JSE Top 40 | 17:00 | 31251.68 | 27.00 | 0.09% |
| JSE Gold | 17:00 | 2393.98 | 1.00 | 0.08% |
| JSE Financial | 17:00 | 27171.13 | -62.00 | -0.23% |
| JSE Industrial | 17:00 | 41336.29 | -34.00 | -0.08% |
| JSE Indust 25 | 17:00 | 35315.01 | -19.00 | -0.06% |
| JSE Resource | 17:00 | 47749.20 | 163.00 | 0.34% |
| DJ Futures | 19:24 | 13140.00 | 83.00 | 0.64% |
| DJ Ind | 19:58 | 13176.58 | 59.07 | 0.45% |
| SP 500 | 19:58 | 1402.25 | 8.02 | 0.58% |
| Nasdaq | 19:58 | 3014.43 | 24.52 | 0.82% |
| FTSE 100 | 17:35 | 5845.92 | 4.68 | 0.08% |
| DAX | 18:08 | 6966.15 | 47.43 | 0.69% |
| CAC40 | 18:08 | 3438.26 | -15.02 | -0.43% |
| Nikkei | 08:10 | 8881.16 | 77.85 | 0.88% |
| Shanghai | 09:30 | 2160.99 | 3.37 | 0.16% |
| Hang-Seng | 10:28 | 20065.52 | -7.03 | -0.04% |
| All Ords | 08:40 | 4332.90 | 21.50 | 0.50% |
| NZSE 50 | 07:56 | 3581.79 | -3.02 | -0.08% |

| | | | | |
| --- | --- | --- | --- | --- |
| Name | Time | RP | Move | % Move |
| Gold $ | 19:59 | 1611.60 | -.33 | -0.02% |
| Gold R | 19:58 | 13055.25 | -99.37 | -0.76% |
| Gold R/kg | 19:58 | 419188 | -3114 | -0.74% |
| Silver $ | 19:59 | 27.9930 | -.0910 | -0.32% |
| Platinum $ | 19:59 | 1405.50 | -1.00 | -0.07% |
| Palladium $ | 19:59 | 585.20 | 2.50 | 0.43% |
| R157 | 15:08 | 5.59 | .13 | 2.38% |
| R204 | 15:08 | 6.27 | .13 | 2.12% |
| Brent Crude | 19:58 | 112.45 | .25 | 0.22% |
| Rand / Dollar | 19:59 | 8.1007 | -0.0606 | -0.74% |
| Rand / Pound | 19:55 | 12.6569 | -0.0695 | -0.55% |
| Rand / Euro | 19:55 | 10.0081 | -0.1160 | -1.15% |
| Rand / NZD | 19:58 | 6.6055 | -0.0530 | -0.80% |
| Rand / AUD | 19:55 | 8.5578 | -0.0662 | -0.77% |
| Yen / Dollar | 19:59 | 78.4670 | -0.1290 | -0.16% |
| Euro / Dollar | 19:55 | 0.8089 | 0.0026 | 0.32% |
| Dollar / Euro | 19:59 | 1.2351 | -0.0046 | -0.37% |
| Pound / Dollar | 19:55 | 0.6381 | -0.0018 | -0.28% |
Click here for the Sharenet Spot Price page
The JSE Today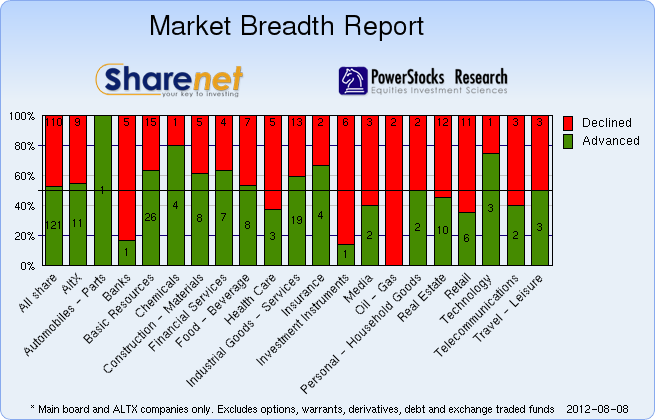 Trading Statistics
| Date | Adv. | Decl. | Unch. | Actives | Volume | Value | Trades | Orders |
| --- | --- | --- | --- | --- | --- | --- | --- | --- |
| 08/08/2012 | 176 | 158 | 76 | 410 | 179,515,088 | R9,926,543,129 | 107035 | 1540138 |
| 07/08/2012 | 161 | 172 | 88 | 421 | 186,307,444 | R9,235,728,482 | 89189 | 1620877 |
| 06/08/2012 | 204 | 126 | 81 | 411 | 166,956,349 | R7,755,193,605 | 77235 | 1254426 |
| 03/08/2012 | 222 | 127 | 69 | 418 | 181,356,985 | R10,415,457,209 | 94952 | 1746042 |
| 02/08/2012 | 166 | 162 | 82 | 410 | 187,359,163 | R11,393,836,746 | 98959 | 1608146 |
* Includes all listed instruments on the JSE
---
---
---
Index Summary
| | | | |
| --- | --- | --- | --- |
| Index Name | RP | Move | % Move |
| Top 40 | 31,251.00 | 27.00 | 0.09% |
| Industrial | 41,336.00 | -34.00 | -0.08% |
| Mid Cap | 51,649.00 | -185.00 | -0.36% |
| Small Cap | 37,348.00 | 29.00 | 0.08% |
| Resource 20 | 47,749.00 | 163.00 | 0.34% |
| Industrial 25 | 35,315.00 | -19.00 | -0.06% |
| Financial 15 | 10,135.00 | -21.00 | -0.21% |
| Financial & Ind. 30 | 38,805.00 | -33.00 | -0.09% |
| All Share | 35,494.00 | 7.00 | 0.02% |
| Oil & Gas | 26,546.00 | -455.00 | -1.69% |
| Mining | 30,790.00 | 222.00 | 0.73% |
| Gold Mining | 2,393.00 | 1.00 | 0.08% |
| Platinum Mining | 48.00 | .00 | -0.02% |
| GENERAL MINING | 7,941.00 | 83.00 | 1.06% |
| Oil & Gas Producers | 14,273.00 | -244.00 | -1.68% |
| Basic Materials | 26,380.00 | 186.00 | 0.71% |
| Chemicals | 15,311.00 | 23.00 | 0.15% |
| Forestry & Paper | 13,825.00 | 103.00 | 0.75% |
| Industrial Metals | 28,609.00 | 148.00 | 0.52% |
| Industrials | 34,784.00 | -43.00 | -0.13% |
| General Industrials | 99.00 | .00 | 0.47% |
| Consumer Goods | 35,716.00 | 88.00 | 0.25% |
| Automobiles & Parts | 6,181.00 | 147.00 | 2.45% |
| Household Goods | 163.00 | 0 | -0.25% |
| Health Care | 49,796.00 | -276.00 | -0.55% |
| Beverages | 123.00 | .00 | 0.55% |

| | | | |
| --- | --- | --- | --- |
| Index Name | RP | Move | % Move |
| Food Producers | 64,527.00 | -70.00 | -0.11% |
| Personal Goods | 498.00 | 1.00 | 0.38% |
| Consumer Services | 73,327.00 | -377.00 | -0.51% |
| General Retailers | 63,006.00 | -550.00 | -0.87% |
| Travel & Leisure | 3,924.00 | -17.00 | -0.44% |
| Media | 103.00 | .00 | 0.83% |
| Support Services | 2,237.00 | 8.00 | 0.38% |
| Telecommunications | 73,140.00 | -272.00 | -0.37% |
| Financials | 27,171.00 | -62.00 | -0.23% |
| Banks | 50,321.00 | -125.00 | -0.25% |
| Non-life Insurance | 45,687.00 | 130.00 | 0.29% |
| Life Insurance | 21,835.00 | 47.00 | 0.22% |
| General Financial | 2,462.00 | -11.00 | -0.48% |
| Technology | 30,495.00 | 140.00 | 0.46% |
| SHARIAH TOP40 | 3,051.00 | 7 | 0.24% |
| FTSE/JSE SHARIAH ALL | 3,182.00 | 5 | 0.18% |
| COAL MINING | 23,161.00 | 506 | 2.24% |
| FTSE JSE Fledgling | 5,556.00 | 38 | 0.69% |
| FTSE/JSE Alt X | 1,074.00 | 3 | 0.32% |
| SA LISTED PROPERTY | 494.00 | | -0.30% |
| CAPPED PROPERTY | 391.00 | | 0.03% |
| RESOURCE | 26,350.00 | 97 | 0.37% |
| DIVIDEND PLUS | 195.00 | 0 | -0.01% |
| FTSE/JSE RAFI 40 | 7,249.00 | 0 | 0.01% |
| Capped Top 40 | 16,496.00 | 11 | 0.07% |
| Capped All Share | 17,956.00 | 4 | 0.02% |
| JSE TABACO | 5,638.00 | 0 | 0.00% |
Click here for the Sharenet Index Summary page
---
Latest Consensus Changes**

| | | | |
| --- | --- | --- | --- |
| Code | Company Name | Status | Updated |
| MST | MUSTEK LIMITED | BUY | 06 Aug |
| IPL | IMPERIAL HOLDINGS LTD | HOLD | 06 Aug |
| RLO | REUNERT LIMITED | SELL | 06 Aug |
| ALT | ALLIED TECHNOLOGIES LIMIT... | HOLD | 06 Aug |
| BIL | BHP BILLITON PLC | BUY | 06 Aug |

Results Expected**

| | | |
| --- | --- | --- |
| Expected | Company Name | Fin. Date |
| 13 Aug 2012 | BELL | June 2012 (Interim) |
| 13 Aug 2012 | CONTROL | June 2012 (Interim) |
| 13 Aug 2012 | GROUP 5 | June 2012 (Final) |
| 13 Aug 2012 | SA CORP | June 2012 (Interim) |
| 13 Aug 2012 | URONE | June 2012 (Interim) |
---
Recent Dividends**

| | | | | |
| --- | --- | --- | --- | --- |
| Share Name | Dec-Date | LDT | Pay-Date | Amount |
| MONDILTD | 12-08-07 | 12-08-17 | 12-09-18 | R 0.0890 |
| SHOPRIT 5% | 12-08-07 | 12-08-24 | 12-09-03 | R 0.0500 |
| FIRSTRANDB-P | 12-08-07 | 12-08-17 | 12-08-27 | R 3.3309 |
| MONDIPLC | 12-08-07 | 12-08-17 | 12-09-18 | R 0.0890 |
| RESILIENT | 12-08-07 | 12-08-24 | 12-09-03 | R 1.2074 |

Ex Div**

| | | | | |
| --- | --- | --- | --- | --- |
| Share Name | Dec-Date | LDT | Pay-Date | Amount |
| SABMILLER | 12-05-24 | 12-08-02 | 12-08-17 | R 0.6950 |
| SYNERGY A | 12-07-19 | 12-08-02 | 12-08-13 | R 0.4422 |
| BRAIT | 12-06-06 | 12-08-02 | 12-08-14 | R 0.2059 |
| SYNERGY B | 12-07-19 | 12-08-02 | 12-08-13 | R 0.1953 |
| MAS | 12-07-19 | 12-08-02 | 12-08-17 | R 0.0160 |
---
Upcoming AGMs**

| | | | |
| --- | --- | --- | --- |
| Code | Company Name | Date | Status |
| AND | Andulela Investment Holdings Ltd. | 08/08/2012 | Confirmed |
| ANDP | Andulela Investment Holdings Ltd. | 08/08/2012 | Confirmed |
| TSX | Trans Hex Group Ltd. | 08/08/2012 | Confirmed |
| TAS | Taste Holdings Ltd. | 10/08/2012 | Confirmed |
| AFP | Alexander Forbes Preference Share Invest... | 10/08/2012 | Unconfirmed |
---
Stock Exchange News Service
Click here for more SENS news
---